When my SAS flight from Stockholm to Copenhagen canceled and left me without a way to catch my connecting flight to New York, I had to scramble to find a new way home. Between several other delayed flights and COVID-19 restrictions severely limiting my options, I unexpectedly ended up rebooked on Finnair through Helsinki. I was left with 40 minutes to connect at an airport that highly recommends passengers factor in a minimum 35-minute connection time. Game on, Helsinki!
The first flight, a short hop from Stockholm to Helsinki, was operated by a 21-year old Finnair Airbus A319. I was seated in the first row of economy, meaning the moveable divider separating business from economy was right in my face.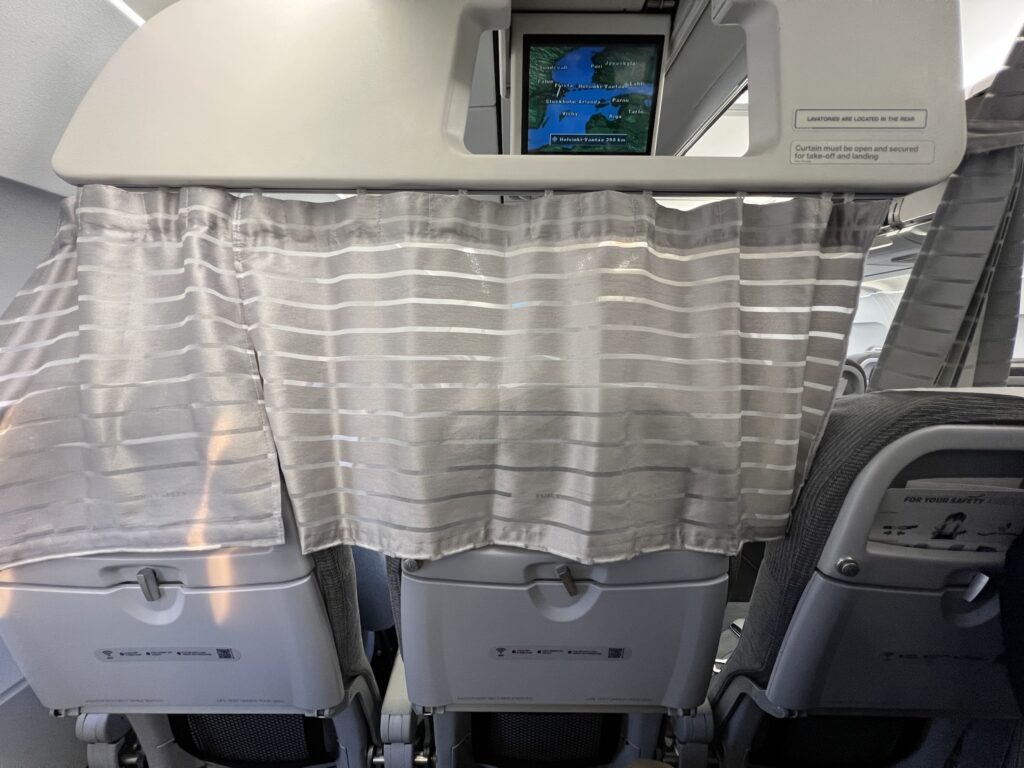 The seats, an earlier generation slimline affair installed about a decade ago, are comfortable and provide an adequate amount of seat pitch. Even in the middle seat and seated next to a broad shouldered gentleman, I did not feel cramped.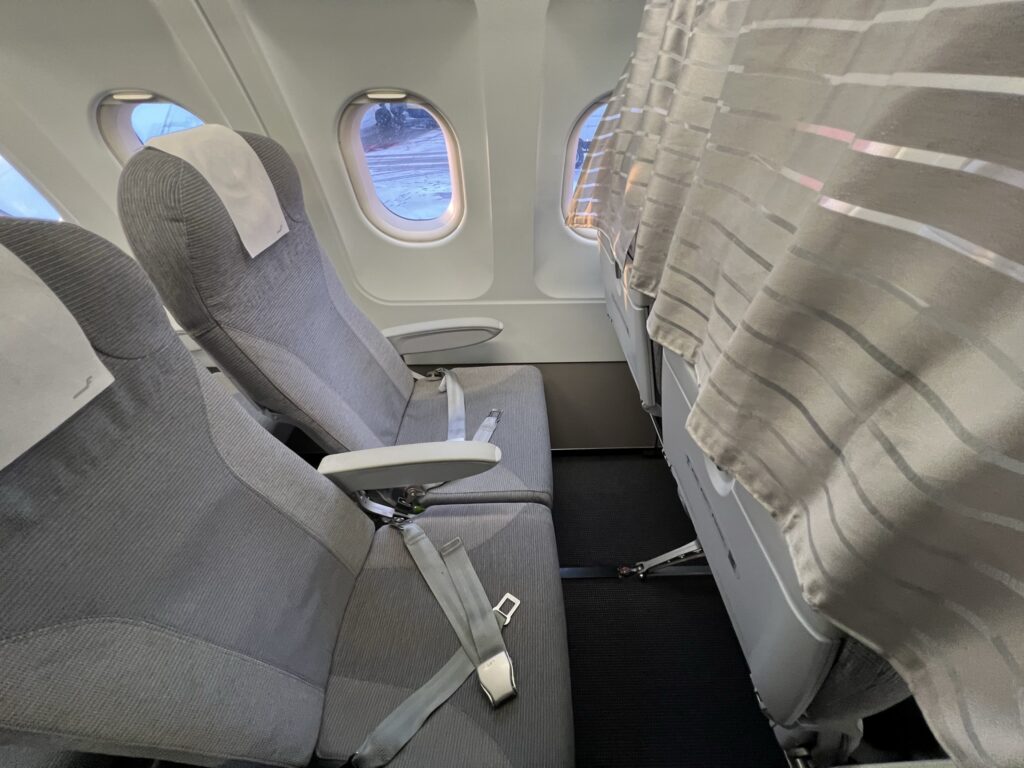 However, the cabin felt quite dated and lacked modern amenities that passengers have come to expect. Overhead monitors dropped down to display a very low resolution moving map, and no power outlets or tablet holders were available to compliment the Wi-Fi.
A very quick beverage service was provided. The Finnair app said coffee and tea was available for purchase, while water and blueberry juice were complimentary.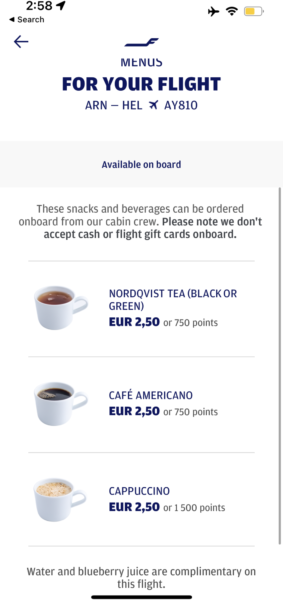 Finnair recently finished installing Viasat Ka-band satellite-supported inflight Internet, which operates over Viasat's KA-SAT satellite in Europe and is available across the airline's Airbus narrowbody fleet. The Wi-Fi was a nice addition to an otherwise dated product.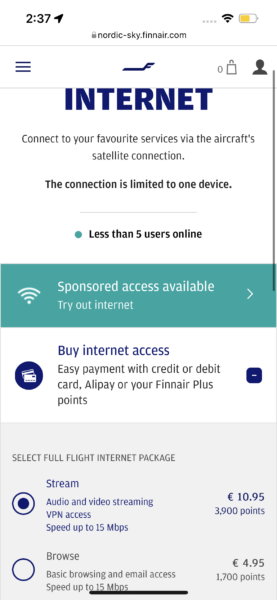 The pricing for a 45-minute flight was a bit too steep for me, though. A €4.95 browse package offered speeds of "up to" 15 Mbps, while a streaming tier cost €10.95 at the same bitrate.
Interestingly, Finnair also offers sponsored access. The first option provided 15 minutes of connectivity in exchange for watching a short Finnair promotional video, while the second offered full flight connectivity if the passenger made a minimum €50 purchase on Berlin-based online travel agency Get Your Guide.
The 15-minute option provided me with enough connectivity to keep tabs on my connecting flight with speeds well in excess of the 15 Mbps promised. One speed test even delivered a result of just over 50 Mbps, but video streaming was blocked.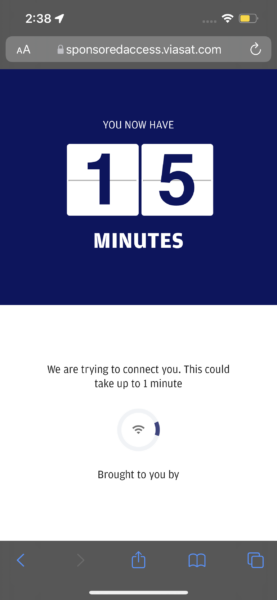 The fantastic folks operating the Helsinki Airport twitter account had informed me that we would be using a bus gate, but what happened next nearly trashed my connection.
My flight was randomly selected for an additional COVID-19 screening, requiring passengers to exit the aircraft through the rear door and onto a bus, making my front row seat selection a huge miscalculation. After a few minutes of delay the door opened and we piled onto buses and into the terminal so officials could simply ask all passengers if they had been to Africa recently (travel from some nations has been restricted ostensibly due to the spread of the Omicron variant). I quickly answered "no" to the question and ran through border control and across the terminal while the Finnair app stated the flight was closing, and en route to its destination. I thought I was finished!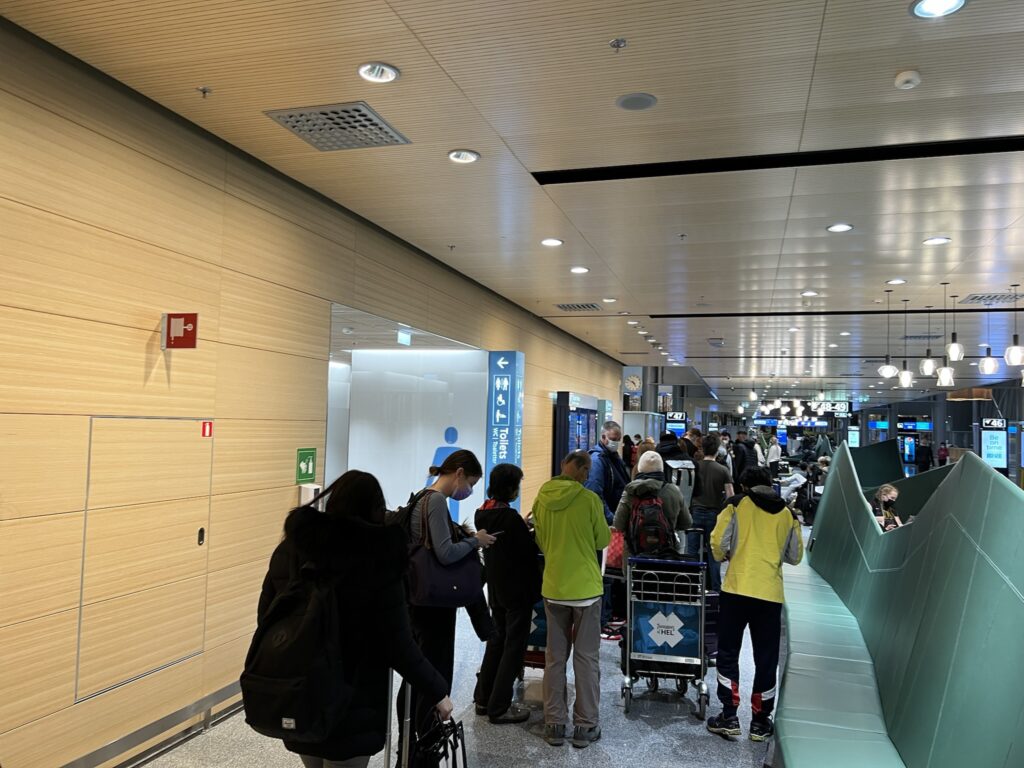 Thankfully for me, Finnair requires passengers to sign COVID-19 paperwork above and beyond what the United States requires and that regularly delays the flight's departure for a significant time. This was my saving grace and I was the last passenger to board after my additional security screening was completed. I'm not sure why the app said the flight was en route while boarding was still ongoing, but I'm glad it was wrong.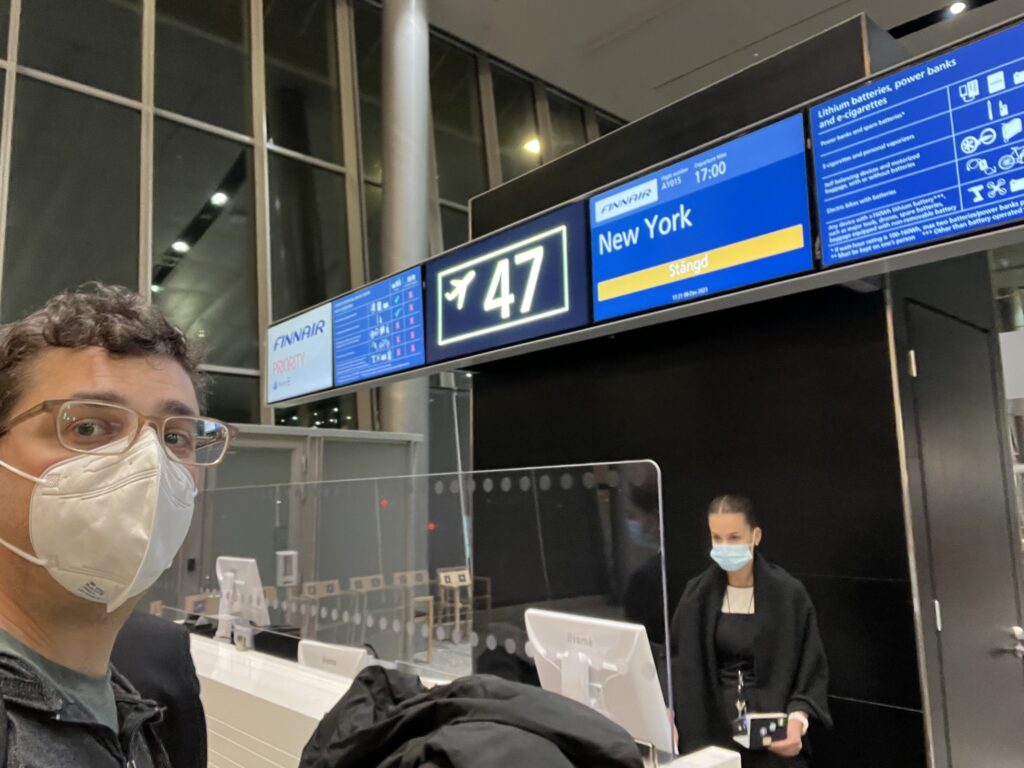 The 5-year old Finnair Airbus A350-900 was probably 50% full, and mercifully I ended up with three seats to myself. This was especially welcome because Finnair is among an ever-decreasing number of global airlines that don't offer premium economy, so my SAS booking was downgraded to economy class when I was rebooked to Finnair. I came out ahead this time — with a surprise seat triple free — but Finnair might want to consider hopping on the premium economy bandwagon. It does offer an extra legroom economy section on its longhaul fleet, but on this flight that section was completely empty.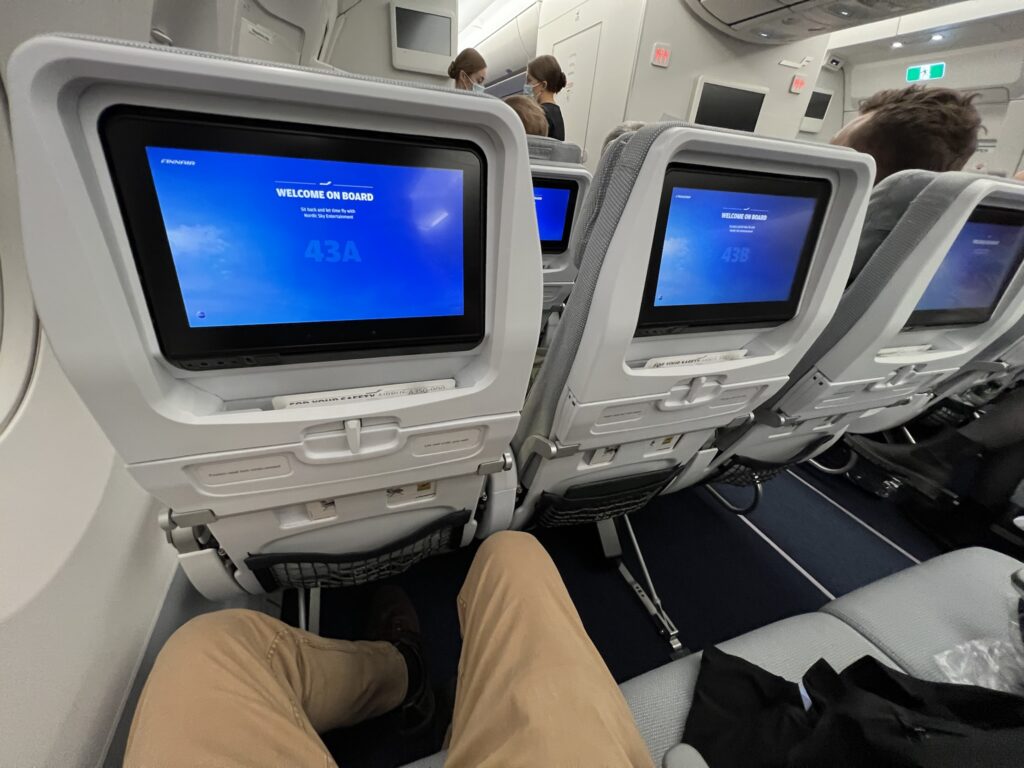 Finnair is no stranger to cold climate operations, but our departure was further delayed due to some of the pushback equipment freezing and needing to be heated to operate. HEL had literally frozen over. After a quick deicing procedure we were finally on our way.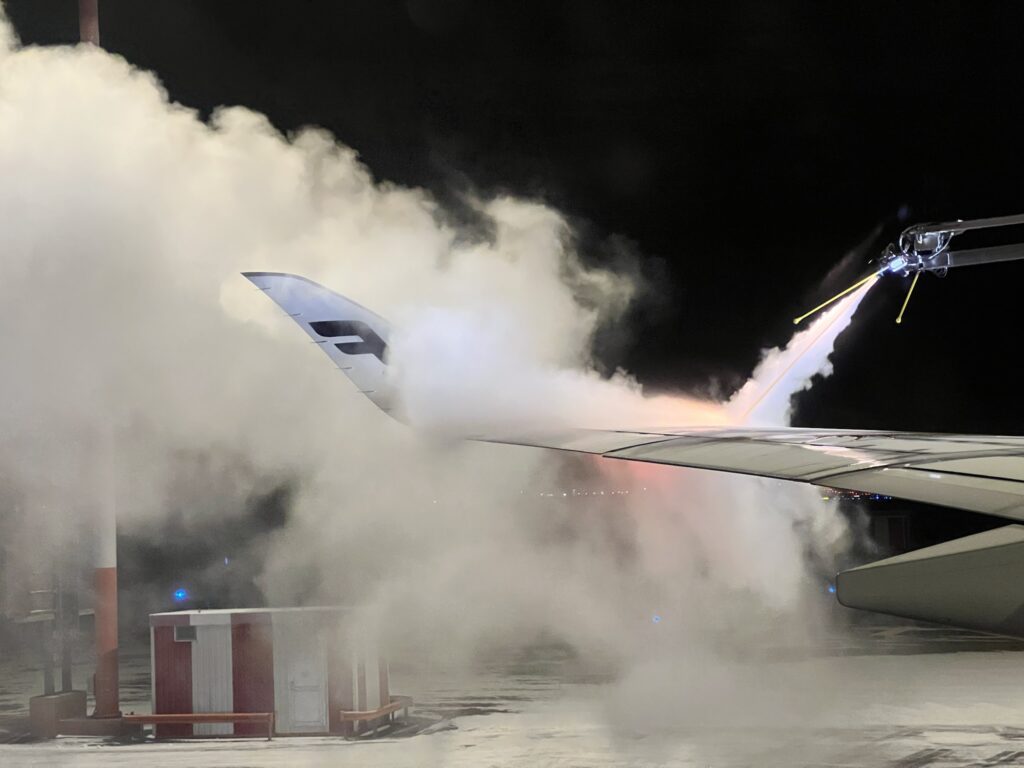 Finnair offers about 31 inches of seat pitch and 18 inches of width in economy on the A350, which was plenty of space for me, especially when multiplied by three seats in my particular case. Every economy seat features an 11-inch Panasonic entertainment screen dubbed Nordic Sky.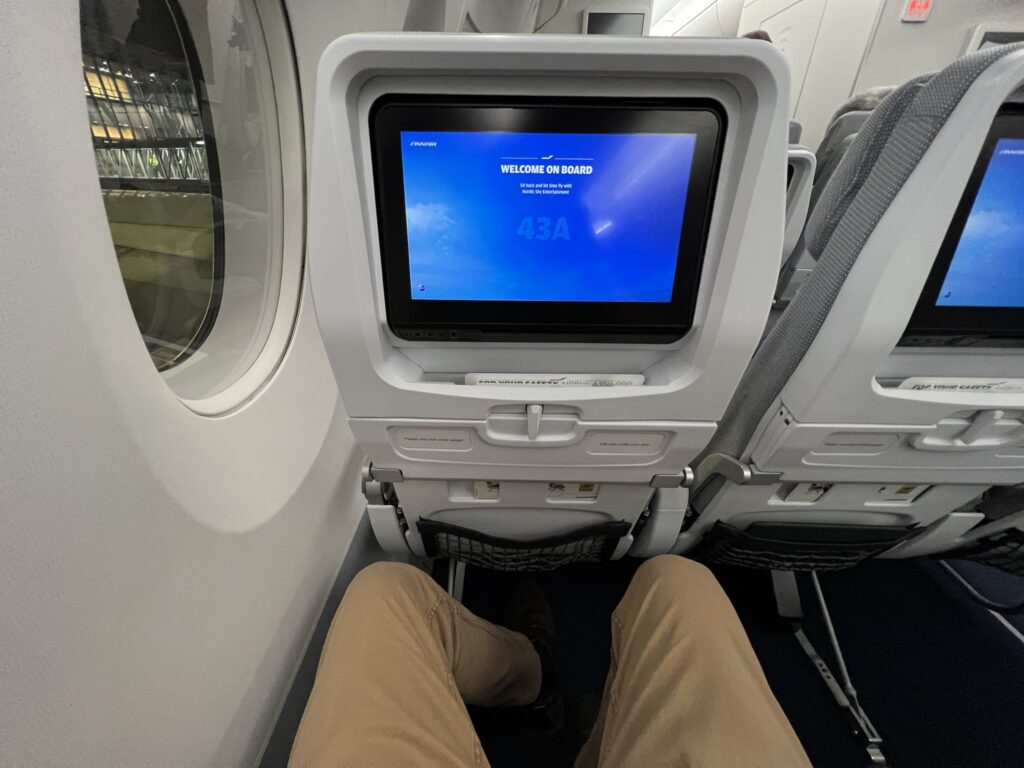 The default view provides passengers with a timeline of the inflight service, updated to reflect the actual departure time and compared against the time at the destination.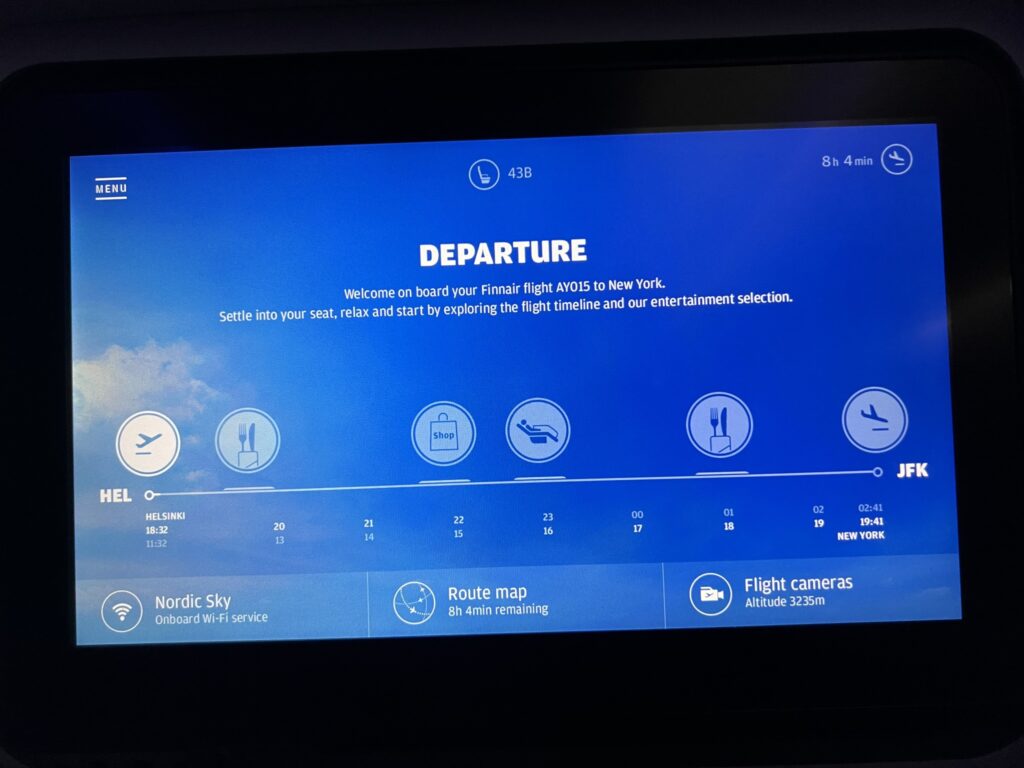 It was great to know when to expect meal services ahead of time. Unfortunately, no AC power outlets are available in economy and the USB-A port in the monitor charged my iPhone painfully slowly.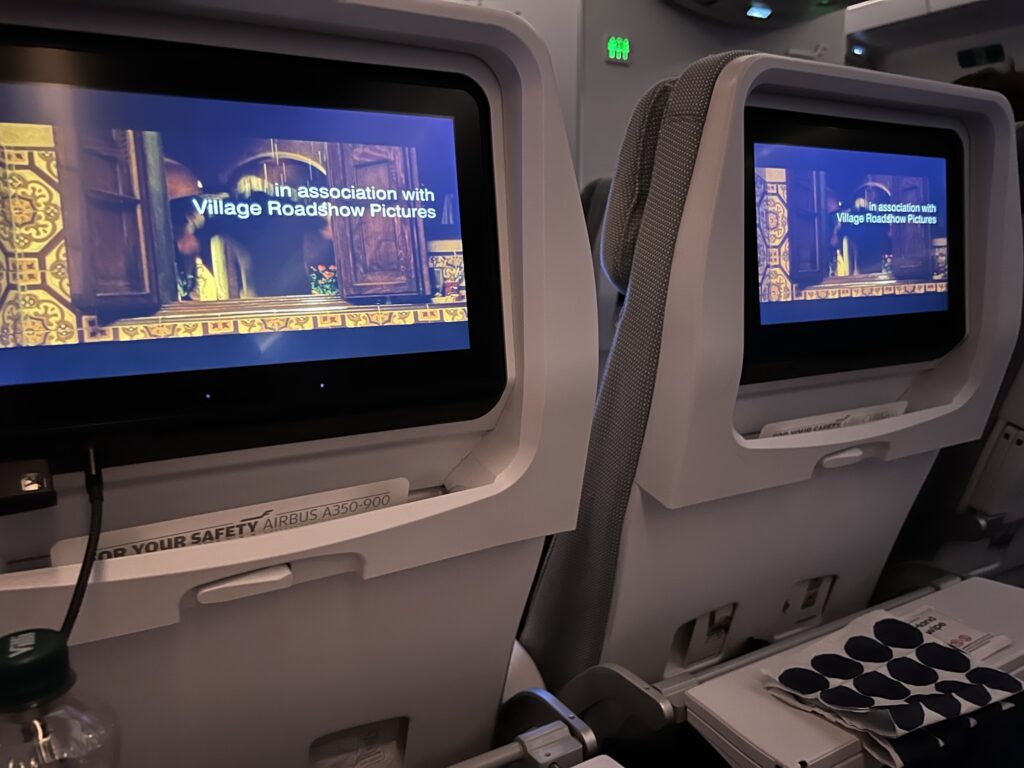 While far from the largest selection in the sky, Finnair provided enough video content to keep me entertained for the nearly 9-hour flight. Oddly, though, the airline seems to have chosen to offer many sequels without offering the first movie in the series.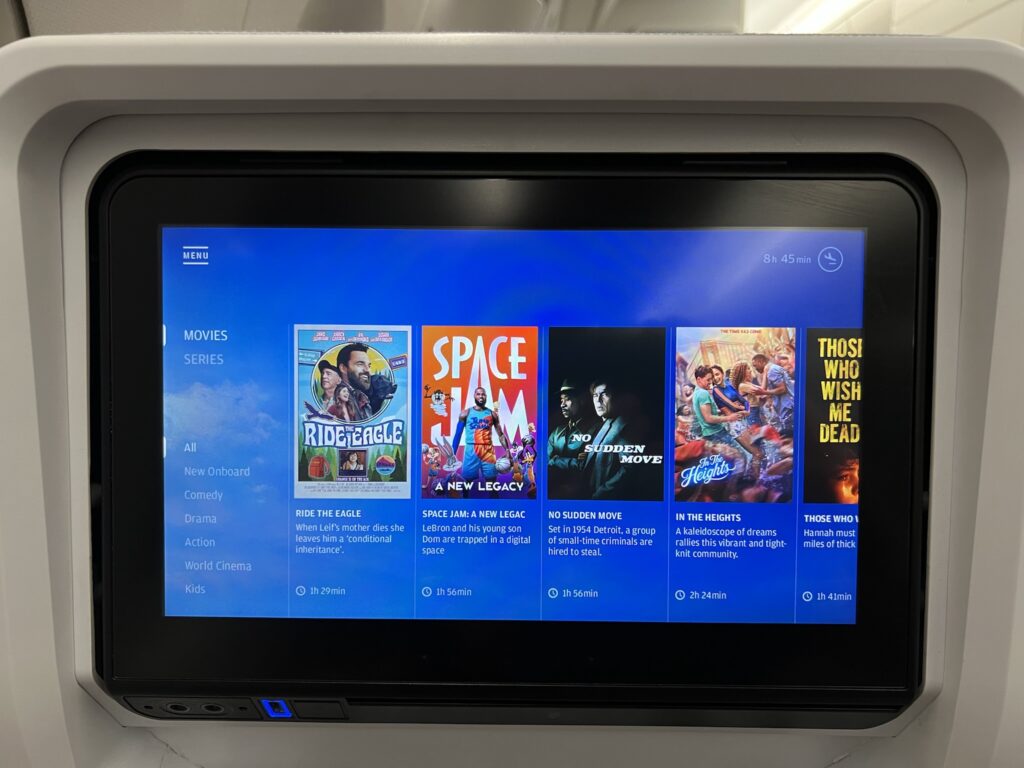 The TV show selection was decent, with some series offering up to 10 episodes each. The Panasonic system was responsive and bright enough to counter any glare.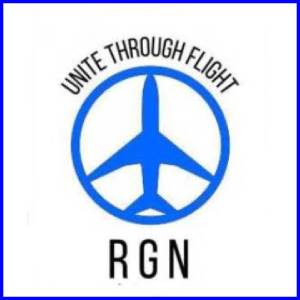 Finnair offers Ku-band satellite-powered inflight connectivity from Panasonic on its longhaul fleet, providing time-based packages ranging from €7.95 for an hour to €19.95 for the entire flight. I opted for the full-flight package and found that the system delivered about 30 Mbps download speeds reliably for the duration of the flight without any connection drops, though video streaming was blocked once again.
Drinks and dinner were served right when the entertainment system said it would. The beverage service offered complimentary wine and beer, though any subsequent drinks were offered for a charge.
There was only a single option for dinner — a lactose-free meatballs with cream sauce dish. It was served with an interesting little side salad, potato pancakes, cold bread roll and a chocolate bar for dessert.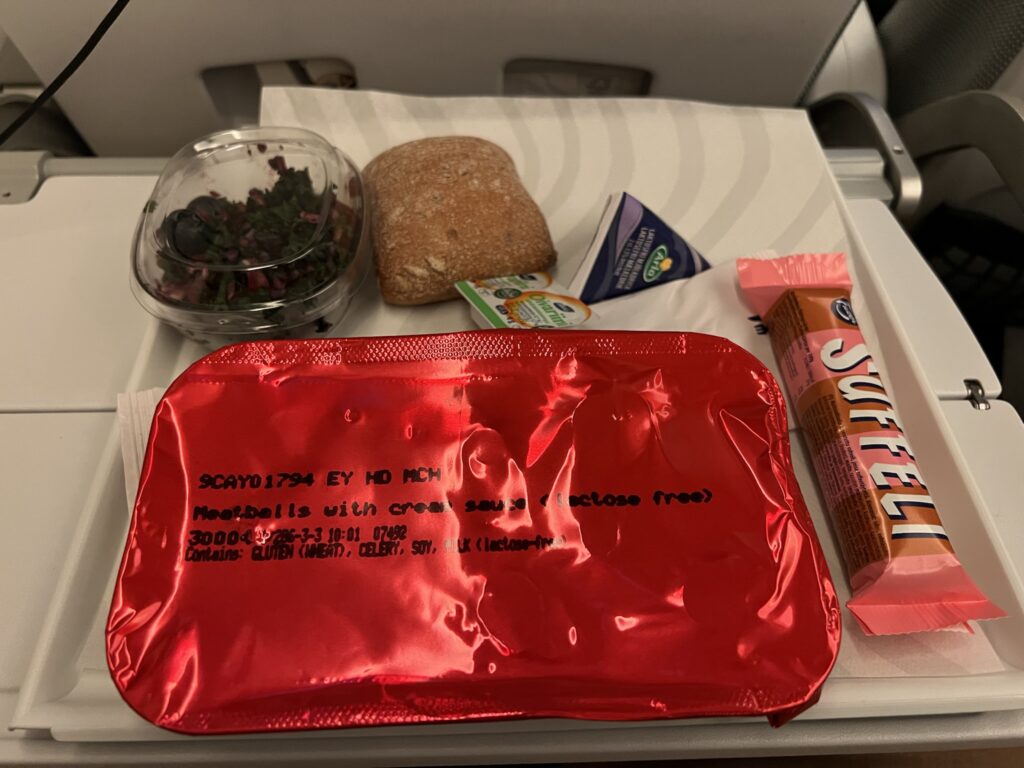 The meal was tasty and filling, though I did spring for a €5 cup of noodles halfway through the flight.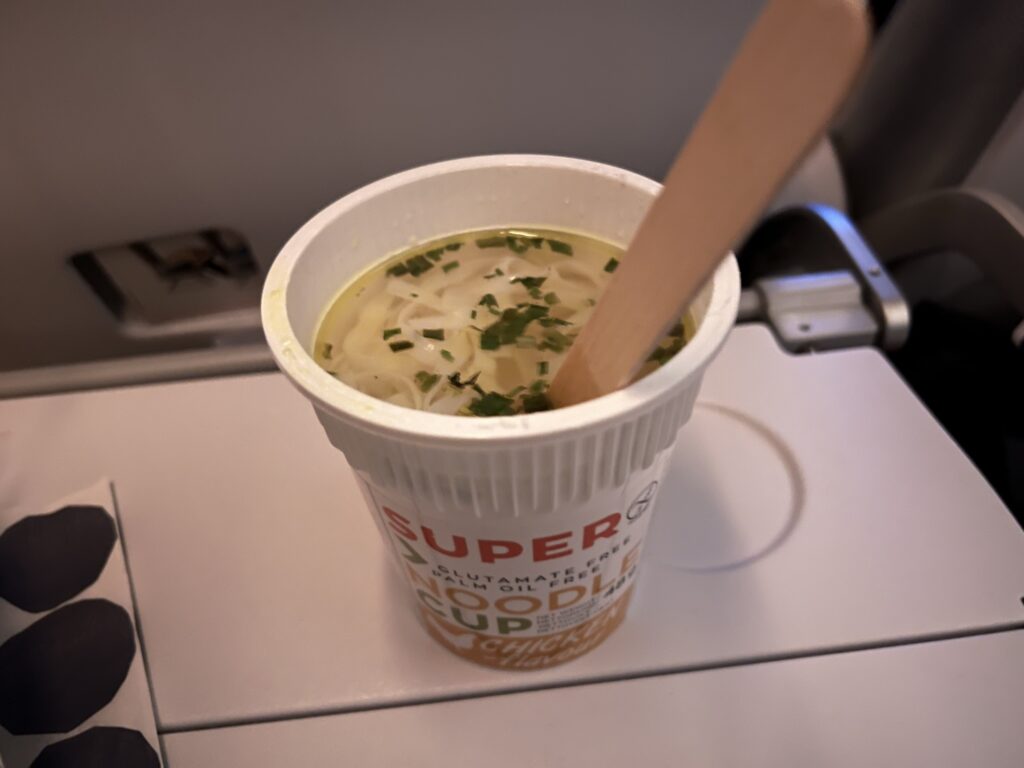 The pre-arrival snack was a little cheese sandwich which was definitely of lesser quality than the dinner.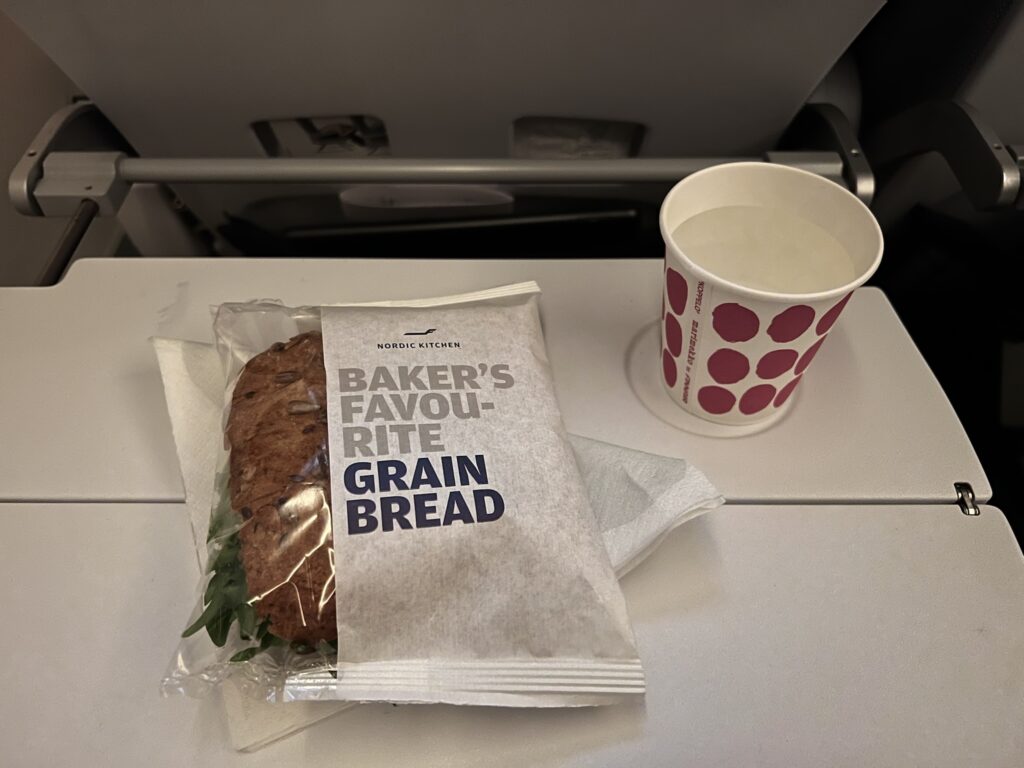 Overall, Finnair offers a quality longhaul economy experience. I appreciated the airline's beautiful and highly functional iOS app keeping me updated during my tight connection, a major upgrade from SAS' virtually useless app on my outbound flight. I do wish that Finnair would get with the times and offer premium economy, but on this adventure I was just happy to get home.
Related Articles:
All images credited to the author, Jason Rabinowitz