Back in December 2020, a press release from the recently rebranded and upgraded HUB FBO at Quebec's Montréal/Saint-Hubert Airport, arrived in my inbox. The long-term airport resident formerly known as 'CYHU H-18 Services' had completed its new facility in August and now HUB FBO social media manager Penelope Asselin was reaching out to tell the world, since COVID-19 had caused all plans for celebrations to be trashed.
Later I joined Asselin, HUB FBO president and CEO Sylvie Santini, and company VP of sales and operations Danie Buteau on Zoom. With all three women on the call, it soon emerged that most of the management team is female, albeit by coincidence, since Asselin says: "We believe it's not about gender so much as what each person brings to the table."
I've yet to visit an FBO where women were dramatically underrepresented, yet HUB FBO remains unusual, at least as far as its management is concerned. Men are in the majority out on the ramp, but Asselin is quick to assert: "We occasionally have women working alongside the guys and they most definitely hold their own." That includes in the wintertime when the Saint-Hubert ramp can be very harsh indeed.
"We feel the mix of genders is very good for the business, and especially in crisis management," says Asselin. "Men and women don't always think alike and every individual brings their own perspective."
All three women are true aviation enthusiasts. Asselin spent seven years on the Greek islands after completing a bachelor's degree in communications. Working in tourism and welcoming guests from around the world, she was drawn into the aviation industry. Now, she says, "I went from hopping on planes, island to island, to working with them."
CEO Sylvie Santini's career has spanned land, sea, and air transportation, but as a former charter manager at a competitor FBO, her enthusiasm for aviation shines through.
Danie Buteau, meanwhile, has held management positions in human resources, sales, customer service, training, operations, and even public speaking. But this progression eventually brought her into transportation, where she met Santini.
Buteau knew little about aviation, but Santini persuaded her to dive straight in and today Buteau acknowledges that sometimes a passion for aviation just sneaks up on you.
Based on their long careers, Santini and Buteau say they have seen a definite increase in the number of women in aviation but observe that women still face challenges. Together, they state:
We believe the more we see women in higher places, the more girls will be able to aspire to reach them. As CEO and VP, we understand and value the importance of our positions and the effect this can have on broadening the horizons of young people, which is why we welcome mentoring opportunities.
In August 2021, HUB FBO was thrilled to be a stop on Zara Rutherford's epic FlyZolo circumnavigation. The archetype of the young women that HUB FBO hopes to inspire, Rutherford made a lasting impression.
The 19-year old pilot, who holds FAA and UK private pilot licenses plus Slovakian and French microlight licenses, is attempting to fly solo around the world in a bid to encourage girls and young women to pursue their dreams. If she succeeds, she will be the youngest woman in the world to have accomplished this goal and will hold a Guinness Record.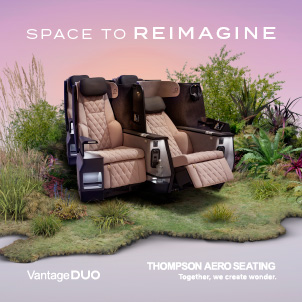 Recalling the young pilot's visit to HUB FBO, Asselin says: "Zara is a bright young woman, happy, optimistic, hopeful, kind, calm and very generous. Even after a long flight, she took the time to greet and thank everyone who came out to see her. She was clear about her convictions, about wanting to encourage girls like her to follow their dreams, and proudly challenges them to take their place."
With Sylvie Santini, Danie Buteau and Penelope Asselin already taking their proverbial places in industry, HUB FBO was perhaps the perfect stop on Rutherford's journey.
"We've come a long way," notes Asselin in reference to the broader need for more gender diversity in the workplace. "But there's still loads of scope for change in all industries, not only aviation."
Related Articles:
Featured image credited to HUB FBO