Sometimes plans change. Originally I was to fly out and back from Seattle to Portland, Oregon during a single day, stay at home for a night, then bounce up to Anchorage, Alaska for a long weekend.
At some point it occurred to me that it was kind of silly to fly back to Seattle for only a day, so I called up Alaska Airlines to see if we could instead change my departure city to Portland. The answer, of course, was yes, but the fare difference — Alaska, like most carriers, has waved change fees for most fare classes — was mighty steep. I wound up declining.
A follow-up call the next day proved worthwhile: the price had dropped significantly, making it an easy decision. Even better, the first class cabin on the flight was wide open, making for a simple upgrade that cleared almost immediately. As a bonus, I got to bank the cost of the canceled Portland-Seattle segment for a future adventure.
Two days later, an early morning wake up call found me packing for PDX before dawn. The airport was under heavy construction, part of an ongoing upgrade and expansion plan that is set to gradually wrap up between 2023 and 2025. While the end result will be a much nicer airport, it currently makes for a bit of a mess right now. Early morning departure bank crowds and constricted space in the ticketing areas created a congested, shoulder to shoulder experience — the kind of thing you don't really want in an ongoing pandemic.
Security was slightly better at least, nestled into its temporary location in an airy and spacious foyer.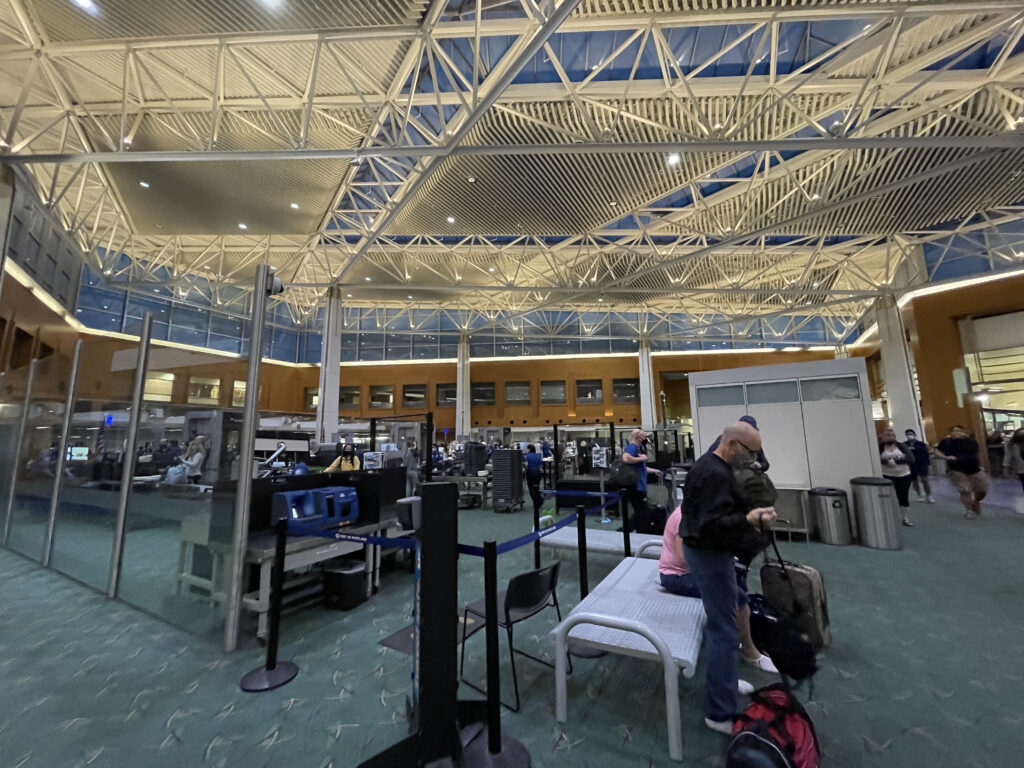 The timing nonetheless wound up to be perfect, with a seamless walk straight from the TSA freedom search to my seat in 3F. Today's airborne chariot was a Boeing 737-900, one of dozens in Alaska's fleet. Unfortunately it still has the old cabin, which remains common despite the new cabin having rolled out a few years ago.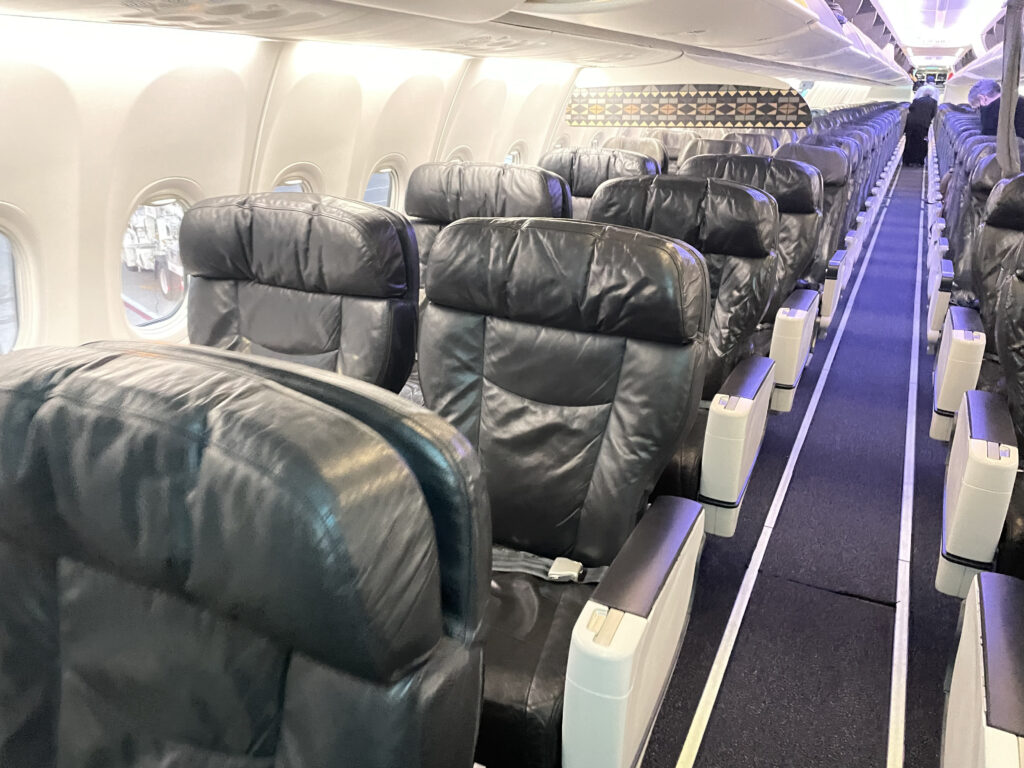 The pros and cons of Alaska's aging cabins remain the same. They're clearly well past their prime, replete with scuffs, frayed edges, stains, and a general sense of wanting. But the international style power/USB ports still work, and I appreciate the generous seat padding in first.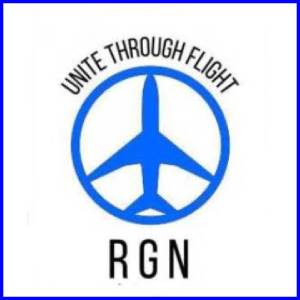 Still, with a handful of new cabin flights under my belt now, I found myself missing the footrest and deeper recline of the new interior.
Alaska does not have any seatback inflight entertainment, relying on streaming services direct to your device and Intelsat (formerly Gogo) inflight Internet, powered by Ku-band satellites.
Having slept poorly I passed on purchasing a Wi-Fi pass, and instead tried to claw back some badly needed shut-eye. The airline does offer free texting, though, and as usual it worked without issue.
I loaded and started a movie, which also streamed without issue, until I realized I had left my ear buds at home. Rookie mistake.
It was just as well anyways; these older cabins have no personal device holder, and at some point holding up your phone gets old.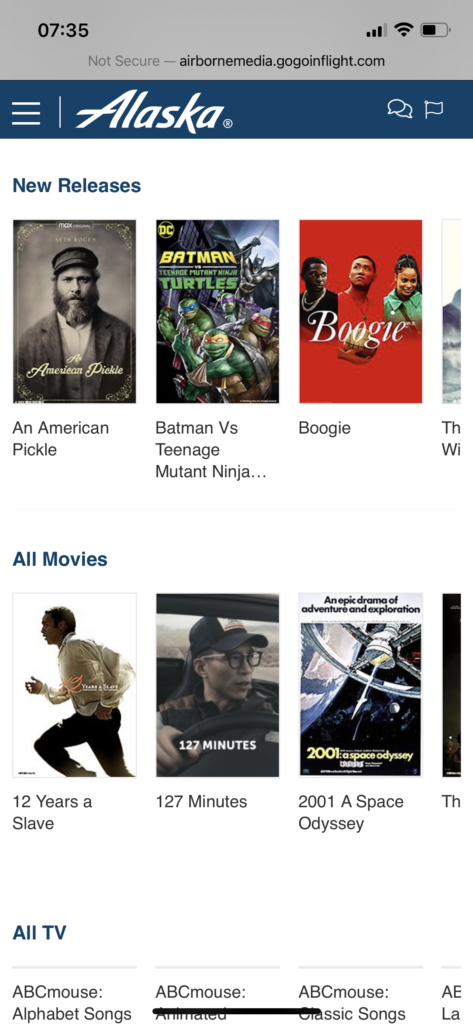 While Alaska's inflight product isn't exactly industry-leading, its catering remains well above average. My upgrade cleared with enough time to take advantage of the pre-order option, and I opted for the marinated kale breakfast bowl.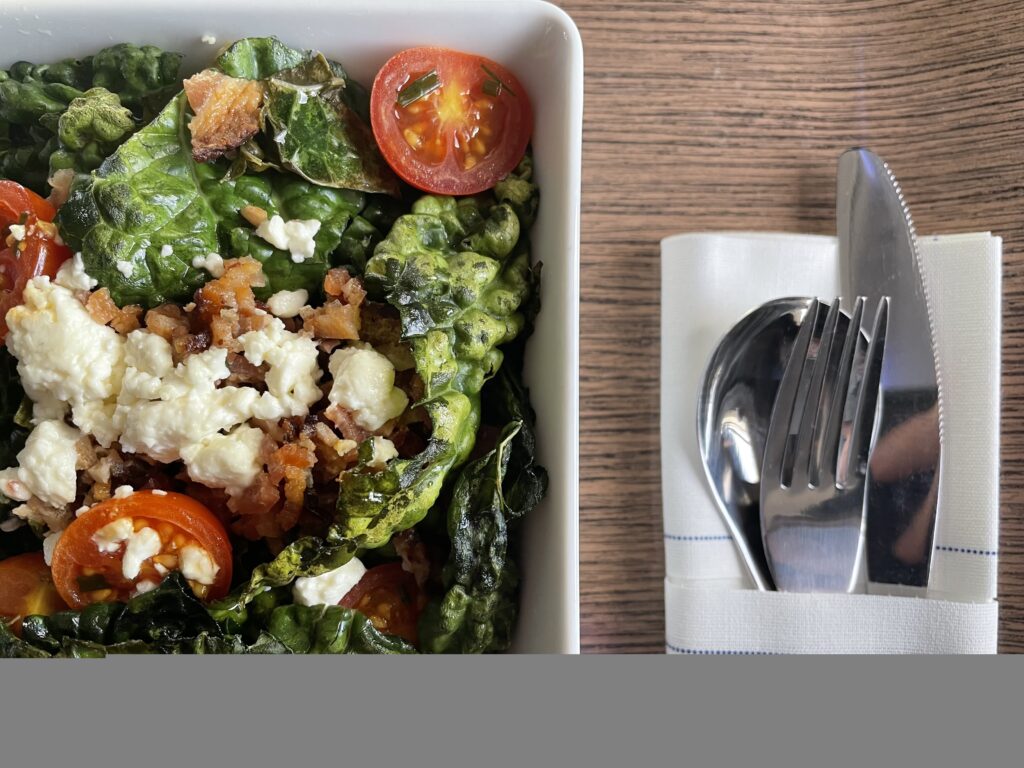 The warm dish, with a mix of sautéed kale, potatoes, and a fried egg garnished with bacon bits appeared some thirty minutes after takeoff. It was quite tasty. A multi-grain roll, small side of fruit, and blueberry yogurt rounded out the plate.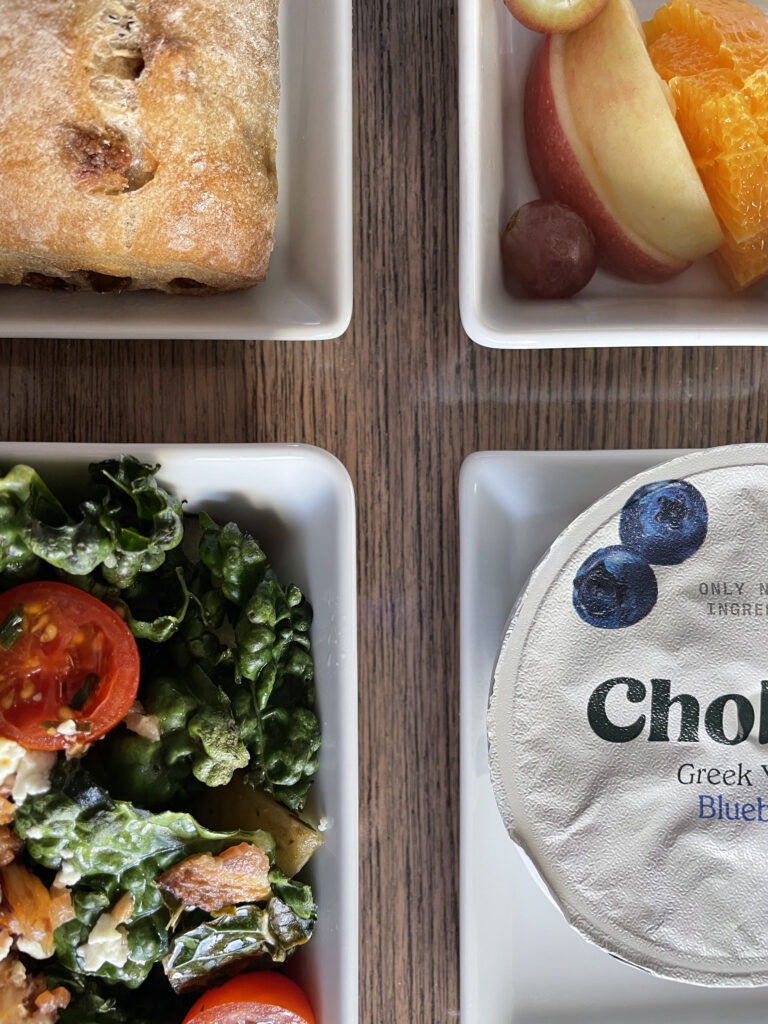 The flight landed on time in a beautifully sunny Anchorage after a gorgeous approach over the Chugach Mountains.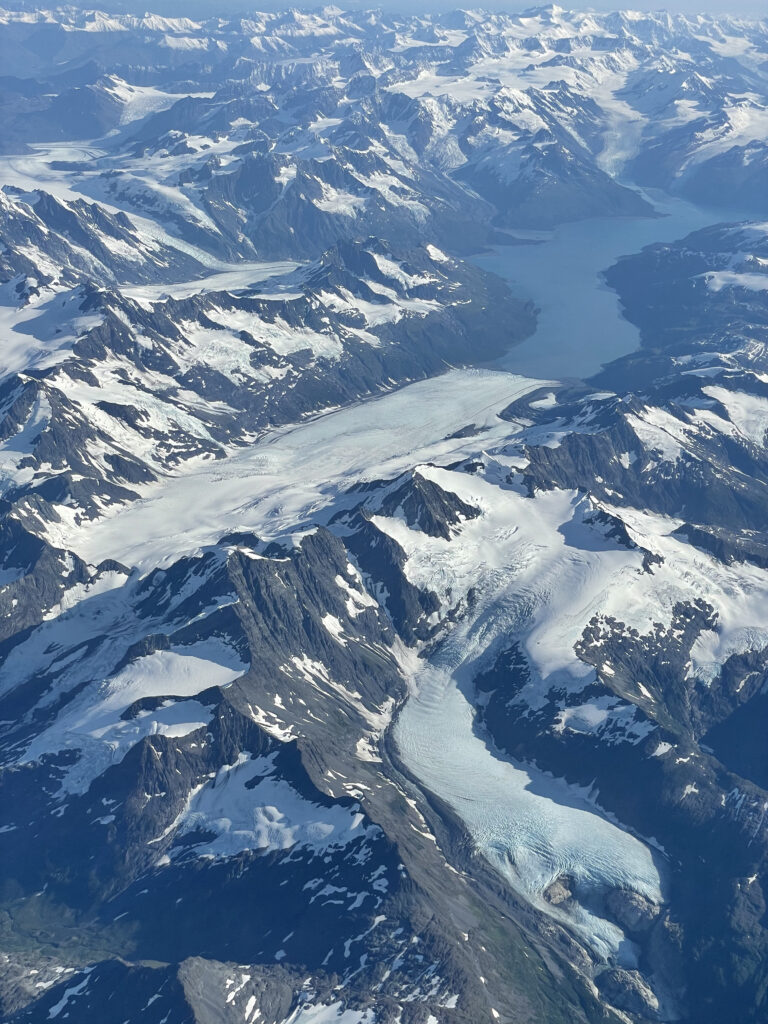 While the hard product may not be Alaska's latest nor greatest, the soft product pulled through for a pleasant, early morning experience in the sky.
Related Articles:
All images credited to the author, Jeremy Dwyer-Lindgren