Anuvu — formerly Global Eagle — has a long history of obtaining supplemental type certificates for variants of its Airconnect Ku-band inflight connectivity shipset for the Boeing 737, 757, 767, 777 and Airbus A320.
On limited occasions, including for a prominent A320 IFC program for Air France, it has used third parties as the applicant for the STC where required by local regulation or convenience, whilst retaining ownership of the IP and underlying data.
But the newly-restructured US firm is now pursuing with fresh vigor a "homegrown" STC approach for its newest Airconnect installs, giving it greater flexibility when executing on IFC programs for airlines.
Starting with the 737
To wit, the company in mid-March announced it had received two STCs for the installation of Airconnect on board the Boeing 737. The STCs are for the full RF and wIFE chipset components together.
The first STC grants Anuvu authorization to install all its own core Airconnect components on the 737, and the second enables Anuvu to slot in server and wireless access point components developed by Turkish Technic in support of its IFC rollout at Turkish Airlines in partnership with Technic and Profen Group. This latter accommodation showcases how Anuvu can adapt to "customer-preferred equipment", it said at the time.
Runway Girl Network reached out to Anuvu to understand how the STC covering its own core components differed from its prior STCs for the 737. An Anuvu spokeswoman explained:
The main difference between this 737 STC and past STCs is that this STC is using our newest Airconnect Global Ku antenna, modem, server and WAPs.

We previously put this configuration on the A320 series for Air France (via an STC partner), and are now capable of delivering those same components to the 737 using our own in-house certification teams creating the installation kit design and package.

By using our own certification teams, we were also able to act quickly and flexibly to include the alternate Turkish Technic server and WAPs into the design.
To give you a little bit of history, when Anuvu (then Global Eagle) was readying for the Air France installs, it turned to European engineering consulting firm AKKA to develop a STC to integrate Airconnect on the carrier's A320 family. At that time, AKKA revealed that the STC encompassed Global Eagle's newest Ku-band antenna – a three-axis system co-developed with Qest – as well as a Hughes Jupiter HT modem. And so we can deduce that Anuvu's new supplemental type certificates for the 737  – both the STC with its "own sourced LRUs"  and the second STC for those optional components from Turkish Technic – includes this kit from Qest and Hughes.
But what about the server and WAPs for the STC covering Anuvu's "own sourced LRUs"?
A key supplier of Anuvu for many years, Kontron's airborne servers formed the backbone of Anuvu (then Global Eagle's) legacy deployed systems. And in 2018, Kontron announced that its ACE Flight 4608 server would be "a key component of its next generation Airconnect system".
Moreover, Kontron aided in the rollout of Airconnect Ku connectivity and live television on the Boeing 737 MAX "with three pieces of equipment linefit on that platform – the server, the WAPs and the modem manager", Kontron executive VP global avionics Andy Mason previously told RGN.
Though not explicitly mentioned in Anuvu's press releases, it would seem logical that Kontron hardware is still in play. But Anuvu has thus far stayed mum about its own sourced LRUs as part of the new STCs.
Next, the A321
In Anuvu's latest press release — announcing that it has obtained a STC for the installation of its Airconnect Ku IFC system onboard Airbus 321 aircraft for Turkish Airlines – the company continues to place emphases on the homegrown nature of its STC work.
"The European Union Aviation Safety Agency (EASA) granted approval for the STC, which was developed solely by Anuvu, allowing the company to install core components onboard the Airbus A321, and incorporate server and wireless access point parts," said Anuvu in its statement.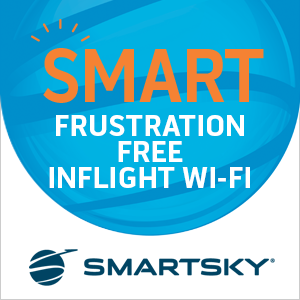 Notably, this is Anuvu's first in-house STC for Airbus narrowbody aircraft.
While the STC was developed by Anuvu, company executive vice president connectivity Mike Pigott noted that the work represents a "joint effort of Anuvu, Profen, and our partners at Turkish Airlines and Turkish Technic".
"We look forward to continuing our relationship with Turkish Airlines, providing our Airconnect Global Ku IFC system for the Airbus A321 family, and in conjunction with Anuvu and Profen's ground teleport infrastructure, they can deliver to passengers the most reliable and high-performing connectivity," he added.
Asked by Runway Girl Network if Anuvu sees an opportunity to offer this particular STC package and associated hardware (in concert with its partners) to other A321 operators either in Turkey or elsewhere, an Anuvu spokeswoman said:
"Yes, our 737 and A321 STC packages are created in connection with our Turkish Airlines program that includes both FAA and EASA authorization. We expect to use these packages on additional airlines around the world as we emerge from Covid and customers see the increasing importance of inflight connectivity and entertainment."
Related Articles:
Featured image credited to istock.com/Leyn