When JetBlue starts flying transatlantically to London, the carrier will bring some of its unique passenger experience proposition to its Core economy product: spacious seating, fast Viasat wifi, live and on-demand entertainment, and free snacks. But it's also starting a quiet — and tasty — revolution for inflight food, with rare-to-economy fully reusable dishware, build-your-own meals from a series of choices, and a partnership with farm-to-table dining brand Dig.
Runway Girl Network sat down over the phone with Jayne O'Brien, head of marketing and loyalty at JetBlue, for more details.
On the similar side of things, O'Brien confirms 32" pitch in the 90 regular economy seats, with approximately 35" in the 24 Even More Space extra-legroom seats. Big Thales IFE screens (10.1" on-demand and live) and Viasat Ka-band inflight connectivity — which O'Brien confirms has been extensively tested to provide a similar experience to the US domestic product — will also be on offer.
But there are also changes, especially for the food, where JetBlue is creating its first inflight hot meal for economy.
The concept is a smart and innovative one: passengers choose one protein-plus-base main dish from a choice of three, and two sides from a separate choice of three.
JetBlue has integrated its menus and ordering into the seatback screens. The IFE will feature information about the dishes, together with suitability for specific needs, including an allergen listing. While JetBlue has a no-nut menu, it does offer food containing seeds.
Lunch and dinner selections from the sample menu include main dishes of Charred Chicken & Brown Rice, Meatballs & Tomato Farro, or Spiced Eggplant & Quinoa, plus sides of Dig Acres Tomato Salad, Sheet Tray Carrots, and Mac and Cheese.
The breakfast sample menu — always tricky on short UK hops — is very extensive: mains of Mixed Berry Bread Pudding, Smoked Salmon Crepe or Summer Vegetable Frittata, with sides of Citrus Salad, Coconut Overnight Oats or Griddled Ham & Root Vegetables.
Two of the three sides on each meal are served chilled, a very smart move given the space constraints of a longhaul narrowbody aircraft. With only 117 total economy seats (less than half the total capacity of the aircraft in an all-economy configuration) to serve from the rear galley, O'Brien says "we're okay on the stowage side… for the seat count we've got, we're fine. We haven't actually got a loading issue for the food."
The menus — and indeed the glossy photos — look like food many a business class traveller would be happy with across the Atlantic. And the serving dishes themselves are impressive: not just recyclable, fully reusable, to be washed and served again, just like other airlines' business class. Even the lids, O'Brien says, "stack under every dish, both for easy customer use, but also easy to lay them out on the tray table." And they mean no single-use plastic.
But — and what a question to be asking in economy class! — are two full meals too much for the red-eye?
On short transatlantic overnights, no other airline serves a full dinner and a full breakfast in economy, with either a late supper service and a warm breakfast for later flights, or a dinner service and the sort of weaponised ambient croissant breakfast that makes your author roll over for another fifteen minutes with his neck pillow.
Not for JetBlue, even on the Boston-London flights that can get down to approaching five hours. "We're calling it a breakfast light bite, but it is a breakfast service," O'Brien says.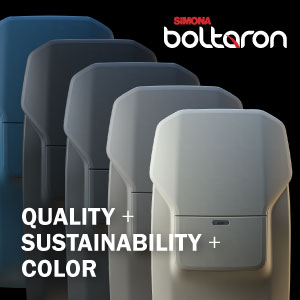 Indeed, she explains, it's the full one main plus two sides model. "You've got a choice of what you want for your breakfast from a number of different things like croissants, blueberry pudding, fruit, granola, those types of things," she explains.
Will JetBlue manage to get it served in time while also offering enough time to sleep on the redeye? 114 economy passengers may sound relatively few for a transatlantic flight, but if you think about it British Airways just retired a 747 layout with 145 seats, and that's split across two aisles. Up front, JetBlue is the launch customer for Thompson's Vantage Solo inward-facing herringbone doored mini-suites — and a business-plus extra-seat front row product called Mint Studio.
But its first attempt at a transatlantic menu for economy is a fascinating — and indeed praiseworthy — one for the challenger airline. JetBlue has a strong product and identity, and its evolution into the transatlantic Core product is a firm and exciting one. Its team is to be congratulated for the one remaining question being "are they serving too much food?"
Related Articles:
All images credited to JetBlue