I suggested to Stephanie Chahan, principal aircraft interior designer & business development analyst at Exosonic, that she is perhaps the only person in the world who designs cabins for supersonic government transports.
"I'm not," she tells Runway Girl Network. "There are four or five of us, but I can name all the others." Nonetheless, it's an impressive achievement for a designer who has not yet turned 30 years old.
Exosonic is developing a low-boom, Mach 1.8 airliner. In 2020, the California firm received a US Air Force contract to begin developing a supersonic presidential and executive airlift concept. 3D storytelling experts Prime Studios created the renderings.
The supersonic jetliner is ideally suited to US coast-to-coast services and prestige transatlantic routes, among them New York-London and Washington DC-Paris. Its cross section will be similar to that of a large-cabin business jet.
Exosonic CEO Norris Tie says he expects the airliner to fly early in the 2030s to support a mid-2030s service entry. In an industry prone to exaggerated timelines, it's a refreshingly realistic schedule.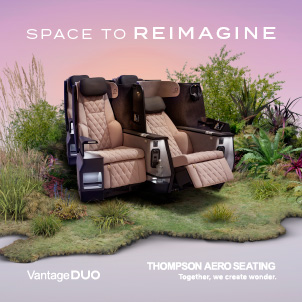 He's equally pragmatic about powerplants. "We have to work with the manufacturers to develop a supersonic airliner engine. There are two natural choices – modify an existing engine or create a bespoke core." The best option will depend on market size.
"We'll use sustainable fuels and build the aircraft and operate in as environmentally friendly way as possible," Tie adds. "We don't think anyone can use reheat these days, due to noise and fuel burn."
Chahan notes: "We're very mindful of our environmental impact." Wind tunnel testing is coming up in Seattle at the end of April.
For regular commercial operations, says Chahan, Exosonic is targeting typical business class travelers. It's seeking to find a sweet spot somewhere between the premium airline and corporate jet experience.
Chahan's  confidence belies her relative youth and the fact that she has only been with Exosonic for six months. It's a surprise then, that she has no aviation background.
While studying for a BA in interior design at Washington State University, Chahan says she "moved across the country to work as an interior design intern in Gulfstream's completion center business. Previously, I had no idea the business jet world existed. Now I'm obsessed with aerospace."
After completing an MA, she says: "I spent some time in hospitality design, but then jumped at the opportunity to join GDC Technics. Then, Exosonic's US Air Force contract got me very excited. Opportunities to work in business aviation are rare, but to work in supersonics, they are rarer still."
Sadly, even in her aviation nirvana, Chahan has experienced bias. "Sometimes it's towards my age and sometimes my gender. As a young woman it seems to take a little bit more effort to show I know what I'm talking about or that I have the experience to run the meeting rather than just take notes. It was more common when I first came to the industry and now there are also women I look up to in senior positions and that I can go to for mentorship."
For now, though, she's the only woman on Exosonic's small permanent team. Norris Tie says: "I think talent comes from different places regardless of gender and background. When Tim [MacDonald, chief technical officer] and I founded the company we really wanted to focus on diversity.
"People usually recruit from the places they know. We wanted to be intentional about how we formed our team, actively pursuing qualified talent that may not come from a typical background. You can find talent everywhere and anywhere. It's just a matter of putting in the effort to seek it out."
Related Articles: