As airlines look to outfit their future longhaul aircraft — whether that's the new Airbus A321XLR, for example, or a refit of existing aircraft — finding storage and service space that doesn't impact on the seat track footprint that can be used for passengers will be more important than ever.
One key card that airlines can play is M-Flex, the convertible door-bar-lounge-service-sales monument unveiled by Collins Aerospace at the last Aircraft Interiors Expo in 2019. For an update on the programme and to learn more about the industry's response, RGN sat down over a Zoom call with Shawn Raybell, director of business development, and Jefferey McKee, director of customer experience and design, to learn more.
In 2019, M-Flex was on show in two primary configurations: Duet, the larger and more functional version, and the  compact and lightweight FX. It is planned to be available for both narrowbody and widebody aircraft.
Collins is now working on a third member of the family, Switch, aimed as a flexible mid-cabin monument structure, and especially for the long-haul single-aisle market like the Airbus A321XLR.
"Switch is a mid-cabin chilled compartment that is looking to expand catering capacity, but also add self service," McKee explains. "It is a product that can switch from being a catering environment for preparation, into being a self service environment by changing the configuration of what's accessible and what's not accessible by a passenger."
The 'Switch' in the name signals a key part of its functionality: changing from a catering storage station and full-service space for flight attendants to a self-service zone, between flights or even between phases of flight.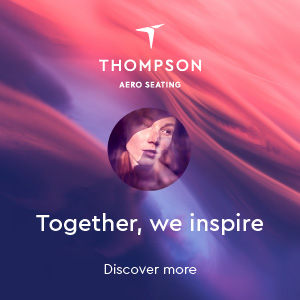 "It has a capacity in the lower portion of the unit to be able to house trays, standard units, trolleys — that area is kind of a customisable type of configuration," McKee says. "We align with the the catering requirements and service requirements from an airline. The upper section then is one of those functionality spaces that we can look at and say, 'well, maybe we want to have a self-service refrigerator, or maybe we want it to be something that's a little bit more utilitarian' and have it be just that we only have areas for access for handouts, chips or something of that sort."
As airlines consider how to design (or in some cases redesign) their catering to suit the new generation of longhaul narrowbodies in particular, Switch is also a compelling answer to the one of the core questions in the transatlantic market: how to offer a pleasant and full-service westbound daytime flight but a sleep-maximising eastbound redeye that still provides the services that passengers want.
The first M-Flex offerings, Duet and FX, have seen substantial interest since AIX 2019, says director of sales and marketing Shawn Raybell. "We've engaged with a handful of premium customers across all platforms: Boeing and Airbus widebody platforms and narrowbody platforms, for both products."
Interested airlines so far are, Raybell confirms, the kind of full-service carriers who might be expected to pioneer this kind of new product — not least as part of the evolution of headline and halo products for the next generation of cabins. But other airlines are also interested, with some carriers even considering multiple installations on the same aircraft to add functionality.
"This product is pretty wide as far as who would select it," Raybell says, "because it serves so many purposes. It's not just a self serve area, it's also an additional workspace for flight attendants. It's also additional catering storage space for airlines, as they're taking on longer routes, putting in more seats."
Collins has obtained offerability from Boeing and is working with Airbus on its aircraft, with the majority of in-house static and dynamic testing completed. Raybell estimates that the product would already be flying without the production deceleration led by COVID-19.
No matter how the cards fall as airframers look to resume pre-pandemic production rates, and as the industry focuses on efficiency, Collins seems to have a strong hand with M-Flex.
Related Articles: