A second generation of single-aisle fully flat beds — offering direct aisle access — is ready and willing to improve the passenger experience on board the increasingly capable narrowbody aircraft in the aviation pipeline. With these aircraft set to be among aviation's strongest cards in the post-COVID-19 recovery, let's take a look at how they stack up against earlier seats.
The first generation of fully flat seats on narrowbody aircraft lack direct aisle access, which is why they are now being superseded. They are, in essence, widebody seats of variable geometry that can fit inside the narrower bodies of an Airbus A320 family or the Boeing 737 or 757: Thompson's staggered Vantage or Collins' slightly overlapping Diamond, both developed in the mid to late 2000s. Both benefit from installations on both the Airbus A320 and Boeing narrowbody (737 and 757) fuselages.
Vantage was built for Delta's Boeing 767 and Swiss' A330/A340 airframes, the inherent benefit of the relatively narrow "columns" of seats was clear: eight columns on the 767 in an alternating 1-2-1 that offered direct aisle access, nine on the common Airbus fuselage of alternating 2-2-1, 1-2-1 that didn't.
(That Delta's latest Airbus A330 seat is essentially a wider version of this product, while its Delta One Suite XL+ product is a family evolution, highlights both its popularity and longevity.)
The upside: direct aisle access without a passenger stepover for everyone on board the 767, and on the Swiss A330, for all but two people in every ten. The downside: the zero-sum problem with staggered business class seating, as well as some tight foot spaces on some more compact configurations.
Diamond, meanwhile, was developed by the then-B/E Aerospace, with Continental as the initial customer and the seats still flying on United. The benefit of the overlapping feet cubbies, enabled by the slight angling of the seats, means it has remained popular, despite its lack of direct aisle access.
As a sort of 1.5th generation product sits the outward-facing herringbone Cirrus, then from Zodiac and now from Safran, used as first class on American Airlines' 3.5-class Airbus A321 transcontinental fleet. While spacious and offering direct aisle access, the density of what was designed as a widebody seat in the narrowbody context means that it has not caught on elsewhere.
Vantage and Diamond, meanwhile, continue to appear on narrowbody aircraft delivered today. Flydubai's 737 MAX offers Vantage, La Compagnie's A321neo offers Diamond, and so on. But it's been clear for some time that, with range and thus flight duration extending from five or six hours to nine or ten, narrowbody business class seats have needed to catch up with the Super Diamond, Cirrus NG, QSuite, Symphony, Opal, Horizon and other widebody products.
Enter the second generation: Stelia Opera and Thompson Vantage Solo. Both are remarkably similar, as herringbone seats at an acute angle from the centreline of the aircraft.
The blocker to these acute angles has been, principally, the reticence of airlines to accept overshoulder seatbelts (rather than airbags located in the seatbelt or seat shroud) as a way of passing the head injury and other criteria of angled dynamic crash testing. This is now something of a fait accompli, with overshoulder belts now widely seen across the industry.
A key outstanding question for both seats, however, is the "coffin class" problem that was perhaps most infamous in Cathay Pacific's high-walled pre-2010 business class seat, the Contour Solar Eclipse.
Another is the "owl question", where some passengers found it difficult to turn their necks enough to comfortably gaze out of the window in some of the implementations of previous generations of inward-facing herringbone. That question is particularly pronounced in some 1-1-1 layouts of the Virgin Atlantic 2003 Upper Class Suite, including on the Airbus A330, A340 and Boeing 787.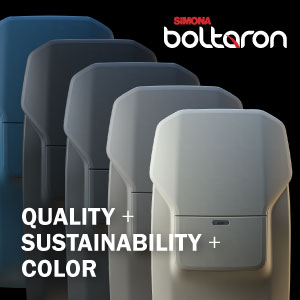 Are there more of the second generation to come? The seats are certainly out there — and by out there we really mean being shown at airframer cabin mockups to prospective airlines. Aviointeriors' larger Adagio and more compact Allegra fully flat seats, with Adagio offering direct aisle access, are on display at Airbus, as just one example.
It seems likely that the cabin geometries of other seats designed initially for widebody use, particularly for the smaller widebodies like the A330 and 787, are likely to work well in the narrowbody environment, but one big question is doors. Suites are big business, and the extra space needed can be a dealbreaker.
It is, nonetheless, notable that the two most recent second-generation narrowbody-focussed seats we've seen have offered direct aisle access, and that they've used the herringbone layout to do so. It's also notable that they're inward-facing herringbones, a configuration which fell out of fashion on widebodies after the 2003 Upper Class and Solar Eclipse. With many more airlines due to receive their longer range narrowbodies as the A321LR and XLR versions of the A321neo family are produced, and with the Boeing 737 MAX back in production, it will be fascinating to see where other airlines' decisions fall.
Related Articles: