Remember back in 2017 when there was a big discussion about whether yoga pants — those ultra-comfortable, stretchy athletic-leisure garments loved by many — were acceptable on the aircraft, let alone in premium cabins? Fast forward to today, where high-performance elements of the athleisure clothing trend are popping up, quite literally, in a next-generation business class seat.
Elliott Koehler, creative director at JPA Design, tells Runway Girl Network that that the company's Airtek seat, in cooperation with Williams Advanced Engineering and SWS, draws freely from athleisure in its woven nylon coat loop that wouldn't be out of place on a stylish running shoe; its laptop storage strap-clip that feels like it's straight off an expensive outdoorsy jacket; and a handy behind-the-feet luggage retention strap that keeps the belongings of the passenger behind you, well, behind you.
"We were looking at how we could challenge the architecture of the typical structure of a seat" with Airtek, Koehler explains. "As we were thinking about every element that would need to go on the seat — in one instance the coat hook, we were thinking about how we could challenge that architecture as well."
"The whole theme of the seat was really all about this technical performance, this kind of lightweight design, and that really played well into taking inspiration from athleisure, which is really all about technical performance that's brought about in a fashionable way," he says.
Rather than a protruding metal hook for coats, Airtek offers a high-performance woven nylon loop that can also be multipurposed for, say, headphones, or a scarf, or your keys. It feels like a mix between an Apple Watch strap and the laces replacements on an expensive running shoe, and it's a really smart concept.
"The cabin environment is all about technical performance, and it works well in that space, because typically the solution to making something more robust or strong was lots of metallic elements, and pretty hard and cold surfaces," Koehler says. By incorporating athleisure materials, "you can get a completely different look and feel and emotion to the passenger with these surfaces that are soft and cocooning and really a delight to be around. But they're still super strong, super robust and can withstand the usability and challenges in a cabin environment."
Athleisure pops up (or, rather, clips on) for the laptop storage slot as well, to keep passengers' devices securely held while also — thanks to the soft plastics and woven performance materials — avoiding scratching. The materials also allow for pops of colour to brighten up the cabin, and indeed to remind passengers to take their items with them.
"You want," Koehler says, "a piece of textile that's intelligent," and intelligent indeed is the third implementation, the baggage retaining strap at ankle level.
Unlike other business seats, the Airtek's monocoque design allows for air movement (and storage for a sizeable carryon) below the seat, rather like a recliner.
It's a space-efficient option, and rather than adding on a metal retaining bar, which many a traveller knows is not exactly pleasant on the achilles heel if you catch it in the wrong way, a strap is added that keeps the luggage where it's supposed to be without getting in your way.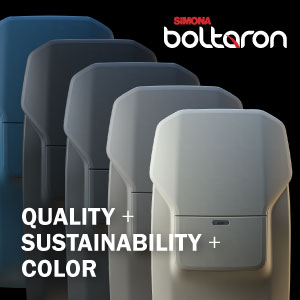 Even before lockdowns and working from home in 2020 popularised loungewear, "when you see brands that are really starting to embrace it, like Lululemon, or if you think about Arc'teryx's Veilance, then you can see people that are really starting to pay pretty high cost for these athleisure items," Koehler says. "
They like that performance it gives them, and of course the fashion that it brings as well."
All in all, it's a fascinating reminder of the innovation, inspiration and materials engineering being focussed on new airline seating — as well as the fast-changing world around the passenger experience industry.
And, certainly, it's a long way from 'no yoga pants'.
Related Articles:
Featured image credited to JPA