As domestic flights in India resumed on 25 May following a two-month lockdown, significant changes to the passenger experience were immediately apparent. Not only had a touchless travel policy been introduced at Indian airports, but airlines were mandated to distribute to each passenger an amenity kit with mask, face shield and hand sanitizers, while middle-seat passengers were to be supplied with PPE gowns.
Sanjay Kumar, the chief strategy and revenue officer at Indian low-cost carrier IndiGo, recently flew from Delhi to Mumbai and said he was amazed at the digitization, and new social distancing rules at the airports. Passengers first walk through a thermal screening zone before entering the facility. Baggage is sanitized. And airport counters feature Plexiglass screens embedded with magnification properties to avoid touch between agents and passengers.
"Before COVID-19 we had only 30% passengers doing self check-ins. Now it's 99.9%, literally overnight all over India. The government has done a great job with the ecosystem," said Kumar.
In the lounges, alternate seats are blocked, and newspapers are no longer offered. Luggage trolleys are not permitted in arrivals or departures. And sanitation is the new buzz word.
Recent surveys conducted by IndiGo and Indian full-service carrier Vistara found that people want to fly. Whether they will actually do so in sufficient enough numbers for a recovery remains to be seen.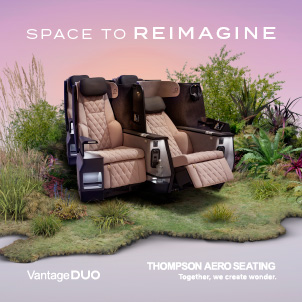 IndiGo's survey of 25,000 found that passengers overwhelmingly believe the carrier has done an effective job in communicating new safety protocols to consumers, with nearly 93% aware of its sanitation and hygiene measures.
"Even though most of our customers will be opting for domestic travel (62%) in the near future, there is a healthy interest in international travel (38%)," suggested IndiGo chief commercial officer William Boulter.
The IndiGo survey found the top three deterrents to flying are: a lack of social distancing by other passengers (62%); post-travel quarantine measures by states (55%); and concerns over sitting in the aircraft (55%).
Similarly, respondents to Vistara's survey of 6,000 said their top concern was the fear of being exposed to COVID-19 during flight and fellow passengers not adhering to health protocols. This apprehension represents the greatest impediment to a near-term recovery.
As advised by the Government of India, the use of IFE screens in-flight is currently suspended for health and safety reasons, according to Vistara, which has accepted delivery of its first A321neo with flat bed seats in business class.
Perhaps unsurprisingly, given Vistara's full-service business model, business travel was cited as the biggest reason why people will fly Vistara, followed by those who want to visit with friends and family, the carrier's survey found.
Raman Sopory, founder of aerospace consultancy Defense Aerospace Consultants India, disagrees with some of the conclusions of the surveys. He suggested that nobody will travel "unless there is a business or medical emergency. I will only travel unless an airline at a cost gives an end-to-end solution. That means the pick-up from [my] home in a certified sanitized car, to a drop at my destination."
Self-employed frequent flyer Natasha Sethia, who is the mother of a one-year old, told Runway Girl Network she does not plan to travel in a hurry. "My main concern is the places I travel to are COVID-19 hotspots," she said, adding that her child refuses to wear a mask "and it is risky when he runs around in the plane touching things".
Radha Bhatia, chairperson of travel technology and aviation services firm Bird Group, who loves to fly, said that as a senior citizen she is restricted and "has to be careful". Nonetheless, she is looking forward to flying to London when international travel resumes.
Her choice is to fly Vistara business class "because it offers food necessary on a nine-hour flight". She said she misses now-defunct Jet Airways' first class suites, which boasted great privacy and "would be relevant in today's closeted world". Vistara's survey found that the top destinations for flyers from India in the next year are: Singapore, the UK and Dubai.
Related Articles: