Safran Passenger Innovations (SPI) has ensconced itself in a sweet spot in the inflight connectivity sphere. A decision made years ago to disrupt the vertical integration of IFC suppliers — by supporting an uncoupling of hardware from the service — is paying off, with Airbus turning to SPI to provide both the Ka- and Ku-band terminals and integration work for its new Airspace Link HBCplus linefit supplier-furnished IFC program, even as the airframer separately tapped Viasat London (formerly Inmarsat) and later SES to provide the Ka IFC service, and more recently Intelsat and Panasonic Avionics to supply Ku multi-band IFC service.
"It goes with our overall strategy for connectivity," SPI vice president, global sales and marketing Jared Siqueland told Runway Girl Network at the Global EXPO in Long Beach, California. "We are not trying to be the service provider. Our core expertise, if you look at the history of the company, has been reliable products. We're really, really, really good at the system integration of these systems, hardware development, all that. But we are not going after the service aspect of connectivity. It's saturated and although there's been some consolidation, it's saturated and that's not our core expertise. Our expertise is the system on the aircraft."
He added:
We also saw a need to break the vertical integration of every connectivity supplier even going back to our original offering, and kind of going towards — we say 'agnostic' — but going towards a cell phone model that we're used to: [providing] a really good quality equipment and you can go to different service providers, ultimately bringing that service cost down.
HBCplus is groundbreaking in that it enables participating airlines to switch bandwidth suppliers without changing the linefit IFC hardware on their aircraft. There is, of course, a cost to the terminal equipment. But SPI believes that "driving a little more competition in the market is healthy for everybody, benefitting the airline on the operational side to bring that price per megabit down".
One might argue that SPI made the right decision to stay out of the service side of the industry. With the exception of a few outliers, satellite operators serving as aero ISPs now dominate the IFC landscape in commercial aviation, which is among the reasons why certain value added resellers (VARs) are assessing their positioning in the market. Inmarsat-now-Viasat Global Xpress (GX) value added reseller SITA, for instance, has opted to cease being a GX VAR beginning in January 2025.
So, whilst Safran Passenger Innovations offers GX terminal hardware (including legacy kit featuring Honeywell's JetWave Ka-band gimbaled antenna plus its nextgen terminal with ThinKom Solutions' Ka2517 VICTS antenna as core), it never became a GX service provider.
"Could have called it a little bit of luck, could have called it some smarts," said Siqueland in reference to SPI's decision not to become an aero ISP. But at the same time, Safran's focus on hardware, and this uncoupling of hardware and service in the Airbus ecosystem allows each side —  hardware and service —  to focus on their knitting.
"We look at some of these service providers that have fallen under the HBCplus program. They have really great expertise in managing satellite networks and providing high levels of service," said Siqueland. So, given Safran's strong investment in new terminal technologies — and its plans to "continue to invest in new terminal technologies even beyond what we've announced for the future" — the providers are hopefully "also seeing a benefit in that of 'we own that piece, they own the service piece and let's really create great services for the industry.'"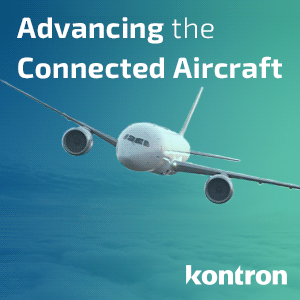 From this vantage point, the service providers certainly seem to be on board with Airspace Link HBCplus. "[H]ere's what I care about, that the thing works and is good," Intelsat SVP, commercial Dave Bijur told RGN flatly when the new Ku-band terminal for this Airbus program was teased at the Aircraft Interiors Expo this spring in Hamburg.
One of the things that Panasonic Avionics is excited about with respect to the the Airbus supplier-furnished antenna is it can support LEO and GEO service simultaneously, noted company vice president, connectivity business unit John Wade at the recent Global EXPO in Long Beach. (Elsewhere, terminal specialist Stellar Blu Solutions, which is a partner to both Intelsat and Panasonic, is benefitting from hardware/service uncoupling in a different fashion on Boeing programs.)
Indeed, for the multi-orbit, Ku-band side of HBCplus, available from Airbus in 2026, SPI has adopted for its terminal Get SAT's newly branded AeroLesa electronically steerable antenna, which can simultaneously transmit via LEO and GEO satellites.
"[In] my opinion, the whole debate of Ka/Ku is starting to go away," said Siqueland. "And especially with this Ku terminal being able to support dual beam, it makes it really interesting for airlines depending on their route structure where maybe they have holes in their current GEO coverage. And also, the operational costs of this: being able to leverage maybe LEO networks when you don't need to pull this big MB stream from a GEO network. Obviously, there's some commercial aspects that need to get worked out a little bit further on, how that would look like, but this does make it possible to talk to a GEO and LEO [satellite] simultaneously on an aircraft depending where they are in their route."
He continued:
It may even technically be possible to have two different service providers in the same aircraft; don't know how that will materialize. I think we need to get further down the road to see how those service contracts are going to play out.
A multi-orbit, multi-band terminal may also be in the cards in roughly ten years. "[W]e have our eye on the prize which is the epiphany of a multi-band antenna … being able to have a multi-band GEO, MEO, LEO." That paradigm will require a software-defined aero modem, he said.
Those modems are also, incidentally, now in the spotlight as Intelsat explores adding a MEO constellation to its GEO/LEO service proposition, as supported by its own GEO satellites and its role as a OneWeb LEO service distribution partner in aero.
Related Articles: