Panasonic Avionics, which stitched together its Ku-band network via a bevy of satellite partnerships, now looks a little bit different than the other aero ISPs that operate their own satellite networks: Viasat, Intelsat, newcomer Hughes, and soon Anuvu with its microGEO scheme.
But as far as Panasonic Avionics is concerned, that's a big positive given today's market dynamics.
"The different technologies have different benefits and one thing that makes Panasonic unique is that we don't own the satellite apparatus and during a time of technology disruption — which I would argue there's more technology disruption going on right now in the IFC market than ever — actually, not owning those assets gives us a lot of freedom to make sure that we can secure the best performing technologies, but at the best cost, the best price for airlines," CEO Ken Sain told RGN at the Aircraft Interiors Expo in June.
It gives Panasonic the ability "to be completely independent" and to "pick the best satellite for you to get the service you want", John Wade, vice president, connectivity business unit, later added in an interview with RGN.
In short, Panasonic doesn't see its lack of vertical integration on the GEO satellite front as slowing its roll. Far from it.
Indeed, for Panasonic, which is a OneWeb distribution partner in aero, the best satellites will increasingly be of the low-latency LEO variety, though it is pursuing a multi-orbit future in inflight connectivity.
Explained Wade:
[Y]ou're going to hear Viasat tell you that latency doesn't matter. And that's because they don't have a satellite that offers low latency. You're going to hear Intelsat say it's going to be leaning more towards the satellites that it owns. So why wouldn't it? Because that makes sense for that.

Because we don't own any satellites we can say to the airlines, very honestly, 'we're going to pick the best satellite for you to get the service that you want.' And for us, that is really going to be a bias towards LEO.
So, will Panasonic offer LEO-only IFC solutions in addition to its nextgen hybrid multi-orbit LEO/GEO offering, RGN asked?
"We won't," said Wade. "And there's a couple of reasons for that. And one is coverage because today you can't use LEO over Russia, and you can't use it over China. So, any operator that flies over those areas or wants to consider selling their aircraft to somebody who might want to fly over those areas, is at some point or other going have to use GEO. We also are not 100% certain when over hub cities, you won't need to use GEO. But most of the time you are not going to need it."
He continued:
There is no real extra cost to put in a multi-orbit solution, so we are going to definitely be going with multi-orbit.

But what you'll see us [do] is using LEO far more than we are using GEO.
Big GEO spend in the near-term
This shift obviously won't happen overnight. OneWeb has already said its IFC service won't be available until 2024. And Panasonic does not expect to be providing OneWeb LEO-powered IFC (augmented by GEO service) until the "end of 2024", Sain told RGN.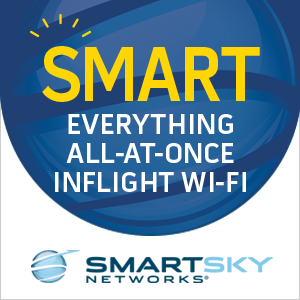 Indeed, in the near-term, Panasonic is adding a 50% increase in GEO capacity "before the end of this year from where we are today", he said.
"And then notably, some of the fastest connectivity — what we call our XTS or extreme throughput — is tripling," added Sain.
"That whole geographic area, we're going to support that [XTS] coming all the way across the Middle East through Europe and down into the United States for all those transatlantic flights. So the experience from passengers is certainly going to increase. And then at the end of next year, we'll have LEO solutions in place that then bring on a whole other set of capacity, lower-latency over the poles which doesn't exist today with GEO, but then also that works really well with cloud-based solutions."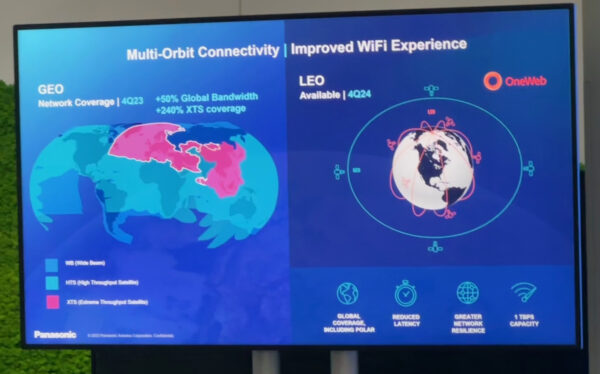 "So, as an example," Sain continued, "I flew to Istanbul for the IATA general meeting and the Wi-Fi connectivity on my flight was terrific. But the deck I was preparing was in the cloud on Teams, and while the Wi-Fi connectivity was terrific, Teams and cloud-based solutions require lower latency and so it wouldn't actually resolve back to the server. And that's typical.
"That is going to change with LEO."
Related Articles:
Featured image credited to OneWeb