On track to launch its new 5G network in the fourth quarter of this year, Gogo has publicly reiterated that it is not infringing on any of SmartSky Networks' patents, despite SmartSky's claims to the contrary.
"So, first of all, I just want to repeat, we do not infringe on these patents, and I want to be very clear about that," Gogo chairman and CEO Oakleigh Thorne said during Gogo's recent fourth quarter earnings conference call, when pressed by an analyst for a litigation update.
But if the judge ultimately finds in favor of SmartSky in its patent infringement case against Gogo, Thorne said on the call, "the overwhelming remedy is that there would be some sort of licensing agreement".
Whether or not SmartSky would license the technology to Gogo, under this scenario, is perhaps another matter.
"SmartSky has never offered to license its patents," company president Ryan Stone told RGN on 21 February. "Our view is Gogo's patent infringement has been willful, meaning it exposes them to treble any awarded damages. Thus, given the ongoing irreparable harm they are causing to SmartSky, it seems Gogo has already decided to effectively bet their company on getting a favorable (to Gogo) outcome."
As readers are well aware, SmartSky in February 2022 filed its patent infringement lawsuit in the US Federal District Court in Delaware against Gogo, alleging that Gogo's forthcoming 5G onboard Internet service and related hardware treads on four specific SmartSky patents. At that time, SmartSky also filed a motion for preliminary injunction, asking the court to immediately stop Gogo from making, using, and selling Gogo 5G while the infringement case proceeds.
In September 2022, the Delaware District Court denied SmartSky's motion for a preliminary injunction. But one week later, SmartSky filed an appeal, asking the US Court of Appeals for the Federal Circuit to reconsider the lower court's decision on the preliminary injunction.
Both cases are ongoing.
But in a new development, SmartSky last month asked the Delaware District Court to add two recently issued patents to its 2022 infringement lawsuit against Gogo Business Aviation and Gogo Inc – its '108 Patent' which is part of a family of patents from inventor Donald Alcorn that enables the "handoff" of a data communications link between an aircraft and a network of ground base stations; and the '639 Patent', which is part of a family of patents from inventor Douglas Hyslop that together cover how base stations are arrayed in a wedge-shaped architecture in broadband, ATG wireless communications systems, explained SmartSky.
"While SmartSky is confident Gogo infringes each of the six patents SmartSky is asserting, the two new patents are related to patents included in the original complaint and directly negate several of Gogo's non-infringement arguments," suggested SmartSky in a published statement.
Pertinent to the '639 Patent' infringement claim, RGN asked if SmartSky has been able to independently confirm that Gogo is mimicking the base station wedge architecture — perhaps via a visit to one of the towers?
"Our comments here are limited by the Protective Order that has been entered in the case, so we cannot divulge details from the confidential information that Gogo has produced thus far in the case (confidential details are only available to outside attorneys, meaning SmartSky personnel cannot see them)," said the firm. "However, based on SmartSky's outside attorney review of the technical documentation Gogo has produced, we believe that Gogo's 5G system meets all of the claim elements of at least one claim of each of the asserted Hyslop patents."
Notably, SmartSky suggested in its press release that: "If the court finds infringement of any one claim of any one patent, SmartSky would effectively win the case and Gogo could be permanently blocked from selling and operating its 5G system, which may include blocking the sale or use of the required AVANCE L5 system component, as well."
RGN sought clarity from SmartSky on this assertion, asking the firm if it is perfectly comfortable with Gogo's use of the AVANCE L5 component if the component simply supports Gogo's current ATG service. So the sale of said component would only be blocked if it is clearly being used as part of 5G deployments (and if the court rules in SmartSky's favor), RGN asked:
Said SmartSky:
To the extent the AVANCE L5 components are being sold because they are intended to be used at some point as a required component in Gogo's 5G system, SmartSky is seeking to enjoin such sales and use of AVANCE L5.

Gogo's public marketing campaign clearly touts that its customers should purchase AVANCE L5, both in the past and now, because it is a required component of and upgradable to Gogo 5G.
This also begs questions about the potential implications for Gogo's future hybrid 5G/LEO offering.
A permanent injunction against Gogo to prevent it from selling its 5G product "would be highly unusual", said Thorne on the call. The Gogo CEO pointed out that three SmartSky patents are expiring soon. "[T]here are six patents in all right now, I believe. And three of those patents expire in August of 2025 and the other three expire in 2034 and 2035."
As such, he suggested that any decision by the court there would be "fairly limited in terms of what the fees might be because those patents will not be around very long after the case since the trial is April '25 and the patents expire in August of '25".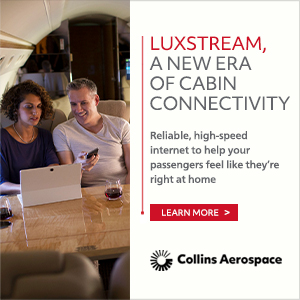 It remains to be seen if this protracted litigation will affect 5G sales. Thorne noted that Gogo is "actively selling, shipping and installing 5G equipment."
Operators seem to appreciate having more than one choice of ATG provider in the market to ensure that pricing remains competitive, with flyExclusive chairman and CEO Jim Seagrave reiterating this sentiment in an interview with RGN.
As a dealer for both systems, flyExclusive has been "very happy with both of them", he said. "We like the idea of SmartSky and the additional speed that they've got in there. They are a great company. We also like the idea that … pricing will stay competitive. That's an expensive part of the business; that's a huge monthly expense. They both do a good job; we've been happy with both of them."
Meanwhile, SpaceX's competitive threat is growing. Its Starlink Aviation service is already flying on JSX, and its nextgen v2 satellites are already launching — ahead of OneWeb's planned aero service launch in 2024. Thorne said Gogo's global LEO service, powered by OneWeb, will be competitive with Starlink. But he reckons that Starlink will have "a pretty significant impact" on GEO IFC providers in the sector.
Related Articles:
Featured image credited to SmartSky Networks