Inflight connectivity provider Gogo has completed the sale of its Commercial Aviation (CA) business to satellite operator Intelsat for $400 million in cash, in a deal that will springboard Intelsat into having direct relationships with airlines.
"Gogo will continue as a publicly traded company, now singularly focused on leveraging its ATG [air-to-ground] network and proprietary spectrum to serve the business aviation market," said the firm in a statement issued this morning.
"The proceeds from the transaction significantly strengthen Gogo's financial position by reducing its net debt position and enhancing the company's ability to invest in growth opportunities, including Gogo 5G."
Culmination of the transaction further propels Intelsat into vertically integrated managed mobility services, and deeper into the growing inflight connectivity market.
"Broadband connectivity for nine of the top 20 global airlines and an installed base of more than 3,000 commercial aircraft are now part of Intelsat's portfolio of services," noted Intelsat.
As part of the transaction, Gogo has entered into a 10-year network services agreement under which Intelsat has exclusive access to ATG services for the Commercial Aviation market in North America, subject to minimum revenue guarantees of $177.5 million.
Delta Air Lines is among the North American operators that use Gogo ATG, particularly on regional jets. The US major has fitted the rest of its fleet with a mixture of Gogo 2Ku and traditional Ku-band connectivity systems.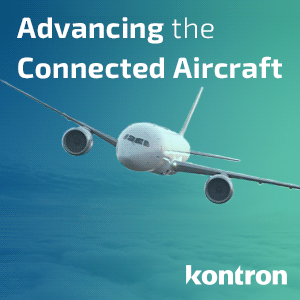 Intelsat sees an opportunity to reset Gogo's arrangements with Delta and other airlines to bring far better economics to inflight connectivity. It firmly believes it can support Delta's plan to offer free inflight Internet to passengers.
"We look at what Delta wants to do" in terms of free inflight browsing, Intelsat SVP, mobility Mark Rasmussen previously told RGN, and "we think that is where a lot of airlines are going to go. I think Delta had a concern that there was not enough capacity to do it before, but this [acquisition of Gogo CA] changes that. This changes everything."
For Gogo, the completion of the sale of its CA business to Intelsat "marks the beginning of a new chapter for Gogo; we are a leader in business aviation and now turn our singular focus toward serving that attractive market", said president and CEO Oakleigh Thorne.
"Looking forward, we see great opportunity to create value for our customers, employees and shareholders," Thorne said. "And on behalf of all of us at Gogo, I want to extend my sincere thanks to the talented CA team that joins Intelsat today. The opportunities that await them are a testament to their unwavering dedication and commitment to Gogo and their aviation partners."
Intelsat announced several leadership changes, effective today, as part of the deal close. John Wade will remain president of Gogo Commercial Aviation, now a division of Intelsat, managing all aspects of the business, including product, sales, account management, quality and service delivery.
Bruno Fromont has been named Intelsat's Chief Technology Officer. He will lead spectrum strategy, asset planning, product development and innovation. Fromont previously served as Intelsat's senior vice president of strategy and planning, following vice president roles leading yield management, solutions development and asset management.
Jon Cobin has been named Intelsat's Chief Strategy Officer, leading the company's corporate strategy and business development efforts. Cobin joins Intelsat from Gogo, where he served most recently as Chief Strategy Officer.
"Combining Intelsat's next-generation global telecommunications network with Gogo Commercial Aviation's leading capabilities and airline relationships will create unprecedented innovation in inflight digital connectivity, unlocking exciting new growth and brand loyalty opportunities across the airline industry," said Intelsat CEO Stephen Spengler.
"With our powerful, integrated offering, airlines will no longer need to trade off speed, reliability or availability for coverage, even when flying at full capacity in and out of the busiest airport hubs."