SpaceX has branded its Low Earth Orbit satellite-supported inflight connectivity service as Starlink Aviation and is urging aircraft operators to reserve the solution now for "priority deliveries" beginning in 2023.
Launching a dedicated web page for Starlink Aviation last week, SpaceX assured operators that the onboard Internet service can deliver up to 350 Mbps to each aircraft, "enabling all passengers to access streaming-capable Internet at the same time".
"With latency as low as 20 ms, passengers can engage in activities previously not functional in-flight, including video calls, online gaming, virtual private networks and other high data rate activities," suggested the satellite operator and ISP, noting that Starlink Aviation will have global coverage including over the poles.
Over 3,000 Starlink Ku-band LEO satellites are already in orbit, and launches continue apace. On 20 October, SpaceX launched 54 LEO satellites from Cape Canaveral, Florida.
Notably, SpaceX is also providing visibility into its competitive IFC pricing structure, indicating that the Starlink Aviation service will cost from $12,500/month to $25,000/month with a one-time hardware cost of $150,000. The hardware comprises an aero terminal, featuring an electronically steered phased array antenna; plus power supply, two wireless access points and harnesses.
The new antenna, which first broke cover in June at the Passenger Experience Conference in Hamburg, Germany, will enable "new levels of reliability, redundancy and performance", assures the Starlink Aviation web page. The proof will, of course, be in the pudding.
Delta Air Lines, a customer of Viasat and Intelsat, last year conducted exploratory tests of Starlink's technology on a regional jet. However, the US major is understood to have tested an earlier, circular antenna design.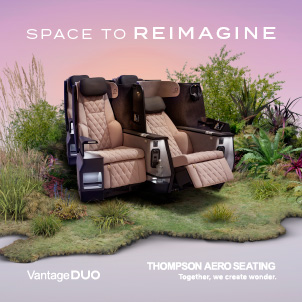 SpaceX has already secured Hawaiian Airlines and 'semi-private' jet operator JSX as customers. But the IFC solution is also clearly being positioned as a strong option for business jets. The Starlink Aviation web page reveals that supplemental type certificates (STCs) are in development for the Embraer ERJ-135 and ERJ-145 (which are flown by JSX), the Gulfstream G650, G550 and G450; the Dassault Falcon 2000; and Bombardier's Challenger 300, Challenger 350, Global Express, Global 5000, Global 6000, and Global 7500 jets.
The product is still in development, however, and availability will be "subject to regulatory approval", notes SpaceX.
It is not immediately clear when STC work will begin for Hawaiian Airlines' fleet. In time, every Hawaiian Airlines' passenger should expect complimentary high-speed, low-latency broadband Internet access "onboard flights between the islands and the continental US, Asia and Oceania", operated by the carrier's Airbus A330 widebodies, Airbus A321neo narrowbodies and an incoming fleet of Boeing 787-9s, Hawaiian said in April when announcing its deal for Starlink IFC.
Starlink Aviation is competing with a bevy of broadband IFC providers in civil aviation. In the business aviation sector, the contenders include but are not limited to air-to-ground (ATG) connectivity providers Gogo Business Aviation in North America and SmartSky Networks in CONUS, as well as GEO satellite service providers Collins Aerospace, Honeywell, Satcom Direct and Viasat.
IFC rivals in commercial aviation include Anuvu, Intelsat, Inmarsat and its value-added resellers, Panasonic Avionics, Thales and Viasat. Inmarsat and Viasat hope to complete a merger deal before the end of the year.
Meanwhile, Gogo Business Aviation, Intelsat and Panasonic have each announced agreements with OneWeb, a B2B-focused Low Earth Orbit satellite operator that has embraced partnerships with aero ISPs and integrators. In contrast, Starlink Aviation appears to be taking a more direct approach to the IFC market.
Related Articles:
Featured image credited to Juliana Shallcross