An infotainment solution that is already available to rail and coach passengers is being tailored to meet the needs of Japan Airlines' start-up subsidiary ZIPAIR, as the carrier seeks to shake up the low-cost, mid-to-longhaul model with free streaming entertainment and connectivity.
The content platform from London-headquartered GoMedia "means that ZIPAIR customers will be able to access a range of complimentary onboard entertainment via their own devices, using the built-in aircraft Wi-Fi. A selection of movies, ZIPAIR special content and promotional offers will be available on board," explains GoMedia.
ZIPAIR's fleet consists of two Boeing 787-8s transferred from its parent company. The low-cost carrier will rather famously not offer seatback IFE on its flights, including in business class, but instead will rely on a wholly wireless entertainment and connectivity experience for passengers.
The 787s arrived at ZIPAIR with Panasonic Avionics' Ku-band satellite-supported inflight connectivity system already installed, as Japan Airlines and Panasonic have a long-standing relationship. However, in order to accommodate the high connectivity usage of a free model – as well as to meet ZIPAIR's low-cost operational goals – the seat hardware and connectivity hardware, including the modem, were upgraded and updated, confirms Panasonic.
"ZIPAIR will utilize Panasonic's connectivity service as its primary method to enhance its passenger experience. Additionally, through joint development and collaboration with Panasonic, ZIPAIR will able to further enrich its passenger experience by integrating its media service provider GoMedia's content platform through Panasonic's connectivity Wi-Fi services," explains a Panasonic spokesman.
He continues:
By incorporating GoMedia service on board ZIPAIR, Panasonic is expecting high connectivity usage since the GoMedia service is free-of-charge.

Augmented with free-of-charge connectivity, this may revolutionize the connectivity and Wi-Fi service model where IFE/IFC  will work in tandem for low-cost mid-long haul onboard service.
Passengers will also be able to order snacks and sales items using their smartphones and tablet devices as the airline will also debut a new inflight self-ordering and payment system.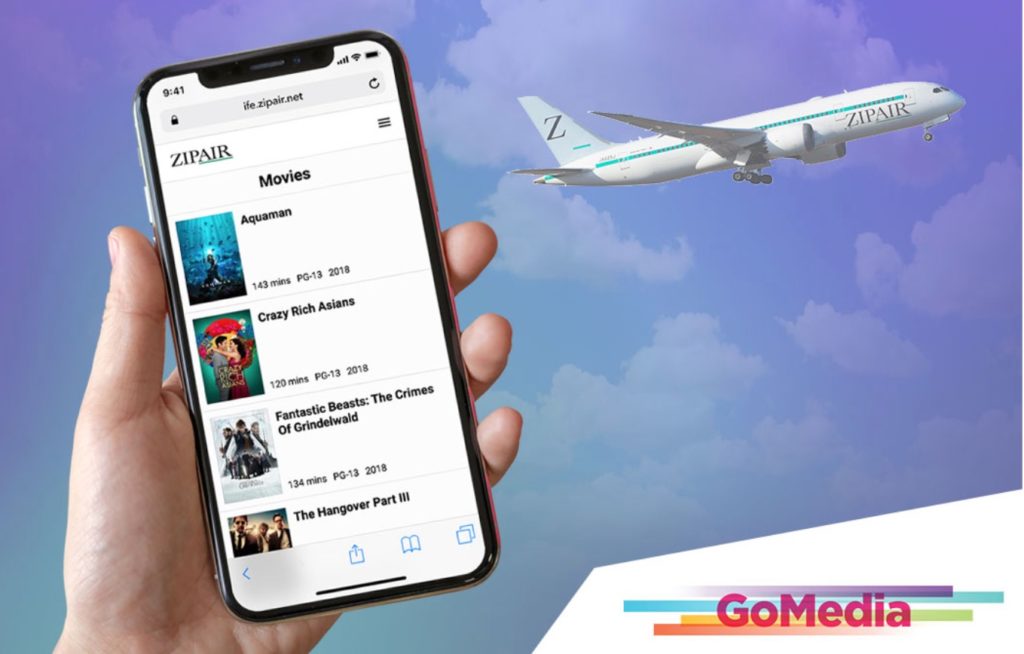 "By making the most of inflight Wi-Fi services provided by Panasonic Avionics, we hope to become an airline that gives customers the freedom to spend time on the plane in their own personal way and that makes flight time feel short," says Shingo Nishida, president of ZIPAIR.
For GoMedia, the ZIPAIR contract represents its foray into aviation. "We have proven results in the rail and coach industries and look forward to adding aviation to our portfolio," says managing director Roger Matthews.
ZIPAIR will launch 787-8 service between Tokyo Narita and Seoul on 16 October, representing a slip to its original schedule.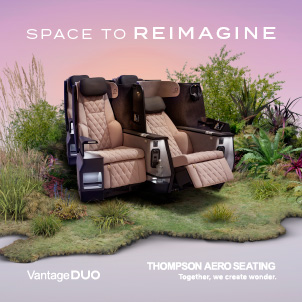 "Due to the impact of the new coronavirus infection, we were forced to postpone the launch of our passenger flights, but we are finally able to welcome passengers on board. Although the COVID-19 impact continues, we will do our best to serve our passengers with a new option for travel between Tokyo and Seoul," explains Nishida.
"Since we had more time to prepare for the start of passenger flights than we had originally planned, we have been working hard to make sure that we are ready to welcome our customers, and we hope you will enjoy the journey with ZIPAIR."
Meanwhile, the schedule and airfares for ZIPAIR's forthcoming Tokyo-Bangkok route will be announced "as soon as they are confirmed", says the airline.
Related Articles:
All images credited to GoMedia