The once ubiquitous 3.5mm headphone jack is quickly becoming a rarity in the consumer smartphone industry. Apple nixed the standard from the iPhone 7 and up, while the majority of Android manufacturers have followed suit. Many airline passengers have since transitioned from carrying wired headphones to Bluetooth only, leaving them in the lurch when attempting to use entertainment systems with their own preferred headphones while flying.
After years of various suppliers claiming that adding Bluetooth capabilities to their systems was impossible due to limited RF spectrum available in the cabin, the tone from Panasonic Avionics and Safran (formerly Zii) has changed dramatically.
Panasonic Avionics recently rolled out Bluetooth capabilities on its eX3 inflight entertainment platform on the China Eastern A350, but with some restrictions. Bluetooth is only available in the business class cabin, and only to airline-provided bluetooth headphones, not to passengers' own bluetooth headphones.
Panasonic says full Bluetooth capability for personal devices will be available on the NEXT hardware platform.
Safran, however, says it has already cracked the code to roll out Bluetooth to all passengers, including their own headphones, as a part of its RAVE Ultra inflight entertainment system. The system will begin shipping to seat manufacturers in the third quarter of 2019.
"We have, through special software and special hardware that's part of Ultra … that takes the Bluetooth emission from a circle down to a conical shape, and limiting the power back into a 3ft to 4ft conical shape," senior director, sales and marketing Jared Siqueland said at the Aircraft Interiors Expo (AIX) in Hamburg. "And now you have a very controlled emission, in terms of who is sitting in front of the display."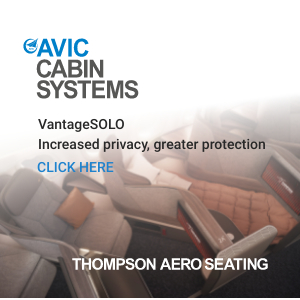 Aside from the possible spectrum crunch on board, managing the long list of in range devices in pairing mode needs to be controlled. While traditional Bluetooth range is approximately 33ft, give or take, that would possibly include dozens of devices cluttering up the list. With these hardware and software limitations, passengers need to be physically close to the screen for pairing to be achieved.
"Airlines love it," exclaimed Siqueland.
Safran explained that the cabin-wide Bluetooth deployment has been approved by both Boeing and Airbus. "We went to Airbus and we're on an A321 … tested it and proved it out," said the Safran executive. "At Boeing we went up to their test facility in Seattle and proved it out there. They already bought off on the technology."
At a demonstration in Safron's booth at AIX, pairing to a set of Apple AirPods occurred without issue. The audio cut out after taking a few steps back from the screen; a shorter distance than what would be expected with traditional Bluetooth.
The number of ways audio can be accessed from embedded systems has ballooned, from traditional 3.5mm headphone jacks to USB Type A to USB Type C and even magnetic contacts. Bluetooth capabilities, however, represents the first practical wireless method, which will lead to less clutter.
Related Articles: