It might surprise you to learn that AirFi sees all single-aisle aircraft in the world fleet as the addressable market for its AirFi LEO (Low Earth Orbit) low-bandwidth connectivity solution, including aircraft that are already fitted with a broadband cabin connectivity pipe. But that's precisely its assessment of the size of the opportunity for AirFi LEO.
The Netherlands-based company is known in the inflight entertainment space as offering a quick and easy way to bring portable and aircraft-powered wireless IFE units on board, which enable passengers to stream cached content including movies, TV programs, destination guides and moving maps to their own devices, and to access 'mall in the sky' shopping and dining menus. But a few years ago, AirFi started teasing AirFi LEO, a minimally invasive system that augments the traditional server and WAPs found in its boxes with onboard hardware that supports light connectivity to and from the aircraft.
Iridium value added partner Skytrac now provides the receiver and the tiny window-mounted antennae for AirFi LEO, whilst the data transmits via Iridium's new Certus 100 service over the Iridium NEXT L-band LEO satellite constellation.
"Every single-aisle aircraft is our addressable market, and that's very simple as a retrofit," AirFi founding partner and CEO Job Heimerikx told Runway Girl Network at the Airline Passenger Experience Association's APEX TECH conference in Los Angeles.
"Here's the funny thing," he added about the light Certus 100 service, "it's what you can do with it. And our claim is: every business case that we have seen until now, we can do 90% of that with the exception of streaming or having many people surfing the web."
With IP data speeds of up to 22 Kbps transmit and 88 Kbps receive, Certus 100 enables AirFi LEO to support real-time credit card verification and transactions on board; non-safety ACARS over IP, allowing operators to harness the advantages of digital datalink at a lower cost; electronic flight bag (EFB) updates for pilots, which means optimized routes and improved weather forecasting capabilities; and inflight messaging for passengers and crew, in turn allowing flight attendants to remain in constant contact with catering and MRO.
Heimerikx reckons that these services via Iridium Certus will prove attractive to any narrowbody operator "even if it has connectivity on board". But for cost-conscious carriers that do not have a marketing budget to fund free Wi-Fi or other "full-service" broadband cabin connectivity ambitions, AirFi LEO is particularly compelling, he suggested.
Real-time CC processing, alone, can be a boon for these carriers, as it addresses onboard fraud, which can equate to 6% or 7% of sales for certain operators, he said. Even if the theft is a fraction of that amount, it's still meaningful money.
If you add the number of flight legs and then the flights per day and then per month and then per year, then that alone pays for the entire installation of the system. And you can choose to give the connectivity, the messaging, for free.
"I'm not saying that the full-service business [model for broadband connectivity] is bad in any way or form," he added. "I'm just saying that we are looking at the bottom line and we're just trying to get a solution out there that touches over 90% of the need of the passenger at minimum cost, and that means also taking [antenna radome] drag, installation, STCs, and fuel burn into account" for the airlines.
Thus far, AirFi has announced Faroe Islands-based Atlantic Airways and Surinam Airways as customers for AirFi LEO.
Other competitors in this portion of the market include AS-IP Tech with its unique Bluetooth connectivity solution that is now live on Wizz Air UK, and Immfly, which recently revealed a new connectivity-ready wireless IFE and digital services platform.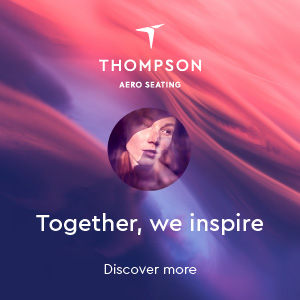 Heimerikx referred to AirFi's three-way partnership with Skytrac and Iridium as "a very strong relationship" that combines "each other's strength and market knowledge". He noted, for instance, that the Skytrac antennas adhere to all security and safety standards and are installed by professional MROs around the world. Moreover, he said the support that AirFi is getting from Iridium "is superb in terms of the ability to test and the ability to bring the products quick to the market".
Iridium is equally pleased. John Peterson, who serves as Iridium executive director aviation line of business, told RGN at the SATELLITE 2023 Conference and Exhibition that the satellite operator is working very closely with AirFi on ensuring Iridium Certus 100 delivers the quality of service required for these applications.
Referring to AirFi LEO's real-time credit card processing capabilities, Peterson said: "It's fantastic what they've done. So, we're paying very close attention to it. There are different methodologies that they want to apply in terms of system integration. So, whether they want to have two systems on board, or the antennas mounted to the top or the antennas mounted inside the window, they all have different performance criteria and they all have different impacts on the network."
Spending hundreds of thousands of dollars on a Ku- or Ka-band cabin connectivity system that adds significant weight is "just not in their business plan", noted Peterson of the many new low-cost carriers (LCCs) coming to market.
Related Articles: