Work took me to the sunnier climate of Phoenix in February, and I decided to get creative on how I got back to my home base of Seattle. A browse through Phoenix Sky Harbor's website turned up an intriguing option: commuter airline Southern Airways Express could get me as far as Los Angeles (LAX), via the smaller valley city of El Centro, California.
I had not flown with Southern before; the airline operates a number of government-supported essential air service routes across the continental US, Hawaii, and even the far-Pacific islands. With prices starting at $79US, I figured it was worth trying this super scenic route.
I purchased the tickets via the carrier's website, though Google Flights will also offer the option to book via a number of travel websites I've never heard of. Due to the minimum connection time, you cannot buy a single ticket straight through from Phoenix to Los Angeles. Instead you have to purchase two, one for the Phoenix to El Centro leg, and another onward to LAX. Each cost $79 for the so-called 'Frugal' fare class.
Friendly fares ($89 per leg) offer greater bag allowances and some flight flexibility and fee relief. The Freedom tier ($119) is effectively a fully flexible fare, with even more baggage allowance. You can see the screenshot below to fully compare the three. I purchased the $79 Frugal fares for both, paying out $158 in total.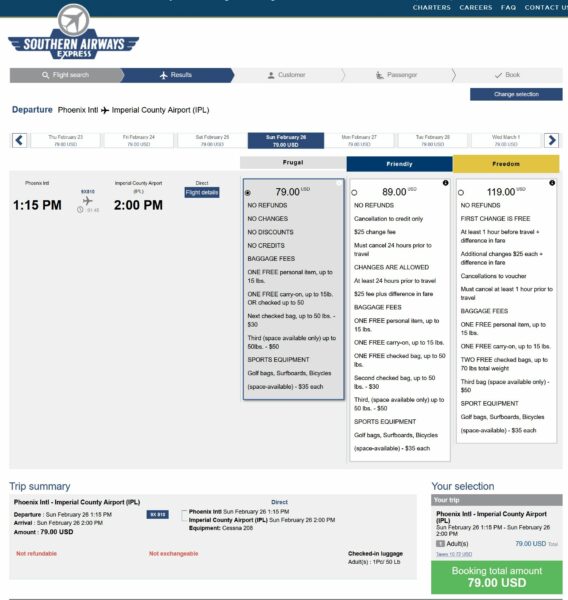 On the day of the flight, I showed up at Phoenix Sky Harbor's Terminal 3 some 90 minutes ahead of my flight time. A single agent checked me in and printed a ticket. They informed me that they could not check me in for the onward connection, and that I'd have to take care of that during the 30-minute layover in El Centro. The airline does not appear to offer online checkin. It does, however, accommodate TSA PreCheck.
Boarding began just a few minutes before departure, with all three passengers walking out to the plane under a stiff wind.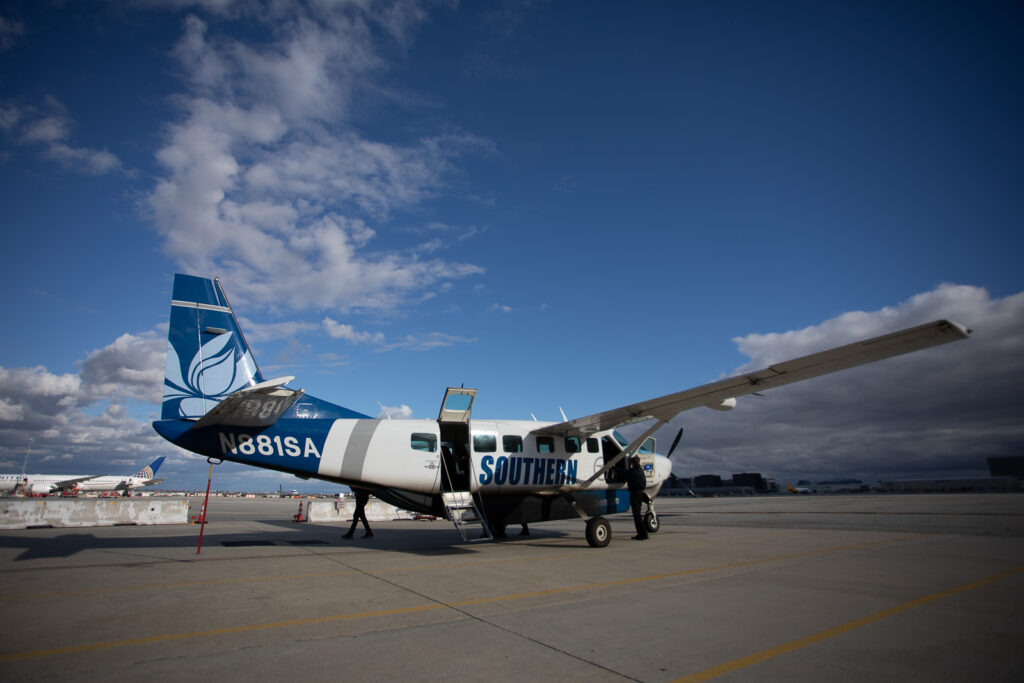 The first officer introduced us to our airplane, a nine-passenger Cessna 208 Caravan turboprop, and gave us a detailed safety briefing. Seats are assigned by the pilots based on weight and balance of the small airplane. I settled into Seat 8, just behind the wing on the right-hand side.
The cabin is arranged in a 1-1 configuration, offering direct aisle access to every passenger. Not that you can go very far: the entire cabin is only ten feet or so in length, and getting up in flight is not encouraged.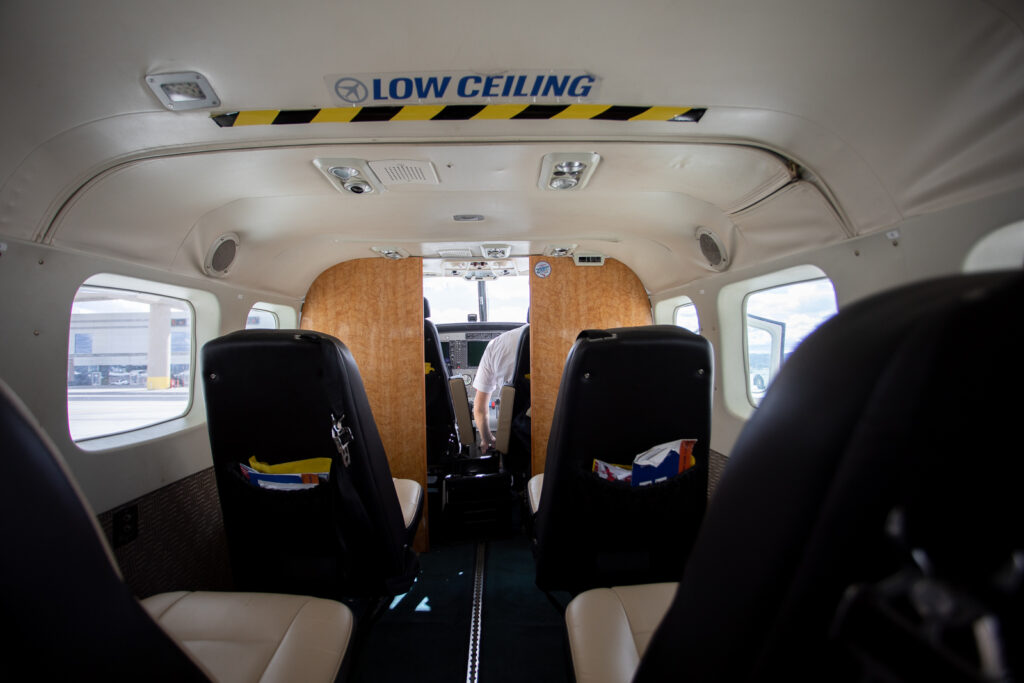 On the plus side, the seats are reasonably large and surprisingly comfortable. Most carryons are too big here, and will be added to the baggage compartment under the plane. Only smaller backpacks will fit, and even then they're squeezed between you and the seat in front of you. There is almost no room under the seat.
Due to the size of the airplane, you probably already deduced that there is no flight attendant, which also means that there's no inflight food service. Or Wi-Fi. Or power ports. Or bathroom. Or anything, really, except for a small inflight magazine. With flight times of 60-90 minutes on each leg, I'd recommend bringing a book or stocking up a personal device with something to keep you busy (and be sure to use the bathroom before you board).
What the airplane does offer, besides the magazine, are non-stop sight-seeing opportunities. The oversized windows of the Cessna are perfect for this, and with a cruising altitude of 10,000 feet or less, the majesty of the American Southwest is only a few thousand feet below you at times.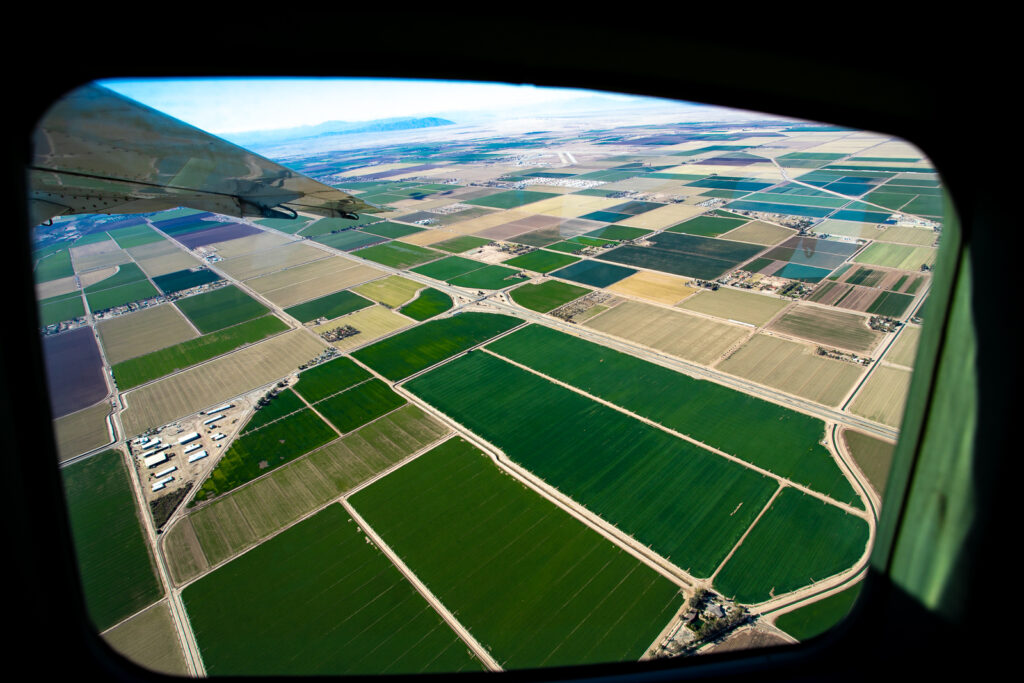 The pilots hand-flew the airplane on a fun, sporty approach into Imperial, a tiny airport that doesn't look like it's changed much since it was built in the late 1960s.
A gate agent printed me a ticket at the counter, remarking that they didn't know I was coming in from Phoenix and that they had been trying to reach me. Sure enough, my cell phone showed a voicemail from the agent.
Our onward flight to LAX had seven passengers this time, and thankfully six TSA agents were on hand to screen us all into the living-room sized waiting area.
The same process repeated itself for boarding, and before I knew it we were rumbling down the runway and on our way to Los Angeles. Once again, gorgeous scenery stole the show.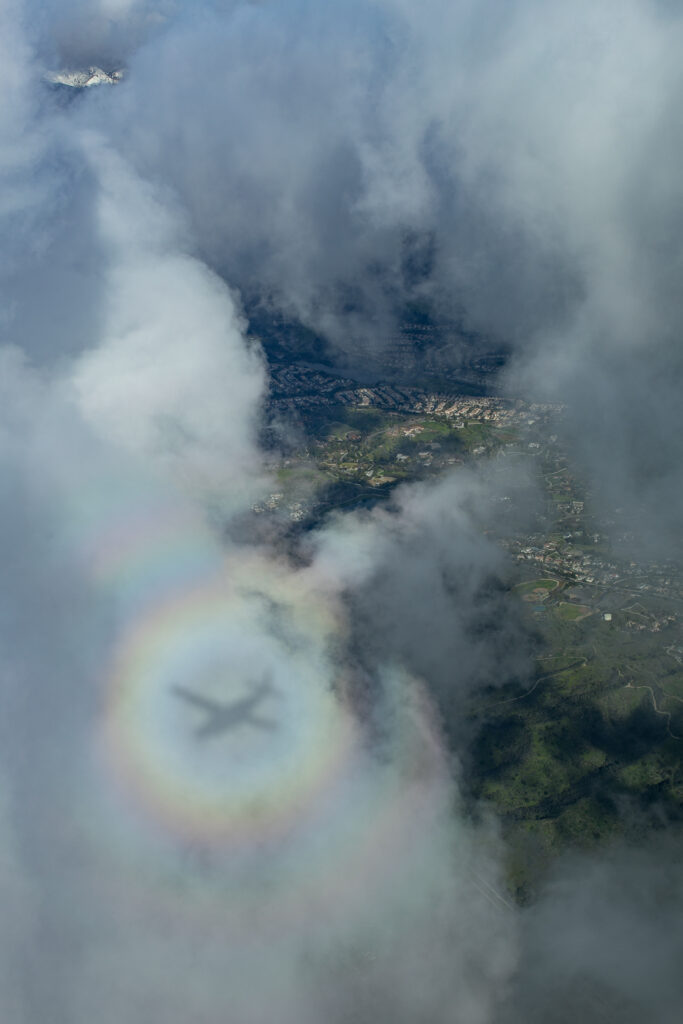 The mountains eventually gave way to the Los Angeles basin and the Pacific Ocean, culminating in an awesome approach into the busy LAX airport. If you've never flown a tiny turboprop into one of the world's busiest airports, it's an experience.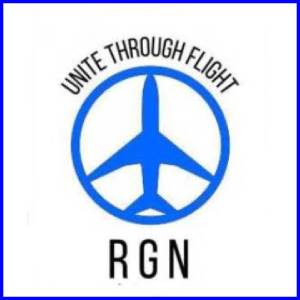 We parked at a remote stand some distance from the terminal, and were picked up by a company shuttle that dropped us off in Terminal 6.
Obviously both of these flights are targeted at folks traveling to and from El Centro, and on that front the airline offers a relatively affordable connection to two mega hubs. It can also dramatically cut travel times, from under 90 minutes in the air to a five-hour drive (in good traffic) on the ground.
Also obviously, this is not a remotely efficient way to fly between Phoenix and Los Angeles. Non-stops on several carriers will complete the journey in under 90 minutes.
My Southern Airways Express adventure took four hours, but my goodness was it a lot of fun!

Related Articles:
All images credited to the author, Jeremy Dwyer-Lindgren