Anuvu remains "super excited" to tap into Telesat's Lightspeed Ka-band LEO constellation when it comes to fruition, but is also eyeing other constellations, including OneWeb's second generation network, as it seeks to advance its multi-orbit plan for aero and maritime.
"[W]e think Telesat from day one got the best design, like they picked the right criteria; it just lined up for the marketplace. And so, we are still super excited. We are still very close with Telesat. We are still moving along with them," Anuvu EVP connectivity Mike Pigott told RGN at the APEX/IFSA Exhibition in Long Beach.
"They need to build the constellation, at the end of the day. So, we are eagerly waiting for that constellation to be built and [for] them to resolve all the things they need, all the classic roadblocks that are needed in order to get that constellation built. We've always looked at a lot of constellations in the marketplace, though. So, we're not ignoring the other constellations as well. We are paying attention to all of them. And we are maintaining conversations with all of them."
He continued:
So, we are seeing the announcements with Panasonic and… OneWeb. We have a very close relationship with Eutelsat. We've been a Eutelsat partner for a long time and Eutelsat is now taking over OneWeb, so we've engaged with them even on [the] second generation of OneWeb, what's it going to look like, how the technical specs are going to work for the market. And so, we're maintaining a good amount of optionality in the marketplace. But Telesat does have a really good design and we're excited about that.
In releasing its third quarter earnings on 8 November, Telesat said it is advancing in its efforts to fully finance Lightspeed.
"In the quarter we progressed discussions with our suppliers and financing sources on Telesat Lightspeed, our revolutionary planned Low Earth Orbit satellite constellation. We continue to believe that we will have greater clarity on the financing of the program around year end and that Telesat Lightspeed represents a transformative growth opportunity for the company and a highly compelling value proposition for the communications enterprise user community," said Telesat president and CEO Dan Goldberg.
Pushing forward with its plans across verticals, Telesat this week formalized an agreement with secure government connectivity provider Artel, making Artel the first reseller distribution partner for Lightspeed services to the US government.
Anuvu, meanwhile, believes that its new QEST-made, dual-panel gimbaled Ka-band antenna, unveiled just in advance of APEX and showcased at the event (as pictured), will be fully compatible with Lightspeed, which will boast optical inter-satellite links, and generally will be able to accommodate LEO, as well as any Ka satellites that comprise its own forthcoming eight-satellite microGEO constellation.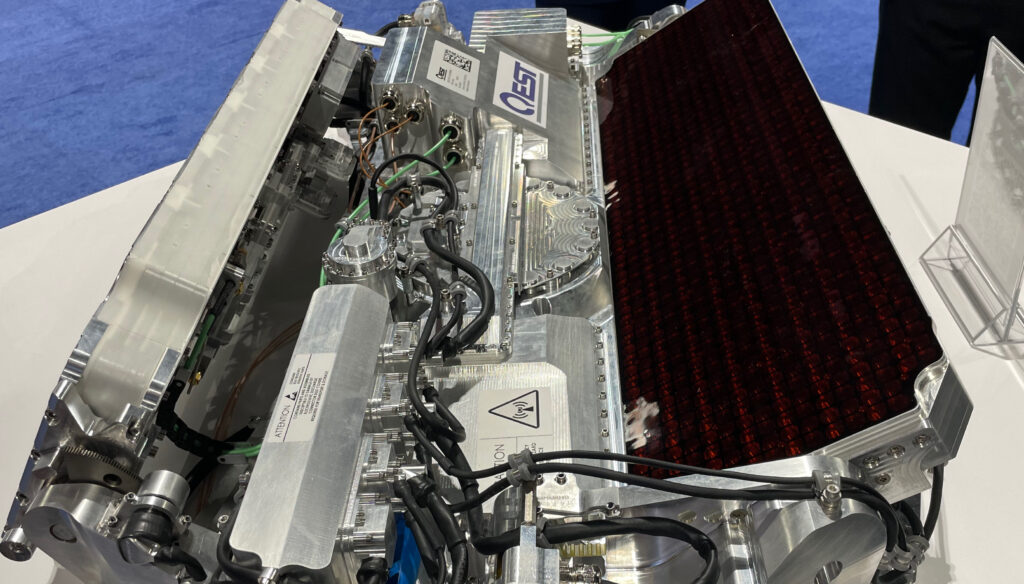 The second-generation Ka antenna will do the frequent handovers, and switches required in LEO, said Pigott, as Anuvu (then Global Eagle) proved years ago when it tested its first-generation Ka antenna on the Telesat Phase 1 LEO satellite. "We learned a lot of information about what's needed. A lot of that information went into this design. The first design was compatible too; this design optimizes it," he said.
Like a number of other stakeholders on the show floor, Anuvu said it is not ignoring electronically steerable antennas, and is evaluating the tech, but thinks that viable ESAs for multi-orbit operations are still at least a few years away. Said Pigott:
We still think it's, in particular for a GEO and LEO solution — something that supports both — it's still a three to five years out solution. It's not a 12-months [solution].
Anuvu has been talking about Ka-band IFC for several years now, but it is presently a Ku-band player that supports IFC deployments at several airlines including Air France, Norwegian, Southwest Airlines and Turkish Airlines. It remains to be seen if its positioning will meaningfully change when its Astranis-made microGEO satellites launch.
The first two satellites, operating in the Ku-band, are now expected to launch in the middle of next year, representing a delay to Anuvu's prior 'early 2023' launch plan. And service is now expected to be available before the end of 2023, said Pigott. But the band for the remaining six microGEO satellites has yet to be determined.
"So Aunvu Constellation is going really well. We're actually signing contracts very soon for some of the ground segment pieces," he said in late October.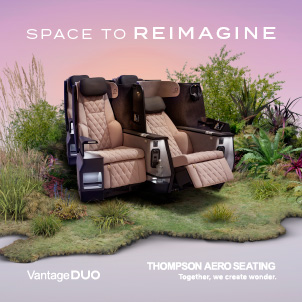 While Anuvu's Ku IFC system enjoys linefit offerability on the Boeing 737, the company has done a large chunk of its installs via retrofit. Now, as Airbus moves to offer supplier-furnished IFC under its HBCplus program, and Boeing is understood to be eyeing more commonality, does Anuvu feel like that is edging out some of the classic integrators and service providers of the past?
"I feel like it's edging out Airbus," responded Pigott flatly. "So, the reality of the situation is that that works really well; I understand why Airbus is doing that, I understand why they want to do it, because it's hard to deal with a lot of different groups. It's hard to deal with the marketplace here. So, it's certainly an easier solution to push planes down the factory aisle with just a limited subset of equipment there. But that doesn't work well in a highly technology rapid evolution environment. So, as we see technology evolve very rapidly in the next decade, I think that they will have to adapt to the marketplace because they will have to address what their customers want.
"And when we go talk to customers, customers are about end performance. Customers care about end capability and it doesn't matter to the customer how they have to get the hardware onboard to get that capability; they will want that. So, I think Airbus, Boeing, I understand why they're doing it. I think it's actually a great thing right now that they're engaged and looking at how they can get levels of commonality. We will want to see optionality on antennas, equipment, that makes innovation still possible."
Even so, Anuvu sees opportunities with both Airbus and Boeing "because we don't think they're going to get down to sort of one single shipset that comes in because we don't think the market for network providers is going to work out like that. We think those network providers are going to want their own innovation to be reflected in it. Even for basic things like modems. So, we absolutely believe we can be a valuable partner to both Airbus and Boeing in helping them take a strategic view of where the market is today and where the market is going and where their customers are going to be asking them questions."
Related Articles: