New digital platforms which connect consumers to private jets, on-demand shared charter flights, travel clubs and semi-private hybrid operators have helped to democratize business aviation in the last several years. But BizAv really hit its stride during the coronavirus pandemic, as a new wave of passengers — the elderly, leisure-focused families and COVID-cautious travelers — joined corporate types in enjoying the advantages of flying private.
Proving its resilience amid the crisis, BizAv has now "almost completely shaken off the effects" of the pandemic, according to Honeywell, whose annual survey of the sector forecasts a quick rebound. Business jet flight hours in 2021 are expected to be almost 50% higher than a year ago, and above pre-pandemic levels, it says, and operators are anticipating increased bizjet usage in 2022.
At the same time, business aviation leaders are pledging to achieve net-zero CO2 emissions by 2050, with sustainable aviation fuel (SAF), carbon-offsets and new technology seen as key parts of the puzzle.
And so, as some airline flyers make the leap from first and business class to bizjet cabins, and with private aviation becoming a little greener and a little more accessible to everyday people, I decided that now was the perfect time to return to the NBAA Business Aviation Convention & Exhibition in Las Vegas, which had taken a hiatus in 2020 due to the pandemic.
Though I have long been a fan of Southwest Airlines' (sometimes) cheap and (often) cheerful service from Baltimore/Washington International due in part to BWI's proximity to my home, I decided to fly United Airlines to Las Vegas out of its Washington Dulles hub as I was already scheduled to be in Virginia for another event a few days prior. I was glad I did. That's the weekend that Southwest had a schedule cancellation meltdown, creating a domino effect that saw passengers stranded around the country.
United, meanwhile, was the picture of calm and efficiency when I arrived at Dulles in the early hours of 11 October. And I sailed through the self-checkin and bag-drop process within minutes.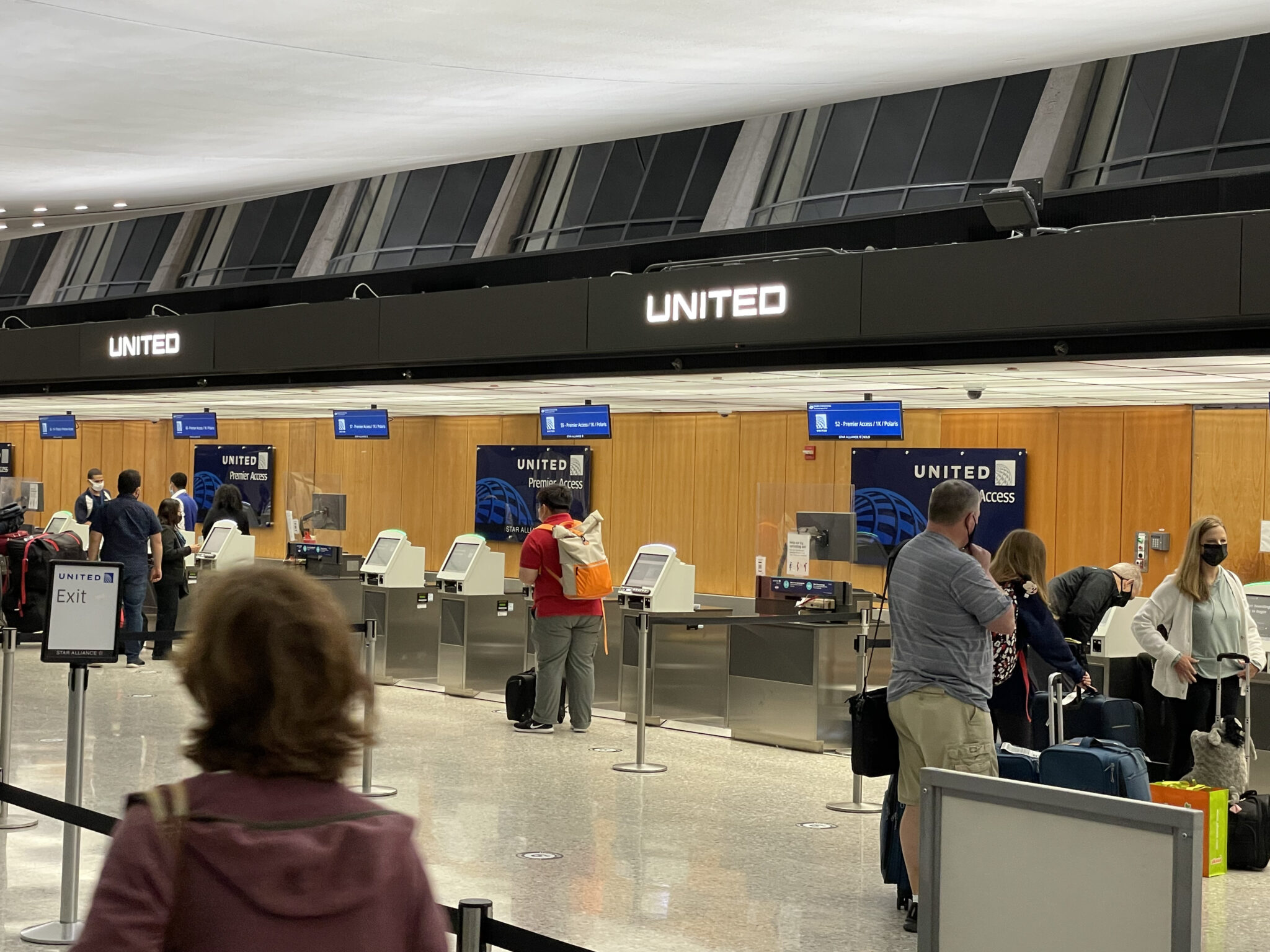 After breezing through security, I made my way to the AeroTrain which connects the main terminal with the A, B and C concourses at Dulles. The airport was nothing short of sparkling. Everything looked so clean.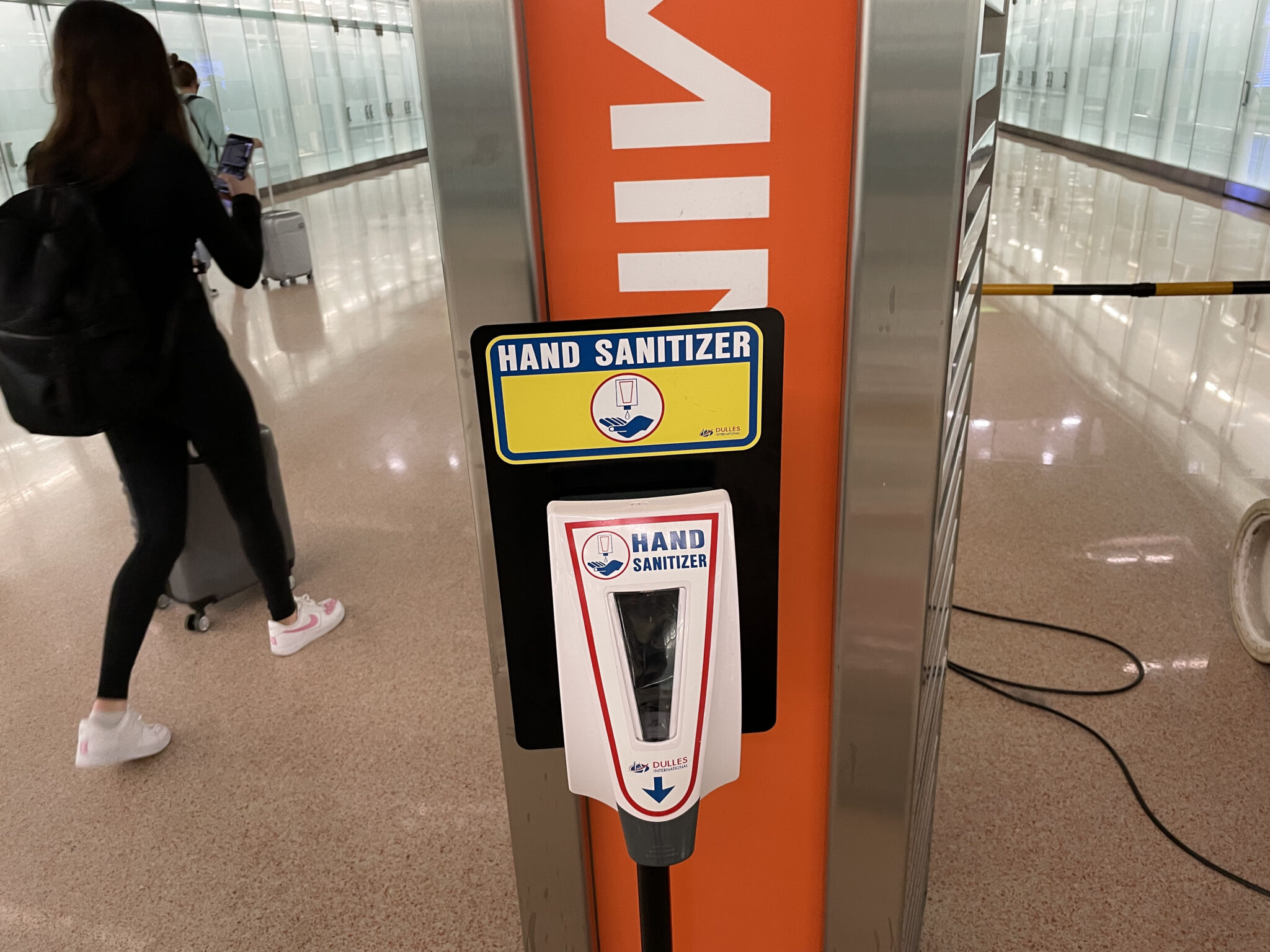 The easy-to-read airport signage was on point.
When I arrived at the D concourse, I immediately went in search of coffee. Unfortunately, there were lengthy queues of passengers in front of every single concession in sight. Not a worry. I knew that illy's signature dark roast awaited me onboard United's Boeing 737-900 twinjet to Las Vegas.
Boarding began on time, and I quickly settled into 2F, the classic 'domestic first class seat' variety of which I'm an unapologetic fan due to the ample space provided. Every passenger received a sanitizing wipe when entering the aircraft.
There was a strong smell of isopropyl alcohol in the cabin and the effect was both confidence-inducing and a little overpowering. But I was instantly soothed by the beautiful LED lighting of the Boeing Sky Interior.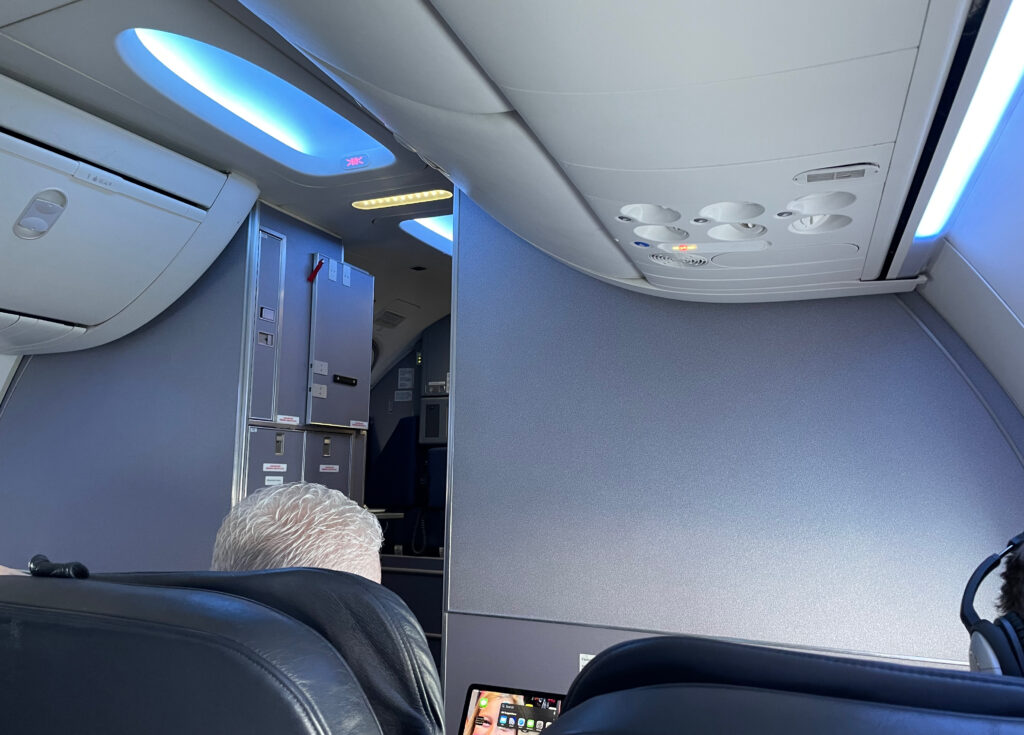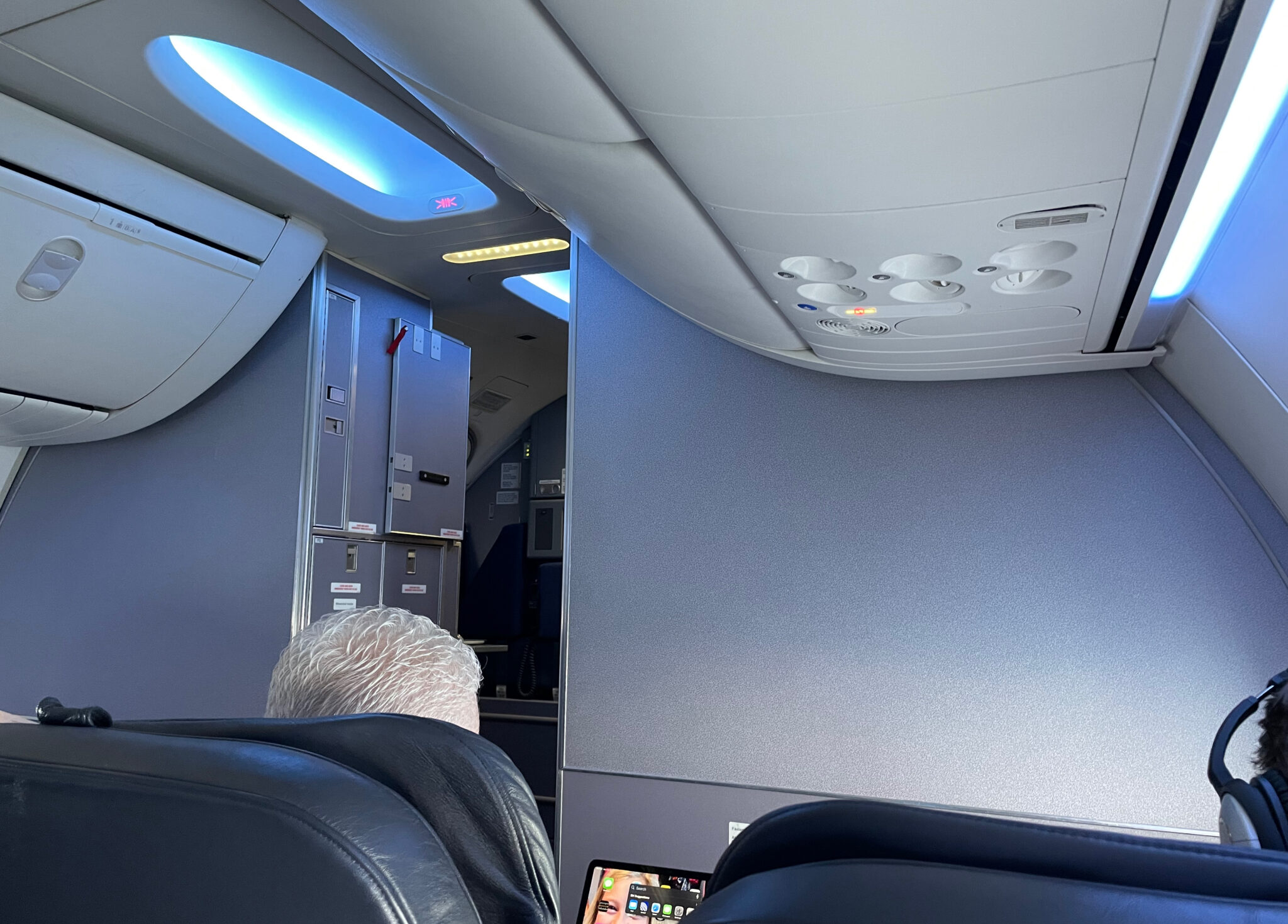 A cabin crew member on the PA reminded passengers that masks were to be worn at all times, except when eating or drinking. And even then, masks were to be worn "between sips".
She also urged economy class passengers to download the United app before takeoff — and to link a credit card — if they planned to purchase food or beverages, as the carrier no longer accepts credit cards onboard in a bid to offer a more touch-free experience.
Though the weather at Dulles was dreary and overcast, it wasn't long before we were soaring above the clouds and feasting our eyes on beautiful views.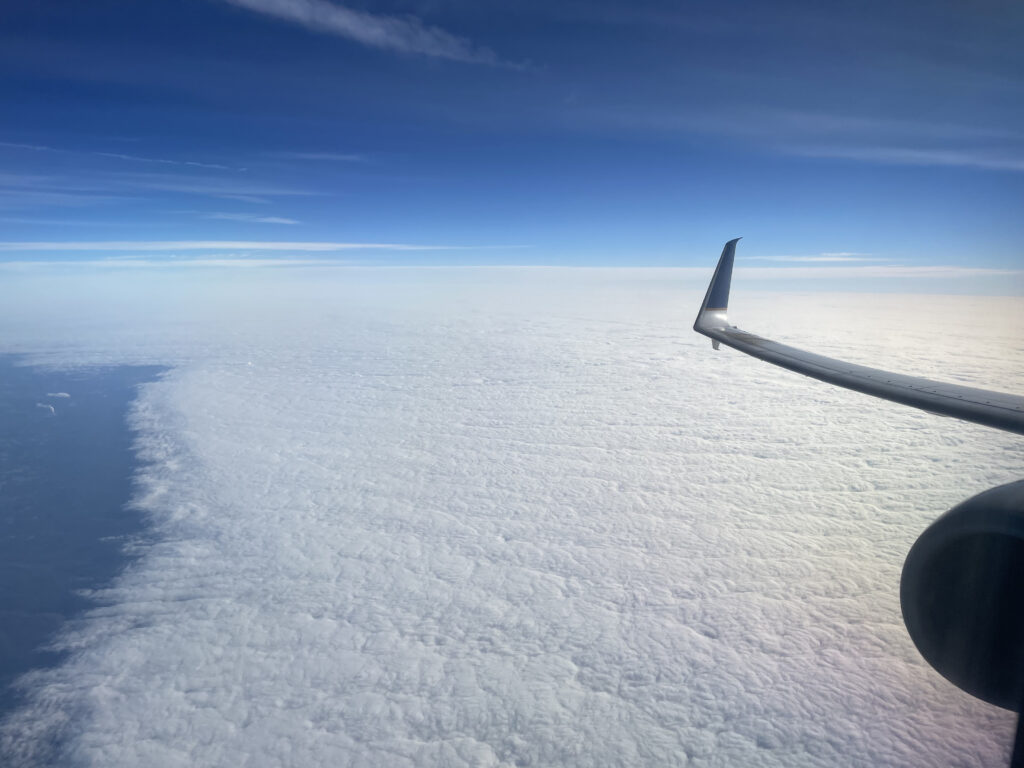 I connected to the United wifi portal to assess my options for onboard Internet, and was presented with a single web browsing package for $16.99.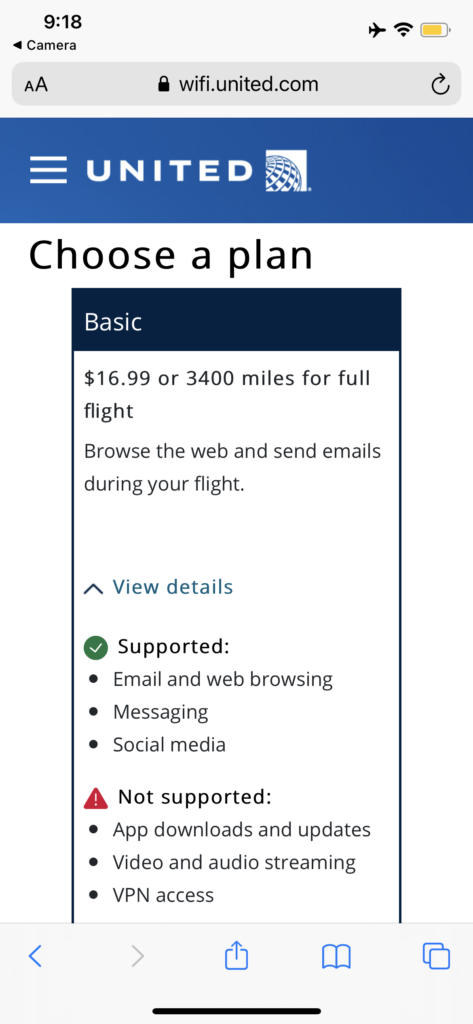 Eager to clear through some work in-flight, I decided to connect my laptop to this Thales-managed, Viasat Ka-band satellite-powered connectivity service. Unfortunately, the service bounced in and out of availability for the entirety of the flight.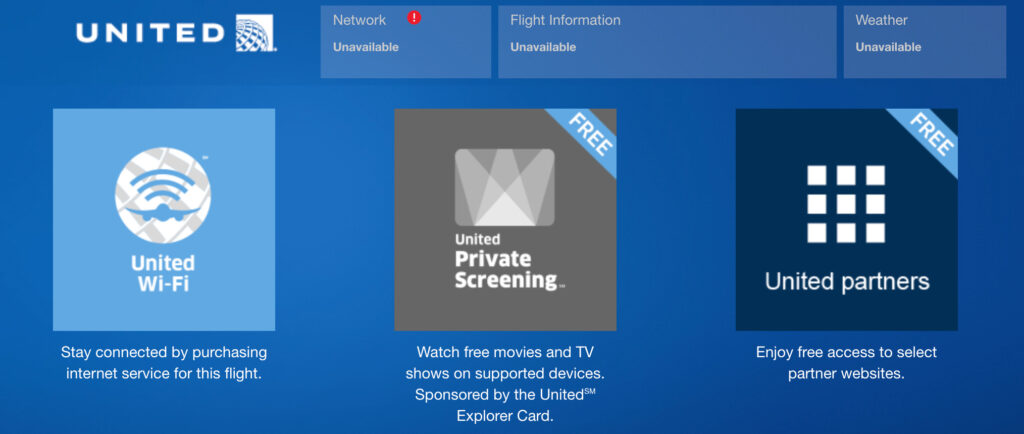 It was time to enjoy that long-awaited cup of coffee and prepare for breakfast. But, lo, when the coffee arrived, it came with both a United napkin and a Delta Air Lines napkin touting Delta's free text messaging tier. Apparently, the caterer made a wee snafu that day. But I must say, this felt like kismet.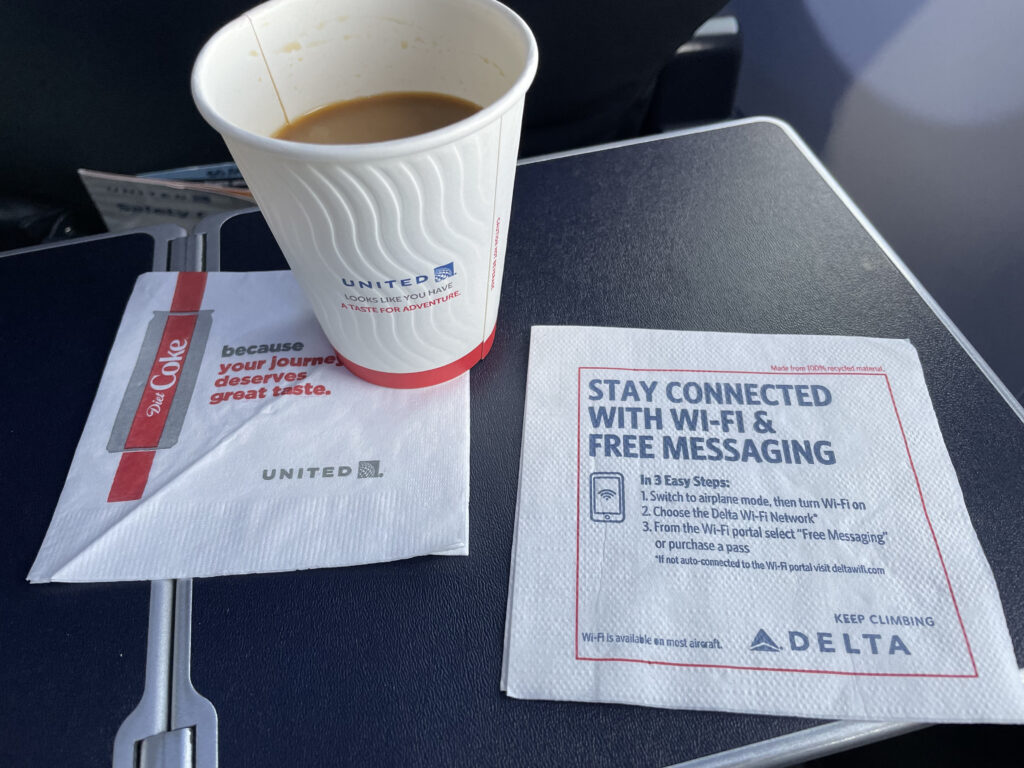 Passengers in first class were offered a choice between a Belgium waffle with bourbon bananas foster sauce and berry compote or egg white frittatas with a side of potatoes and a fruit cup. I chose the latter and was satiated, though the Greek Yogurt didn't travel well for some reason.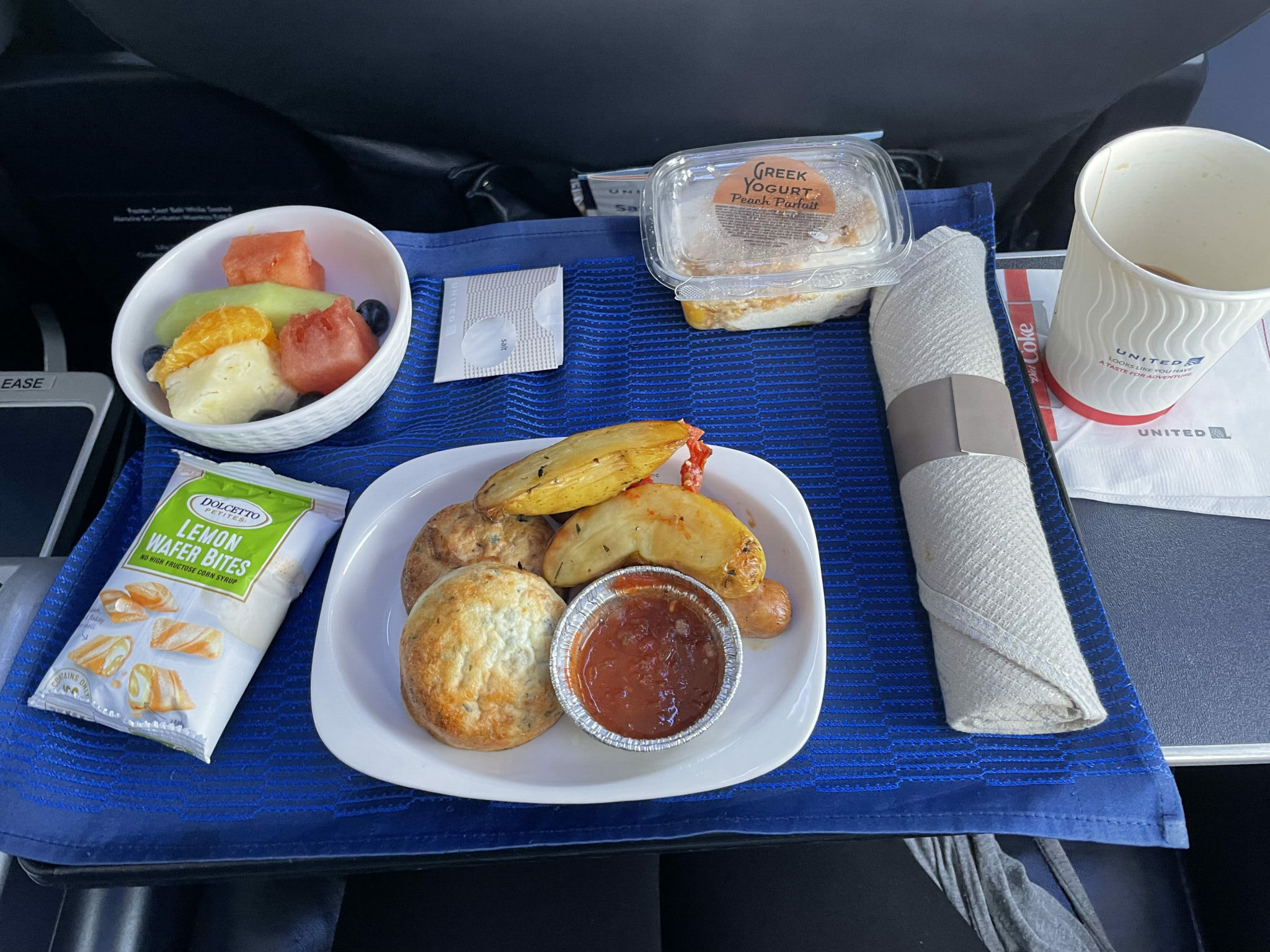 Since I'm trying to avoid high-fructose corn syrup like the plague these days, I was pleased to see a delectable little treat advertising the absence of HFCS. It was every bit as delicious as it sounds.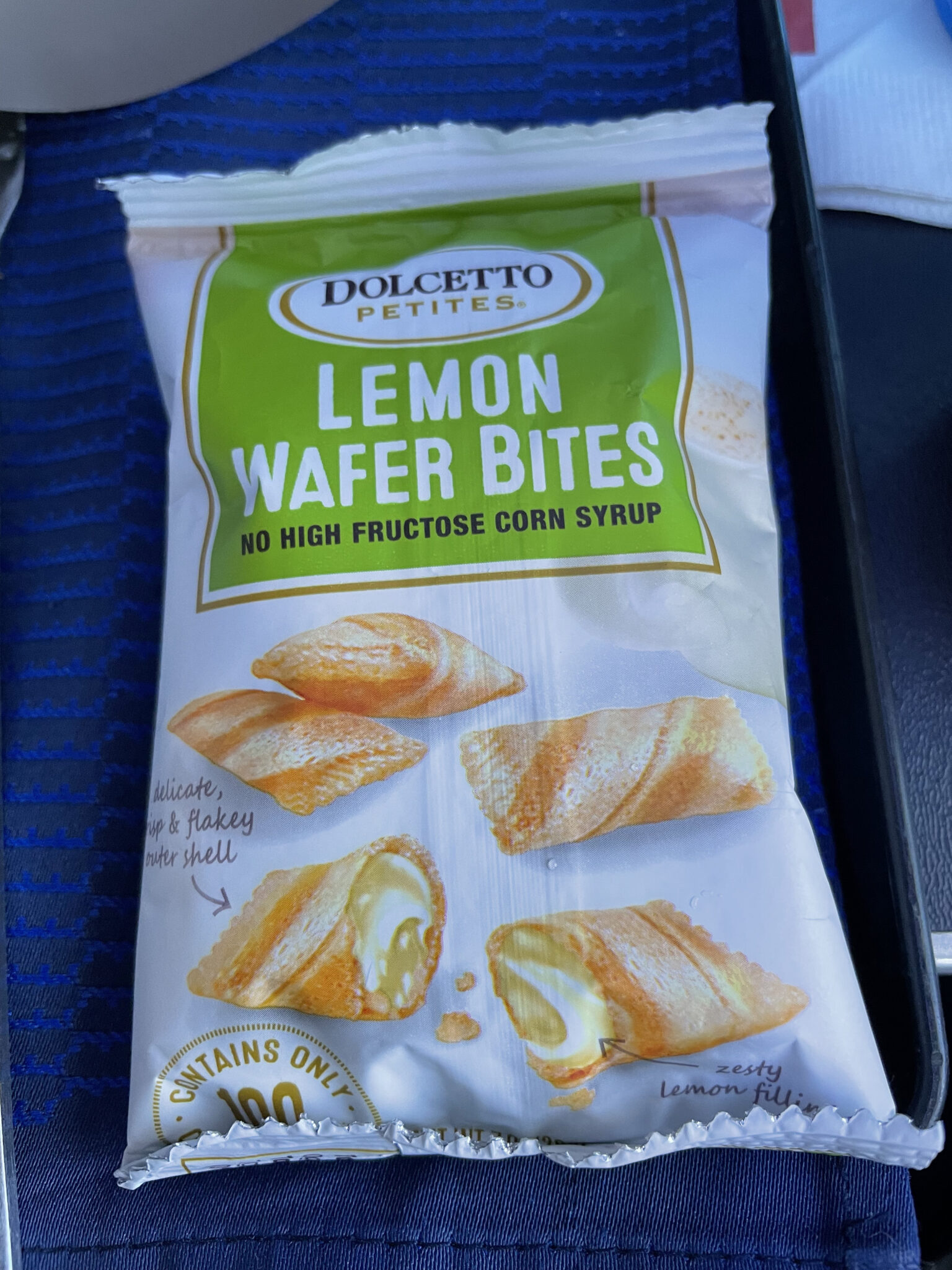 When the Internet was offline, I availed of the carrier's streaming entertainment service for passengers' own devices. The wireless IFE offered a carefully curated collection of Halloween-themed content in addition to other popular titles.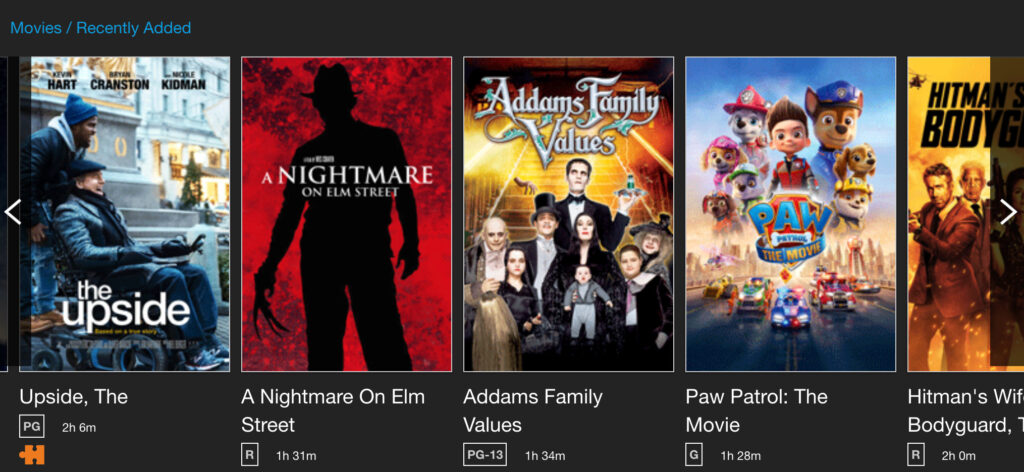 But even some of the classics, including Beetlejuice, did not offer closed captions or subtitles, which seemed strange, given that United has set some serious standards for content accessibility on some of its seatback IFE screens.
Before long, we were preparing to land at McCarran International Airport on a simply glorious late morning.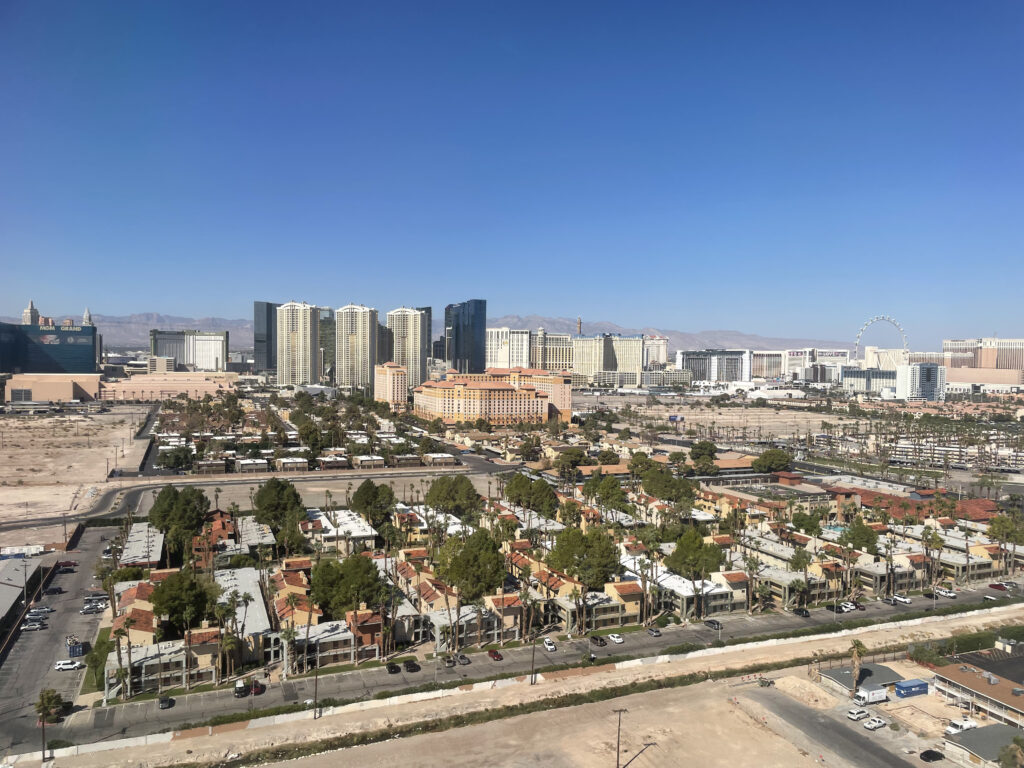 It felt so bloody good to be back in Las Vegas for NBAA-BACE — my second in-person event since the start of the pandemic, and my first outside of the East Coast.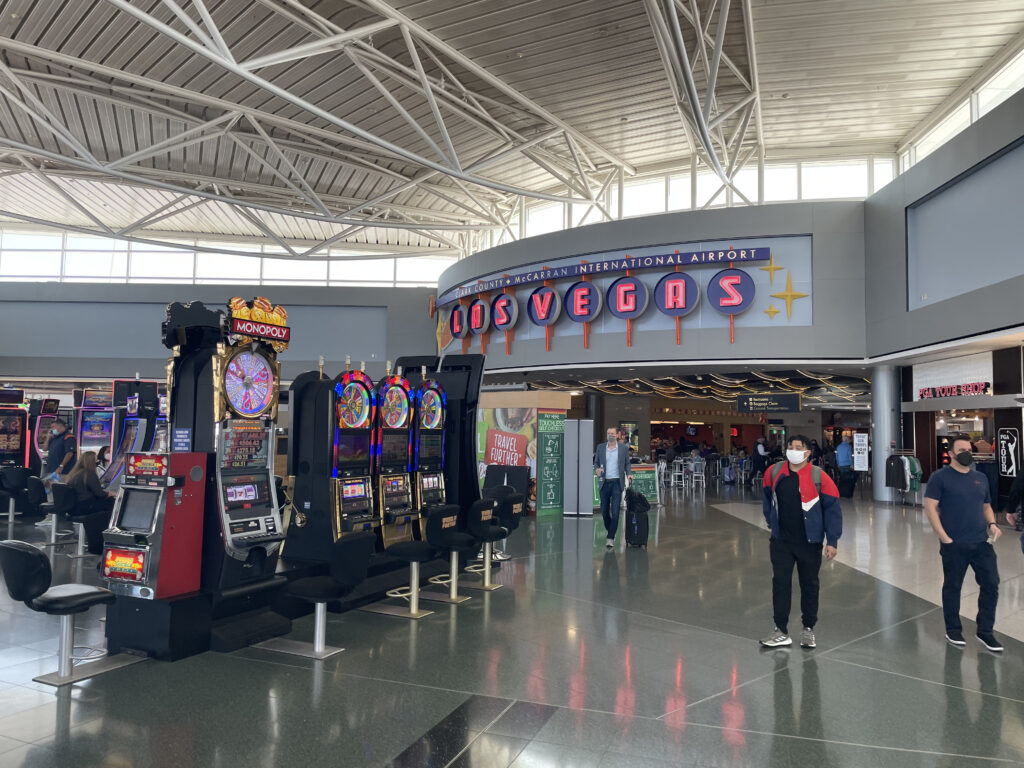 The show featured a big exhibition of vendors at the Las Vegas Convention Center and an aircraft static display at Henderson Executive Airport, roughly 25 minutes away.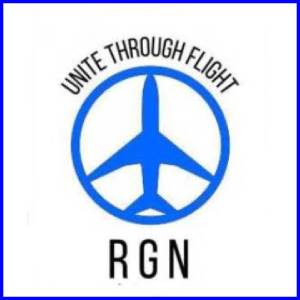 Because NBAA adopted a COVID-19 vaccine requirement for all registrants, we were given the option of wearing a mask or not in most areas of the show.
When the doors officially opened on 12 October, the atmosphere was jubilant. And there were a lot of smiling faces in the crowd. Justifiably so. Business aviation has weathered the COVID-19 storm remarkably well.
To put things into perspective, Avinode Group, which provides a search engine for the air charter industry, says it saw a 125% increase in charter demand on its platform during the crisis. And according to Honeywell, 90% of operators say their purchase plans for new or used jets have not been postponed by the pandemic.
And so, on Day 2, I headed to the aircraft static display to see some of the bizjets that support private flying. I started my day with a simply delicious breakfast and a terrific view at The Landings Restaurant at Henderson.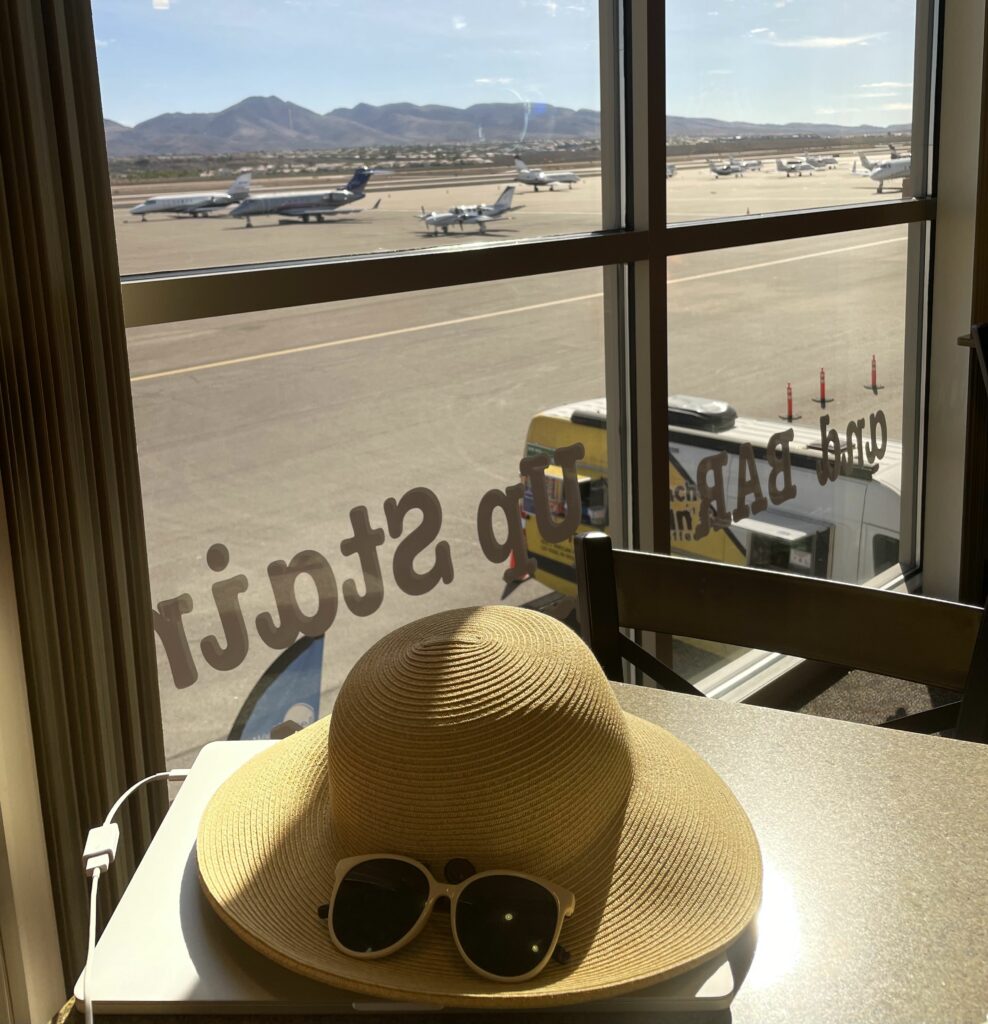 On static, the near perfect weather bathed each bird in light.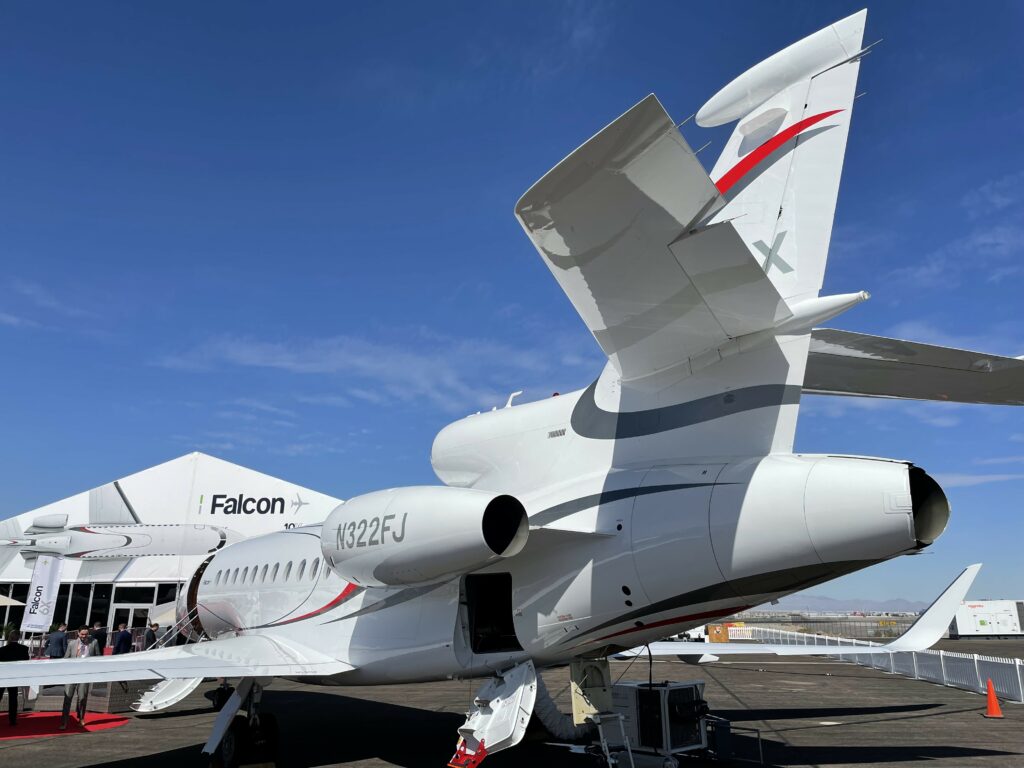 Bombardier took the opportunity to show off a mockup of its forthcoming Challenger 3500 (the prize at the end of its red carpet).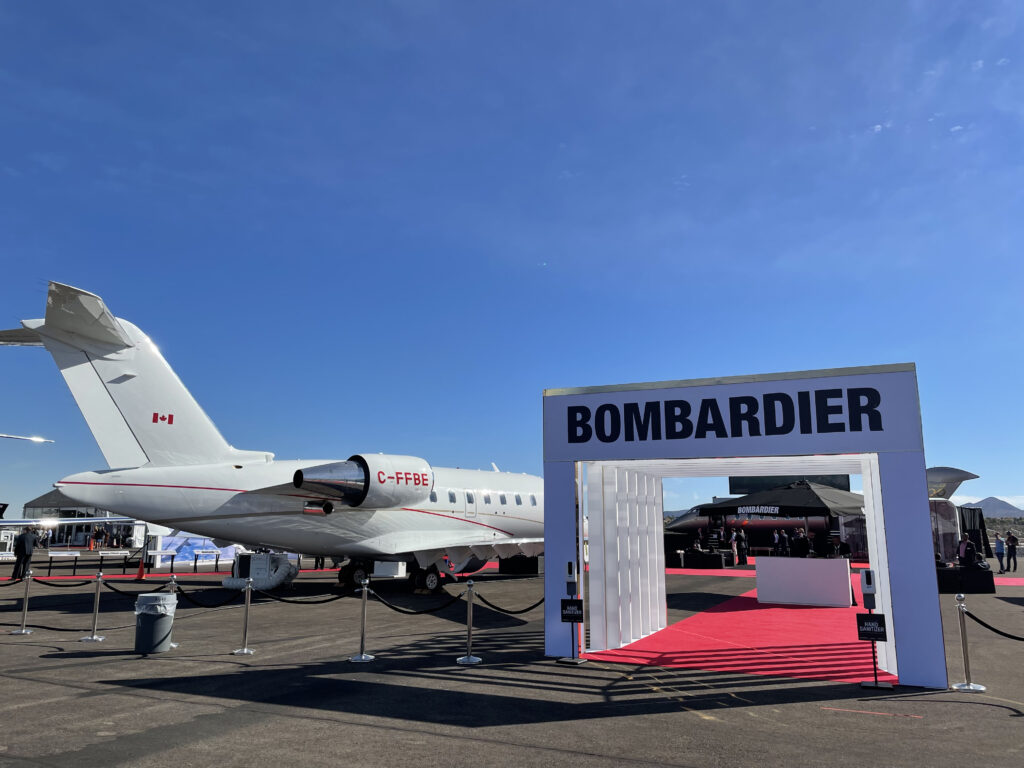 Airbus brought its luxurious ACJ319neo to NBAA-BACE.
Boeing showcased its striking 737 BBJ.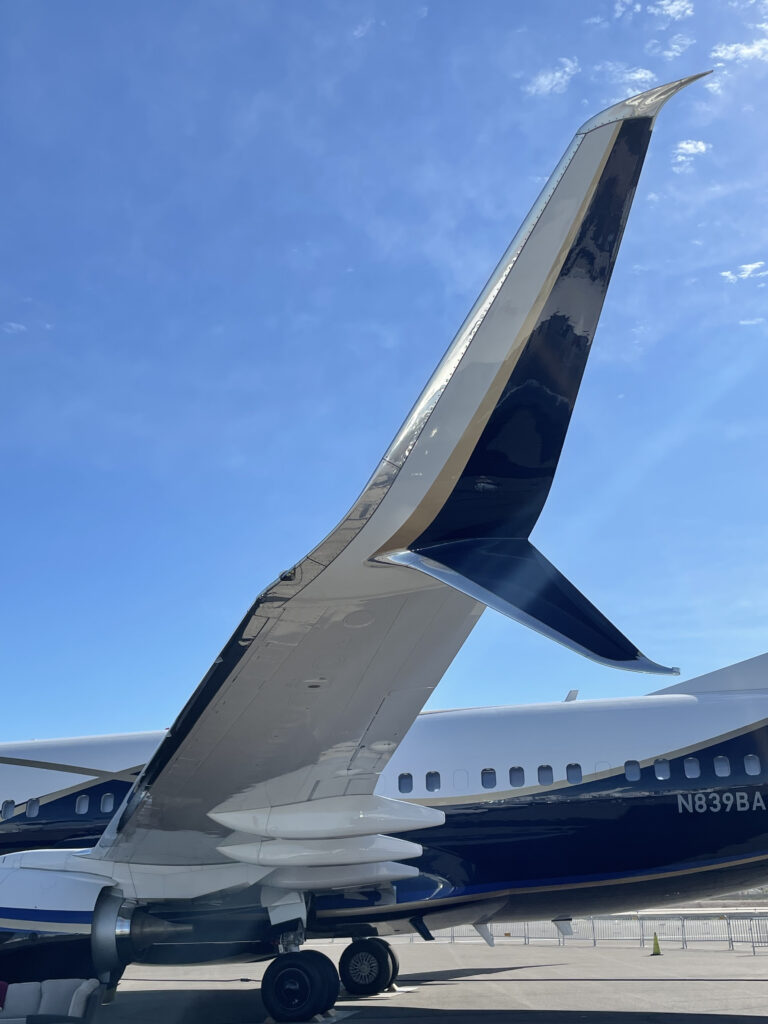 Collins Aerospace brought its own Bombardier Challenger 604 to NBAA-BACE, and demonstrated the firm's new LuxStream-branded high-speed Ku-band Internet service installed on the jet. LuxStream is being delivered to operators in partnership with SES.
The Raytheon Technologies unit also announced a new arrangement with Bombardier that will see it become the Canadian airframer's connectivity service provider of choice.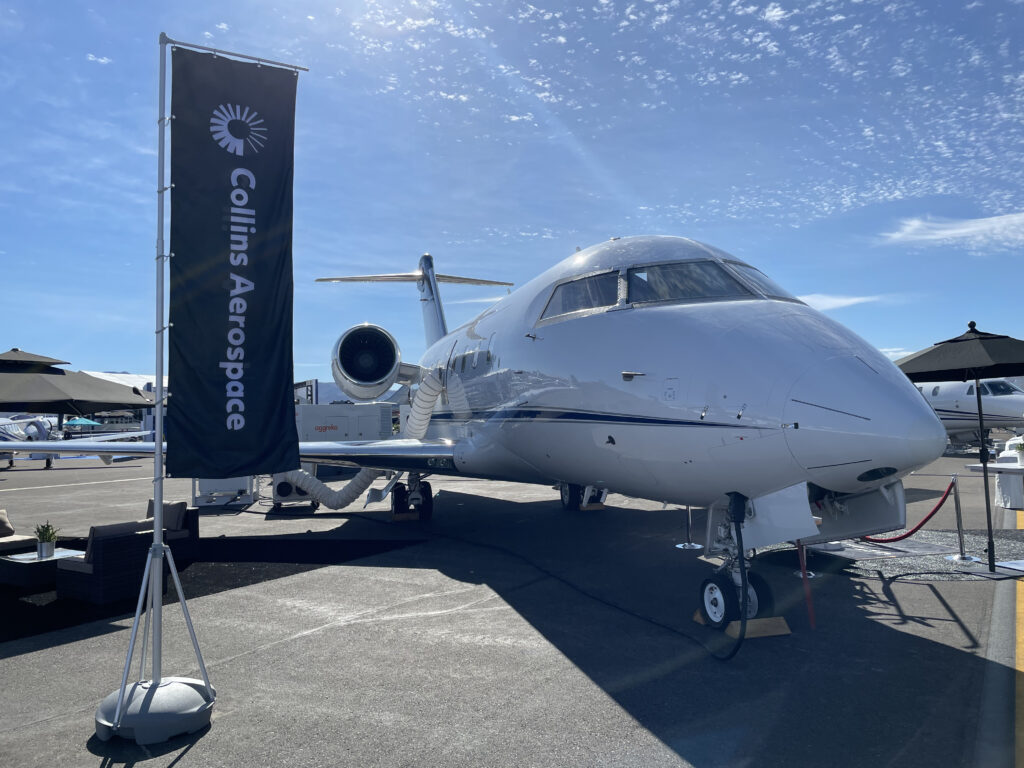 Collins was not the only inflight connectivity stakeholder demonstrating its new IFC service to prospective buyers. SmartSky Networks, which announced the launch of commercial service at the show, invited operators and members of media to try its patented beamforming air-to-ground connectivity on a series of flights above Nevada operated by its Citation Excel testbed.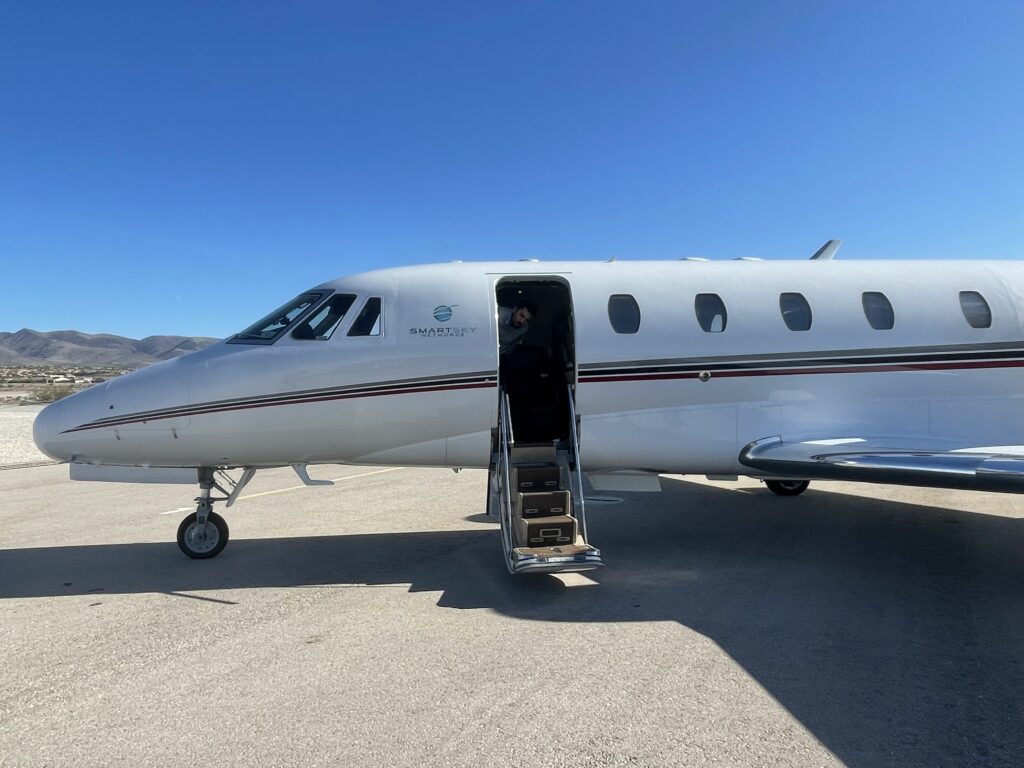 The jet's underbelly is fitted with special HAECO-built antennas to support the forward and return links.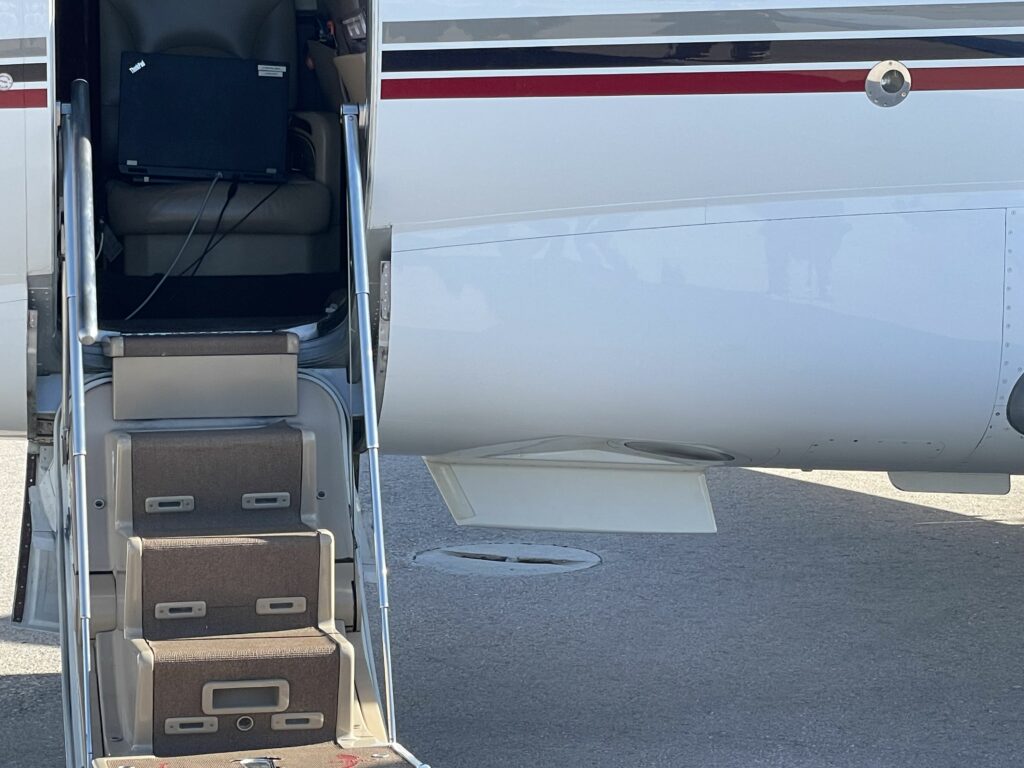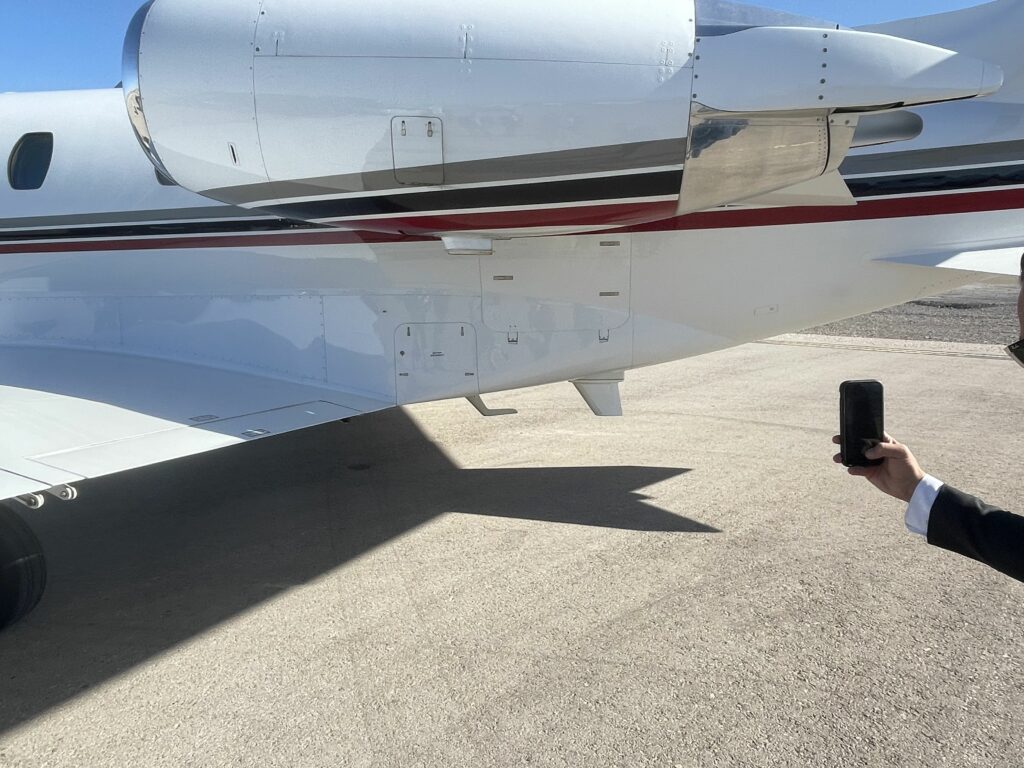 The six individuals who boarded this particular SmartSky flight — with a total of 12 devices in tow — were determined to put the IFC system through its paces. Moments after reaching 10,000ft, we began streaming videos via YouTube, Netflix, Google Play and other OTT services. My videos never buffered, not even once.
SmartSky talks a lot about the low-latency nature of its system. But that message hit home during the flight. At one point, five of us simultaneously FaceTimed family members from the aircraft. And two passengers FaceTimed each other, talking back and forth over their smartphones whilst seated within one row of each other.
When I connected with my daughter, and later my mother, the clarity of the picture was pretty striking.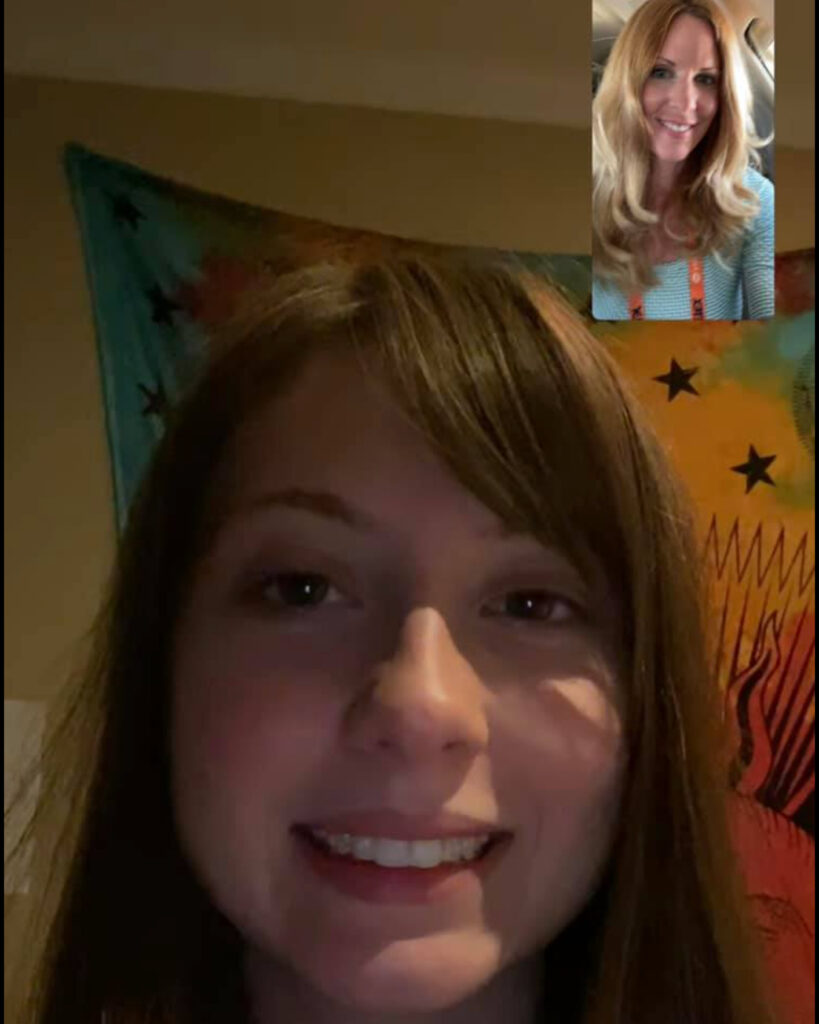 During the 43.7 minutes of connection time, we consumed nearly 2.8GB of data, achieving a peak download speed of 23 Mbps and a peak upload speed of 15 Mbps. We flew through 91 beam handovers as our connection passed from one ground antenna to another, and yet we were never aware of the handovers. It was completely seamless.
SmartSky's "single-beam-per-aircraft" approach is a core part of its value proposition. Latency — the time it takes for data to travel from one point to another in a network — came in at a minimum of 47.8ms.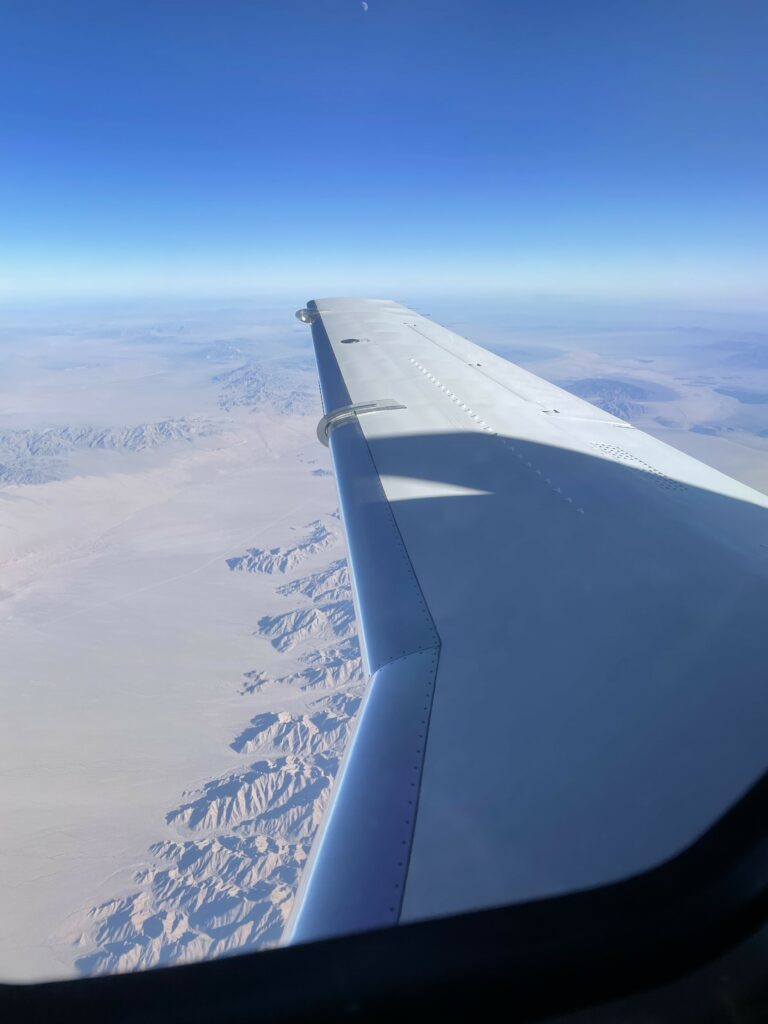 It wouldn't necessarily be appropriate for me to compare my IFC experience on United's commercial 737-900 with that of SmartSky's system aboard the Citation Excel for all the obvious reasons including aircraft size, number of occupants, and the throttled versus unfettered nature of each service at the time.
As United frequent flyers are all too aware, the carrier years ago limited the functionality of its speedy Thales/Viasat Ka system – with Thales as the prime contractor – to match the experience of its other IFC system providers, blocking Netflix, YouTube, Hulu and pretty much any other streaming video service. And while the Wi-Fi on my outbound flight to Las Vegas disappointed, the service aboard my Boeing 737-800 return flight to Washington Dulles was far better, both in terms of availability and speed which averaged roughly 12 Mbps.
But as I left Sin City — praising the travel gods for that stronger Internet connection which enabled me to clear work in-flight— I was struck once again by how vital is broadband Internet in our modern world. During the pandemic, as remote work and virtual learning became the norm, high-speed Internet evolved into an essential service on the ground. And even now, as hybrid work models emerge to accommodate some travel, few of us have the privilege of being disconnected for long stretches of time.
That's a reality shared by private and commercial flyers alike, and why it's so important that this aspect of the passenger experience is done right.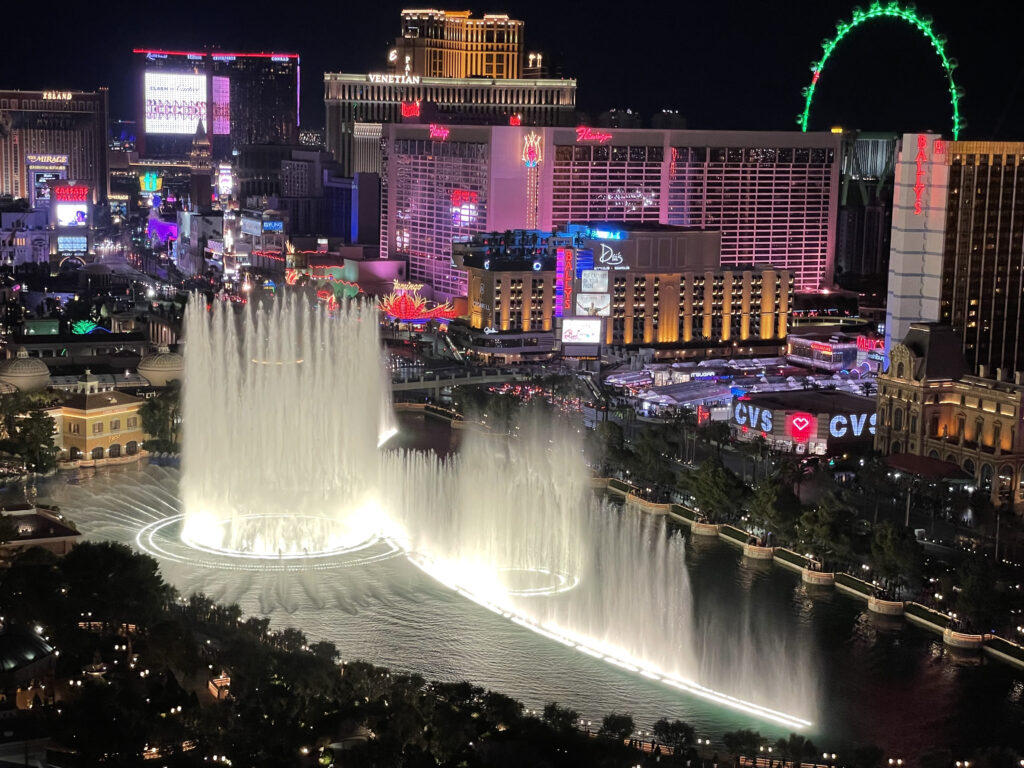 All images credited to Mary Kirby