Presented with a fresh opportunity to travel through Southeast Asia, I decided to go out of my way to try some "new to me" airlines.
For the first leg of my journey, I had to get from Singapore to Phuket. Four airlines currently ply this route, but Scoot came in as the best option for my schedule.
For those unfamiliar, Scoot is the low-cost carrier (LCC) arm of premium-heavy Singapore Airlines. It operates primarily out of its Singapore Changi hub, with a mix of short- and long-haul flying.
I booked my base Scoot ticket for just $130US via the carrier's website. The price point was noticeably below mainline Singapore Airlines, but still above fellow LCC Thai AirAsia.
In typical LCC fashion, everything after the base fare on Scoot costs extra. Checked bag fees are based on weight, starting at $24 for 25kg and going up about $5 for every additional 5kg of weight. Scoot does not offer the ability to add additional weight for carryons, which are limited to 10kg.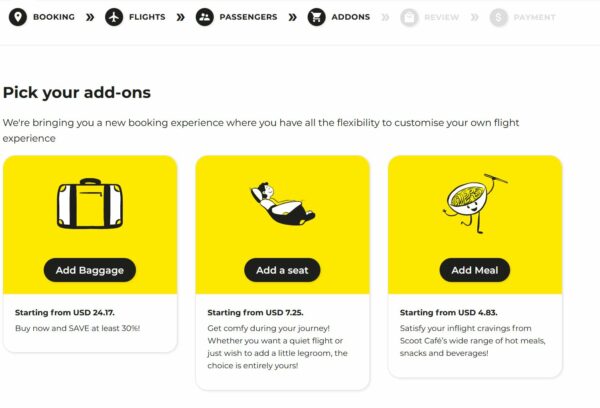 Seat choices, including extra legroom options, ranged from $7 to $24. I chose a seat mid-cabin in row nine for $10. Pre-booked meals started at $4.83 and included a number of options, though the vast majority of them cost between $13 and $15 for a bundled meal and beverage.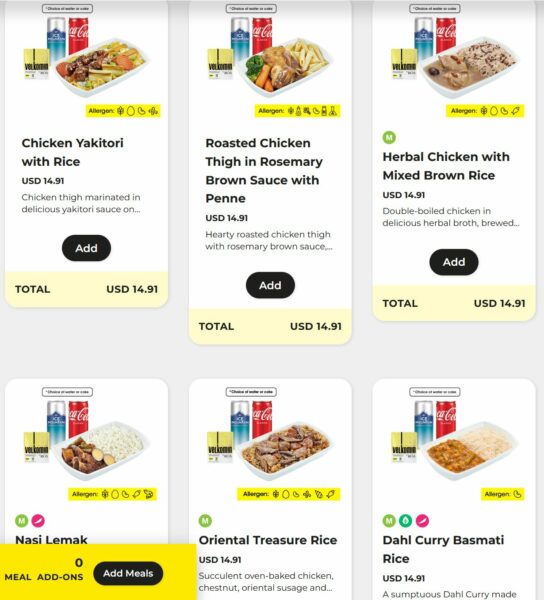 Scoot will also sell you a variety of miscellaneous add-ons, including priority boarding for $5, Pokemon swag for $15.31, and what looks like a very cute snooze amenity kit (complete with a blanket) for $14.50. I declined them all.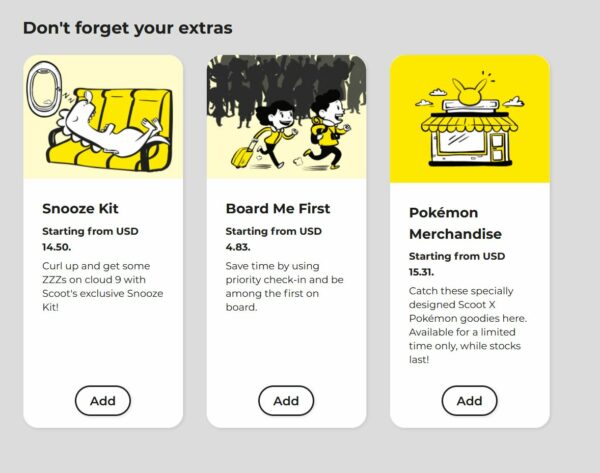 Several weeks later an email informed me I could buy out my seat triple to ensure that my travel partner and I would have more room. For a 90-minute flight I didn't seriously consider doing it, but I did want to see what it would cost. Unfortunately I may never know: the link said the offer was unavailable for our flight.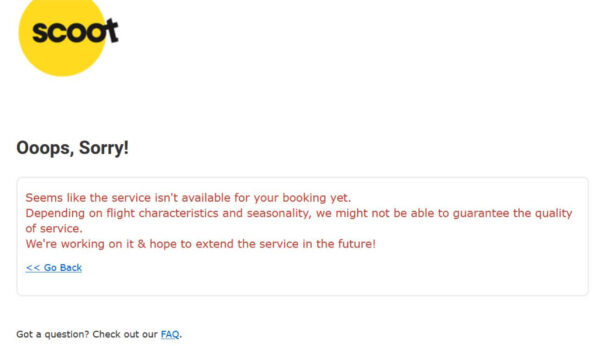 Another email showed up the day before departure reminding me to check in online. I tried, but the system failed to produce a boarding pass. Given that I was staying in the airport hotel, I decided to take advantage of the slow evening at the Scoot desk the night before. Luckily an agent was happy to print off the tickets.
The next morning I quickly made my way through immigration and into one of my favorite noodle houses on the transit side for breakfast. Singapore Changi does security at the gate, which opened an hour before departure with a long line. Boarding began 35 minutes before departure; row one and folks who required extra assistance were called up first.
The process fell apart almost immediately as the gate became mobbed. If there was a boarding order beyond that first announcement, the agents gave up on it pretty quickly. I didn't hear another announcement over the PA.
A friendly crew member clad in black with yellow accents greeted me at the boarding door of our Airbus A321neo twinjet. A first look at the cabin revealed a similar aesthetic, with row after row of black pleather Recaro slimline seats with yellow accents in the stitching.
Scoot outfits its A321neos in an all-economy, 3-3 configuration. These aircraft are high-density, with a total 236 seats on board (the maximum allowed is 244).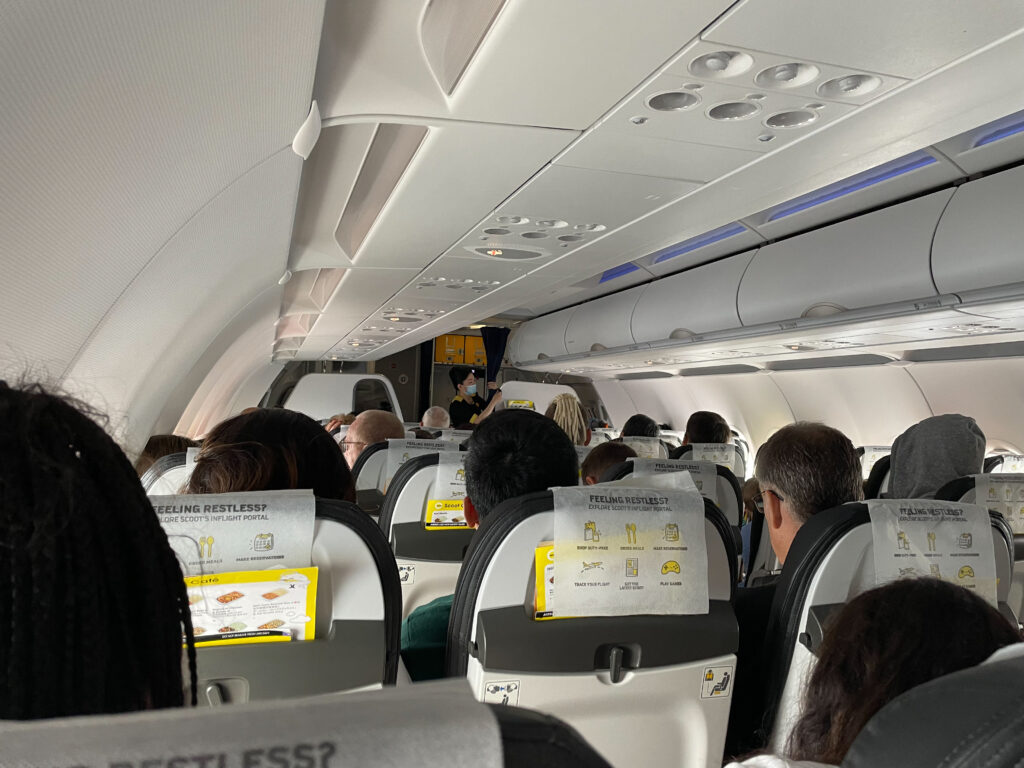 I squeezed into seat 9A, and my bag found space overhead with ease (nobody ever checked for weight). The space was not very clean. A number of crumbs awaited me from whoever occupied the seat before me, while my travel partner's seat had a sticky substance on it. An antibacterial wipe cleaned up the mess easily, but it wasn't the strongest start. 
The seat pitch was, as you'd expect, tight. Mercifully the seat does recline a bit, which my back certainly appreciated. Nonetheless I wouldn't want to do this for more than two or three hours.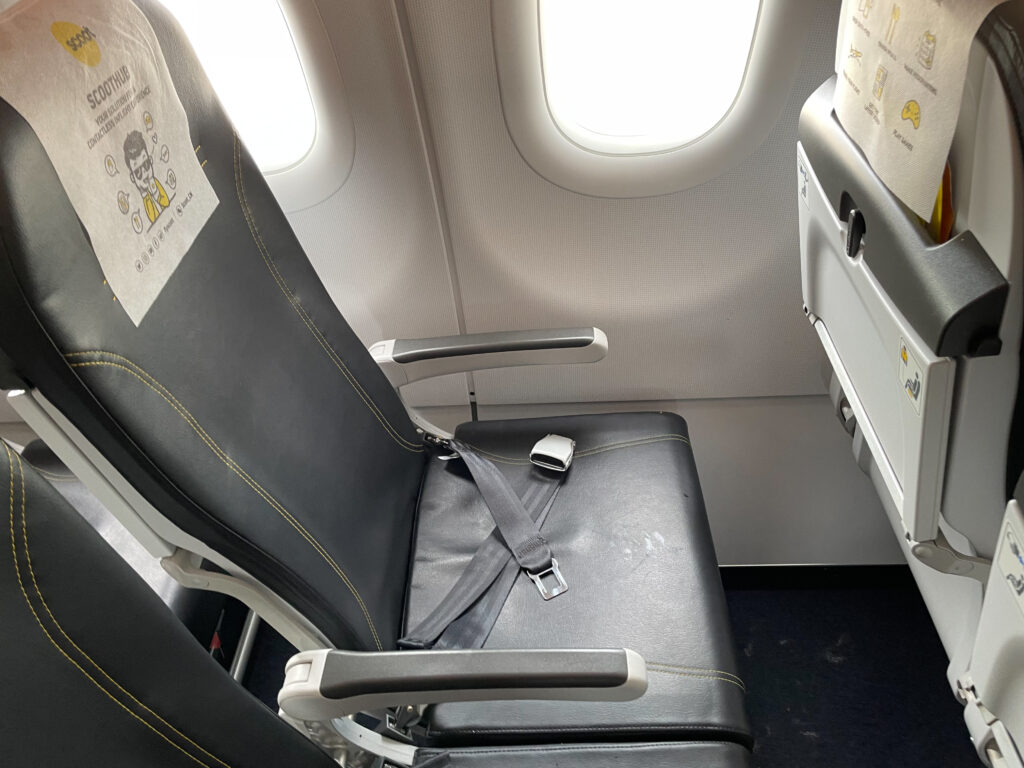 Not long after departure the trolley came down the aisle, with crew members filling pre-orders.
An insert in the seat's literature pocket showcased the Scoot Café buy-on-board options. Interestingly, most of the options were cheaper than pre-booking.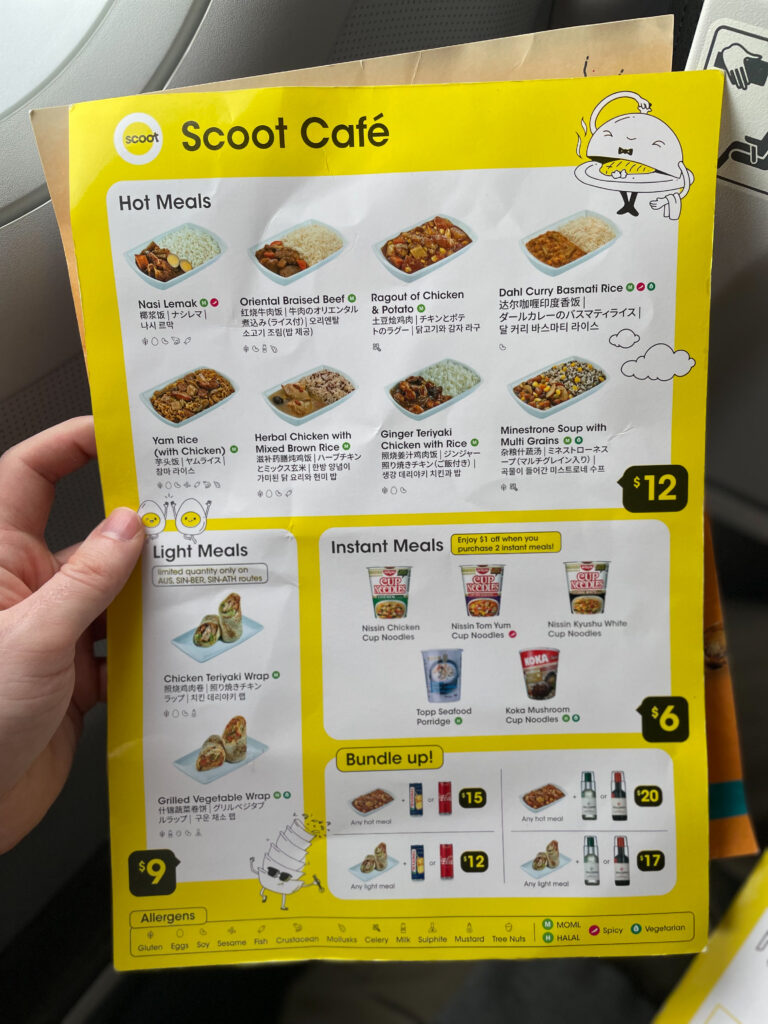 Typically, onboard purchases are facilitated by the airline's inflight portal, dubbed ScootHub. I opted not to pre-order my meal with the express purpose of giving this inflight e-commerce portal a try.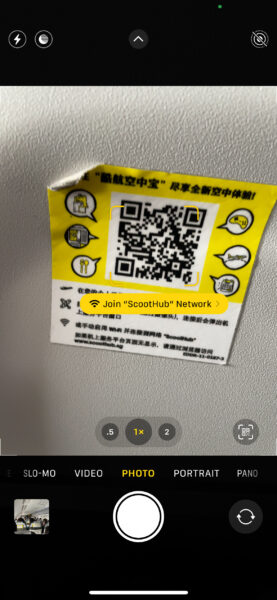 Unfortunately it was not available on my flight, as crew noted during the boarding process (I didn't hear that, but that's what they told me when I asked mid-way through the flight).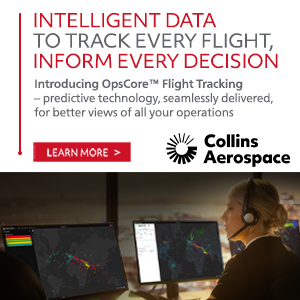 These hiccups happen, but it was a pretty disappointing development.
After 90 minutes aloft, the flight landed in a steamy Phuket.
Candidly, this flight experience was just so-so. Scoot's invitation for me to pay for a more-space offer, which turned out not to be real, was weird. So too were the dirty seats on the plane.
ScootHub being down for the count took away what should have been the most interesting part of the inflight experience for me. Without it, I didn't feel like I got the full Scoot treatment.
Still, these issues are likely one-offs that all combined for an underwhelming PaxEx. Ultimately, I would choose Scoot on schedule and price, but not on much else.
Related Articles:
All images credited to the author, Jeremy Dwyer-Lindgren