Safran Seats has been focusing on supporting the long-haul, narrowbody market of late. Its Z-series seats are meant to meet the needs of that ever-growing segment, whilst also ably supporting short- and medium-haul operations.
The work is not without its challenges. Safran Seats must balance passenger experience expectations with airlines' weight and cost targets, which can change dramatically in this application spectrum.
"While a simple, super-light, no-recline solution could be spot on for a one-hour flight, a more comfort-driven, TV monitor-equipped solution is likely to be preferred for an eight-hour flight. It takes a lot of versatility for one single seat to cover such a spectrum and the modularity of the platform is key in this regard," Safran Seats VP marketing Christophe Gaudeau tells Runway Girl Network.
"One key challenge is to ensure that the requirements of the higher-end versions are not jeopardizing the competitiveness of the lower-end ones."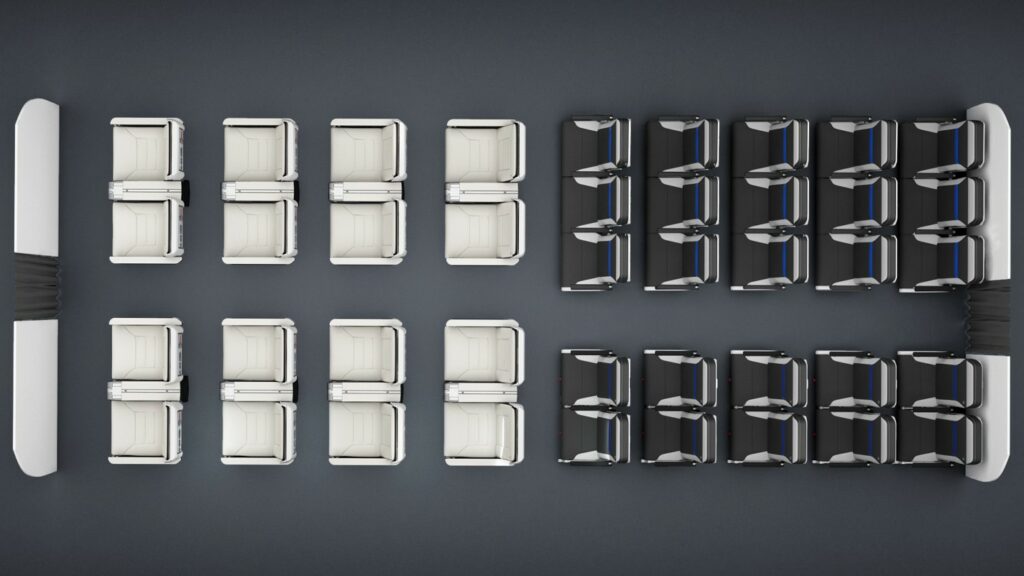 A family affair
The company's lean and efficient Z110i economy class seat can be equipped with a range of pre-certified options, including IFE screen installation and comfort features like Safran's Crystal Cabin Award-winning U-Dream headrest, making it suitable for flights up to eight hours.
This lightweight seat fits popular single-aisle aircraft, and is available in short lead times. Gaudeau says Safran Seats also reduced part count for ease of maintenance and improved reliability.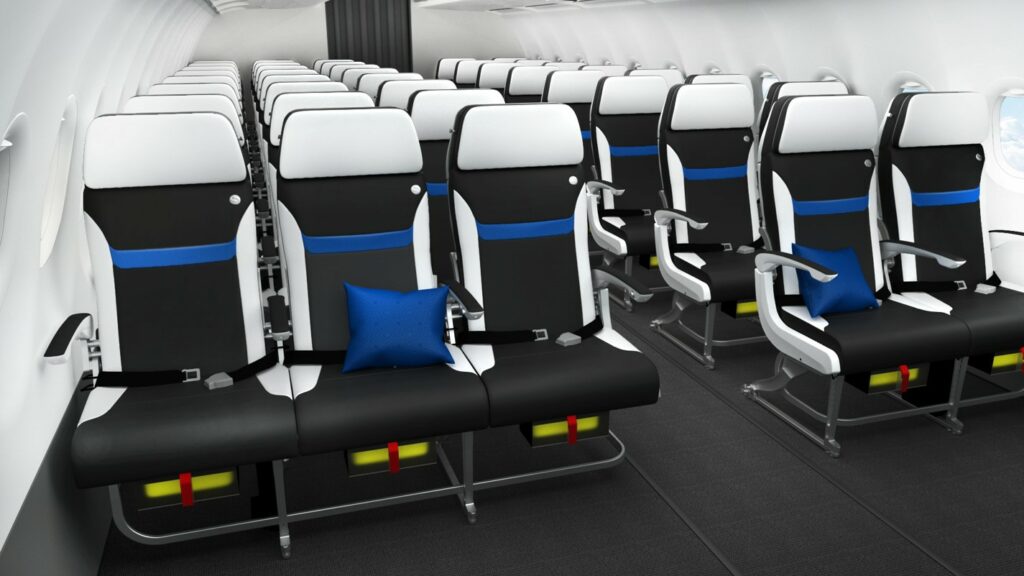 At the other end of the seating spectrum, Safran Seats' Z600 is an elegant business class chaise-style platform designed for narrowbody aircraft, which offers comfort and living space through a unique cradling motion kinematic.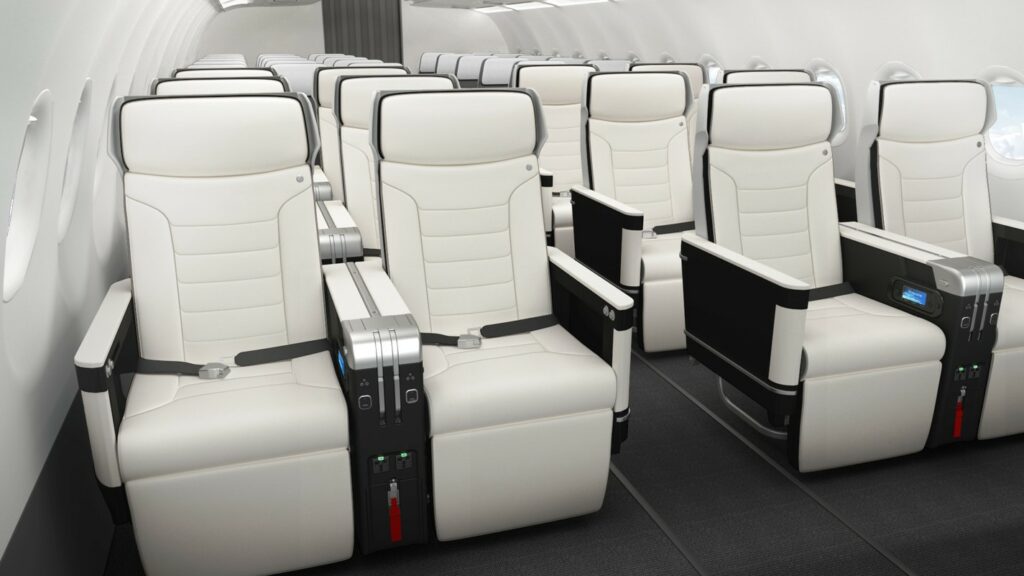 This seat model provides a full range of optional comfort, privacy, and convenience features, including electrically powered motion. It, too, has been optimized for weight while offering airlines options to enhance their brand image.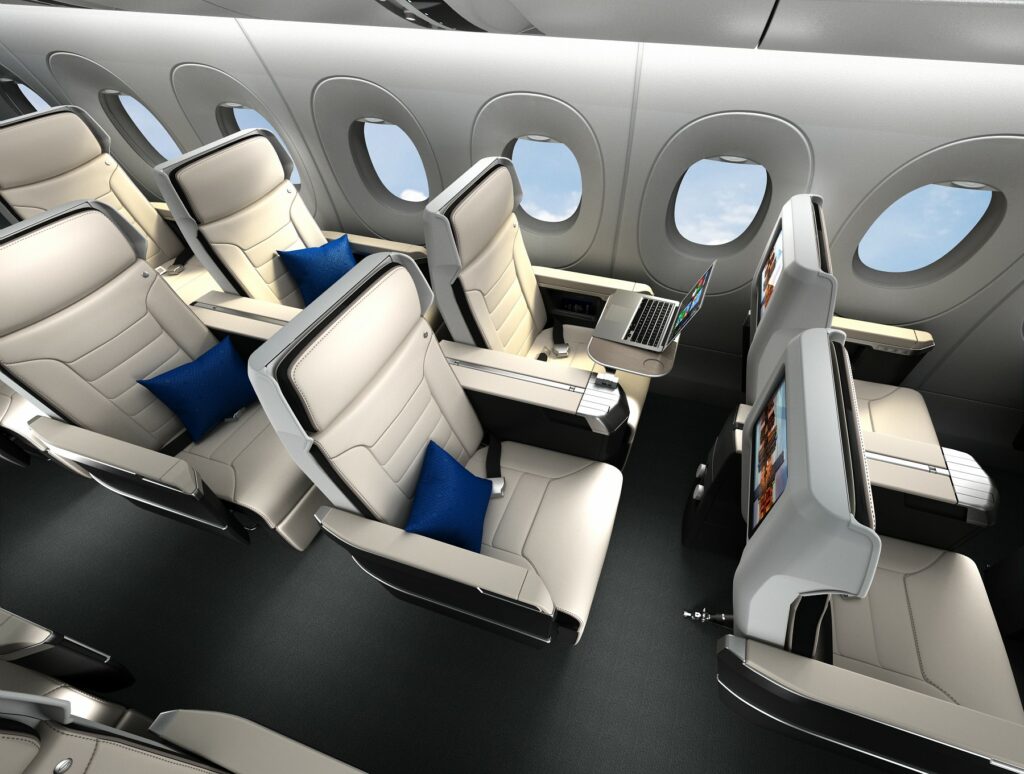 Both the Z110i and Z600 are available as Buyer Furnished Equipment (BFE) on the Airbus A220, Airbus A320, Embraer E-Jet family, and the Boeing 737.
These two seat models are also now available as part of the A220 Supplier Furnished Equipment (SFE) catalog with predefined, pre-qualified, and pre-certified Airbus layouts and catalog configurations to simplify and shorten the selection and delivery lead times.
Notably, the Z110i and Z600 count Embraer E-Jet operator Breeze Airways as a launch customer. The carrier's forthcoming new A220s will feature the Z600 up front.
Seating products within the Z-series — the Z200, Z110i, and Z600 — have been offered as BFE on the A320 since last year.  Unlike its sisters, the brand new Z200 is especially optimized for short- and medium-haul applications that use the Airbus narrowbody, and indeed the 737 aircraft family.
"It was developed around three key design objectives: passenger experience, total cost of ownership & CO2 emission footprint, and versatility," explains Gaudeau.
Passenger comfort features include an extra inch freed at knee level and a less intrusive backrest in passengers' personal space. With a baseline weight starting at 6.9 kg, the Z200 is light, ensuring greater fuel efficiency.
Going green
Indeed, ensuring that airlines can meet their sustainability targets is a common theme in Safran Seats' work.
"With a need to further enhance the efficiency of their operations but also reduce their emission per available seat footprint, living space performing solutions — allowing for higher passenger count LOPAs — are in demand," says Gaudeau.
"With an ever-increasing share of passengers traveling with one or several personal electronic devices on board, solutions to ease use on board of that equipment are in demand: power solutions, device holding solutions, etc. Last, with the rise of long-haul travel on narrowbody [aircraft], some extra comfort features are also in the spotlight. Safran's U-Dream headrest is a good illustration of that."
COVID considerations
Adjusting to the new airline health and hygiene objectives which emerged from the COVID-19 pandemic, Safran Seats now offers hygiene enhancements on all seats.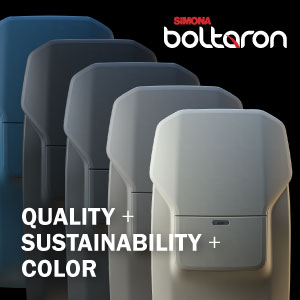 The firm's hygiene options include several embedded antimicrobial solutions such as sprays, adhesive films, and specific fabrics.
However, it does not anticipate that the COVID-19 pandemic will usher in a total revamp of aircraft seat design, though Gaudeau admits the crisis has brought some fresh considerations to the forefront.
"We do not expect a total reshuffle of the design drivers we were playing with pre-COVID," he tells Runway Girl Network. "However, some themes such as cleanliness and sustainability will for sure be more present in product design decisions."
This echos the sentiments of many stakeholders within the aircraft interiors industry.
Related Articles:
All images credited to Safran