There is no shortage of choices available for folks who need to travel between the popular Thai beach town of Phuket and the capital city of Bangkok. But low-cost carrier Nok Air's beautifully painted airplanes — each resembling a unique bird (Nok is Thai for bird) — convinced this AvGeek to book the flight. Well that, and a convenient departure time.
Nok Air's website nearly distracted me out of the gate. The airline offers unique Fly'n'Ride and Fly'n'Ferry fares, which combine an air ticket with ground or maritime transportation via (you guessed it), bus or ferry. It was tempting. But I'll have to save that adventure for another day.
Like many carriers that serve the incredibly popular Phuket-Bangkok route, Nok Air offers multiple frequencies per day. And they are all cheap, at least in terms of their bare-bones base fares, which start at only $35US. The Nok X-tra bundle is 50% more, while Nok MAX is just shy of double the price. Details on each fare class drop down when selected on the web site.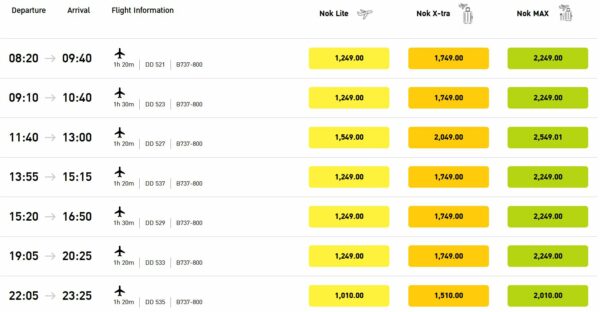 I chose the middle tier Nok X-tra bundle, which comes with a 15kg checked bag, in addition to a free flight change. Nok X-tra also comes with a free seat choice throughout most of the cabin, though additional options further up front or with more legroom range from $10-$15US extra.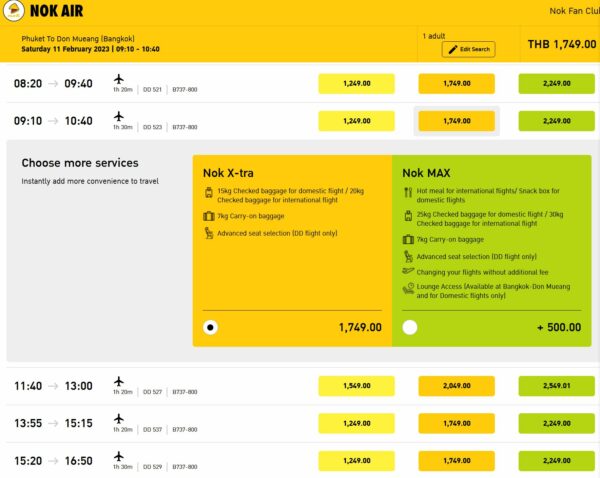 A 7kg carryon is included. And you can bolster your checked baggage allowance to a certain degree for a price.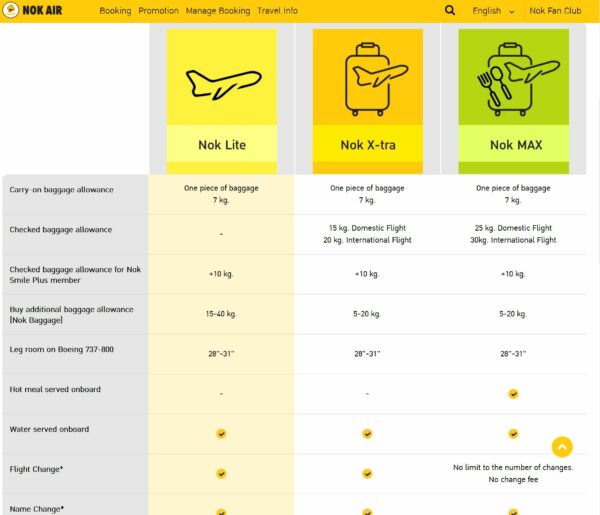 Meals are also an option, starting at $1.70 and rising to $6. The choices are not extensive; this flight offered mostly small meals and a few snacks. I booked a stir-fried chicken with rice for $6.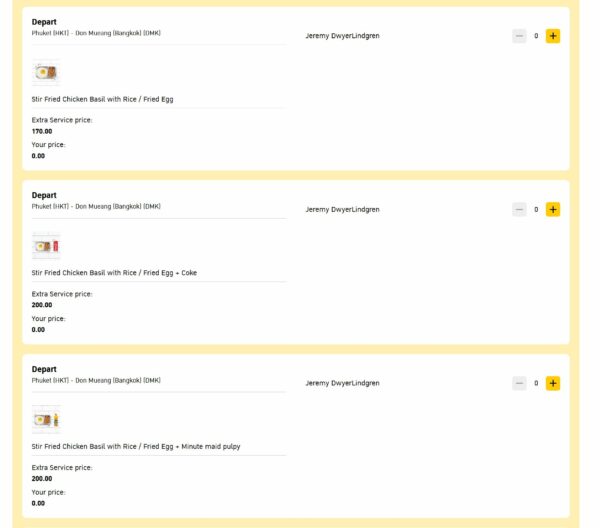 Two add-ons are preselected for you, Nok Sure, the travel insurance plan for passengers, and Nok First, which facilitates early boarding. In order to remove the cost ($4 for Sure, $6 for First), you have to explicitly open the tab and opt out.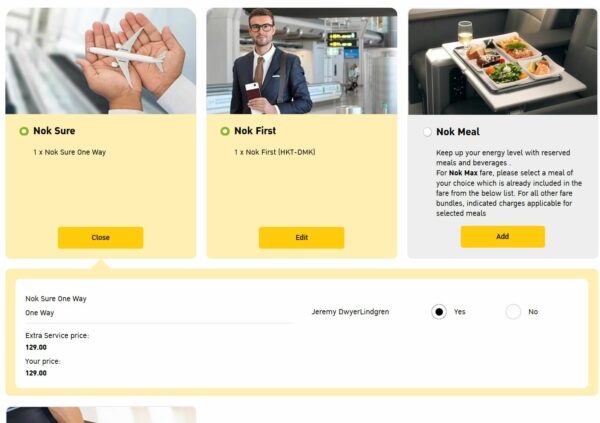 All in all, the total cost of my ticket came to $60.50. I'm glad I scribbled down my PNR number from the confirmation page; a promised email receipt never came.
I downloaded the airline's app a few days before the flight. It's busy, and adds a few more steps than are strictly necessary. But it was perfectly serviceable for my and my travel companion's booking.
Checkin opened online the day before our flight, and I completed the process smoothly on the app with no issues. Boarding passes must be printed, however, and this was easily accomplished at the hotel.
At Phuket International Airport the next day, we breezed past the snaking checkin line and went straight through security.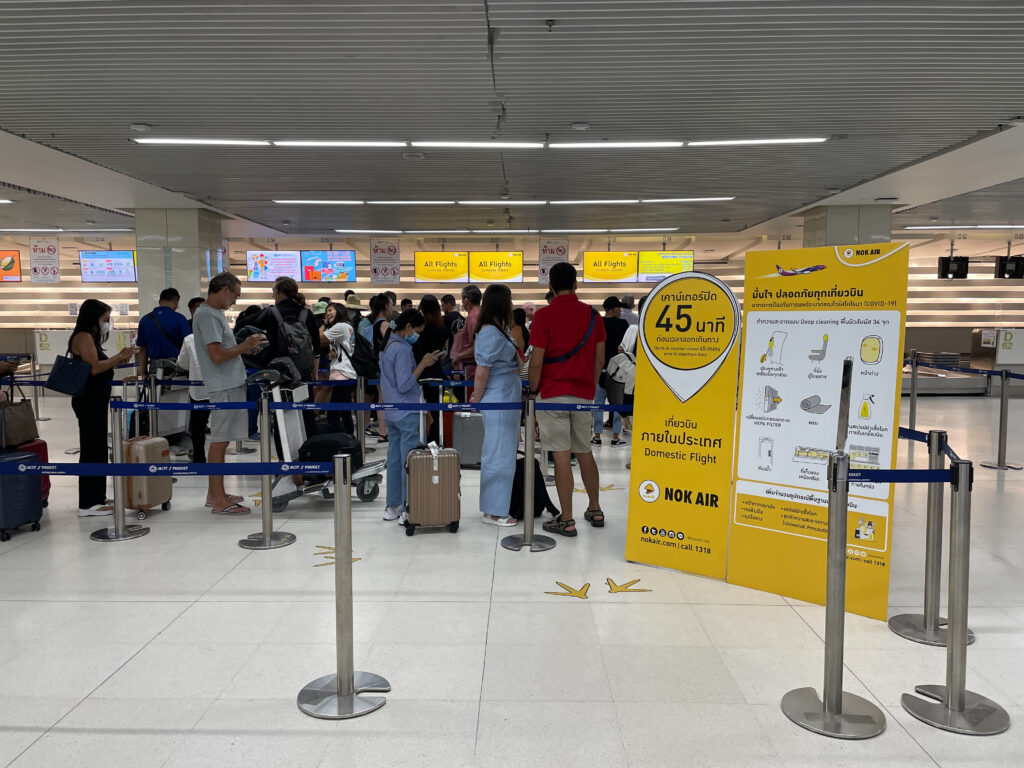 Lines began to form at the gate before our plane had even landed. Once the aircraft arrived, boarding began almost immediately with priority first, then in two zones arranged by the back half and front half of the airplane. But the boarding process was neither orderly nor indeed enforced, with folks jumping over to the faster line.
Despite holding steady in zone three, there was still plenty of overhead bin space left for our bags. No one ever checked the weights.
The cabin of Nok Air's Boeing 737-800 is arranged in an all-economy, 3-3 layout, with 189 seats on board. Pitch is higher than expected at 30", except for a handful of premium extra-legroom seats as well as the exit rows and forward bulkhead. Width is the 737 standard of 17". There is no in-seat power, just a tray table and small literature pocket already occupied by the airline's material.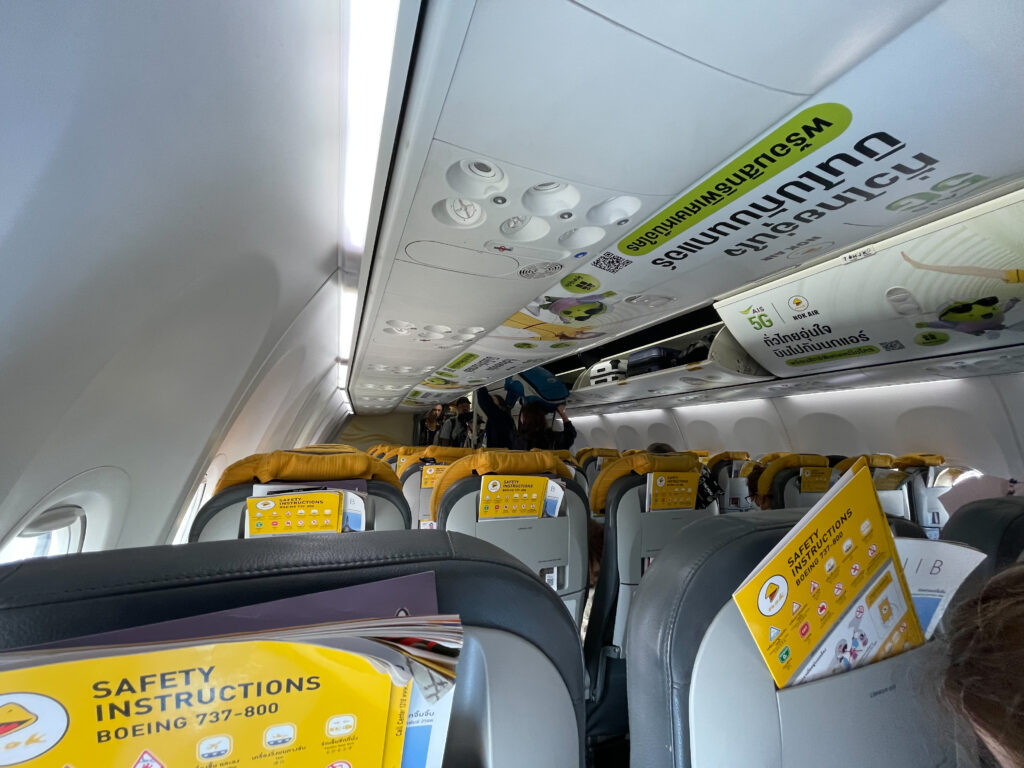 We settled into row eight and didn't like what we saw. Both seats were covered with crumbs, and my partner's had a layer of grime that was off-putting. If it wasn't a full flight we would have asked for a new seat assignment.
Alas, our experience wasn't isolated: we noticed other passengers also attempting to clean off their seats. It seems as if the quick turns are more important than a good scrub down between flights.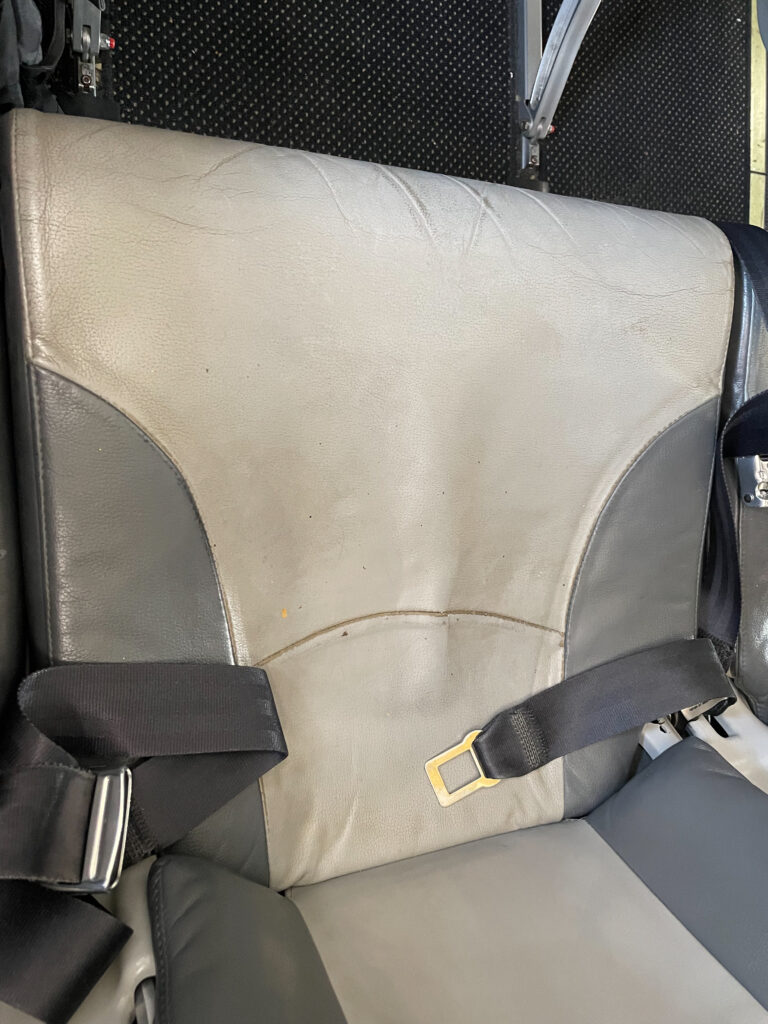 We took off a few minutes behind schedule and were quickly turning north over the gorgeous Thai coastline.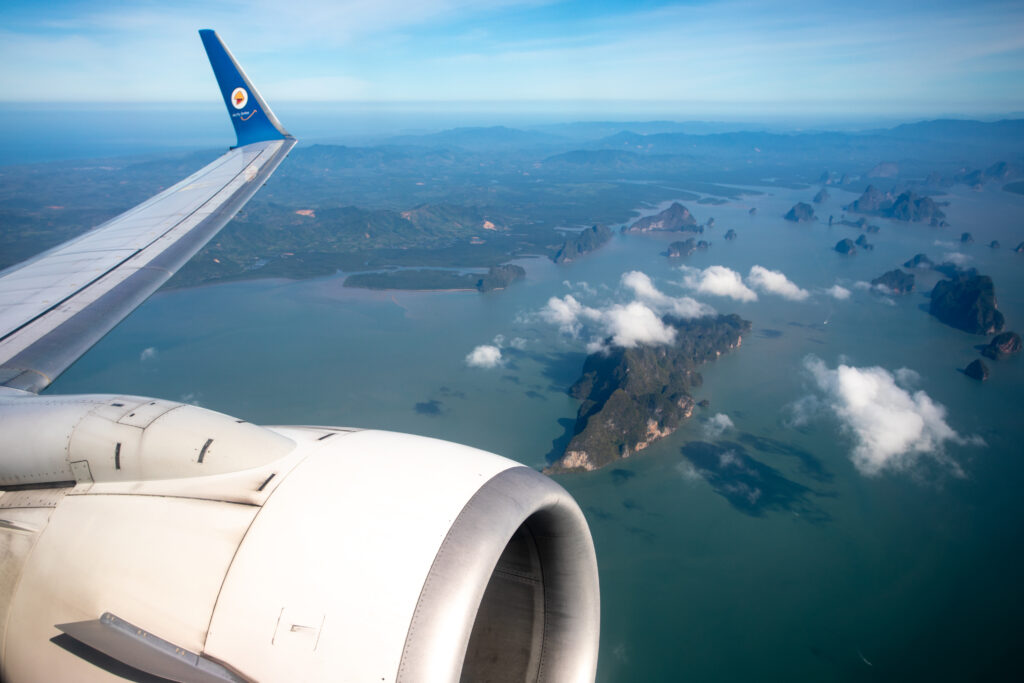 The meal trolley sauntered down the aisle twenty minutes into the flight, and after a brief exchange of boarding passes, a crew member handed us our meals.
The chicken in rice dish, served in a tin-foil covered tray, was the high point of the flight. It won't win any cooking competitions but it was warm and filling if just a bit small for the $6US price. The bottle of water and Coke were also welcome.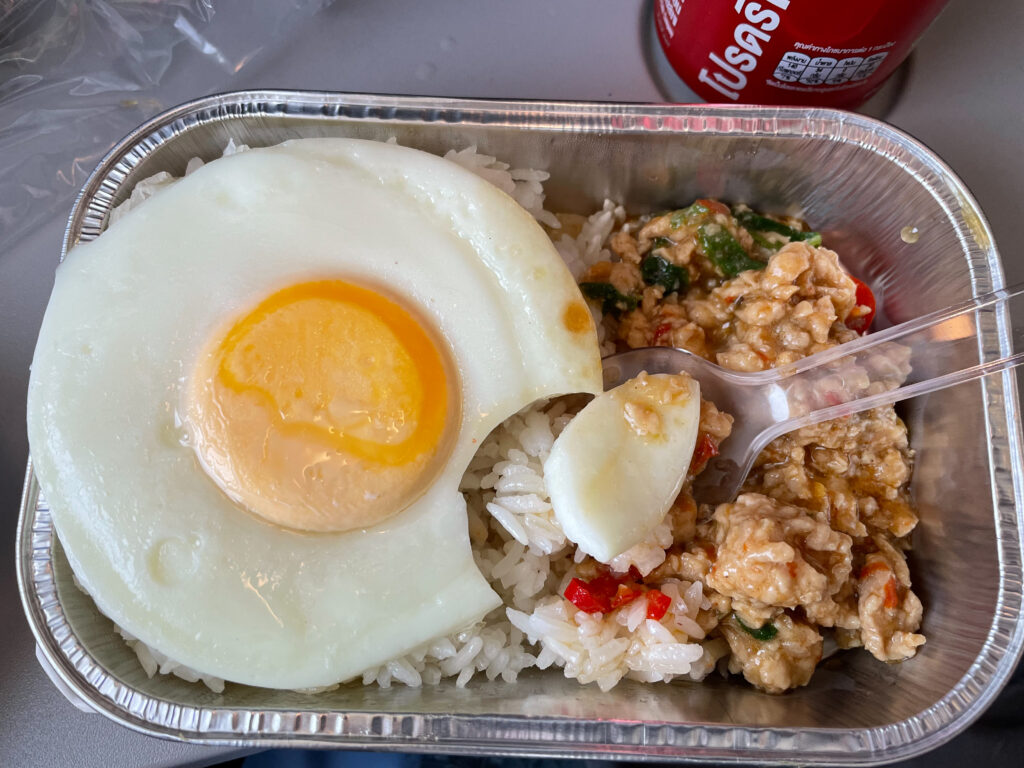 If Nok had any Wi-Fi or inflight entertainment the airline didn't advertise it on board, and I couldn't find it. A browse through its website after the flight, however, suggests that Nok Air does in fact offer free Wi-Fi (Anuvu, formerly Global Eagle, in 2014 announced Nok Air as an inflight connectviity partner). 
I must be simply unlucky, as this is the third new airline in a row that I've struck out on in terms of experiencing IFEC (see my Scoot and airBaltic reviews).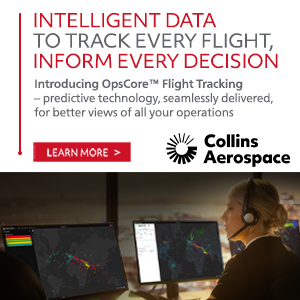 With no in-seat power ports, there wasn't much to do except look out the window, read a book, or access content on my own device (whilst sacrificing the battery).
A sporty approach led to a firm landing in Bangkok's Don Mueang International Airport some 75 minutes later. It was a quick taxi to the gate and then off to our connecting flight on AirAsia.
The lack of wireless IFE or onboard connectivity was disappointing, but I have had similar experiences on competitors operating the same route, making it a wash.
Were it not for the grimy cabin, this would have been an uneventful experience on another southeast Asian low-cost carrier. But given Nok Air's very tight turns, one wonders if the lack of cleanliness is more of a feature than a bug? It was enough to make me wary about future bookings.
Related Articles:
All images credited to the author, Jeremy Dwyer-Lindgren