Japan Airlines' start-up subsidiary Zip Air Tokyo was officially named to evoke the speed and efficiency of traveling long-haul on an airline without frills. Yet some have joked the name alludes to the .zip file type: passengers compressed into cabin maximizing seat density.
Now that Zip has unveiled its first Boeing 787 cabin interior, how true is the compressed joke? It depends on perspective. Zip's 290 seats across two cabins on a 787-8 are approximately 50% more than what JAL would fit, but with different premium balances and network strategies. For a peer comparison, Zip's 290 seats are well below the 335 on Scoot or Jetstar and comparable to Norwegian's 291-seat 787-8.
The difference in density is driven by Zip's premium cabin forgoing a premium economy-like seat in favor of a full-flat, direct aisle access seat that would be found on a full-service airline – such as KLM, which is already flying with the Jamco Venture seat Zip will use.
One big difference: no IFE monitor in business. Nor, indeed, in economy. On this particular front, the Zip 787 is Scoot-like.
Zip president Shingo Nishida told local media it saved half a tonne of weight by forgoing embedded screens. Zip will instead offer Wi-Fi and streaming IFE.
Instead of where the screen would typically be placed on the Jamco direct-aisle seat, Zip has a literature pocket. Width is 20" and pitch 47".
While Zip has not disclosed the LOPA, photos suggest this 18-seat premium cabin fills the zone between doors one and two. Direct comparisons are difficult considering lavatory and galley placement, but similar hard products from American Airlines and Avianca allowed them to put 20 seats in the forward section.
Density loss is also evident in economy, where Zip has 272 Recaro seats but in the same areas Scoot fits approximately 287. Both have 31" pitch and a 3-3-3 configuration. Despite 45 fewer seats, Zip's seven lavatories are more than Scoot (five) or Jetstar (six).
Zip says its economy seats are 29% lighter, although the benchmark is unclear. The savings could have been higher if Zip had simple economy seats. Instead the tray table is hinged and there is a separate fold-out tablet holder. Unlike peers, every Zip seat has a power outlet and USB port. Economy has an adjustable headrest. But perhaps the lack of IFE is the benchmark.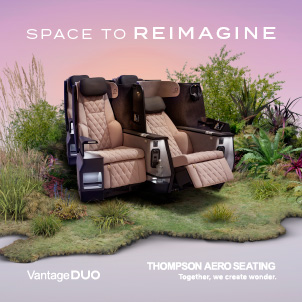 While Zip's logo and livery is somewhere between mint and forest green, the interior follows the black and white palette wider Japan is increasingly using, including JAL and the renovated areas of Zip's home airport Tokyo Narita. There is a splash of green in both cabins on the headrest cover with a pattern based on Zip's logo.
Yet Zip's business cabin may be under-whelming to Zip's target outbound Japanese market. Their benchmark is JAL and All Nippon Airways, which are full-service but also have some of the highest costs globally. JAL is gradually converting 787s from eight-abreast to nine, so Zip's nine-abreast may still be confronting (and globally there are still complaints about nine abreast on the 787). JAL's new A350s on short domestic hops have in-seat IFE monitors, so Zip not having screens on long-haul flights is a further contrast.
There are creature comforts. Business class has leather seat covers, although this reignites the debate if it is better to use more breathable fabrics even if they lack the perceived luxury of leather. Economy has pleather, which Zip says is 40% lighter. Three lavatories have a washlet, perhaps because they were already installed when the aircraft used to fly with JAL, but nonetheless gives Zip a marketing line of being the first LCC to have washlets.
But is Zip really a LCC?
Early in Zip's genesis, management shied away from "low-cost" and suggested hybrid. Their estimates about seat density gradually decreased. Is Zip less low-cost and more JAL Lite? Labels can be irrelevant, but with Zip not yet selling tickets, it is unclear how passengers perceive it and if they will give Zip a yield premium, especially in the business cabin. ANA and JAL have high costs but also command an enviable yield based on being Japanese, service reputation, and loyalty offering.
Zip has made obvious cabin interior simplifications but is far from being basic. The same could be said of preliminary plans from Korean start-up Air Premia. They need to hope they have reduced enough to be cheaper, but not so much that passengers disagree with the value proposition. When passengers disagreed with Philippine Airlines' value proposition on board its A330s, the carrier did a #PaxEx u-turn that included embedded screens throughout.
Related Articles: