Kymeta, the Bill Gates-backed manufacturer of flat-panel electronically steered antennas which recently received fresh equity financing, reckons that its aero antenna for the commercial aviation market will be available in 2024 — over a decade after it first began discussing such a solution.
"As a result of unprecedented interest in Kymeta's unique antenna technology, Kymeta is building an aero antenna for multiple leading aircraft OEMs and in-flight connectivity players, leveraging its third-generation solid state technology," a Kymeta spokeswoman told RGN via email.
"Kymeta cannot disclose the names of partners at this moment but can share that this solution would be for commercial and military use, and the expected available date would be in 2024," she said.
Kymeta first came on this journalist's radar in 2013, when it successfully demonstrated bi-directional high-speed Internet connectivity with the Anik F2 Ka-band high-throughput satellite. The demo was understood to be the first time that a metamaterials-based antenna established an Internet connection over a satellite link.
In the ensuing years, Kymeta entered an arrangement with Honeywell and Inmarsat to develop a Ka aero antenna for business and commercial aircraft, and later a maritime-focused deal with Panasonic, which the IFEC giant then hinted could lead to aero opportunities. But by 2018, it became apparent to various industry stakeholders, including former partners, that the tech for aero needed to cook a little longer. (Smiths Interconnect also slowly and quietly parted ways with Kymeta after forging what Smiths later described as "a very loose agreement".)
Kymeta remained undeterred. During the 2018 Satellite show, management told RGN: "We are actively and rapidly making progress on bringing our commercially available product into aeronautical markets, and will announce more when we think that it is appropriate to do so."
Today, Kymeta's website describes the firm as serving four industries: "government and military", "land mobile", "maritime" and "public safety". In a 21 March press release, Kymeta said it is seeing momentum in defense for its u8-branded line of terminals. Its military-specific communications on the move terminal, the so-called Osprey u8, is now shipping, it noted.
But the press release also mentioned that Kymeta has introduced "significantly lower pricing" for its so-called Hawk u8 electronically steered antenna "that will open additional markets and vertical opportunities", begging the question from RGN – when will civil aviation be served?
2024 is now the expectation, but Kymeta's web site doesn't yet mention civil aviation as a vertical in its drop-down menu.
The company's spokeswoman said, however, that Kymeta's next-generation technology "is a great fit for the aero market as it provides robust communications on the move, supports both LEO and GEO in a single terminal, and can provide both Ku and Ka band solutions.
"Kymeta is also the lowest power solution available and has the ability to support, receive and transmit in a single aperture in full duplex mode which also makes it unique. Lastly, the size and weight of Kymeta's technology are superior to most aero solutions in the market today and there is no extensive calibration process required."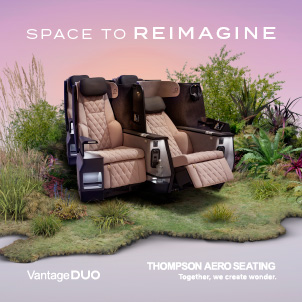 Kymeta separately has inked a distribution agreement with OneWeb which will enable the company to resell OneWeb services in conjunction with fixed and mobility hardware solutions to government and commercial customers globally.
"Whether connectivity is needed on land, at sea, or in the air, Kymeta continues to deliver through innovation and strong partner relationships," said Kymeta president and co-CEO Walter Berger in a statement.
"Our distinctive technology can switch between linear and circular polarization in software, allowing support for both LEO and GEO Ku-band constellations without any physical changes to the hardware required. We look forward to working with OneWeb as the addition of capacity from their leading LEO satellite network will give customers, including the US government and military, unprecedented access to connectivity in areas where existing networks don't reach. Kymeta's expansion into managed satellite services allows us to package our hardware solutions for connectivity as a service, a capability the US DoD and other end users are increasingly seeking."
Related Articles: