A long time has passed since anyone in the know has dared to proclaim that providing satellite-supported, inflight high-speed Internet to passengers will assure service providers and their airline partners of a windfall of cash.
While connectivity has become a 'must-have' for airlines determined to retain their business travelers, the revenues generated from inflight Internet – whether from fee-for-service, advertising and/or product sponsorship (or all three) – do not cover the cost of installing the hardware on aircraft and providing the service. Yes, the operational benefits gleaned from inflight connectivity will ultimately help to underpin the business case. But for now, airlines and their connectivity providers are subsidizing the service, and admitting as much.
"We're not making money right now" from connectivity, Panasonic Avionics VP Global Communications Services (GCS) David Bruner stated flatly at the recent Satcon 2013 conference in New York. "It takes a lot of density of aircraft to get the economics to work effectively. We do this globally and it's a challenge, but it's all going to get better with volume."
GCS operates over Ku-band satellites with broad beam coverage that Panasonic has proverbially 'stitched together' via partnerships with multiple satellite operators. Current GCS customers include Lufthansa, Emirates, Etihad Airways, Garuda, Gulf Air, Turkish Airlines, United Airlines and others.
Making the economics work for Panasonic and its airline partners won't happen overnight. "You'll hear about two other major commitments coming up in the next 24 months" for Panasonic's GCS offering, says Bruner. "Having thousands [of aircraft] equipped will drive the economics."
The launch of Intelsat's 'Epic' satellite platform will also provide relief in the form of reduced cost per bit for Ku, and help to keep the cost of competitor's aero services – like those supplied by Inmarsat's Ka-band network Global Xpress – in check.
Panasonic in 2012 contracted Intelsat for up to 1 Gbps of capacity on Epic, which will complement GCS service over the North Atlantic with high throughput Ku capacity after the first satellite, Intelsat 29e, launches. Intelsat claims that up to 80 Mbps per aircraft and 200 Mbps per spot beam "will be available to any Panasonic-equipped aircraft flying this high-traffic route".
A second Epic satellite, Intelsat 33e, will enable Panasonic to deliver high-bandwidth service to airplanes traveling from Europe to South East Asia and Europe to North Asia. It also provides capacity and coverage for intra-region routes including missions over Russia and the Middle East.
Intelsat 29e is still on track to launch "mid-2015", with service offered by the end of that year, while Intelsat 33e is slated for a "mid-2016" launch, Intelsat director of mobility services James Collett recently told RGN Premium. "Obviously, we're not selling the retail price, but clearly the thing that Epic is doing is not only helping Panasonic fit more aircraft … but allowing them to get a lot lower cost per bit," he says, noting that the airline customer in turn "gets more bandwidth for the same price".
Collett adds, "I don't think any of us are spending any less on our monthly cell phone bills than three years ago, but we are doing a whole lot more than we were."
How inflight connectivity providers like Panasonic package the service – and how the airlines manage it – is their business, notes Collett, but obviously, "Somebody has to pay us.  If you've got a global network and you've got a lot of aircraft flying, that's an expensive network to stand up. But we'll try to give service providers flexibility to the packaging and solution, and the most capable network that keeps the price per bit down to the maximum degree." In this particular instance, that somebody is, of course, Panasonic, whose financial arrangements with individual airlines are proprietary.
"As you know, our model is a sort of long-term commitment model, so the guys at Panasonic have made a long term and fixed and firm commitment to us but that works both ways. It means we absolutely have to make the capacity in our network available for them, and from their standpoint hopefully they've negotiated a good deal with us, and that means they can be confident about the price they put into the market," says Collett.
Analyst Tim Farrar recently offered some cost estimates for current Ku-band capacity, suggesting, "If you're a provider, you could offer a reasonable service at cost to an airline at around 12.6 cents a Mbyte. And if you actually want to make a profit, then you ought to charge something closer to 20 cents per Mbyte." During the Satcon 2013 conference, Bruner said Farrar was "in the right neighborhood" with his estimates for current Ku pricing. And OnAir chief financial officer Sean Lund concurred, saying pricing for Ku "is in the zone" that Bruner and Farrar mentioned.
Whether Ku pricing will eventually come down enough for airlines to support a free, high-quality inflight connectivity model remains to be seen. "We have a couple of customers that offer complementary service. [But] we've built our model around this [as] a premium service. A complementary model throws our entire ecosystem a big curve in terms of how do you rerun your business model now," says Panasonic's Bruner.
He notes, however, that it "only takes one or two airlines to do something like this [offer free service] to change the marketplace and we'll have to get capacity for a lot lower cost".
Add Emirates to the list of carriers that would like to offer free, high-quality Internet connectivity to passengers. Over 100 aircraft in Emirates' fleet allow passengers to use their own phones in-flight. But the carrier also currently offers Inmarsat SwiftBroadband-supported OnAir inflight Wi-Fi on its Airbus A380s and has fitted three Boeing 777s with Panasonic's GCS (live television, Internet and eXPhone mobile connectivity).
"Emirates already subsidizes connectivity as part of our service offering and we'd love to make it totally free, but the technology has to support the increased use," says Emirates VP product, publishing, digital and events, Patrick Brannelly.
Predicting bandwidth requirements is a real challenge, he says, although clearly the trend is up. "Streaming video is driving most of the increase on the ground and this activity may need to be curtailed or restricted for a long time to come. We've seen about a 10% increase in the average MB used per used over the past year and expect this to continue.
"The current satellite capacity is likely to remain a challenge for years to come, and there is a pull between making a service free (lots more people will use it) and maintaining a good experience (as more people use it the service experience deteriorates)."
On the other side of the planet, New York-based JetBlue Airways has formally launched its Fly-Fi branded inflight Wi-Fi solution, which is powered by ViaSat's high-throughput Exede regional Ka service. The carrier is initially offering a two-tiered pricing structure on the first 30 aircraft to be equipped – a free service plus a superfast connection that allows passengers to stream videos for $9/hour (see speed test below, albeit conducted at a time when only three JetBlue A320s were offering Fly-Fi).
"We want as many people to use it as possible and after six months, we'll decide [the] price. But our goal is to have some level of a free offering," says senior VP of marketing Marty St. George.
Asked if that means JetBlue will subsidize the service for passengers, St. George quipped: "You know, you can say that about so many things at JetBlue, whether the snacks, the live television, etc."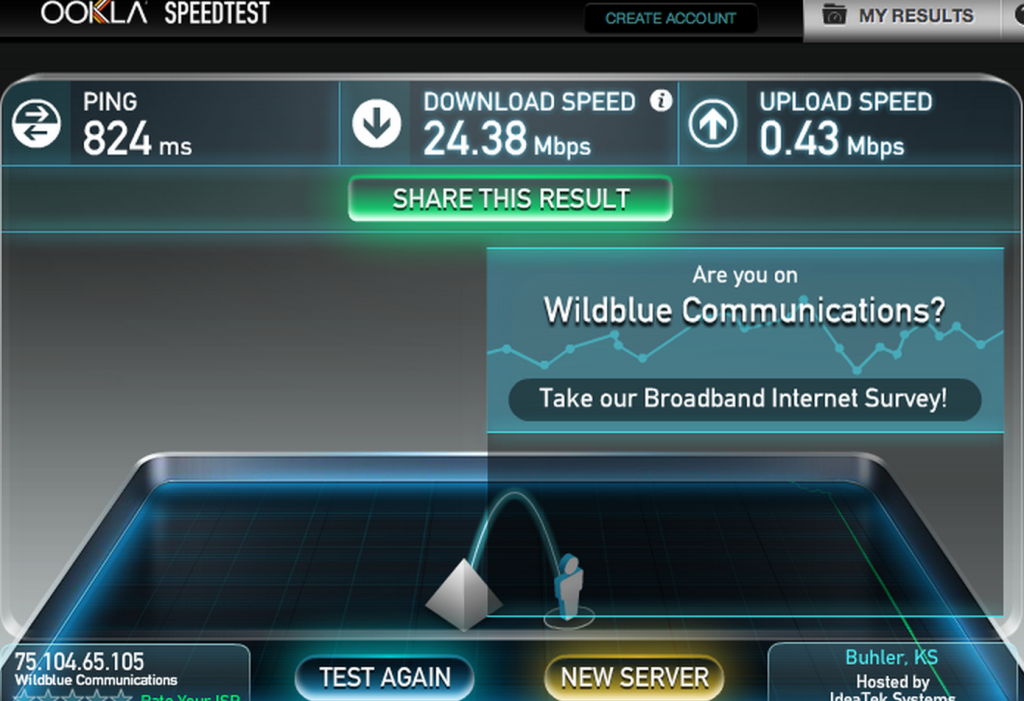 Featured image credited to Emirates