A world where inflight Internet access is offered free of charge just took a fairly substantial step towards becoming reality, as Emirates announced a major overhaul to its pricing model. The Dubai-based airline is shifting to an extremely low-cost model by fully subsidizing passenger access, and eventually intends to remove the cost of access entirely.
The move is indicative of a number of trends. Firstly, people increasingly view Wi-Fi as air, and expect to be connected during every touch point of their journey for free. Secondly, the one-upmanship amongst Gulf carriers knows no bounds. Etihad Airways and Emirates have been racing to equip their aircraft with broadband connectivity. Emirates' decision to soak up the cost to connect could prompt its competitor to do the same.
Some reports about Emirates' decision have been a tad conflicting – the confusion stems from the fact that the carrier has equipped different aircraft with different connectivity systems – so we reached out to Emirates VP, corporate communications (product, publishing, digital and events) Patrick Brannelly for clarity. He tells RGN that a total 28 Boeing 777s have been equipped with Panasonic Avionics' Ku-band satellite-supported Global Communications Service (GCS), inclusive of broadband Internet and live television.
Additionally, a total 54 Airbus A380s offer OnAir Internet, which operates over Inmarsat's lower bandwidth L-band-based SwiftBroadband service, "and most also [offer] telephone/phone data as well", says Brannelly.
Explaining the carrier's latest Wi-Fi pricing structure, Brannelly says, "At the moment, on about 49 of our A380s the service is free for the first 10MB, then a token $1 for the next 600MB."
On a remaining 5 A380s that carry OnAir but don't have a software limitation, and on the 28 777 aircraft fitted with Panasonic GCS, "there is a token $1 fee for up to 600MB", says Brannelly. For over two weeks in October, to celebrate Eid and then to celebrate Emirates' new route to Budapest, we offered the service for free unlimited. As stated by our airline's President, Sir Tim Clark, our vision is to eventually offer free Wi-Fi for everyone across our fleet, but there are a number of technical challenges. We are working hard with our suppliers to make free Wi-Fi a reality."
By offering passengers the option to pay a "token" $1 fee for 600MB of access, the barrier to entry has all but been completely removed. Few passengers will ever reach the 600MB limit. But unless Emirates has brokered some sort of miraculous deal for service, the cost of offering this amount of data over SwiftBroadband will be enormous. And the bandwidth-limited service could quickly be bogged down on an A380 with potentially hundreds of passengers attempting to access the system. Indeed the cost of offering near free access to broadband over current broad beam Ku satellites could also be substantial.
"[W]e face a slew of technical limitations – from speed and bandwidth availability and cost, to the supporting hardware and software – all of which we are working hard to address with the industry right now," admits Clark.
For instance, even though Emirates currently offers two different inflight connectivity hardware solutions, it continues to tap OnAir for the interface and software, as underscored by OnAir spokeswoman Aurelie Branchereau in a tweet yesterday. This means that OnAir and Panasonic – rivals in the connectivity space – must work closely together to meet the needs of their exacting client, Emirates.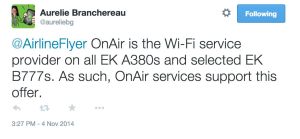 It should also be noted that there are a fair amount of unsatisfactory reports floating around social media about free inflight Wi-Fi over Ku. For instance, Thai budget carrier Nok Air recently made a big splash about offering free inflight Wi-Fi only to be burned by news reports of capacity constraints.
In its review of Nok Air's free Wi-Fi launch  Jaunted reported "The 'free' inflight Wi-Fi experience with Nok Air was far from exhilarating. Not only was it dysfunctional pretty much for the entire time it was supposedly available for use, expectations were high after [a] FaceTime call demonstration. Plus, we were all encouraged to use any and all smartphone apps over the inflight Wi-Fi to give it a good run for its money. This opened up a Pandora's box of usage expectations, which eventually backfired."
It's clear that if an airline wants to offer free inflight Wi-Fi to passengers, it needs to pay for adequate capacity to support the model. And managing passenger expectations is essential.
During the recent Cabin Integration Symposium in Las Vegas, Panasonic Avionics VP of Global Communications Services David Bruner said Panasonic is fielding more and more interest from airlines that want to pursue a free Wi-Fi model. But he also warned that Ku providers like Panasonic need to be prepared to provide "massive capacity" where there are a lot of aircraft operating, and that it takes "a lot of money" and "deep resources" to be able to offer free Wi-Fi.
Emirates appears willing to spend the money. Your move, Etihad.
[Editor's note: During the Future Travel Experience Global 2014 conference, American Airlines and British Airways said they don't feel threatened by the 'passenger experience' (#PaxEx) standards being set by Gulf carriers. See our video round-up of what AA and BA divulged at the show below. The above article includes additional reporting by Mary Kirby. Photo courtesy of Jason Rabinowitz, aka @AirlineFlyer]