SINGAPORE — Emirates has selected Thales' AVANT embedded inflight entertainment system for the first 50 of its forthcoming fleet of Boeing 777X aircraft, marking not only a shift away from Panasonic Avionics' eX family of IFE, but also the first time a 777X customer has chosen its inflight entertainment. Emirates will begin taking deliveries in 2020 of the 150 aircraft from the 777X family it has on order from Boeing, and the airline's divisional vice president for customer experience Patrick Brannelly tells Runway Girl Network that the first 50 aircraft "sees us through a couple of years, at least".
"What happens after that is to be determined," Brannelly notes, explaining that the rate "has not been announced, but it'll be pretty quick. You can't take 50 in one day. We tend to take one or two aircraft a month. The world may change, and the important thing to realise here is that when you place an order like this for the 777X, you're buying systems that are going to stay in service for twelve years, to 2032 or 2034. If you had to build your iPhone now for the next twelve years, it's almost unbelievable that anything can last more than nine months now. So it gives us flexibility."
Emirates has been a key Panasonic Avionics IFE customer "since about 1997", Brannelly admits. "It's a big decision to change. Panasonic have been a great supporter of Emirates and together we've done a lot of new things for the first time. They've been great in terms of working with us. The 777X sparked a tender process, as is normal, and the whole package that we were offered from Thales just made more sense to us for the future. It's not just the physical hardware but what you do with it. What's really critical is the customer experience on the platform. To be honest a lot of the platforms are perfectly capable in terms of processors, display size and display quality."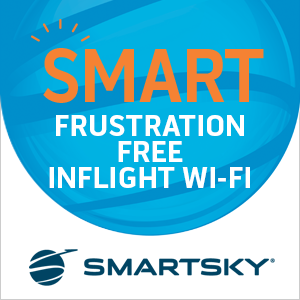 Details are relatively skimpy as yet, with Thales promising to provide "the state-of-the-art AVANT inflight entertainment solution featuring an innovative and highly customizable user experience", and that customers will enjoy "an immersive and engaging experience". Of course, at four years out it is perhaps understandable if the nitty-gritty is still to be developed as technologies mature between now and the design freeze. One clear objective, however, is that the system be upgradeable, both in terms of hardware and of software.
"We always have upgraded the front end," Brannelly says. "You'll see bigger and bigger screens, and behind that you've seen over the years better processors. There is an opportunity to upgrade as you go through. This batch of orders, I would imagine, will have the last one very similar to the first one. Now, a lot of it is software, so what you can do with the software – that should be changing every week, like you do with your phone."
"The hardware is much more robust," Brannelly explains. "The screens don't really break any more. Most of the problems that airlines are facing — with all these systems — is on the software side. You have an incredibly complex system. It's far more complex than your television at home, for example. I don't really think the hardware will change, although it may do. But we want to get to a point where the software is absolutely robust. What is robust software? With an iPhone, they launch a brand new model and do an update three days later, if not the day you take it out of the box. So we need to get to this kind of methodology in the future, to be able to add services that customers want, quickly."
Making that process faster and easier is a key part of the deal with Thales, Brannelly says. "Today it's a really cumbersome affair. It can take months to fix software on the aircraft. Part of the deal is we're going to look at everything that we do and think how we can do it better. I want it to be a fantastic experience for engineers, and for the airline: not just passengers signing up for our frequent flyer program or ordering a Coke, but a lot more in tune with the business. That's the future."
The significance of the move is underscored by plans also announced to create a local repair operation and a custom innovations center for the passenger experience called "Discovery Dubai". Thales will manage the centre, and it will "enable Emirates teams to develop and shape their future passenger engagement initiatives and programs in the air and on the ground".
"We've been working together in quite some detail for a long time, so we're quite advanced," Brannelly notes, highlighting that the tender process has been in the work for "more than a year. It's not just 'we've got screens', it's how you integrate it into some of the seats that will go on that aircraft that have not been announced. You're looking at two seat vendors, say, for one of the classes. So it's very complicated to get all the ducks in a row."
Overall, though, Brannelly expects to be making many more announcements for the 777X – IFE vendor selection for another 100 on-order 777X aircraft plus connectivity for the entire 777X fleet has yet to be announced. "Emirates are always upgrading, so you'll see innovations in every cabin. You'll see innovations before the 777X as you've seen in the past.
Related Articles:
Featured image credited to Emirates