As the commercial aviation industry accelerates out of the COVID-19 pandemic, aircraft interiors and avionics specialist Diehl Aviation is doubling down on its commitment to delivering a more sustainable travel experience, whilst embracing digitalization. It is also seeing renewed demand from airlines to optimize their cabins. In a lengthy interview with Runway Girl Network in advance of the Aircraft Interiors Expo in Hamburg, a Diehl spokesman detailed the firm's big design initiatives going forward.
RGN: What key trends is Diehl Aviation seeking to address in the aircraft cabin with its product portfolio? Do you believe that the COVID-19 crisis reset passengers' expectations when it comes to touchless technology and hygienic solutions?
Diehl: We are currently experiencing a profound change in the aviation industry. The expectations of our customers, but also the discussions of politics and society concerning sustainability and digitalization have a major impact on us in terms of technical requirements and priorities. Flying is to become smarter and at the same time more eco-efficient. The contribution we are making to more climate-friendly aviation is already evident in our solutions and products. Moreover, we have access to a wealth of experience and a high level of technological knowledge, allowing for an increasing number of opportunities to use more eco-efficient materials.
There are two major trends we are experiencing: sustainability and digitalization. Both have an impact on our innovations, solutions and products. We are already providing eco-efficient products that contribute to eco-efficient flying and a lifecycle optimized approach in various aspects. As a leading technology company in the aviation industry, we have an inherent focus on the entire life cycle of our products, and thus naturally also on the materials used and the framework conditions for production.
In addition, the aircraft cabin is set to become smarter and offer passengers an impressive flight experience, taking in account airline demands. We are working on data driven and smart cabin solutions. Our smart cabin solutions like CANSAS enhance the cabin to be more data-driven to create benefits for both passengers and airlines.
We are also constantly working on the digitization of the aircraft cabin, e.g., with our Crystal Cabin Award (CCA) 2022 Entry together with Thales Avionics. We jointly developed the In-Cabin Experience Enhancer (ICEE), an in-flight entertainment (IFE) and connectivity-controlled cabin projection system. This allows cabin surfaces to be used as projection surfaces for branding, advertising and changing information of all kinds, for example with regard to the current overflight region, flight route or destination.
Finally, to meet the increased demands of the market for touchless and hygienic we offer a lightweight, highly affordable touchless solution for our lavatories that consists of a touchless faucet, a flush button, a drain flap as well as a toilet lid. We are currently in the process of expanding the touchless solution to other products. In terms of passenger expectations and behavior, we believe that some features that are already standard in many places on the ground will eventually become standard in the air, as well. While it is still too early to assess the long-term impact, we would not say that passengers' expectations have changed completely at this stage.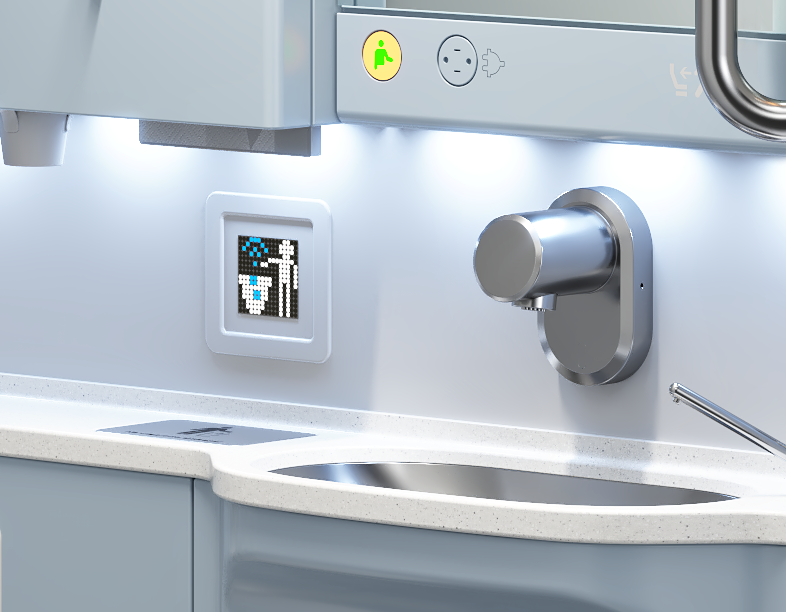 On a different perspective, we are also observing a trend away from hub-based airlines networks and towards an expansion of point-to-point routes, which require greater comfort even in single-aisle aircraft. With its retrofittable integrated cabin architecture/solutions, Diehl Aviation offers high additional value for respective airlines and their passengers.
Consequently, we also see a renewed demand from airlines to optimize their cabins. We expect the trend to be toward a three-segment economy class, with Economy+ (standard economy seats with better service and spacing), an upgraded Premium Economy (different seats, more reclining space, better service and food) and an all-economy class with maximum density.
We are addressing these trends firstly with our enlarged overhead bin, which provides more headroom and solves the issue of space constraints in overhead bins, and secondly with our new cabin projection system, more robust sidewall coatings, weight-reduced aircraft systems (e.g., air supply, water) and furnishings (e.g., galleys, lavatories and floor-to-floor), as well as special, tailored solutions for niche operations (e.g., flight crew rest class 2 or 1 on A321 aircraft).
RGN: Does Diehl expect to see continued momentum for such products as its touchless lavatory (featuring touchless doors, locks, water faucet, soap dispenser, automatic seat and lid, etc.) once the COVID-19 crisis moves into the endemic phase?
Diehl: We firmly believe that, in the near future, touchless and hygienic solutions will be assumed as standard in the aircraft by passengers. Our solution offers airlines advantages such as low weight of the entire kit and low acquisition costs. In addition, the standard desired by passengers can be implemented as an upgrade solution with little effort by the airlines.
Diehl Aviation and Airbus decided to cooperate in distributing the touchless lavatory for retrofits and upgrades in the future. As a result, Diehl will now also offer and market its touchless lavatory through Airbus' sales channels. This collaboration will also achieve a significantly higher scope of sales for its latest touchless solutions. Airline customers can have their aircraft retrofitted with the complete lavatory and also with individual features. A special conversion kit enables quick installation in almost all lavatories on board Airbus aircraft.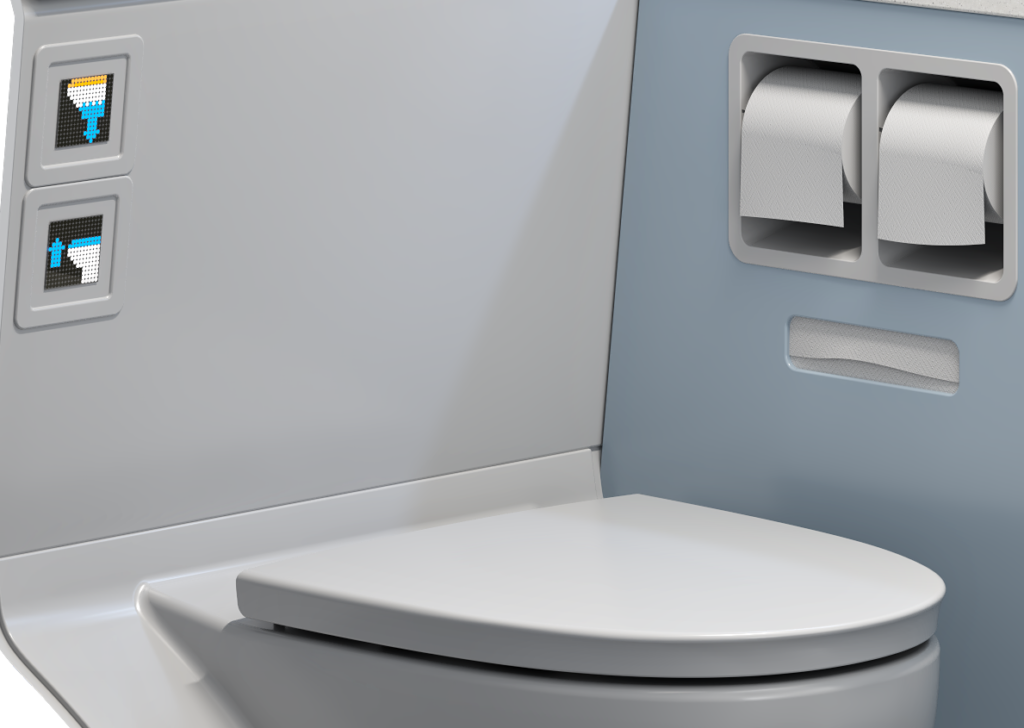 With its Touchless Features as upgrade solutions for the lavatory, Diehl Aviation is in the development process of an entire product family with touchless functions meeting passengers' increased sense of hygiene and safety. In the lavatory, all relevant functions from the waste flap and the water faucet to the WC lid and the WC flush can now be operated touchless and completely intuitively. Further touchless functions, for example for the door handle and the door lock, are already in development by Diehl Aviation and will soon complement the touchless portfolio. The functions are usually controlled centrally via the Multi Motor Control Unit (MMCU) specially developed by Diehl Aviation. It can be installed very easily and with minor modifications in lavatories already in service.
We take touchless faucets for granted in present-day ground lavatories, why should it be any different on an aircraft?
RGN: Is the touchless lavatory being included in the integrated nose-to-tail content on offer through your collaboration with HAECO Cabin Solutions? Broadly, can you provide examples of the type of integration projects that Diehl is proposing to airlines in tandem with HAECO?
Diehl: In order to continue to cover the complete product portfolio for commercial aviation and private jet completions, Diehl Aviation benefits from the strategic cooperation with HAECO Cabin Solutions (HCS). Together with HCS, Diehl Aviation will further expand its position in the market for cabin upgrade solutions.
Our strategic cooperation goes well beyond the capabilities of a single product  — we are looking for synergies that leverage the power of Diehl Aviation and HAECO Cabin Solutions. Examples are as follows:
A 5-abreast premium economy cabin for single-aisle aircraft with headspace and overhead bins adapted to the asymmetrical structure, as well as various other parts, such as front row monuments, partitions, class dividers and more. This cabin incorporates HAECO's Eclipse Staggered seat, which features a fixed backshell, offering airlines higher density in the premium cabin, while offering passengers better personal living space and privacy.
The AftSimplex, a lightweight, low complexity product for the aft of the single-aisle [aircraft]. This module does not require structural replacement of the cross beams and saves up to another 50 kg compared to our Skypax.
Skypax, a double lavatory, is fully wheelchair-enabled and was awarded twice for innovation in Germany.
RGN: As airlines work to improve their eco-credentials for a more sustainable future, which Diehl products are resonating the most with airline managers — the lighter weight Skypax galley and lavatory combo; fully recyclable air outlets; the grey water reuse system; the reduced weight 16G partition, others?
Diehl: Our customers usually have individual needs and requirements for their aircraft cabins. It is therefore difficult to generalize the response to our products. For example, what if a weight-reduced partition is needed for one customer, but a lighter Skypax module is needed for another?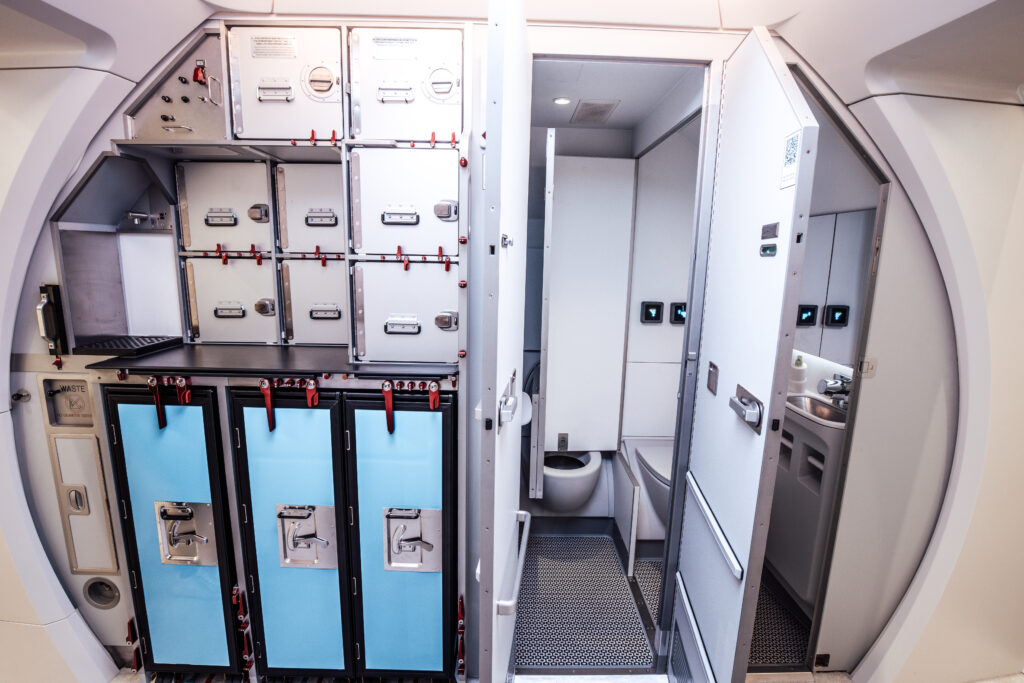 However, we are seeing an increasing interest from our customers in eco-efficient products. Things get interesting when we can combine different sustainable aspects such as weight reduction, recyclability or conservation of natural resources in one of our products. This is achieved for example by our particle foam air outlets and the grey water reuse system, which perfectly master these challenges.
We see ourselves as pioneers for more climate-friendly aviation and always strive to offer our customers the best solution. Even before the pandemic, Diehl had developed a portable UVC light unit, optimized for the lavatory.
RGN: Does Diehl see an opportunity to use UVC light disinfection in cabins (such as in galleys or even via the PSUs)? Is there an opportunity to use Diehl's cabin projector technology as part of an extensive UVC disinfection program?
Diehl: The development of our Portable CleanLight started with the beginning of the pandemic, even though research and technology screening for UV light, had of course started far earlier.
The Portable CleanLight is based on UV-C light which is characterized by a wavelength of 254 nm and being highly effective against viruses and bacteria. But it may harm the human eye and skin if used incorrectly. For this reason, it is only really safe to implement in closed areas like a lavatory. In order to use the Portable CleanLight safely, it is therefore necessary to ensure that no persons are present in the area to be disinfected.
At the beginning of the pandemic, we had noticed increased interest from airlines and aircraft manufacturers to use this technology, however, insufficient customer interest in implementing it in day-to-day operations led us to the decision to suspend our development activities for the time being.
RGN: Are airlines showing interest in cabin projection, whether for decoration or monetization opportunities (advertising, retail and duty-free sales, movies, patterns and other cabin branding)?
Diehl: Cabin projection is part of Diehl Aerospace's Enhanced Visual Flight Experience product strategy. Projection is seen as a core element, always used in combination with other lighting tools such as mood lighting systems, accent and feature lights, and even high-resolution displays. Diehl is in talks with several airlines showing interest in implementing solutions where cabin projection plays a major role. Today, the main drivers are branding aspects and customer well-being, but also special applications that open up new revenue streams. Together with partners, we are also investigating connectivity solutions and streaming applications that could enable interesting offers for passengers and new business models in the future.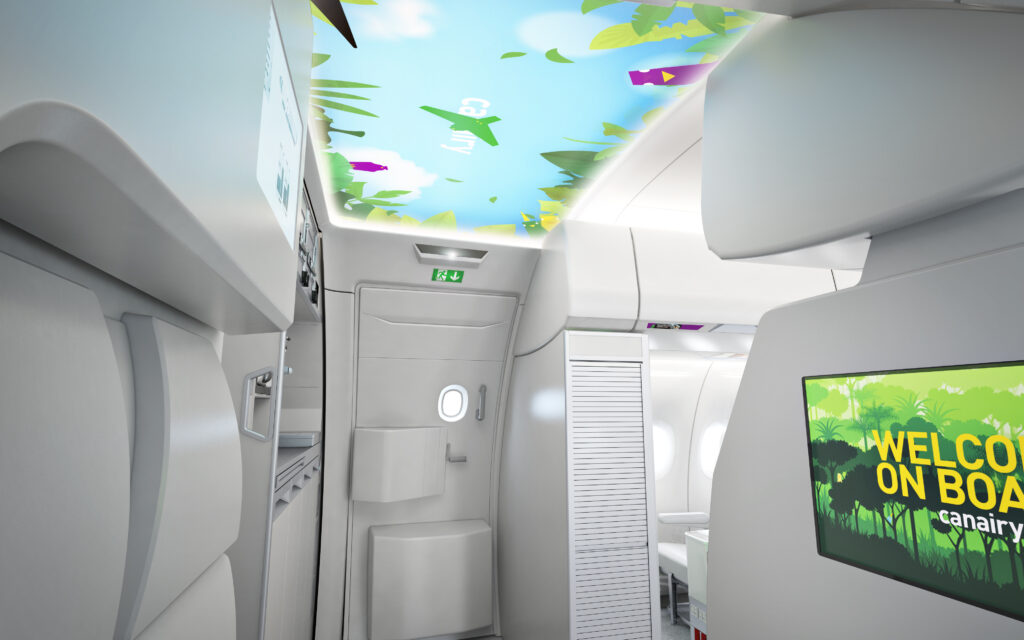 RGN: Is Diehl still offering its powder coating solution for printed cabin elements?
Diehl: Powder coating is a great solution for a standardized appearance of the cabin, considering sustainability aspects such as weight reduction and avoidance of waste during production. With powder coating now entering the market, there will be a need for more cabin decoration options in the future. Selected printing technologies are available for different decoration strategies adopted by our customers.
RGN: From Diehl's perspective, what new cabin interior materials are the most promising in terms of recyclability and sustainability?
Diehl: Today, we have access to a wealth of experience and a high level of technological knowledge, allowing for an increasing number of opportunities to use more eco-efficient materials. In addition to the strict safety and aviation specifications for temperature tolerances, flammability and durability, numerous other factors are decisive for the optimum choice of material. One of the major topics in aviation is that materials are, on the one hand, lightweight and, on the other, as recyclable as possible or made from renewable raw materials. Then, of course, the question arises for us and our customers as to whether certain materials can be processed eco-efficiently and at prices in line with the market, and which follow-up costs will arise for maintenance and repair services.
If individual materials do not meet the many demanding requirements, we have to find our own solutions with the help of filler materials. For example, we combine innovative materials such as particle foam and thermoplastics with special joining processes, which we developed by ourselves. Both technologies not only enable faster adaptation processes and a significant reduction in weight, most importantly they are more ecologically efficient.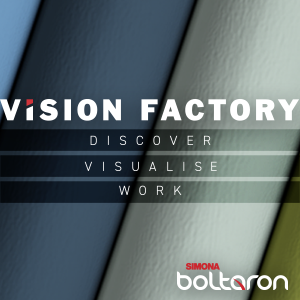 Thermoplastic mono material solutions made of high-performance Polymers could be one solution for sustainability. The idea is that this kind of material solution could be recycled easily without the need to separate different types of polymer. In our case, we have the knowledge to recycle the thermoplastic PSU material four times. Our experience shows that this type of high-performance material makes an economical sense.
The other way is to produce parts from bio-based materials. Initial material solutions from material suppliers are currently being investigated. The possibility of manufacturing lightweight products with biodegradable materials is also interesting. And there are already initial concepts from bio-based prepregs in combination with bio-based and degradable core materials.
RGN: Diehl has a long-standing relationship with Boeing. In recent years, it has received approval from Boeing to offer miscellaneous monuments classified as Buyer Furnished Equipment to airlines for installation on Boeing aircraft, and it secured a contract extension from Boeing for the delivery of the interior LED lighting system for the 787. Diehl also provides cabin lining and substructures on the 787-10. Has Diehl expanded its presence in Charleston or elsewhere in the US to support this growth, and can you provide information on any plans for further growth in the US?
Diehl: We have a long-standing and successful partnership with our customer Boeing, of which we are very proud. For us, being close to our customers is a matter of course. For this reason, we have maintained a Customer Services Center in Sterrett, Alabama, for many years. In Seattle, Washington, we maintain a sales office with a dedicated showroom for our product portfolio. We have also established on-site support for the final assembly line in Charleston, South Carolina. In addition to the aircraft manufacturers Boeing, Airbus, Embraer and Bombardier, all airlines in the Americas are also important customers for us, to whom we also offer our competencies and solutions locally. As a global partner, we will contribute to the upward economic trend on the American continent and further expand our local presence wherever possible.
RGN: How are talks progressing with airlines regarding Diehl's CANSAS cabin network; and should passengers expect to witness this type of digitalization of cabins in the coming years?
Diehl: CANSAS is a reliable, central control panel for nearly all aircraft functions related to the cabin. This includes cabin illumination, passenger signs and passenger calls, galley and lavatory controls, or cabin functions like fire protection and water waste systems, including the integration of third-party applications. Connected in a ring topology, it provides a highly reliable communication backbone that interfaces with all cabin functions. Touchscreens, so-called flight attendant panels, form the main interface of the cabin management to the crew.
CANSAS next generation cabin network is focusing on both, linefit and retrofit applications. We are collaborating with major aircraft manufacturers and airlines and are noticing an increasing interest since aviation returned to normal. To this end, we expect that the digitalization of aircraft cabins based on open platforms with the potential for third party applications will become a standard in the mid-term future. This includes, for example, smart cabin functions and enhanced maintenance operations. Passengers will experience improved and more personalized services. They will be able to get flight information and control cabin functions on their smartphones. Premium airlines will create a whole new flying experience via large screens and projections in the cabin.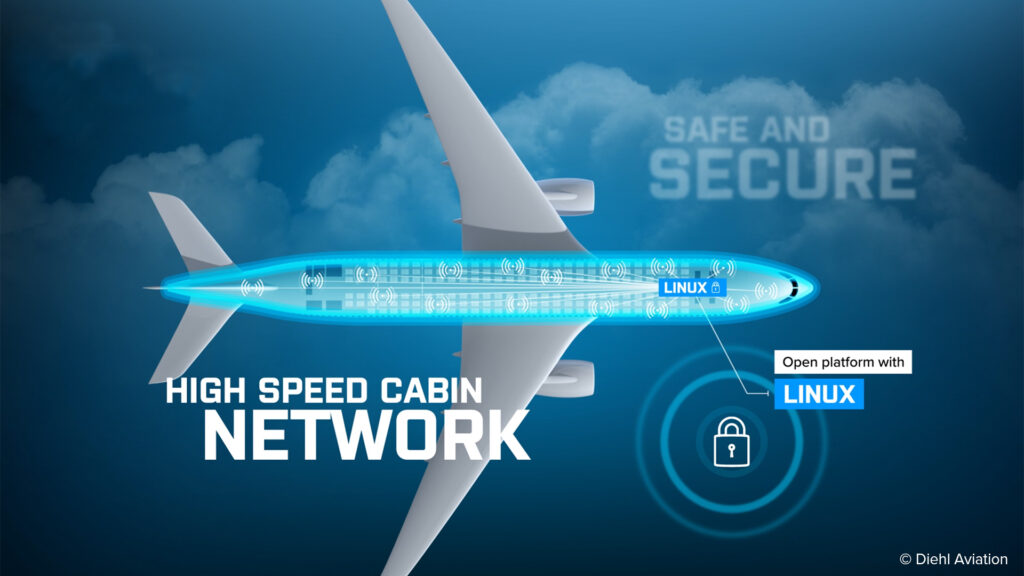 Related Articles:
All images credited to Diehl Aviation