The Air Force Research Laboratory has selected Collins Aerospace to build a prototype of an advanced ventral fin for the Lockheed Martin F-16 using Collins' specialized thermoplastic welding technique, with the aim of significantly reducing the weight and cost of the current design.
On first blush, this news sounds like it has nothing to do with the passenger experience. But Collins confirms to Runway Girl Network that the research it will undertake to deliver a new ventral fin prototype for the F-16 will in time inform some of its work in civil aviation, including thermoplastic components in aircraft cabins.
According to the United States Air Force, structural fatigue and damage due to buffeting is a common problem in high performance aircraft. Made of bonded aluminum honeycomb structures and graphite epoxy lamination coatings, the F-16 ventral fin — of which there are two on the belly — is one such structure that is prone to inflight failures from excessive vibrations attributed to buffeting.
Under its three-year contract with the Air Force Research Laboratory, Collins will build a "high-impact resistant" ventral fin prototype for the F-16. Planned work includes application of its specialized thermoplastic welding process, component design and prototype fabrication — a process that will see it leverage best practices from similar programs including the recent composite-based F-16 horizontal stabilator.
"We are seeing an increased demand and opportunity to replace legacy aircraft components with thermoplastics," says Collins vice president and general manager of Aerostructures, Stan Kottke in a statement. "The trend is using advanced thermoplastic materials to lower the cost and weight while reducing our overall environmental footprint, and those benefits are directly passed on to our customer."
By definition, thermoplastics are a plastic polymer material that becomes pliable or moldable at a certain elevated temperature and solidifies upon cooling.
"Thermoplastic resin is inherently tougher than thermoset resins typically used in production. Tougher materials reduce the overall weight allowing for thinner design and increased range of the payload," notes Collins. "Thermoplastic materials have an indefinite shelf life, can be stored at room temperature, and can be reused or recycled. This eliminates the need for energy intensive cold storage required for thermoset raw materials."
And, because of their lightweight properties, thermoplastics help reduce fuel consumption while increasing environmental sustainability through reduced CO2 emissions.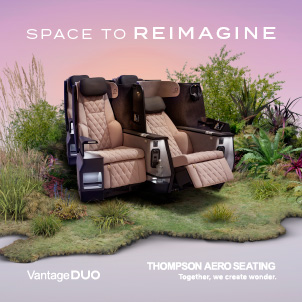 Today, Collins produces more than 2,000 different thermoplastic composite parts in aviation. These can be found on the fuselage, wing, tailplane, nacelles, flight control surfaces, doors, and interiors, and are currently supplied to 20 different types of aircraft ranging from widebodies to narrowbodies, and business jets to helicopters, it says.
Since acquiring Dutch Thermoplastic Components in November 2021, however, Collins has been expanding its thermoplastic composite capabilities, applying its now in-house capabilities to produce large, complex exterior and interior aircraft structures that it says meet shorter lead times, are weight optimized and are competitively priced.
Combining thermoplastic composites with Collins' advanced welding technology, the firm is able to join thermoplastic material together, rather than using hundreds and thousands of rivets, fasteners, nuts, bolts, and adhesives.
Over the next five years, the Raytheon Technologies unit says it will invest roughly $100 million toward the advancement of its thermoplastic technology and plans to qualify and process thermoplastic materials for both military and commercial use.
Indeed, the type of thermoplastic technology employed on the F-16 ventral fin prototype program "absolutely is being considered for the interiors of planes because the material is lightweight, [and] that translates to removing weight from the interior of a plane, which means greater fuel efficiency," says a spokeswoman for Collins, which is a nose-to-tail provider of content to commercial airlines, business aircraft operators and OEMs, including seats, cabin dividers and other interiors that feature thermoplastics.
"It's a domino effect for efficiency," she notes.
Collins says its next step is to advance and mature the unique designs and manufacturing technologies specific to forming and thermally joining thermoplastics to create component assemblies. The F-16 ventral fin work will be accomplished within its Riverside, California composites center.
Related Articles:
Featured image courtesy of Collins Aerospace