Inmarsat's Global Xpress-powered inflight connectivity has received strong validation from the market, as evidenced by the sheer number of aerospace giants now serving as GX value added resellers, including Collins Aerospace, Honeywell Aerospace, Thales, SITAONAIR and Panasonic Avionics. But while these firms are all using the same Ka-band satellite-supported service, each is approaching its VAR role differently and seeking to offer differentiated solutions to airlines.
Securing several prominent VARs for GX in the commercial space – including newly-added Honeywell and Panasonic – didn't just happen by accident for Inmarsat. "It has been part of a strategy that we have been driving over the past 18 months or so," Inmarsat Aviation Business Unit president Philip Balaam told Runway Girl Network at the Aircraft Interiors Expo in Hamburg.
"We started off with a core set of partners and I think early on in the GX journey we probably weren't as clear with the market as we could have been with respect to our partners, with respect to going direct." Indeed, Inmarsat even began obtaining supplemental type certificates for GX. This approach didn't necessarily endear the company to certain GX VARs which had invested resources in value added services, nor did it incentivize other would-be VARs.
That 'go direct' messaging "was a bit blurry", admitted Balaam to RGN. "It was more than blurry and I think it also successfully confused everyone at the time and didn't help the relationships with our partners, obviously. I think we've now come to a strategic position where we have very clear roles for everyone and I think the fact that you had Panasonic looking to come on board, where you have Honeywell that's looking to step up in the value chain also to provide services [speaks to their comfort level with Inmarsat's new approach]."
Zodiac Inflight Innovations/Safran, which is awaiting a new name, is not a service provider for GX, but it offers its own GX hardware package – inclusive of the Honeywell-made JetWave antenna – alongside its RAVE inflight entertainment system. It is also now developing a flat panel, nextgen antenna for GX. "We have a very strong partner in Zodiac," said Balaam.
The GX partners represent "kind of the A team of airline services", he said, later adding that they will find different niches. "And for example we have Thales [which] will be stronger in certain areas. SITAONAIR will be stronger in certain areas. Panasonic will be investing in slightly different areas. Rockwell, well Collins will have different strengths in avionics. It's not a unified homogeneous market."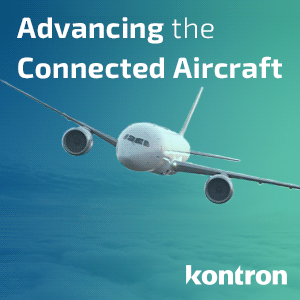 It will be fascinating to see the use cases that emerge from all the different GX VARs and how they'll exploit the broadband connectivity pipe in various ways to offer a differentiated experience for their airline customers and passengers. Acknowledging that airlines want reliable and high-throughput connectivity as baseline, Balaam noted that there's also "an awful lot of diversity so someone like Qatar or Singapore Airlines and Air New Zealand or an IAG, they're all asking for different things. They are all looking for different things for their customer sets, for their regionality and for their company DNA. They are all different. So, I don't see that diversity reducing."
Honeywell, for example, is seeking to use the GX pipe to monetize data in multiple different facets. It's not only about the potential revenue from the passenger "and the model we see all the time", Honeywell Aerospace vice president and general manager, software and services John Peterson recently told RGN, but it's about using the broadband pipe in an intelligent manner to drive operational benefits through better synchronization with flight crew data, more efficiently moving weather data on and off aircraft, supporting predictive "and prescriptive" maintenance, enabling block time reductions and reducing fuel.
Having secured several customers for its GX offering – including some as-yet-undisclosed airlines – leading avionics provider Collins Aerospace is also exploiting the pipe in a nose-to-tail fashion in aircraft. "So yeah, I think it's pulling across that flight deck capability into the cabin and supporting airlines from a ground perspective as much as anything," noted Alexis Hickox, head of strategic growth & business development in Collins' Strategic Programs Division, supporting the Cabin Solutions business.
For instance, Collins is studying the many pilot electronic flight bag (EFB) applications which can be supported via GX. "So if the airline has a well-developed strategy for EFB applications then we can certainly look at supporting that, and providing an aircraft interface device to route that traffic through into the cabin [IFC pipe]. So using the pipe for as many applications and operational applications as possible as well as supporting the passenger and the crew and we create our own virtual network on board the aircraft to do that. So we separate, keep everything separated," explained Hickox.
In the cabin, Collins offers a very modular platform in terms of its CabinConnect software. "So you can have the full plethora of services and software from the [wireless] AVOD, Airshow [moving map], and Internet connectivity, obviously. Or you can just take pieces of that as well," noted Hickox. "So it is modular; it is really sort of customized to what the airline wants/needs and then we can support that along with other IFE providers as well. So, we can provide just the payment tool and the services around that. And then we do also offer a passenger engagement plan. The majority of airlines are venturing into this journey into the unknown. I think really American carriers and a few others have got that maturity of service [but others do not]. So often we are holding their hands on that journey. So we offer a passenger engagement plan and give them really a lot of ideas on how to get that take up. How to use the service to the best of their advantage in terms of advertising and sponsorship."
Collins has also improved its monitoring tools for airlines, enabling them to have access to a lot more information about what's happening on board aircraft. Going forward, airlines could have access to even more data, as sensors are added to aircraft interiors as part of the IoT of the cabin. Here again, Collins is uniquely placed, given its significant interiors content aboard aircraft. The firm is engaging in internal discussions on how far to go – "from galleys to, you know, coffee machines to toilets", confirmed Hickox, and how much of that data makes sense to move in real-time.
She continued: "I think it's about what are the problems and what are the efficiencies we can bring by putting sensors and other types of wireless points onto equipment. And then obviously from an IMS [Information Management Systems] perspective, we have the ground distribution network so we can take that data and deliver it where it needs to go. As of today I would say we are having many conversations and we are really excited about the opportunities we can really explore with our family in Collins today. We are not quite ready to announce the solutions set yet … There is no point in just putting everything on there and then not knowing what to do with the data. I think everyone here has got some really good ideas, and it's just pulling it together and obviously with our connectivity capabilities, we can deliver that and provide that sort of full managed service really for the airline. But it's really to do what, you know, what is the end goal?"
SITAONAIR is a historical provider of cockpit communications, including safety services, and has followed a cabin connectivity path that saw it first sell Inmarsat's L-band-supported SwiftBroadband service to airlines, and later GX, which it reckons is the "best" IFC product on the market. Company CEO David Lavorel told RGN that the firm is increasingly trying not to have a technology conversation to start with when it enters talks with airlines, as many are suffering from inflight connectivity technology fatigue syndrome.
"Increasingly, we are much more comfortable and much more equipped to have a different conversation with airlines which is – what is it that you want to do with connectivity? And from our perspective, there is really a triangle of things that an airline needs to reconcile, and which are unreconcilable matters. We cannot have them all. And for us that's passenger adoption, that is cost and that's quality of service and you need to make a choice because if you want to max out your passenger adoption but you want a top quality of service and you want it at a very low cost, it doesn't really exist, except maybe JetBlue found the magic wand. But not many other people," said Lavorel.
"And so increasingly, we are in this conversation, saying 'you need to be maturing what is it you want to do with connectivity.' Some want to use it by way of branded [connections]/cabin products, some want it to just be a 'me too', some just want minimum connectivity solutions. And then we're able to tailor the approach. We focus on price plans, passenger ID and segmentation technologies."
A free texting tier for passengers is growing increasingly important, either as an entry product – allowing an airline to say "I offer free Wi-Fi" – and/or for airlines that want to try to push an upsell to a reasonably priced plan. A texting tier also "protects the quality of service" for paying users, noted Lavorel.
Does SITONAIR find that its history in the cockpit gives it an "in" with airlines that are sourcing cabin connectivity? And does it have conversations with airlines about packaging both?
Lavorel responded:
So yes and no, so before I explore the yes, the 'no' part is this is often not the same part of the airline that deals with that. On the one hand, you have got the commercial team that looks at cabin connectivity, on the other side you have flight ops people and chief pilots, in the middle you have engineering … so that is not always the same conversation in an airline.

Now, the most mature airlines, and typically the largest ones, bundle the conversation increasingly. So you have airlines that have made strides into offloading for real (instead of just showing it on powerpoints) some cockpit operation traffic through the broadband channels and that requires putting a box in the middle, a safety certified box. It gives the security and protection.
It's clear the wheels are in motion for driving ops benefits via GX. "Technically, it's not easy to realize," admitted the SITAONAIR CEO. "We know of only a handful of airlines worldwide, and they tend to be very large, long-established operations that have the capabilities of doing that. On our side, we're also saying 'we're going to do it for the industry so we can also provide that as a service.' We're in the process of doing that. We do that when the aircraft is on the ground with our [ground] networks … and we're in the process of certifying everything for doing it en route using the broadband channels that are on board."
Using connectivity to drive ops benefits for airlines helps to bolster the business case for pricey hardware and service. But even as stakeholders progress on this front, it's also true that some IFC service providers are struggling in the market. In prior years, industry consolidation was a major topic, but barring a few smaller deals within the inflight entertainment and connectivity sector, we haven't seen anything truly seismic yet.
Inmarsat's Balaam said he has "given up predicting on that", but noted: "What I would say is that our arrangement with Panasonic for example is a strategic relationship. It's not a consolidation but it is a rationalization of focus. So we can focus really clearly on what we do well and Panasonic can focus on what they do well and that has to be better globally for the market. And I think with our different partners we find similar types of dynamics. Each of our partners has a different scope of skill sets, scope of capabilities. We have ours, we know what ours are, they know what theirs are and it does take sometimes a little bit of time to optimize what each party does and I think that might be. Now, what will happen in a capital market to some of our weaker competitors I don't know. I have no idea."
RGN witnessed this refocusing on Panasonic's stand at the Aircraft Interiors Expo, where it touted its NEXT inflight entertainment and connectivity ecosystem, which will fully debut on the Boeing 777X, and its new native Arc mapping software, which can use connectivity to provide a moving map on steroids. So while Panasonic is "absolutely focused on that", said Balaam, "what we are focused on is delivering the best network, staying ahead of the pack in terms of network resilience, redundancy, robustness, future proofing. This is what we do best and there will be things in the middle that we work on as well but this is our focus. And I think one of the important things over the past 18 months, [the past] couple of years has been reinforcing the focus on what it is we need to do and what it is we absolutely need to make."
This approach is, of course, absolutely essential for profitability for all partners involved. "Absolutely. There are no guarantees but if you do that you have at least got a stronger foundation. You master what you do better, you have a better idea of where you are investing and why."
Featured image credited to istock.com/Leyn