US Department of Transportation officials have published the DOT's first-ever Airline Passengers with Disabilities Bill of Rights with the aim of empowering disabled passengers to understand and assert their rights; and help ensure US and foreign operators and their contractors uphold those rights.
Praiseworthily, the document summarizes the fundamental rights of air travelers with disabilities under the Air Carrier Access Act, including "the right to accessible aircraft features". However, it does not explicitly address one of the biggest challenges faced by disabled passengers today: the lack of an accessible lavatory onboard single-aisle aircraft. The reason for this omission is that the law simply doesn't yet require it.
Under current law, new aircraft delivered to US airlines after April 1992 and to foreign airlines after May 2010 must offer, among other accessibility features, at least one accessible lavatory, "if the aircraft has more than one aisle".
If the aircraft has an accessible lavatory — or the passenger gives the airline advance notice that he or she can use an inaccessible lavatory and needs an onboard chair to reach it — the airline must provide an onboard wheelchair to facilitate said access. Moreover, if an airline replaces a lavatory on a twin-aisle aircraft, there must be an accessible lavatory offered.
However, no such provisions have been made for new or aged single-aisle aircraft. To address this discrepancy, the DOT has for years been engaged in 'negotiated rulemaking' work. In 2016, its ACCESS Advisory Committee was established with industry stakeholders — airlines, airframers, trade groups, unions plus disability advocates — to negotiate and develop a proposed rule concerning accommodations for air travelers with disabilities addressing inflight communications, service animals, and an accessible lavatory on new single-aisle aircraft.
In November 2016, the committee reached consensus on recommendations for new regulatory proposals to improve single-aisle lav accessibility, offering suggestions for both the short-term ('Tier 1′ improvements including around flight attendant training and adding features like accessible door locks and assist handles) and the long-term (expanding the footprint of lavs)
Ask nearly any disability advocate to describe the holy grail of aircraft lav accessibility and you'll quickly learn that a larger-footprint space is desired. But while the committee agreed to an expansion, its suggested timeline for implementation is lengthy due in part to airlines' concerns about having to remove seats to accommodate larger lavs. The committee proposed:
[N]ew single-aisle aircraft with 125 or more passenger seats would be required to include at least one lavatory of sufficient size to permit a qualified individual with a disability to perform a seated independent (unassisted) and dependent (assisted) transfer from the OBW [onboard wheelchair] to and from the toilet within a closed space. The lavatory would afford an equivalent level of privacy to the persons using the OBW as that afforded to ambulatory users. The lavatory would also include the interior accessibility improvements found in Tier 1.

Under the agreement, these improvements would be required on qualifying aircraft: (1) That were initially ordered 18 years after the effective date of the final rule implementing the agreement, or (2) that were delivered 20 years after the effective date of such a final rule; or (3) for which an application for a new type certificate is filed after 1 year from the effective date of the final rule.

The agreement does not call for retrofitting of existing aircraft to meet the new expanded size requirements, but it does require that airlines comply with the Tier 1 standards if they replace lavatories on older aircraft.
Reflective of the committee's work, the DOT has issued two separate notices of proposed rulemaking: one to address short-term improvements, and the other, which dropped in March, to address long-term improvements. But it freely admits that the timeline for implementing the latter — 18 years after the effective date of the final rule — is concerning.
Going forward, any final rule on accessible lavatories would address the proposals in both these NPRMs.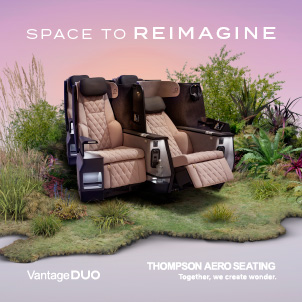 From a design perspective, there is no shortage of near-term solutions that, at minimum, could make life easier for disabled passengers onboard narrowbody aircraft.
Galley-lav combos built by Diehl and Collins Aerospace, for instance, can offer an enhanced footprint by combining the space of two side-by-side lavs (Spirit Airlines notably offers this sort of accommodation on its Airbus A320 narrowbodies). And Collins is building a larger lav option for the next generation of Boeing 737 MAX aircraft.
Whether or not airlines will adopt accessible lavs of their own volition in meaningful numbers remains to be seen.
In the DOT's 8 July statement announcing the 'Airline Passengers with Disabilities Bill of Rights', it notes that this is "a living document" and the department will update the Bill of Rights "as regulations change".
The broader 'Airline Passengers with Disabilities Bill of Rights' consists of:
Related Articles:
Featured image credited to Bombardier, which offered an accessible lav 'option' on the CRJ