Aircraft galley-cum-lavatories are not universally appreciated by passengers and cabin crew (not by a long shot), but they are having a serious moment right now as airlines densify their narrowbodies with more seats. The latest such product on the scene is Diehl Aviation's SkyPax solution for Airbus A320 family aircraft, for which LATAM is the launch customer, Runway Girl Network can confirm.
Developed in partnership with MRO giant Lufthansa Technik, the aft galley-lavatory combination for cabin retrofits creates space for up to two additional rows of seating – dependent upon seating position and configuration – which is equivalent to 12 additional revenue seats.
SkyPax will not fulfill every airline's needs, says Diehl Aviation chief customer officer Harald Mehring. "So we look just at airlines which are interested in a densification program."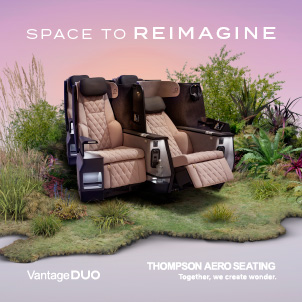 The LATAM group is among those carriers. In fact, LATAM Airlines Brasil, formerly TAM Airlines, was a launch customer for Airbus' original 'Space-Flex v1' galley-lavatory configuration for A320 linefits, which was developed in tandem with Diehl. In rearranging the rear galley by placing the two lavatories together, Space-Flex v1 not only added three seats (six if a full galley wasn't necessary), but also catered to passengers of reduced mobility (PRMs) with a retractable partition between the two lavatories.
Diehl still provides content for the v1 monument. "Yeah, it's an option that can be selected, but there is still a version 2," notes Mehring in reference to the later iteration known as Space-Flex v2, which was developed for A320 linefits by Airbus and Zodiac Aerospace (now Safran Cabin).
Space-Flex v2 has seen increasing adoption by airlines, but generally comes in for harsher scrutiny than v1. While it added galley area, it did so at the expense of the lavatory space.
Together with Lufthansa Technik, Diehl saw in the aftermarket "the potential for a new solution, a third one," Mehring explains to Runway Girl Network. Thus, SkyPax was born. It is akin to a Space-Flex version 3, but developed specifically for retrofits at this juncture.
In 2017, before Diehl branded the product as SkyPax, management detailed the differences between its retrofit offering verses Space-Flex, noting to RGN that SkyPax is "lighter" and "more price sensitive, so it's cheaper — so it's more efficient".
Unsurprisingly, Diehl says it has more business in the pipeline for SkyPax. However, the German firm is also fielding a variety of other requests to accommodate aircraft densification.
During last fall's AIX, Americas show in Boston, the aerospace company revealed that American Airlines will take Diehl's narrow 31" lavatory for A320 retrofits. The US major has also asked that the solution be delivered linefit.
This so-called Space Optimized Lavatory does as its name suggests, optimizing lavatory space to ensure additional seats can be added to the cabin. "They can get in a row more, which is six paying passengers," says Mehring.
The lavatory is a little bit like the unit known as Airbus' Smart-Lav, which was developed in partnership with Diehl and can be ordered in standalone form (i.e. not part of Space-Flex) as Indian operator Vistara says it has done. But the 31″ lavatory is different, clarifies Mehring, and is highly configurable to operators' business models.
It's clear that the 31″ lavatory will pose a conundrum for passengers of size and reduced mobility. When your author shared the above photo on social media, travelers expressed concerns that they might not fit. "Passenger size is an issue and therefore you cannot equip an aircraft with only small and slim" lavatories, agrees Mehring.
Yet, as this narrow lavatory rolls out on American A320s, we should not be surprised if the solution captures news headlines, as Collins Aerospace-manufactured mini lavs have done on American's Boeing 737 MAX aircraft, and on United's MAXs.
Related Articles: