Slimline seat specialist Mirus is breaking the 7.5kg fully dressed seat barrier with Kestrel, its latest pre-reclined economy class seat designed to be pitched as low as 28".
In person at the 2022 Aircraft Interiors Expo, Mirus showcased a pre-industrialised version of the seat which Runway Girl Network last saw in an early version at a behind-closed-doors showing at the 2019 show.
"Kestrel is a fixed back, ultra-lightweight seat, providing an uncompromised focus on maximising passenger space," chief executive officer Ben McGuire explained to RGN, and in person the Kestrel certainly demonstrates that focus.
On the stand, Kestrel impressed. Yes, it is pitched at 28", but the space is well used and the ergonomics even for this 6'3" journalist allowed for knee clearance from the seat in front with knees apart. 
An executive a couple of inches shorter was able to achieve knee and shin clearance with knees together — quite remarkable for such a dense seat, and very much not the case for some comparable seats at 28" pitch. 
Much of this comes from the shape of the seat bucket, which encourages a knees-slightly-apart position while also supporting the seat occupant into a position where their knees are not pressured forwards into the seat in front. It also gets right out of the way of shins.
In a sub-29" market where several key competitors — largely in the small, niche seatmaker category — are competing around the three levers of weight, pitch and passenger space, Mirus asked RGN not to photograph the upper seatback from behind, where several lightweight options for a pocket, net or cording for literature and passenger belongings were on show to give airlines ideas on how to minimise weight while maximising storage.
Improved certification and maintenance speed are the key patent areas for the seat, RGN understands.
"With multiple patents pending, the clever next-generation design offers high levels of maintainability with extended durability testing, together with a low part count and reduced layering of components, meaning key parts can be changed quickly," said the seatmaker, "thus ensuring the cost of ownership remains the lowest available."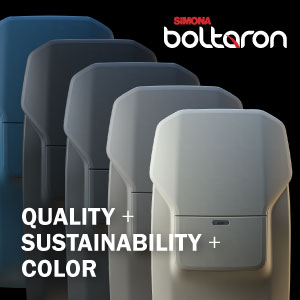 With the seats intended to be reaching airlines in the second quarter of next year, McGuire said that "we are working with a group of airlines in strategic markets and expect to announce our initial launch customers later this year."
Interestingly, Mirus designed Kestrel to appeal to airlines serving the shorter end of the range market spectrum, but demand from carriers to achieve maximum cabin density led the seatmaker to expand the market.
"We are targeting airlines with short to medium range fleets, from ultra-low cost to premium carriers," McGuire told RGN.
Distinctions within the customer base may well come from options including USB ports and PED holders, with multiple seatback pocket options for passengers to store belongings and inflight literature. 
Airlines, it seems, are keen to keep seatback area simple, with on-the-day responses from carriers visiting the stand keen on the athleisure-style stretch cords that are, it seems, trickling down from business class into economy. 
On the stand, and in RGN's images, Kestrel was shown with mockup armrests from Mirus' previous generation Hawk seat, with the round bulge housing for the recline button. Kestrel will eventually have its own armrests without recline.
Mirus plans to certify the seats for both the Airbus A320 family — which were the version on show, with the wider seats for the wider A320 fuselage — and the Boeing 737, initially the NG generation. 
Related Articles:
Featured image credited to John Walton