Slimline economy class seats get mixed #PaxEx reviews, especially when they're used by airlines to add more rows in tightly-configured cabins. But aircraft seatmakers are increasingly quick to point out they are more environmentally friendly than their predecessors due to their lightweight design.
"Imagine what we as an industry could achieve, if we replaced all old generation seats with any new generation product currently on the market," urged Mirus Aircraft Seating CEO Phil Hall late last year on LinkedIn, while sharing an infographic suggesting that the February 2018 introduction of Mirus' Hawk slimline seats on five aircraft had saved over 730 tonnes of CO2.
Responding to Hall's post, Tony Seville, managing director of the Aircraft Interior Recycling Association (AIRA) said: "That's just for starters. Think about the materials used to manufacture the seats; can these materials be recycled? And also the impact of correctly recycling the old generation of seats at the end of their life. That would send your figures through the roof and make an even bigger difference."
Formerly known as SD Aviation, UK-based AIRA emerged a few years ago, saying it would offer a full aircraft interiors recycling service at a site in Wales. Seville's message to would-be customers was: "Give it to us and we can do something with it. You don't have to sit on it and there could be a revenue-sharing opportunity in it for you."
That's because, while industry has a long way to go before all aircraft interiors are recycled or deemed recyclable, it is possible to recycle metal parts and cushions. Moreover, plastic seatbacks, sidewall panels, stowage bins, galleys and other parts can be recycled into reusable plastic. The procedures vary depending on the material in question. But thermoplastics, such as those found in premium class seats, economy class seatbacks, and IFE shrouds can be used "time and time again", according to Seville.
"They just need to be shredded into lumps, ground down to 6mm pieces and then compounded to become pellets, which can either be used for injection moulding or returned to sheet form." The pellets can be used in the automobile industry.
AIRA advises aviation organizations, airlines and other entities in the correct way to manage and lessen the cost burdens associated with recycling aircraft interiors responsibly. Among the firms it has worked with is thermoplastics specialist Boltaron, a SIMONA company. In 2018, Seville revealed that AIRA was working with Boltaron and its UK distributor Amari "to pick up all of their UK manufacturing customers' plastic waste, and we recycle this into reusable plastic".
"Bottom line is all of our materials are 100% recyclable. So any of our materials can be reclaimed and reprocessed," Boltaron's aerospace segment manager for North America, Chris Corona, told RGN. He noted there are "any number of applications" where you don't need the aesthetics of aviation thermoplastics anymore and can simply use the plastic content. Mobile phone stands, for instance, can be made with recycled aviation plastic.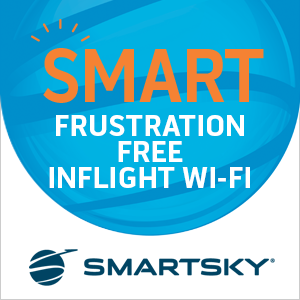 Boltaron believes it is unique in industry insofar as it is the only plastic sheet manufacturer for aircraft interiors that is able to extrude, calendar and press laminate sheet. "This means that all of our product is made at one site using similar chemical formulations which enables us to recycle internally both film and sheet products. This sets us apart from our other manufacturers who buy filmic materials of a different chemical composition that make it difficult to recycle within the internal manufacturing process," the company stated.
These proficiencies also drive innovation at Boltaron. "I think where Boltaron has always been very successful is we are able to talk to industry experts and design houses and take that back home and make it real in material and you know kind of marrying the design with the chemical, so to speak, with the polymer sciences is really kind of what our strength has always been," said Corona.
Finding ways to reuse aircraft interiors in other non-aviation applications is important to Boltaron and its partners. But aircraft seat design can also prove key, as a simple seat structure makes it easier to separate plastic from the metal frames and seat cushions, ergo making it easier to dismantle and reuse.
In this regard, Mirus is among the new breed of slimline economy class seatmakers boasting a lightweight, simple yet robust design and improved eco-credentials.
"This post isn't about who has the best product, the best reputation or marketing spin. This is about contributing to positive change. On the greatest threat posed to our future generations," said Mirus' Hall when he shared the following infographic on LinkedIn.
Not unlike Boltaron, Mirus' vision of environmental responsibility was baked into the business from the outset. "We adopt a lifecycle approach to seat development and a high proportion of our seat is made of recyclable material," said the firm.
Change, it would seem, is not only afoot. It is a-flying.
Related Articles:
Featured image credited to John Walton