Viasat is still "a couple years away" from offering a flat panel phased array antenna to support its aero services, company president and CEO Richard Baldridge recently revealed to Runway Girl Network.
Developed by Viasat's teams in Switzerland and Netherlands in collaboration with the European Space Agency and other parties, the antenna was successfully demoed in 2021 on a Cessna Citation II flying from the Netherlands to Lausanne, Switzerland where Viasat Antenna Systems SA is based.
"The flight was great," said Baldridge, and Viasat sees opportunities for ultimately bringing this scalable conformable phased array technology to aircraft flying in commercial, government, UAV and business aviation applications. But it's not ready for primetime, he confided.
"We're a couple years away from that going into production."
Viasat is no stranger to electronically steerable antenna (ESA) hardware, having years ago developed a solid-state, fully-electronic phased array flat panel antenna which was selected by SES for the O3b mPOWER satellite communications system. And in a recent podcast, Ken Buer, chief technical officer for Viasat's Arizona office, shared some of the notable progress being made by Viasat on this front, explaining why flat panel phased array antennas can be ideal for aircraft such as fighter jets.
Management is also keeping a close eye on other ESA players in the market. "We're working with a couple other guys, not to be mentioned here," said Baldridge, noting that Viasat is helping to support some of them with funding.
"We build antennas to expand the addressable market for our network, not because we want to develop antennas," he stressed. If Viasat accepts a solution, it must deliver the highest performance possible to the person in the seat on the plane. The performance that management is seeing from other providers is not yet adequate for the type of service Viasat wants to do.
"If they can do it, we'll buy the antenna," said Baldridge.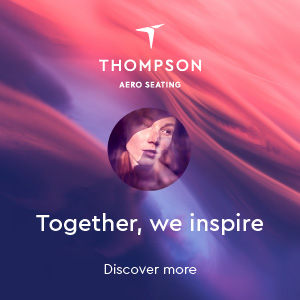 RGN also asked if Viasat is studying ThinKom Solutions' mechanically steered 'VICTS' phased array for possible use in the future. After all, when Viasat's acquisition of Inmarsat is completed, Viasat will be supporting transmissions via VICTS if the hardware in GDC's terminal is facilitating any Inmarsat GX or Inmarsat GX+ North America service at that time (SAUDIA, for example, is a publicized customer of the terminal for GX and is expected to see its first install at the end of the year.) Will VICTS be offerable by default given the acquisition (and if so, for how long a period before formal decisions are made about the path forward)?
"Never say never. So, we have spent a bunch of time with the ThinKom guys over the years so we're rooting for them but what I said before is true," responded Baldridge. "We don't get the performance out of that product that we need. I think our difference to the market is getting bandwidth to as many people as want to use it on the aircraft with high performance streaming so we can't do that cost efficiently with that product." RGN sought comment from ThinKom, whose hardware currently supports Intelsat 2Ku and the Thales/Hughes/SES IFC solution rolling out on Spirit, and forms the basis of Panasonic's nextgen Ku offering.
ThinKom chairman and chief technology officer Bill Milroy said: "Specific to our Ka2517 VICTS product (and continuing in the tradition of its Ku3030 'big sibling') ThinKom manufactures the industry's highest 'streaming cost efficiency' IFC antenna, some 3 to 7 dB/K higher (as in 2X to 5X more efficient) than the competition. In terms of 'endorsements', some '$ per MB' service providers (not naming names here) extend 'Ka2517-only' pricing, which is discounted based on the superior efficiency of ThinKom's VICTS antennas (and this certainly hasn't gone unnoticed by current and pending Ka2517 adopters.) Together with endorsements and adoptions by the likes of Thales, Inmarsat and others (more adoption announcements coming soon,) service suppliers, airlines, (and even airframers) have taken note."
Specific to the Ka2517's capabilities on Viasat's network(s), he added, "ThinKom has dialogue with all of the IFC suppliers and certainly hope to 'add Viasat to the list' of ThinKom antenna adopters. "
Related Articles:
Featured image credited to istock.com/helloabc