The "comfort canyon" between fully flat business class seats and economy class is growing wider again, especially on the new fleet of long-haul single aisle aircraft. New suites offer increasingly spacious and luxurious options, but what about something in the middle — or even, on shorter routes, as a swap-out for the fully flat beds?
"Not all airlines will want the space hungry fully lie-flat bed option," Factorydesign director Peter Tennent tells Runway Girl Network. "Perhaps for some, a more dense product that still provides direct aisle access will be more appropriate."
Tennent highlights the growth in long-haul single aisle operations, particularly in the post-pandemic world, where the flexibility that these aircraft offer airlines is especially attractive.
The key for airlines considering new or improved passenger experience, he suggests, is "the premium element of the product, the ability — or choice — to move without disturbing others, rather than a bed, particularly on routes where an aircraft may make up to four trips a day, three of which are daylight flights."
Taking aim at this market gap, Factorydesign is proposing a new kind of seat, Access, laid out as a 2-2 angled configuration, which doesn't go fully flat but still offers direct aisle access via a small gangway to the aisle for the window seat passenger.
"Access is a fixed-back, which began life as a lazy-Z recliner at 47" pitch," Tennent says. "Following initial assessments and in response to feedback from discussions with airlines, we evolved the idea into Access-HD, which is a reclining lounger at 40" pitch, with direct aisle access for all passengers, which prioritises aisle access over a lie-flat, and has a higher cabin density than lie-flat seats."
At its essence, Access has two kinds of seat: the window-side and the aisle-side, each of which are freestanding and recline into the Z-bed position.
The window-side looks very much like a modern business class seat, on a slight angle away from the centreline for the non-HD version, but without the length to go fully flat in either case.
The aisle-side is more angled inwards, similarly to a single-aisle herringbone, with its monitor and a small table attached to the back of the window-side seat in front. It also has a rising privacy divider coming out of its window-side armrest.
Between the two seats is a small gangway, through which the window passenger can make their way to a larger passage to the aisle, in front of the passenger in the next row.
The result is a product with roughly a 25% density boost over fully flat equivalents. Will that be enough to sway airlines beyond SAS into choosing a middle cabin, or to shake up the narrowbody business world?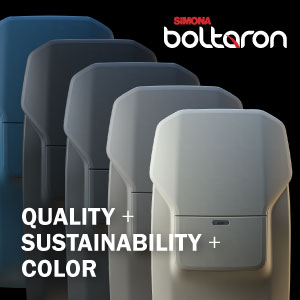 Fundamentally, Factorydesign believes that more premium options will come to the single-aisle market.
"Our belief is that other widebody configurations will be brought across to single-aisle, such as premium economy or equivalent, as there is no wider gulf in class between a narrowbody lie-flat bed with direct aisle access, and a standard economy seat," Tennent says. "It will be straight-forward enough to add a conventional 2-2 domestic or short-haul business class. However, we are confident there is an opportunity to enhance that product. To look at 'premium' with a new definition: freedom of movement and choice."
But, Tennent says, the question for the industry is: "will it continue to be acceptable to consider a standard 2-2 step-over as an adequate 'next class'?"
Related Articles:
Featured image credited to Factorydesign