As of December 2022, British Airways is moving its flagship New York services out of its iconic but increasingly shabby Terminal 7 at JFK, and moving in with oneworld alliance and immunised transatlantic joint venture cartel partner American Airlines — as well as most of the airport's oneworld airlines — across the JFK Expressway at Terminal 8.
The move promises five new widebody gates, four new widebody hardstand parking positions, upgraded baggage handling, with new spaces and amenities for premium passengers. With twelve gates at T7 (which BA shares with Alaska Airlines and Iberia), it will be interesting to see how the often complicated operations and intensive, shuttle-like evening widebody schedule to London will run.
One assumes that neither airline would find using a bus gate for a widebody aircraft operationally attractive, but Thomas Cook did just that for years from the main international terminal. Indeed, the renderings released show a British Airways Airbus A321 — although, given that it uses the old A321 door configuration, we should perhaps not read too much into that.
Inside the terminal, American's Flagship First checkin space is disappearing, to be replaced with "personalised, concierge-style service for top-tier guests". Business class passengers will have an "an exclusive new check-in space" with "thoughtfully designed architectural elements".
Once into departures, the two partners plan to offer lounge space for around a thousand passengers, split into three lounges — which will also be serving other oneworld passengers from Cathay Pacific, Finnair, Iberia, LATAM, Qantas and Royal Jordanian, and possibly Alaska Airlines as well.
The top of the range lounge will be a transformation of the space currently used for American's Flagship First product, including the dining room. One imagines that, during the Europe-bound peak departure hours from 5-11pm, this will provide the pre-flight supper service that is so popular on these short overnight flights. 
An adjacent lounge will offer "sweeping airside views, a wine bar, cocktail lounge, library and buffet". It will be interesting to see how BA and American differentiate this first class space between top-tier frequent flyers (who use the BA first class lounge) and actual ticketed first class passengers (who currently have the slightly nicer Concorde Room).
Business class passengers, meanwhile, will see a "contiguous lounge" made up of the present American Flagship Lounge and the Concourse B Admirals Club. The latter will not be replaced, with Club members instead being sent to the Concourse C location.
Promising "a more seamless customer experience", American Airlines chief customer officer Alison Taylor says that the move "deepens our longstanding partnership and makes it easier than ever for customers traveling between New York and London or onward across our global networks".
And that's one of the key questions about this terminal move: how the now-combined networks will flow over the new JFK hub, which was previously a source of #PaxEx friction given the need to change terminals at JFK (a less than desirable passenger proposition).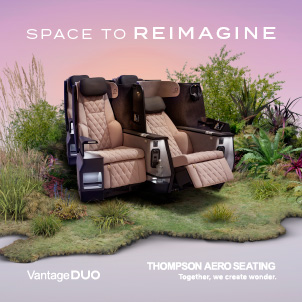 From London to US destinations not served by BA — which operates a growing number — the proposition is clear: clearing customs and immigration in JFK with same-terminal transit is great. 
But in the reverse direction, there is as yet no announcement about either airline serving other UK cities to avoid Heathrow's infamous flight connections mayhem.
Birmingham (metro area 3.7m people) and Manchester (2.5m) are larger than the BA-served US metro areas of Austin (2.2m), Nashville (1.9m) and New Orleans (1.3m), but are not served from New York by either BA or American.
Aer Lingus — part of the British Airways parent group, IAG — serves Manchester from JFK, but from JetBlue's terminal 5. This terminal will expand westward to replace T7 in the form of a connection to the new Terminal 6. 
Hello Conrado, right now we are using British Airways' VIP lounge at the Terminal 7, but we expect to move to the T8 to join AA and BA by the end of the year. Kind regards

— Iberia (@Iberia) January 27, 2022
Will Aer Lingus join fellow IAG stablemate Iberia in moving over to T8? What about new American and oneworld partner Alaska? How will the return of longhaul narrowbodies to the BA and AA fleets change the proposition? These questions, and more, remain open in the eleven months until the move.
Related Articles:
Featured image credited to British Airways