Sometimes, the biggest innovations in passenger experience come where you might least expect them. Longhaul, single-aisle premium economy seats, for example, largely disappeared from seat maps alongside the Boeing 757, even as international premium economy cabins grew aboard widebodies large and small. Enter SAS's new Airbus A321LR, the long-range version of the A321neo aircraft, which the airline is now flying between Copenhagen and Washington, and turn right.
It might look a bit grey — all right, a lot grey, particularly in the real-world images from Gabriel Leigh at FlightRadar24 (presented here with the kind permission of the FR24 team), although SAS does say that it has "different mood light scenarios in the cabins" that will hopefully show the cabin in a better light — but longhaul narrowbody premium economy is back, with a twelve-seat vengeance.
This is a massively premium-focussed aircraft, seating just 157 passengers across three classes: business, premium economy and economy.That's second in major airline operations only to the American Airlines transcontinental three-and-a-half-class A321T, which seats 102.
Nearly half the entire length of this A321LR is premium seating, split between business class (ahead of a bulkhead with curtain) and premium economy (ahead of a curtain, no bulkhead). That matches SAS' premium-heavy widebody cabins in recent years, with its refit A330-300 featuring 32 in business, 56 in premium economy (one of the largest premium economy cabins in the sky with eight rows of seats) and 174 in economy, while its new A350-900 offers 40 business, 32 premium and 228 regular economy.
Aboard the A321LR, 22 of SAS' passengers are seated in the remarkably large business class cabin, which features Thompson Aero Seating's Vantage stagger in its usual 2-2, 1-1 configuration. That's more than double the usual Vantage layout aboard your average narrowbody, and it will be interesting to see how many other network carriers follow suit with quite so many business class seats up front. SAS, of course, uses the rather more spacious Vantage XL seat, which offers direct aisle access to every passenger, on its widebody aircraft.
Now on to premium economy, which makes its very welcome return with what appears to be the popular Collins Aerospace MiQ.
Twelve passengers in three rows of 2-2 recliners sit just ahead of the double overwing exit doors, in a little mini-half-cabin with a light warm wood-effect bulkhead separating it from business.
SAS has not opted for a mid-cabin lavatory, however, so premium economy will share the rear lavs (one presumes) with the 123 economy class passengers seated in the 3-3 configuration.
Those keeping an eye on the various layouts of the Airbus A321neo aircraft variants will be interested to know that the 157-seater aircraft is operating with both of the overwing exit doors active, but the door behind the wing inactivated.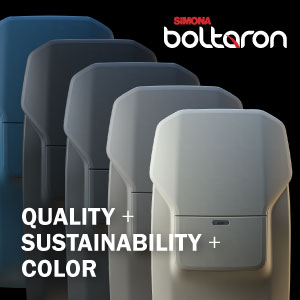 Interestingly, SAS says of the new A321LR, "It will enter official service on 27th of March, 2022," although its first longhaul flight hopped between Copenhagen and Washington on 22 December 2021.
Premium economy is, in many ways, perfect for longhaul narrowbodies, as exemplified by this route right in the middle of that longer transatlantic sweet spot. Your author remembers fondly a period in the early 2010s when he was shuttling backwards and forwards across the Atlantic frequently.
The extra space and comfort of the big old squashy cradle sleepers that OpenSkies used between New York and Paris, at a markup over economy of just a few hundred dollars, was worth every penny, both on the eastbound redeye and on the westbound afternoon flight — just the kind of flight that this new SAS aircraft will be operating.
Related Articles:
Featured image credited to SAS/Andy Prhat