With over 24 hours of transit under my belt, the last flight of a multi-leg trip home to Seattle from Dubai was finally here. I had been looking forward to this experience: Air Canada business class on the Airbus A220 plying Toronto Pearson-Seattle.
Thanks to its PaxEx-friendly reputation, the A220 is one of my favorite jets. Air Canada began flying the type just before the pandemic. And I had been pining for it ever since.
The adventure began at Air Canada's US departures check-in desk at Toronto Pearson, on the top level of Terminal 1. A friendly agent printed a fresh ticket for me, and directed me toward security.
Pearson is a pre-clearance airport, and travelers headed back to the United States clear US immigration at the departure airport instead of on arrival. I followed the signs for Global Entry, which took me on a circuitous path that led to the exact same security lines everyone else was in. The line was short, but almost every single bag was being flagged for a secondary search. That included mine, which added an extra 15 minutes. Once cleared, it was an easy breeze through US customs and immigration.
I was looking forward to catching a quick bite and some water in Air Canada's well-regarded transborder lounge. Unfortunately that didn't happen. An elevator bank simply wouldn't go to the correct floor. Eventually I gave up. There were no signs marking the lounge's closure, though I later discovered online that it had been temporarily closed for renovations.
Luckily, Toronto's transborder area is large, airy, and well-appointed with shops and dining, the opposite of many others that frankly feel like traps. I bought a bottle of water and a snack before finding a quiet place to rest before the flight.
Boarding began on time, and I quickly settled into seat 3F in the business class cabin. I found space for my two bags in the oversized overhead bin.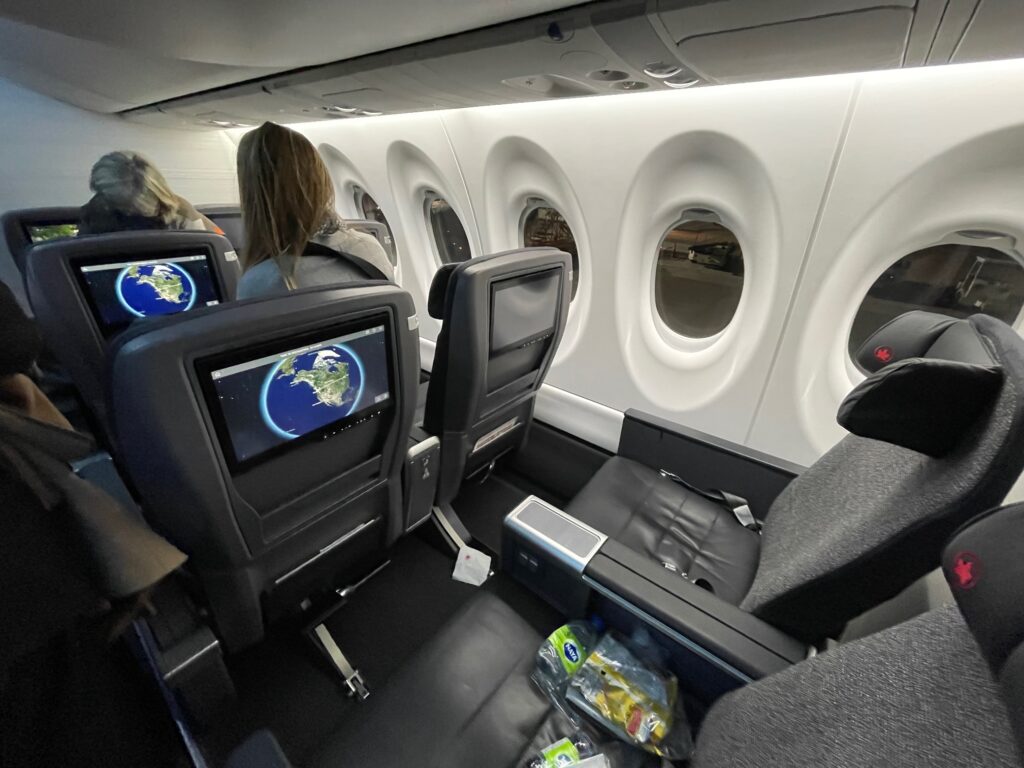 There were no pillows or blankets on offer, which was a shame as the cabin was very chilly for the first hour. There was, however, a COVID-19 sanitary kit with mask and hand sanitizer. A pair of headphones were offered by the crew, who took dinner and drink orders in business class before departure.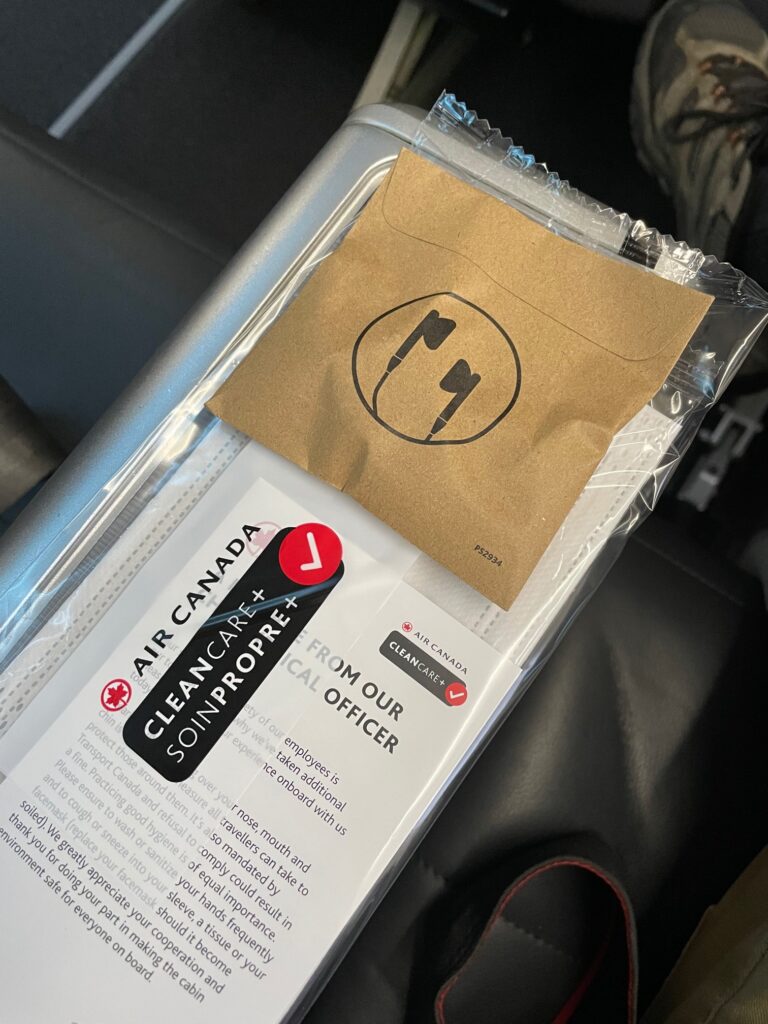 The A220 business cabin is simple but stylish, relying on gray-scale neutrals that help the airline's classic red maple leaf logo to stick out in a good way. It's also small, with only three rows in a standard 2-2 layout.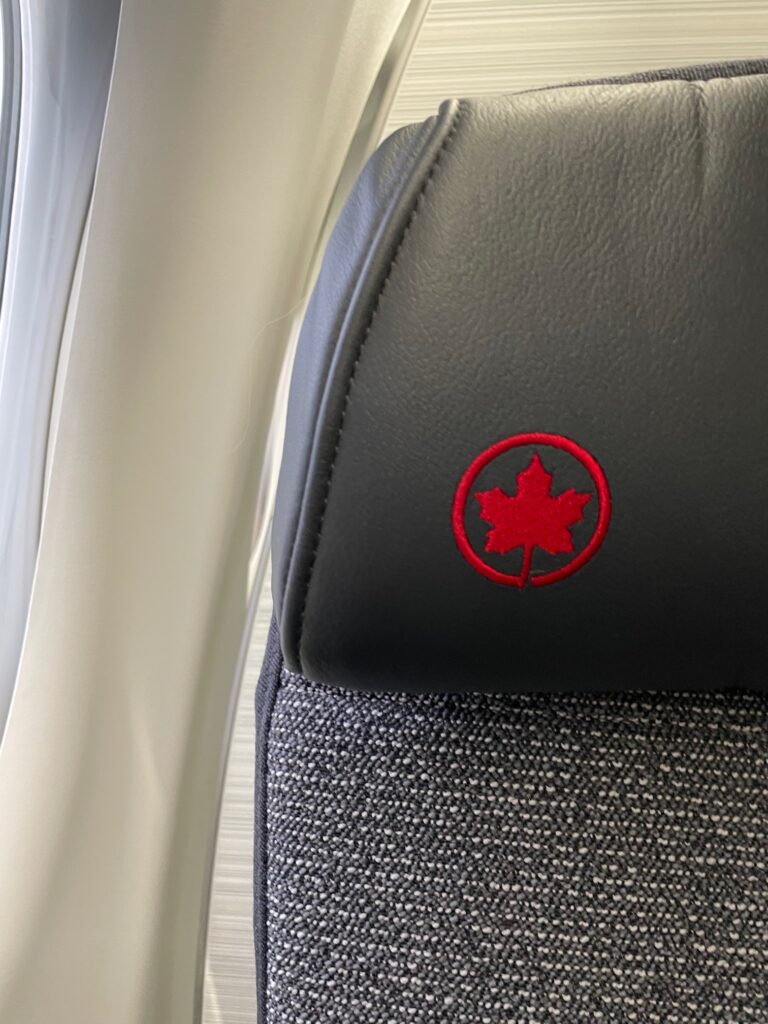 The hard product shines in both look and feel. Living space is ample, with 21 inches of width, and 37 inches of pitch. The A220's oversized windows do some serious heavy lifting here too. Their large size — over a foot long and almost as wide — let in lots of natural light and make the space feel much larger.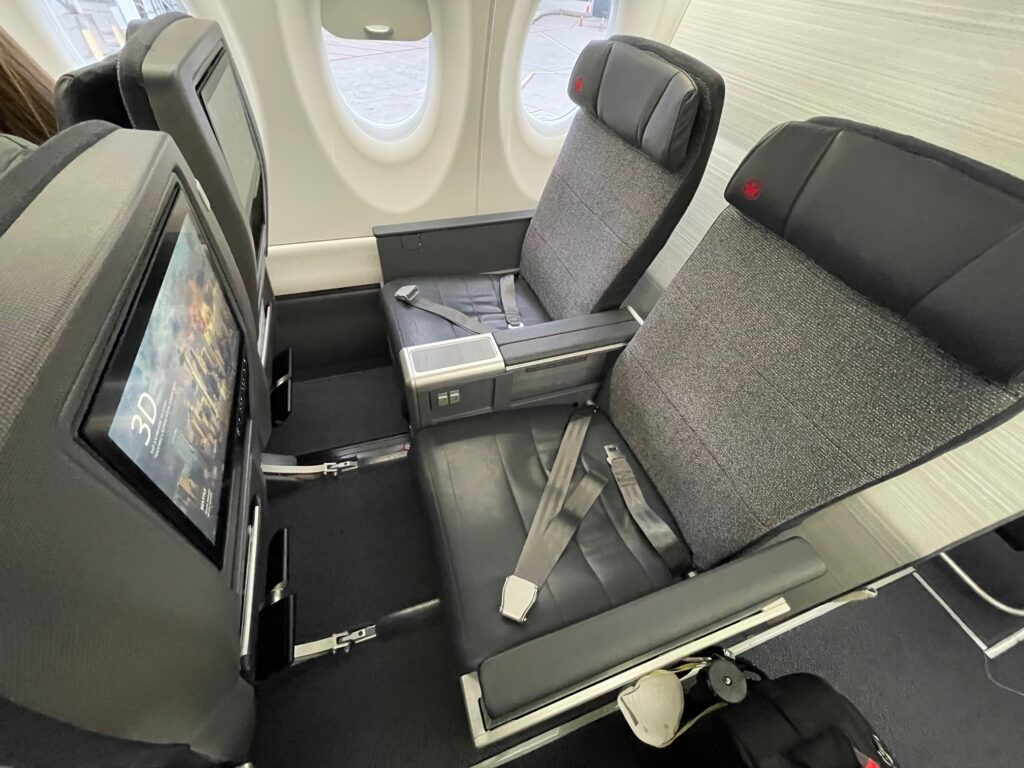 The Collins Aerospace-built MiQ seat boasts both a legrest and a footrest, a decision I absolutely love.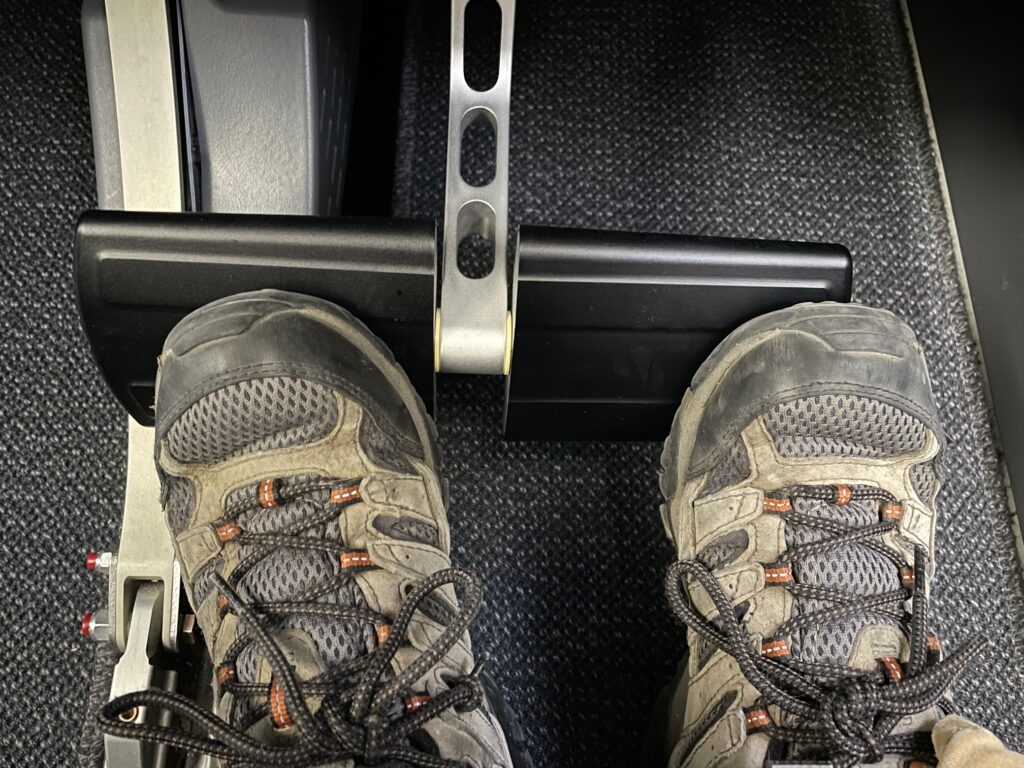 The legrest and the seat's four inches of recline are controlled via two buttons tucked into the armrest. The other armrest holds a large, bi-fold tray table.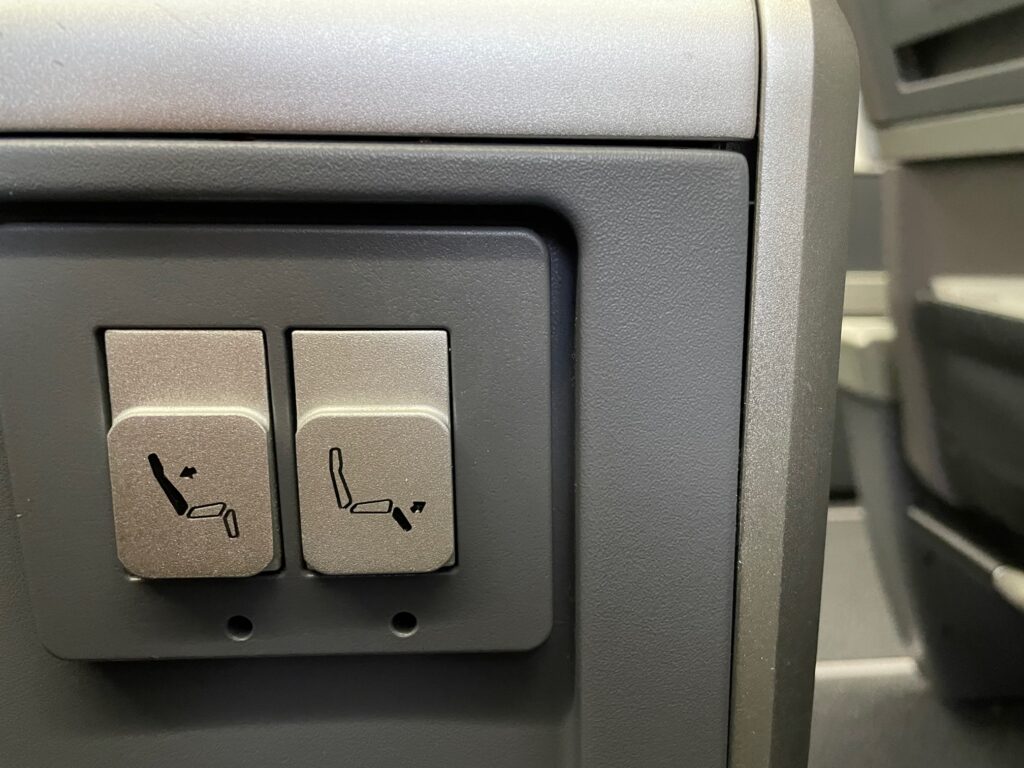 There's a small amount of personal storage in the center armrest, enough for chargers and personal items. The same cubby also holds an international power port, USB port, and headphone jack. The only downside is that the space is not well lit, making it hard to find anything there on a dark evening flight.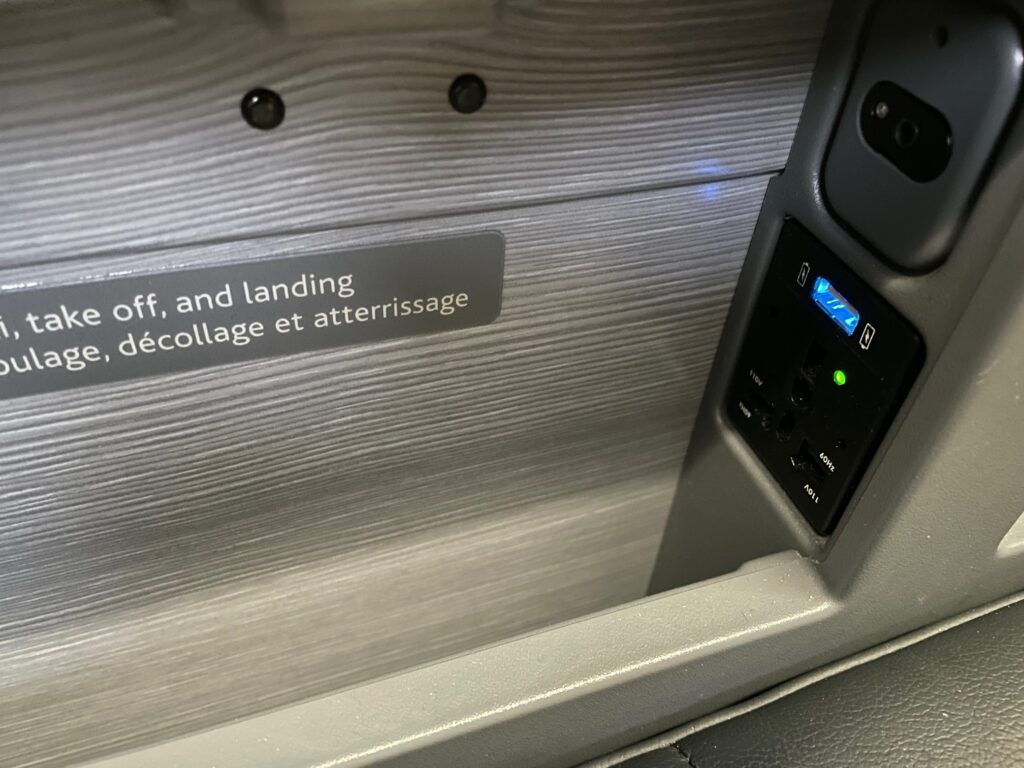 The seat's entertainment screen is large — 13 inches — and incredibly crisp and sharp. It also comes with USB and USB-C charging ports.
Unfortunately the Panasonic Avionics eX1-powered system quit on me during taxi, taking three full resets and over an hour to resolve before starting back up. Once it did, it was initially slow and glitchy before settling into its typical snappy self. I appreciated the crew's diligence in attempting to solve the issue, but it was deeply frustrating nonetheless.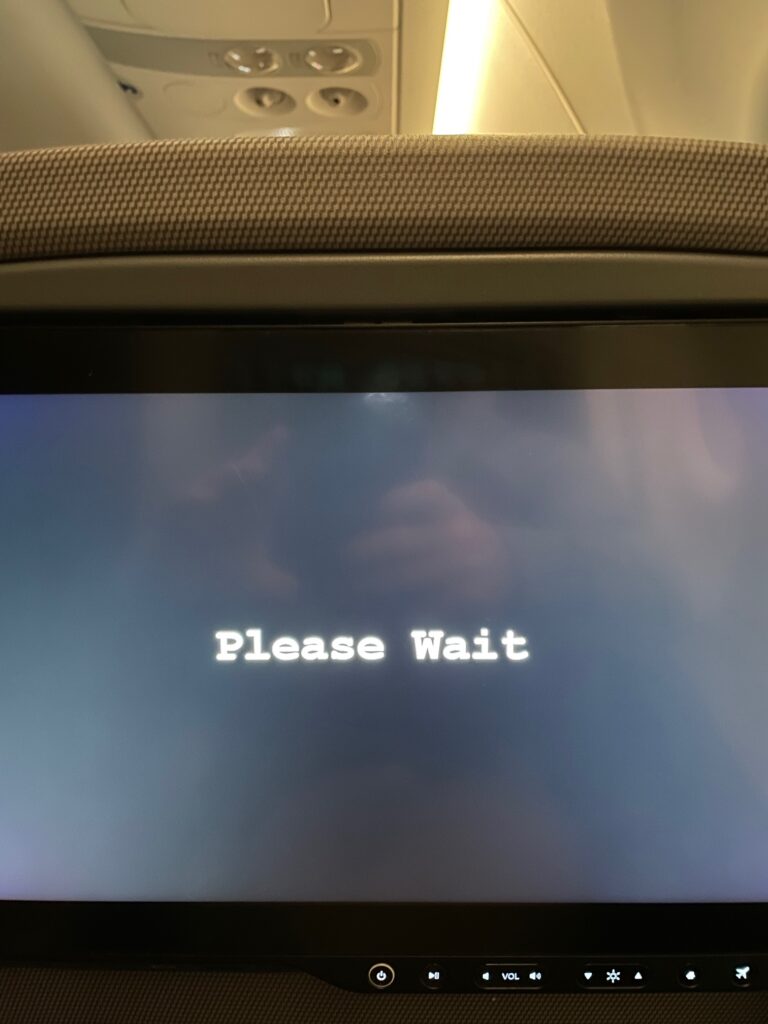 That said, much like my other experiences with the carrier's IFE, the system did not disappoint. It was well stocked with plenty of content, enough to still hold my interest after more than 22 hours of flight time.
I didn't give a nod to it in earlier reviews, but the airline offers entertainment in 15 languages plus closed captioning and accessibility options for folks who need them. That's a serious commitment to inclusivity that should be lauded, and one I wish I saw more widely in the industry.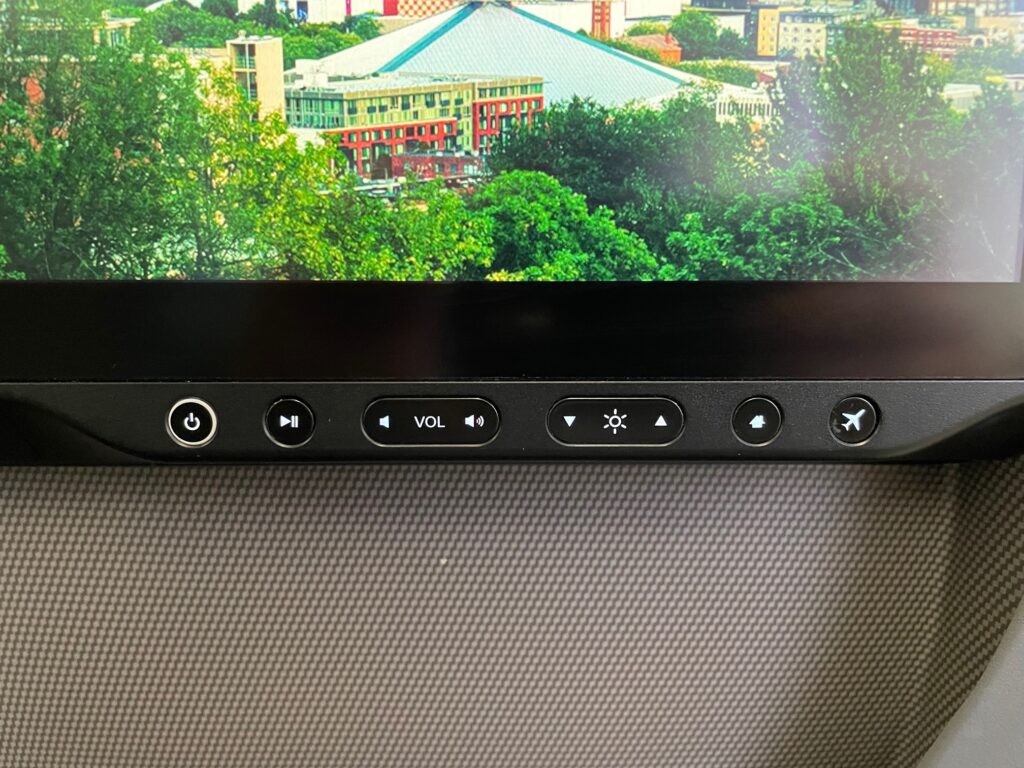 While I was waiting for the IFE to return, I fired up the Intelsat 2Ku onboard Internet and bought a full-flight browsing pass for $10.
There were two faster options available, both of the streaming variety; they could be purchased in one-hour increments or for the full flight. Prices topped out around $35 for the fastest, full-flight plan.
My $10 browse pass was more than ample, recording usable speeds of 5 Mbps down and 3 Mbps up.
The meal service began maybe twenty minutes after departure.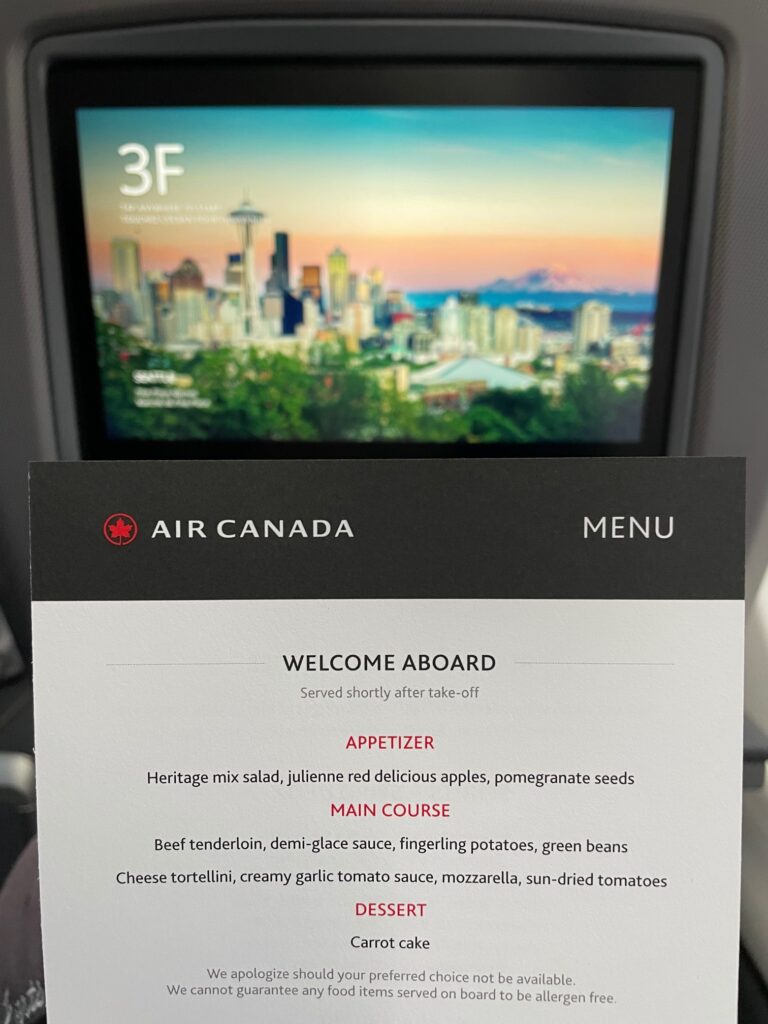 Drinks came first, and I ordered an apple juice that was presented to me in a juice box with a glass on the side. It didn't exactly feel very premium.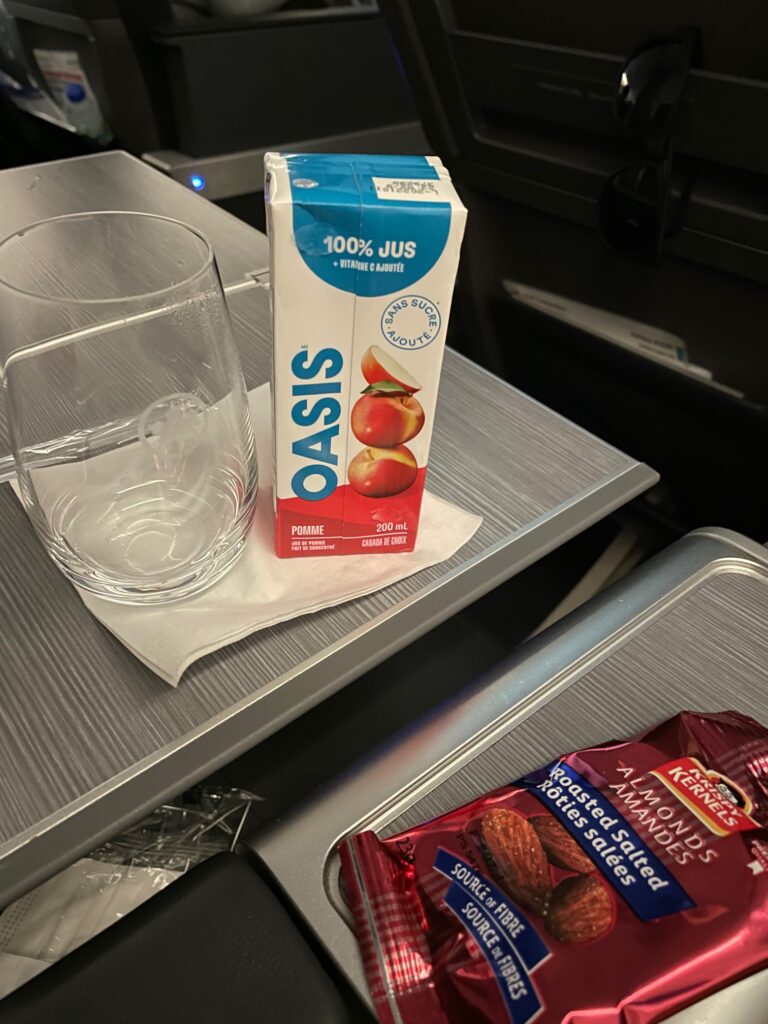 The entrée came shortly after that, a beef tenderloin dish that was sadly both simultaneously dry and swimming in a bland demi-glace sauce. The sauce overpowered whatever flavor profile the vegetables brought to the table. I didn't finish the meal.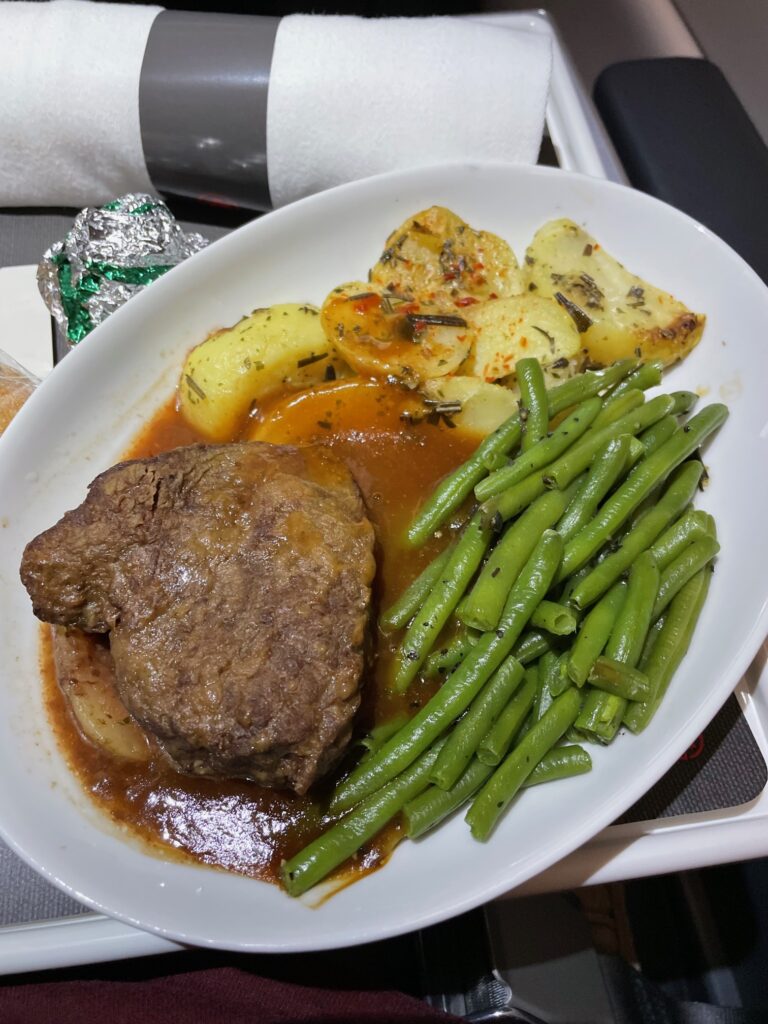 It turns out the IFE wasn't the only thing that needed a system reset. After dinner, what I thought would be a short nap cascaded into a full four hours of sleep. By this time, I had already been awake for most of the last 24 hours. I got a genuinely solid sleep in the MiQ seat, which was also a nod to the comfort of the product.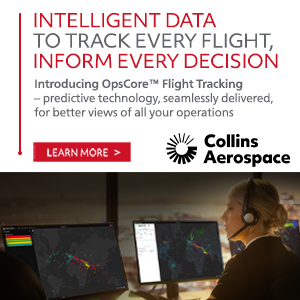 The flight landed shortly thereafter in Seattle, parking at a remote stand on the edge of the airport.
Despite a bus ride and a walk from the farthest reaches of the terminal, I didn't beat the bags. Luckily, they still appeared some thirty minutes later on the carousel, having likewise completed the long journey from Dubai via Frankfurt.
A shuttered lounge, underwhelming catering, lack of premium touch, and an initially broken IFE system were a disappointing way to close out my long trip home. But I suspect that many of these issues were just bad luck.
The hard product was quite impressive. And if I'd chosen a different seat number or a different main meal, things would've almost certainly gone differently.
Related Articles:
All images credited to the author, Jeremy Dwyer-Lindgren