When Cebu Pacific announced at the 2019 Paris Air Show how many seats it was putting on its Airbus A330neo, there were gasps of shock. 460 were planned, and now 459 Recaro slimlines have been unveiled on board the -900neo aircraft in Manila. The interior is bright and well-considered.
There's no getting away from the fact that this is an incredibly dense aircraft, of course, perhaps the most dense flying anywhere in the world. Nine-abreast seating on the A330neo cabin — like the A330ceo, A310 and A300 before it — is used exclusively by low-cost, charter and discount leisure carriers, and it's clear these seats are narrow. That is, after all, how Cebu and other LCCs democratise air travel.
But this isn't an all-grey, lowest-common-denominator type of passenger experience. What's most impressive about this aircraft beyond the sheer economy of scale numbers is that the cabin itself is fresh and modern, with the airline's cheerful blue and yellow palate crafted into an onboard environment that sets it apart.
"This project was all about infusing into the cabin the Cebu Pacific brand," explains Daniel Baron, managing director at LIFT Aero Design, Cebu's design partner. "We focused on translating the airline's distinct yellow and blue palette into an environment that reflects their youthful and dynamic company."
The effect is a remarkably jaunty cabin, featuring Airbus' Airspace cabin entryway's overhead diamond pattern in a fresh teal colour, leading immediately into the seats, which the airline cites as coming from German seatmaker Recaro.
The seats appear to be the seatmaker's latest-generation SL3710 slimline, weighing in at just 8kg per seat, and which local social media reports suggest are pre-reclined.
The main seat colour is a fairly standard mid-blue, with accents for the regular seats in a smart lighter sky blue. For the extra-legroom, exit row and front rows of the aircraft, it's a bright mango orange-yellow accent.
This mango accent also makes its way into the lavatories, where a full wall of yellow-orange pops in the space, including a micro-mango pattern that's also found on the bulkhead walls at the front and back of the cabin.
It seems a little odd to say that a lavatory is a real standout, but this is a great move from LIFT, setting the airline apart.
Baron is rightfully proud of it: "with a single, carefully considered color, we achieved our goal of a lavatory environment that doesn't shy away from bold statements while maintaining a clean, professional look," he says.
Elsewhere in the passenger experience, at-seat power is available (visible at 7m45s in this video), with two units per row of three of what look like USB-A + USB-C power.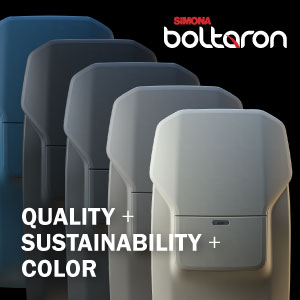 Fundamentally, though, there is a clear and upfront honesty about what the Cebu Pacific brand offers.
Passengers know going in that the personal space is small, but then so are the prices. And for a country where a substantial part of the economy is based on remittance inflows from overseas Filipino workers, many of whom want to spend as little on travel as possible, this is an option that may mean the difference between visiting family back home or not.
After the COVID-19 pandemic's various travel restrictions and with many people being prevented from seeing loved ones for nearly two years now, sympathies with this situation may well be different from those at the 2019 Paris Air Show.
Related Articles:
All images credited to Cebu Pacific