While big chunks of the outside world opened to vaccinated Americans months ago, I stayed put as friends resumed their international jet set lifestyles of the pre-pandemic days. It would have remained that way for a bit longer had a work trip not taken me to the sunny, hot splendor of Dubai in November.
With my desired status on Alaska Airlines already locked in for the year, I felt blissfully free to choose whatever airline I so desired from my home base of Seattle. It was a rare opportunity to mix things up and try something new and different. In this particular case, a quick search on Google Flights led to a clear favorite: Air Canada.
The airline led on price by a mile, had several fun plane types for the AvGeek-minded traveler, and codeshare legs with Emirates and Lufthansa – neither of which I'd flown on before. (We'll cover the Emirates outbound leg — London-Dubai — in a subsequent review.)
What Air Canada didn't lead on was total itinerary time, at over 24 hours door to door. But it was worth the savings of hundreds of dollars roundtrip. I quickly moved to book with economy outbound and treat myself to business on the return.
My travel dates changed just after the 24-hour mark, requiring new outbound flights. Fortunately, Air Canada is not currently charging change fees, only differences in fare. It ended up only setting me back US$150 — far less than I expected — and gave me a faster itinerary to boot. The feature was very easy to find and use on the website.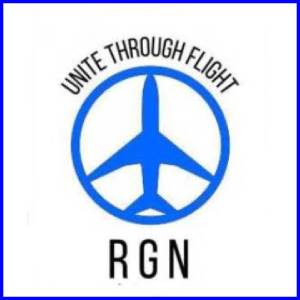 With a negative COVID-19 test, UK entry form, passport, and luggage in hand I arrived at SeaTac to nab the first of three flights — a short-hop to Vancouver. Check-in was a mess, taking almost an hour. Gate agents appeared to be confused about requirements for final destinations, and in the absence of knowledge simply applied the most restrictive to everyone.
Tempers ran high as the line moved slowly. After apparently first waiting in the wrong line (they were not marked) and directed to the back of another, I got a bag checked and a ticket printed. Security was no concern, and I made my way to the remote gate for the first of three flights.
Though I didn't pay for a seat assignment, I lucked out and was placed in a window seat anyways. Branding aside, the Q400 turboprop plying this route is just like any other Q400 I've been on: modest pitch, tight 17" seat width, barely any room for bags overhead.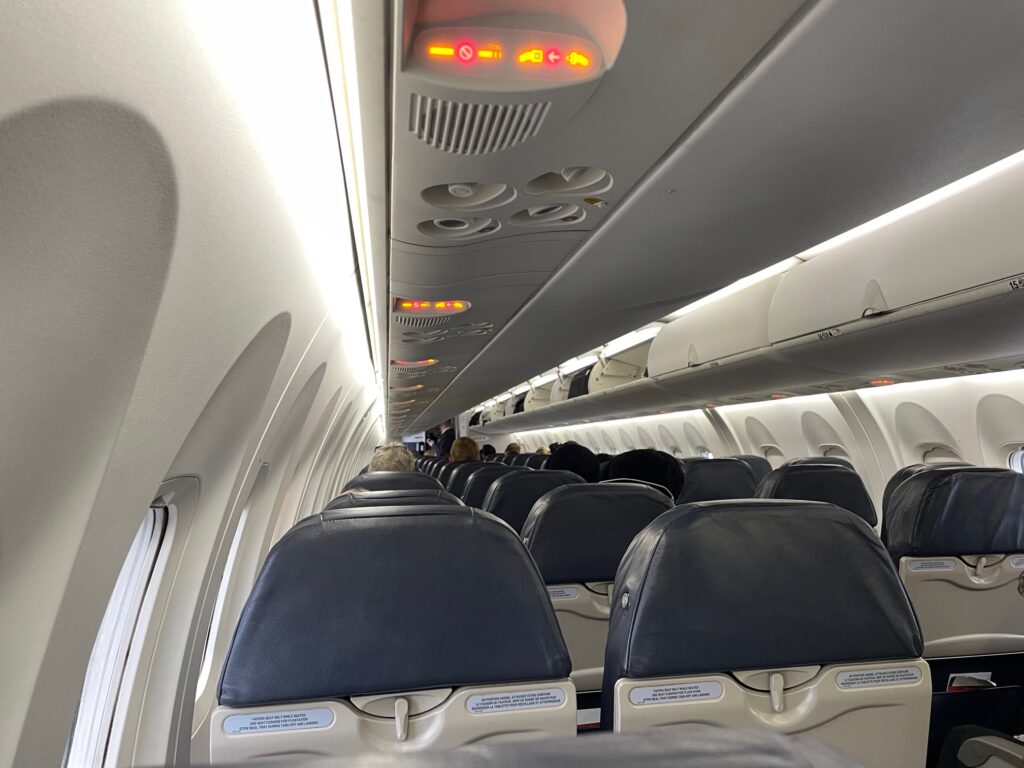 There was a short beverage service with water and juice, and then we were on the ground in Vancouver.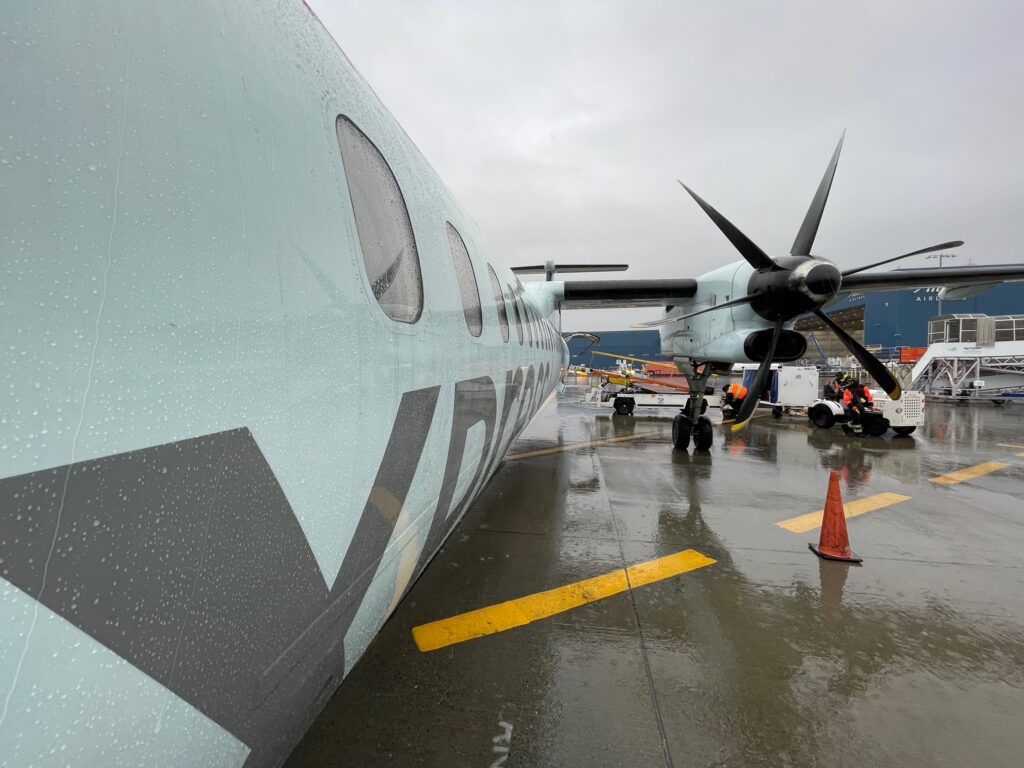 Connecting in Vancouver was straightforward: get off the plane, clear a transit area, and head off to the next gate. Thankfully I did not have to collect my checked bag. It took less than five minutes.
With no fancy lounge access outbound, I whiled away what little time remained by getting some steps in before the long flight ahead to London Heathrow.
Boarding began on time, though document checks — the very same that held up check-in in Seattle — forced a short delay.
Air Canada operates the Vancouver-London service with its Boeing 787-9 twinjet. This was the first time I had been on a widebody in two years. I missed it.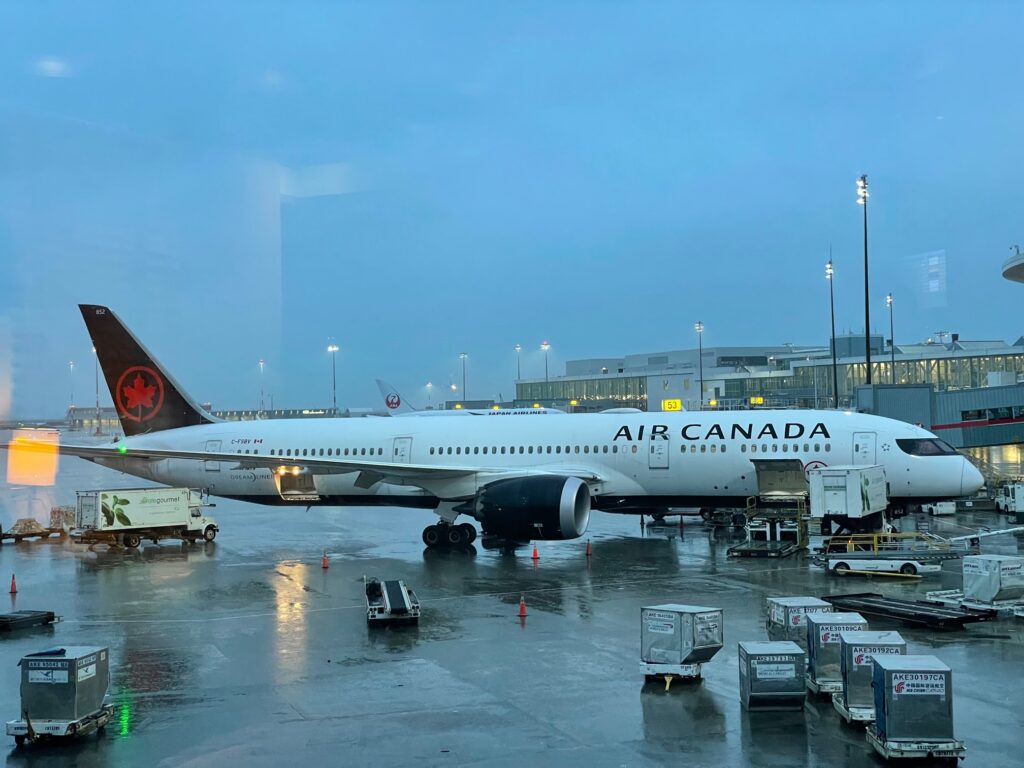 That is until I settled into seat 35A, midway up the second of two economy cabins. Squirreling my backpack under the seat ahead of me, it became very clear it was going to be a tight squeeze. Air Canada has a reputation for packing people in, so I guess I shouldn't have been surprised. But nevertheless the very snug 17" width in a 3-3-3 configuration quickly made me wish I'd bid up for a premium economy seat.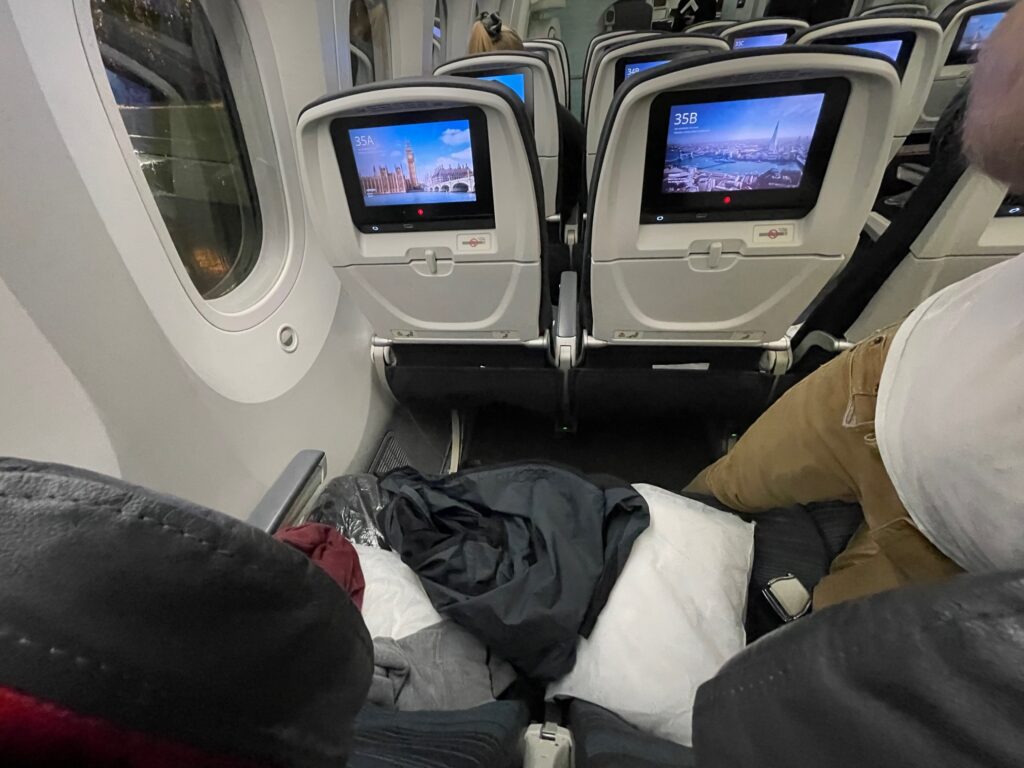 The small space wasn't the only drawback. Padding was light and not particularly comfortable. My back was unhappy after only a few minutes.
The seat did come with a generous amount of recline, a welcome surprise. But it is a double edged sword, as it also means the person in front of you can take up a material amount of living space. The TV screen doesn't pivot when that happens either, making it hard to see.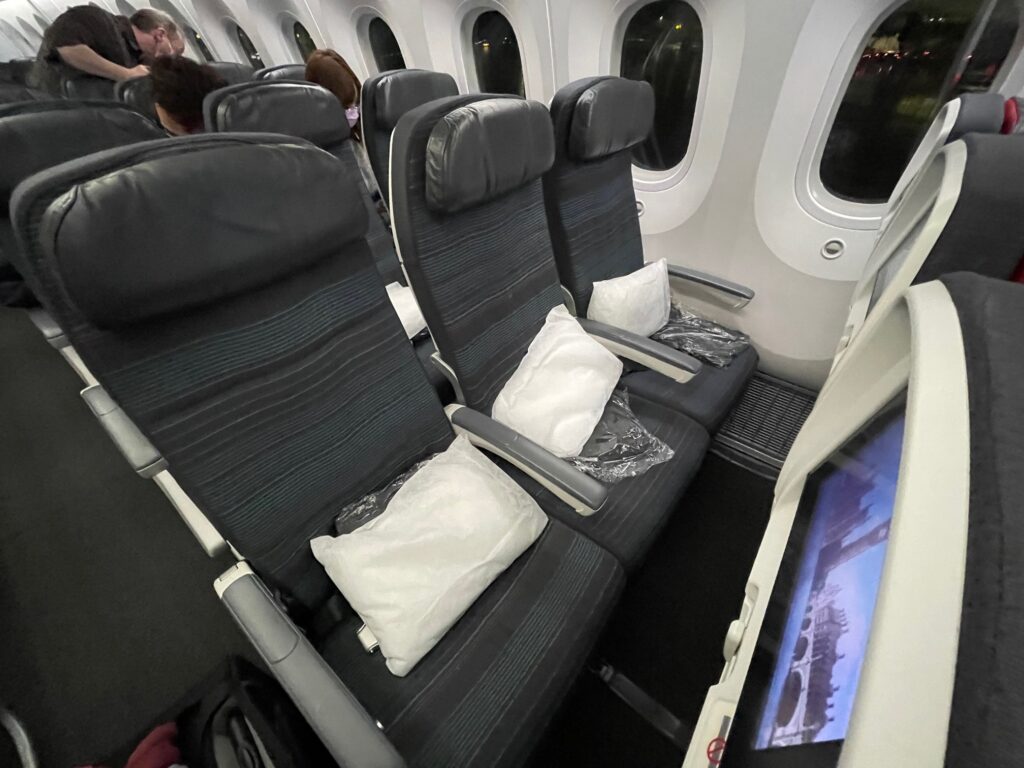 Last on my list of hard product critiques, economy does come with international power outlets, but irritatingly there's only two outlets per row plus a USB port in the IFE system. All worked, but had trouble holding onto chargers: mine constantly slipped out.
All of my early concerns, though, evaporated just before departure as it became clear that I would get extremely lucky and have the row to myself. I'm glad I didn't need to find out how much my back could take all squeezed in.
Needless to say, the empty seat triple made for a rather pleasant experience, especially when it came time to get some shuteye.
On the plus side, Air Canada's Panasonic Avionics eX3-powered inflight entertainment system was a big winner. It had a huge selection of movies and TV, and the map feature was endlessly entertaining.
The 8.5" touchscreen is sufficiently large, though undersized compared with many other carriers, with USB and headphone ports. I caught a movie and a few TV shows before turning in for the night.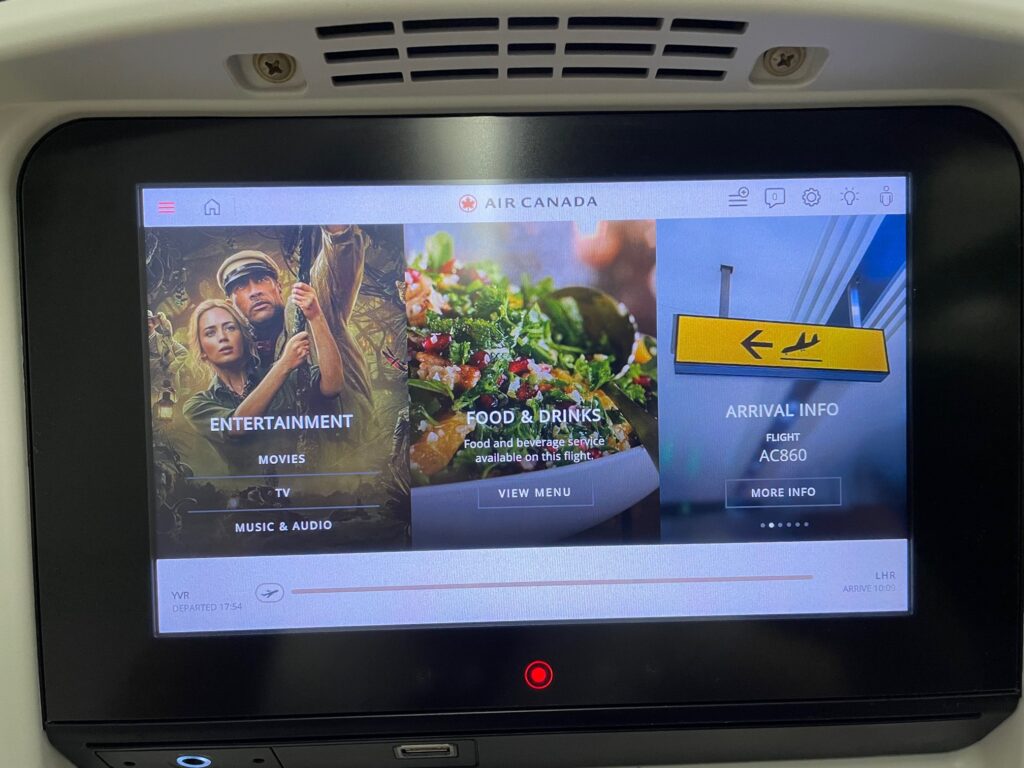 The airline utilizes Intelsat's (formerly Gogo's) 2Ku Wi-Fi system, which was surprisingly well-priced for such a long flight. Passes ranged from basic to streaming, to something they call "ultimate streaming". All three were available either as a one-hour pass or full flight, with prices ranging from CAD$8.75 to $34.50.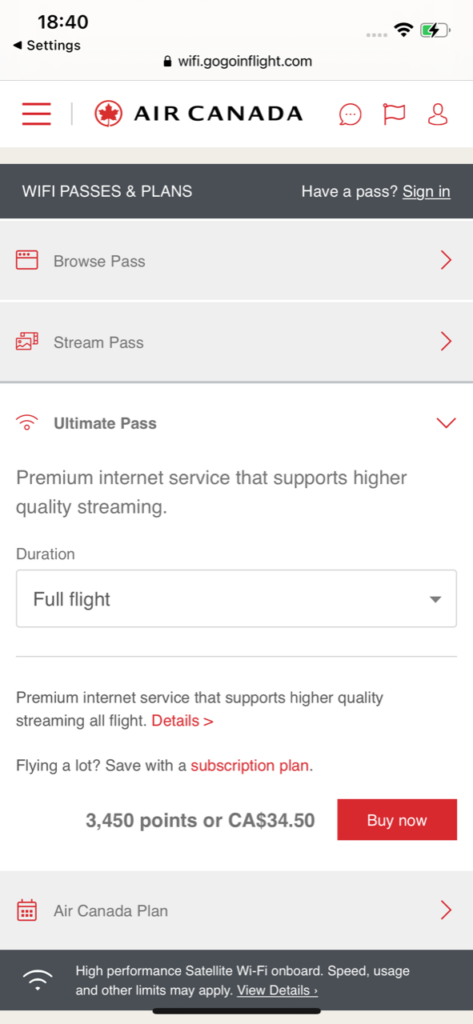 I ponied up for an hour of the basic plan, and easily sent emails, texts, and updated social media. Speeds were good, at 31.9 Mbps up and 2 Mbps down.
Like most long-haul flights, the carrier offered two meal services. There were no paper menus but it could be accessed via the IFE and the Air Canada app. The first arrived an hour in. The entree was an assortment of veggies and cubed chicken in a cheesy cream sauce alongside a small side salad, bread and brownie. It was all rather bland but filling. Trays were cleared in thirty minutes.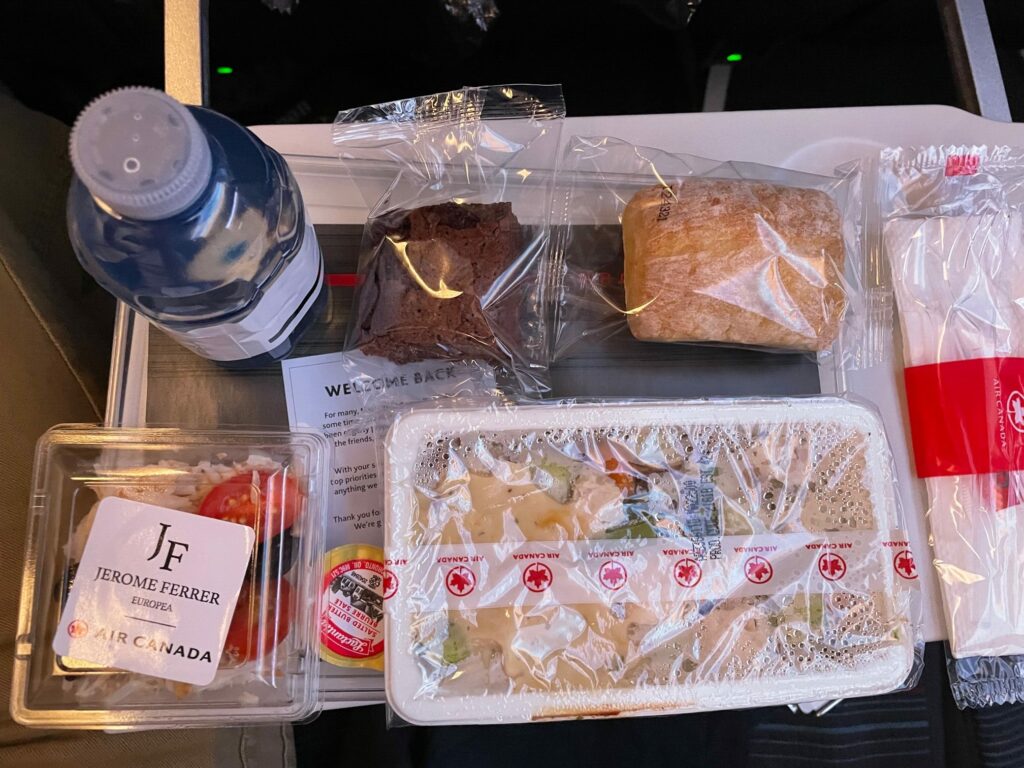 Turbulence almost canceled the second service, but a lucky break enabled the hard-working crew to hustle out a basic breakfast of a croissant and yogurt. Once again, it was bland but sufficient.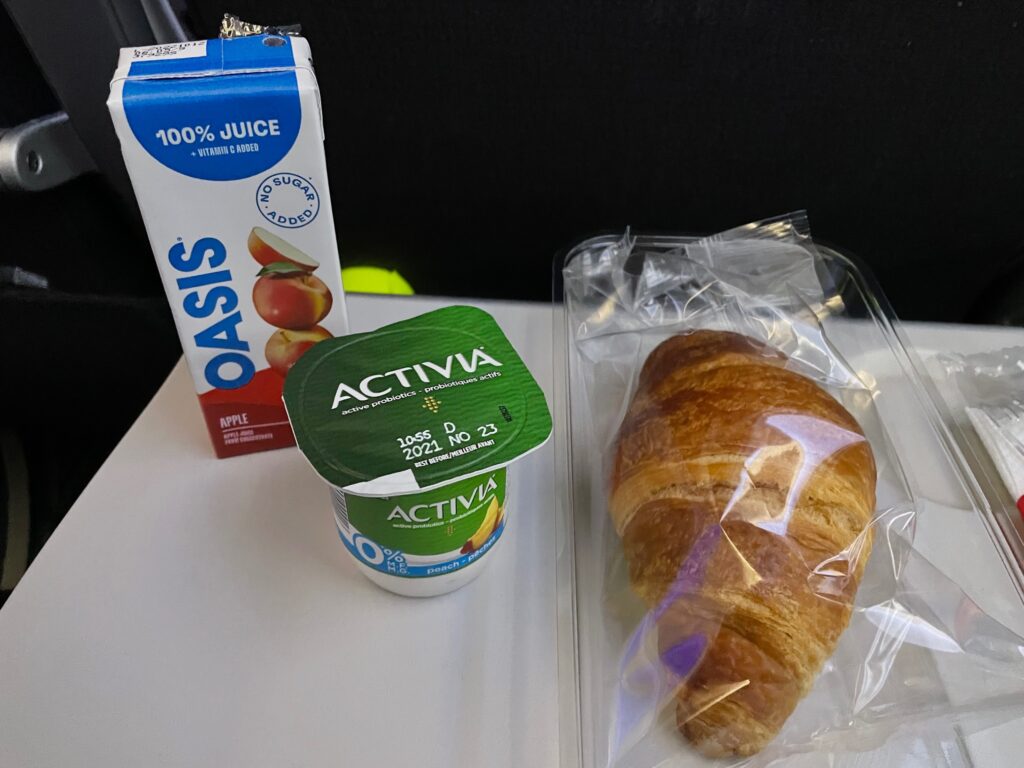 I also appreciated the crew's attentive but polite policing of masking, and enjoyed the comfort of knowing vaccinations are required to be onboard.
Water was available in the galley during the flight, but no snacks. Bathrooms remained relatively clean, even toward the end, but didn't have any amenities like toothbrushes or combs.
The flight landed a bit early, parking in terminal two. The connection to my next flight, in T3, was smooth though time-consuming.
Air Canada provided an uneventful and reliable service from Seattle to London via Vancouver. Considering the price point — several hundred less than anyone else — it was worth it. Add in an empty row on a long-haul service, and it couldn't have gone much better.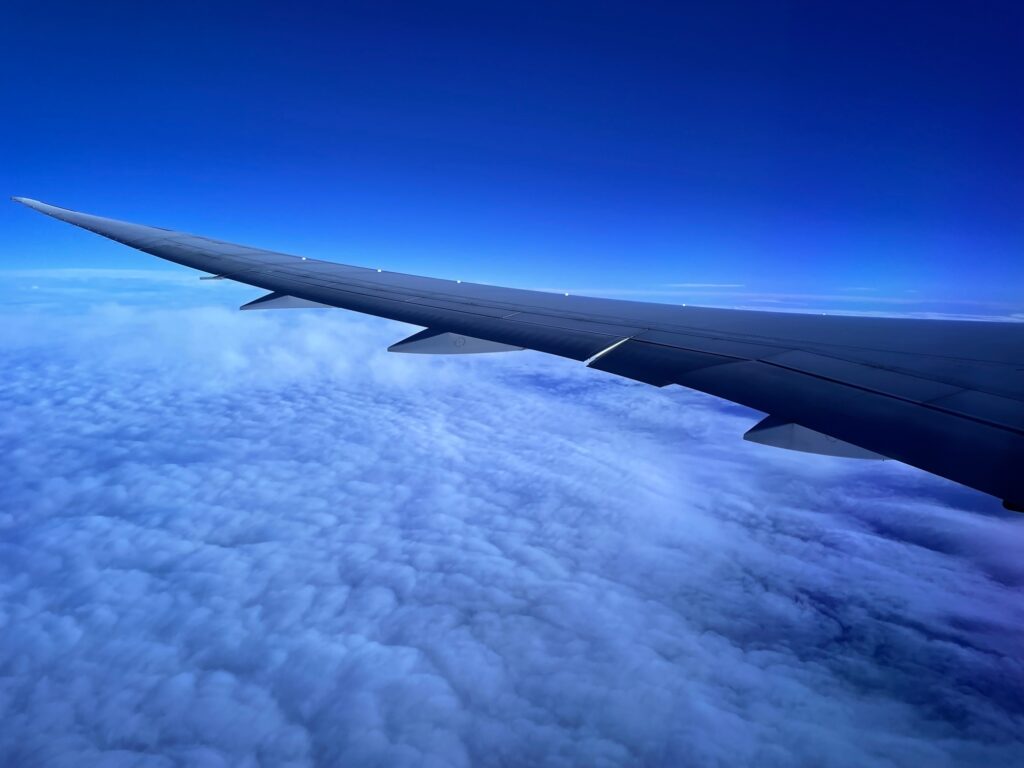 Related Articles:
All images credited to the author, Jeremy Dwyer-Lindgren