Over the last several years, the aircraft interiors industry has seen notable consolidation.
Rockwell Collins got the ball rolling in 2017 when it completed its acquisition of interiors giant B/E Aerospace. One year later, Rockwell was acquired by UTC, which last year merged with defense contractor Raytheon. In Europe, French aerospace and defense firm Safran purchased Zodiac Aerospace in 2018 and with it a bevy of interiors-focused units.
Both Safran and Raytheon's Collins Aerospace unit are able to provide airlines with nose-to-tail aircraft content, including all classes of seats, galleys, overhead bins, cabin lighting, sidewalls and more.
With these competitive forces in play, Diehl Aviation and HAECO Cabin Solutions (HCS), a business unit of the HAECO Group, on 14 July announced they have inked a "preferred strategic commercial agreement" that will see them jointly deliver a wide range of aircraft cabin projects including complex, bespoke installations, as an integrated supplier.
The arrangement is highly complementary. Together, the companies say they will "seamlessly offer all aircraft interior components including sidewalls, stowages, lighting, galleys, lavatories, seating, reconfiguration engineering, certification, and installation". In short, they too will be able to offer integrated nose-to-tail content, or as they say in a press statement "floor-to-floor" content.
What this means is that Diehl Aviation and HAECO Cabin Solutions can collaborate to provide "single responses" to airlines RFPs with products and services from both companies, in close communication with each other, the two firms explain to Runway Girl Network. While they say they cannot comment on specific current active customer pursuits, "we would hope to announce a launch customer soon based on the proposals we have in work".
They reveal to RGN that they are "also working on jointly developed products".
Diehl Aviation, including Diehl Aerospace (a joint venture with Thales), is a leading  supplier of aircraft system and cabin solutions. The German company and its predecessor organizations have long been part of Airbus' growth story. Diehl is, for instance, a key supplier for the Airbus Airspace cabin for A320 family aircraft. But it also supplies Boeing with cabin lighting products and cabin lining packages for commercial aircraft.
Perhaps best known in the #PaxEx world for its seating platforms, including the Vector slimline which launched on Cathay Pacific's A350-1000s, HAECO Cabin Solutions provides a suite of cabin interior products and services for commercial aircraft and private jets, including design, vendor management, installation and certification through its FAA Organization Designation Authorization (ODA) approval. It boasts expertise in developing Supplemental Type Certificates (STCs).
Doug Rasmussen, president and group director of HAECO Cabin Solutions, says in a statement: "With this agreement, we will be able to provide a level of service to our customers which we feel is missing in the industry, by offering everything from pre-engineered to bespoke cabin solutions."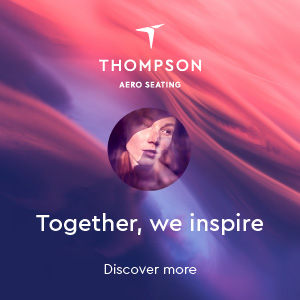 He continues, "HAECO's expertise with STCs, reconfiguration projects, and seating products complements Diehl's industry-leading portfolio of galleys, lavatories, smart monuments, sidewalls, bins, and other interior components, as well as comprehensive lighting capabilities. The overall combination allows us to provide more efficient and passenger-centric cabin interiors."
Furthermore, the HAECO Group will provide installation and modification services through its worldwide network of advanced airframe MRO facilities.
Diehl, meanwhile, says the new partnership with HCS "is a significant contribution for Diehl Aviation to its future line-up while the company is preparing for the expected recovery from pandemic-induced crisis in the aerospace industry.
"Together with HCS, Diehl Aviation's position in the market for cabin upgrade solutions will see a further enhancement."
Featured image credited to Diehl Aviation