Gone are the days of piano lounges, and with the decline of the 747 and A380, with their uniquely shaped areas that lend themselves to third places, the challenge to create meaningful experiences outside the long rectangle of the cabin seating footprint has never been greater.
Creating space in airline cabins away from the seat — a sort of "third place" in the air — has long been something of a holy grail, and indeed a gem glistening in the much-missed rose-tinted aspic of passenger aviation.
Inherently, though, when considering third spaces, the design is about more than just saying "we want a bar", or "let's add a self-service point".
Defining a third space is complicated and balances competing priorities: door 2 bars, like those on Virgin Australia's 777 as just one example, have a tendency to turn into a service staging point, especially before and after meals, which one might expect to be the very time passengers might most appreciate them.
Others, like British Airways' Club Kitchen, are underwhelming and often abandoned by crew during flight, leading to a picked-over sort of feel where there's one mini-chocolate bar and a forlorn packet of crisps sitting next to a lone, sad wrinkly apple.
At the same time, a variety of discussions during, around and after the RedCabin passenger experience summit recently highlighted the level of investment available to airline executives, design partner and suppliers. Capital expenditure is and will remain constrained for many airlines due to the fallout of the COVID-19 crisis.
In the current climate many airlines will find building new passenger experience amenities into the cabin — especially untested and untried innovations that go beyond the basics — to be a hard sell to finance departments.
But what about flexible, mobile third place initiatives that fund themselves, either via ancillary sales, cobranding or a mixture of both? Take inspiration from some of the more elegant and anticipated examples of the past: the famous wooden beer keg service Lufthansa used to offer during Oktoberfest, for example.
The standard airline catering cart, or even the sort of unfolding trolley that some airlines use in premium cabins for wine, appetiser, dessert or cheese, might be a little plain for today's demanding consumers.
Beyond the simple answer of just draping it with a large cloth, and working together with a smart catering provisioner, what about some sort of custom cabin service trolley that can be stowed out of the way, to be removed, locked in place near a door, and perhaps unfolded like table leaves to create a semi-fixed space?
Think of it like the bar carts that are often simply parked near a door at a galley between services, where beverages and perhaps snacks are essentially there as an informal self-service option.
But this could certainly be beyond just an airline-provided bar offering the usual ginger ale, bitter lemon or bloody mary — although, to be honest, a lot could be done with a dedicated member of cabin crew offering a range of thoughtful cocktails and mocktails.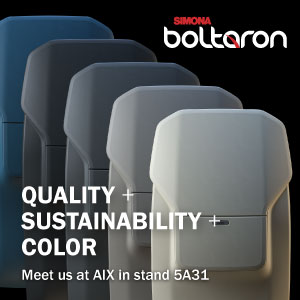 Imagine strong brand partnerships, like British Airways partnering with Johnnie Walker for an upmarket sampling trolley, with the option to buy on board or even arrange for home delivery.
What about Air Austral with local réunionais Isautier rum? Qantas and Penfolds for Australian wine? Lufthansa with its longstanding partnership with Warsteiner beer?
Outside the realms of duty-free alcohol, what about a mini makeup lab or skin wellness station: Air France with Clarins, Air Canada with MAC, or American with Anastasia Beverly Hills? What about a chocolate tasting, featuring Swiss with Läderach chocolate, or United with Ghirardelli? Alaska Airlines with Tillamook cheese?
Or, particularly for an airline popular with families like a holiday carrier, some sort of partnership with a children's book publisher for storytime?
Is it time to think outside the box — or, in this case, inside one?
Related Articles:
All images credited to the author, John Walton