Before COVID and the dramatic drop in business travel, some airlines were experimenting, publicly or in theoretical exercises, with a "business light" model, where passengers sit in business class seats but receive economy-style service.
The "great reset" after the pandemic, where airlines have the opportunity to redefine business class, adds to the pressure to reduce the "comfort canyons" between the cabins on board while, in many cases, trying to keep the golden goose of their premium market happy.
Enter what we could call W-UP, a premium economy evolution of the Y-UP (economy upgrade) fares primarily seen in North America.
Y-UP fares are, essentially, tickets booked with an economy fare code (or "bucket", theoretically the wider economy "Y" code) that give an immediate upgrade to a premium cabin, whether that's domestic first within North America or international business.
With premium economy, there's inherently an opportunity for the extra step in between the Y-UP and the business class seat, which allows airlines to segment their passenger markets even further and identify in a more granular way the passengers they really want to attract to the upgradeable, but expensive, fares.
The interest for passengers is clear: a confirmed upgrade at the time of booking, while staying within the lines of their corporate travel requirements.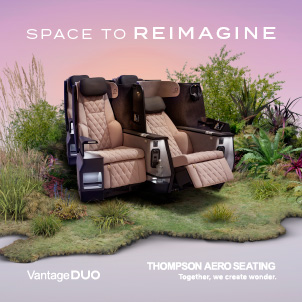 The interest for airlines is that they can circumvent the "no domestic first" or "no business class" corporate travel rules — and perhaps get enough passengers, especially those new to premium class travel, hooked on the idea of arriving refreshed and revitalised at their destination after a night in a business class flatbed rather than feeling rough and rumpled after a fitful sleep sitting up in economy.
Today's aviation and wider global contexts are something of a perfect storm for a W-UP model. There's fiscal constraint in booking premium classes, especially business, by many employers. At the same time, the world of many knowledge worker jobs that require business travel is going increasingly remote, which will lead to more travel. And more and more airlines are offering premium economy seats on more and more aircraft — especially as older aircraft with older cabins, seats and layouts are retired.
The fundamentals of the W-UP concept are solid: book premium economy, get allocated a seat in business class. But the question comes around the details: which premium economy fares are eligible for upgrades, when, and how?
There are two primary options here: first, restrict W-UP upgrades to only the most expensive or a subset of the more expensive premium economy fares. Second, offer the upgrade to all passengers.
The former means that airlines can both avoid cannibalising their business class revenues and ensure that the passengers booking the more expensive W-UP premium economy fares get the benefits over the less expensive ones.
The latter means spreading the benefit across a wider range of passengers and perhaps encouraging a few more passengers to book premium economy fares.
The difference is, basically, whether the volume of cheaper fares can make up for the pricing differential of more expensive fares.
Within those two models, there are certainly a variety of hybrid options available: allow the more expensive fares to be upgraded immediately into business class, for example, with some or all less expensive fares on an availability basis.
Alternatively, or even in addition, allow only more expensive fares to immediately select business class seats (perhaps from a limited selection to ensure the best seats are kept for paying business passengers), with other W-UPs confirmed into business class but allocated seating after both paying business and more expensive W-UP fares.
Individual airlines will need to adjust various parts of the model to their particular situations: their onboard offering, core passenger markets, route profiles, COVID contexts, and more. But if innovating out of the coronavirus crisis is necessary, it's certainly one option airlines could put in their toolkit.
Related Articles:
Featured image credited to Recaro Aircraft Seating