Inflight Dublin has been chosen by Nigeria's foremost airline, Air Peace, to provide a trial of its Wireless IFE solution, Everhub™.
Beginning in May, Inflight Dublin will equip Air Peace's brand new Embraer 195-E2 aircraft with the DO-160G certified Everhub™ Portable wireless server. The browser-based software platform features secure DRM streaming and a fully-customizable Graphical User Interface (GUI) to align with Air Peace's brand guidelines. The content package consists of Hollywood blockbusters and TV shows, International content, documentaries, publications, and games from Inflight Dublin's innovative gaming platform, Gladi8tor Gaming.
Air Peace is a passenger and charter airline with a varied fleet of 28 aircraft(B777, B737, ERJ-145 and E195-E2) and currently services 16 local routes, 5 regional and 2 international destinations including Johannesburg and Dubai via Sharjah. The airline is reputed for its best-in-class flight services and strong commitment to passenger safety.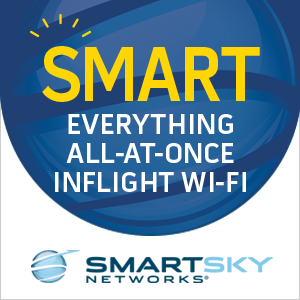 "We have benefitted from Inflight Dublin's expertise in the inflight entertainment industry for many years, allowing us to provide the best on-trend and engaging content to our passengers during their flight. Introducing wireless IFE onboard was something we had been eagerly investigating and Inflight Dublin's wireless solution ticked all the boxes. We are delighted our passengers will be able to experience great inflight entertainment on their journey with Air Peace, whether it is on a seatback screen or their own personal devices" – Akram Beldi, Air Peace's In-Flight Entertainment Engineer.
"We are thrilled to continue to grow our relationship with Air Peace, a valued client for over 4 years. Deploying Everhub™ on board their E2 aircraft in a matter of weeks demonstrates the flexibility of the Everhub™ solution and commitment of Inflight Dublin to adapt to our clients ever-changing needs. The continued success of Everhub™ during such a challenging time for our industry emphasises that our cost-effective approach to high quality Wireless IFE is positively resonating with the market."- Barry Flynn, Inflight Dublin's CCO.