Like many frequent fliers of yore, the pandemic clipped my wings for most of the past year. But an intra-state business trip from Seattle to Spokane, Washington saw me once again booking flights several weeks ago, pulling me out of my aerial hibernation.
I flew Delta Air Lines to Spokane, and Alaska Airlines for the return trip. This report looks at the Alaska passenger experience. Let's dive right in.
Alaska effectively operates its own terminal in Spokane, a perfectly nice but not exactly large affair. Donning my N95 mask as the double-doors parted, both the check-in and security lines were packed, but moving quickly. I had no bags, and used my phone as my boarding pass.
The gate area was sprinkled liberally with fliers wearing masks incorrectly, and unfortunately, a handful with none visible at all. Enforcement from airport staff was nonexistent. Mercifully, I found a quiet corner a few gates down, where I waited until boarding.
While the terminal felt like an unchecked mask free-for-all, gate agents militantly enforced the airline's mask-up or stay behind policy as boarding began on time.
Alaska earned a generally positive reputation throughout most of the pandemic, between stringent mask enforcement and blocking middle seats for longer than many of its competitors. The seating policy recently ended, however, for all but those willing to pay more for a seat in the airline's small "premium class" extra-legroom economy section (the carrier says it will block middle seats here until 31 May 2021).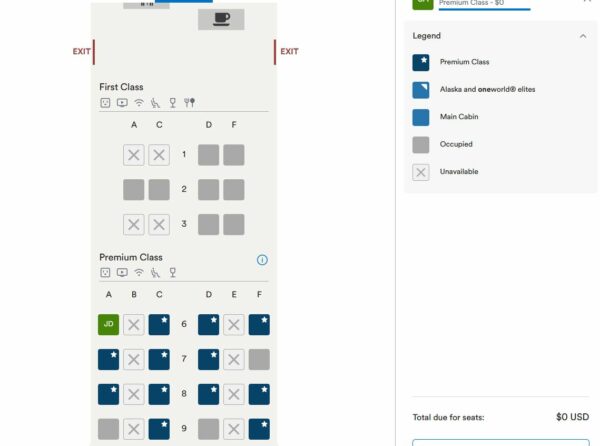 It was a policy change that did not evade my notice as the 150-seat Airbus A320 jet filled to near full capacity, something I accepted as a likelihood but nonetheless did not love.
Luckily, I was bumped up to first class thanks to the remaining vestiges of my pre-COVID frequent flier status, and the seat next to me remained open. It was a welcome respite. I did not get up during the short, hour-long flight, so I couldn't tell you how mask compliance went once airborne, but everyone in my view kept them on.
Incredibly, despite being a loyal Alaska flyer for the past several years, this was my first experience with Alaska's 'new' cabin.
The aesthetics hit you first, with a clean palette of white and dark beige surfaces accented with blue mood lighting. It's a noticeable step up.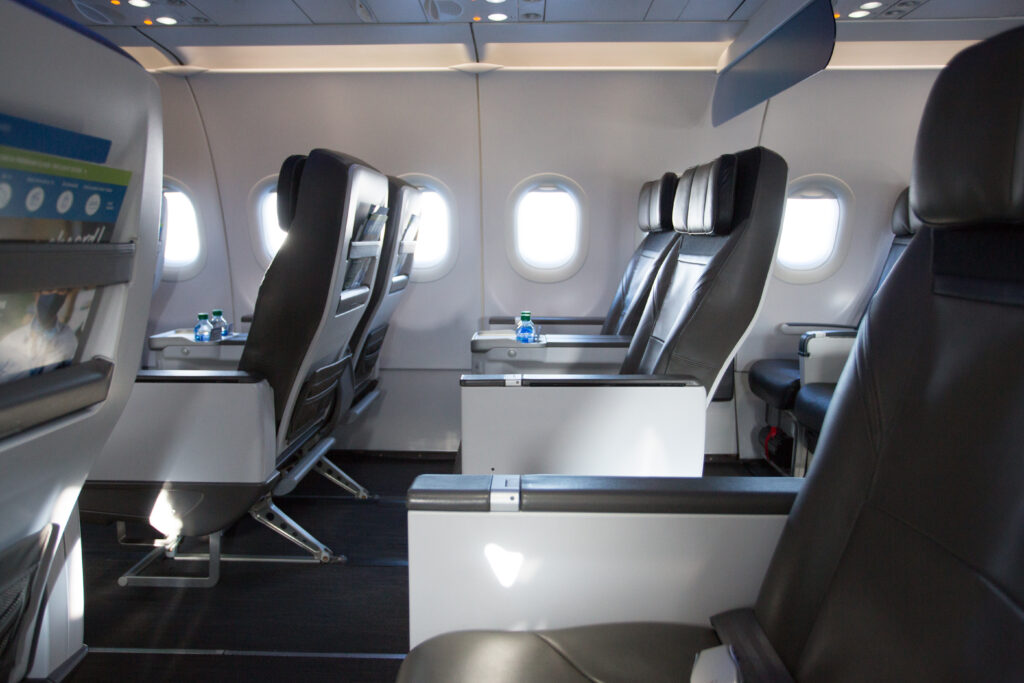 The 12 Recaro-designed seats up front are split into three rows of 2-2. Each is 21 inches wide with 40 inches of pitch. For those who flew the airplane during its Virgin America days, it's a step down in terms of space, and for regular Alaska fliers the dimensions are in line with the rest of the fleet, making it a wash.
The cup holder is a nice touch, and the footrest an even nicer one. I look forward to trying that on a red eye one day. Mesh pockets on the lower part of the seat in front of you and on the side of the seat provide space for smaller personal items.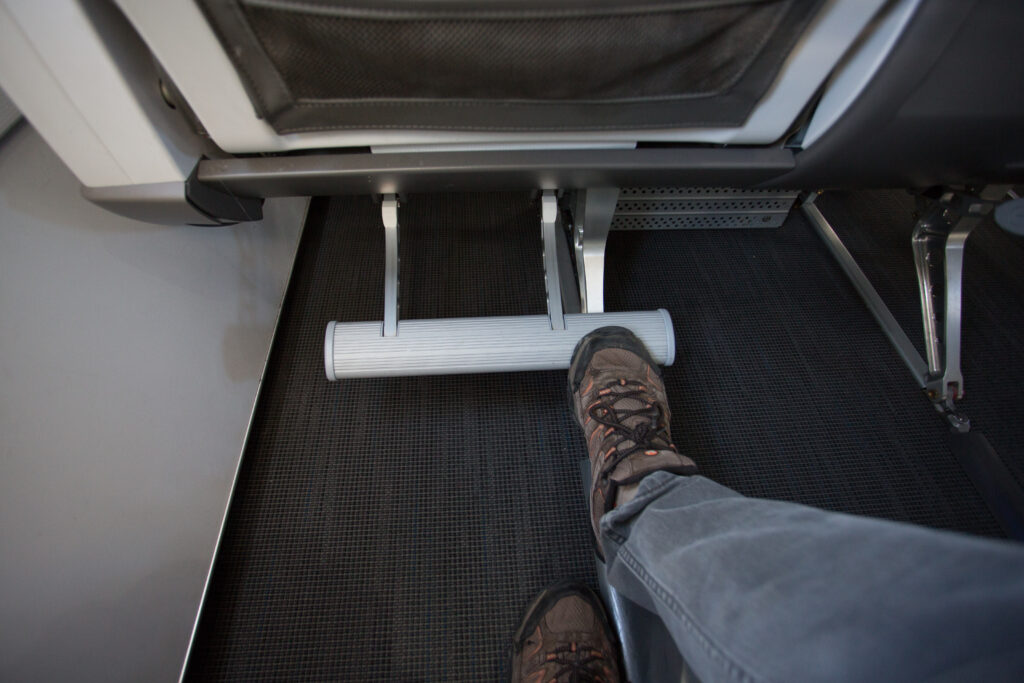 Each seat has its own 110V power and USB ports, a required feature given that Alaska's IFE service is stream-to-device only.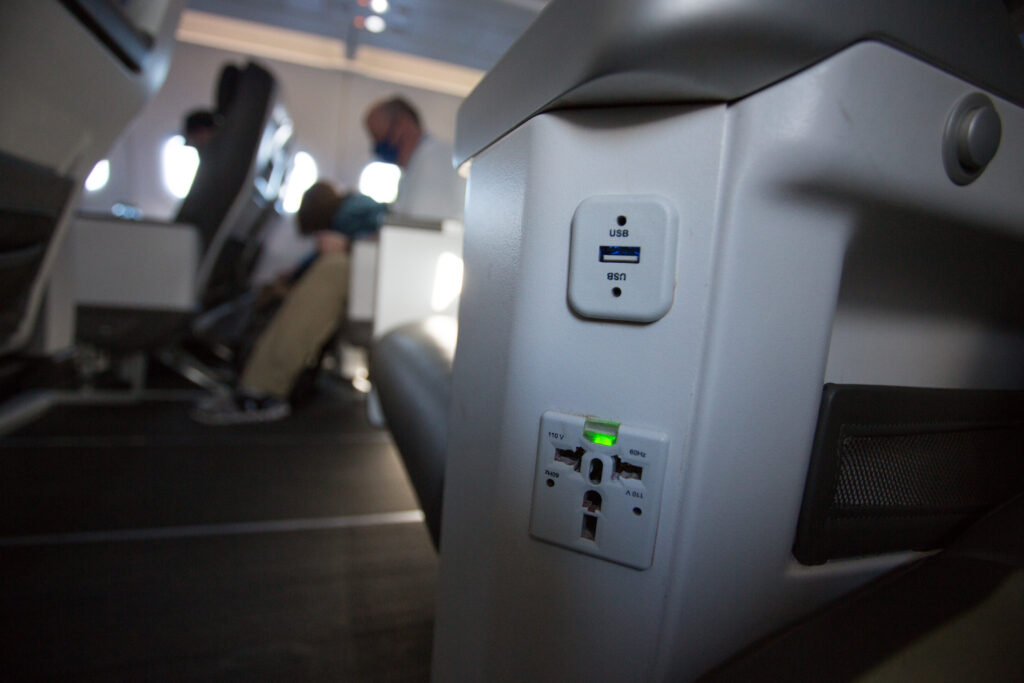 The cabin has largely solved one of the airline's more vexing IFE issues, a dedicated space to place tablets and other personal devices.
While I stole a brief glimpse at the set-up in economy, I couldn't find it in first class, which felt like a glaring omission. They are apparently part of the tray table, with a piece swiveling up to provide a back. I guess I'll have to look more carefully next time.
Not that it made much of a difference anyways. Unfortunately, the Gogo 2Ku-powered onboard connectivity struggled to start. By the time the Wi-Fi did start, slightly more than halfway through the flight, I was able to get the free messaging running.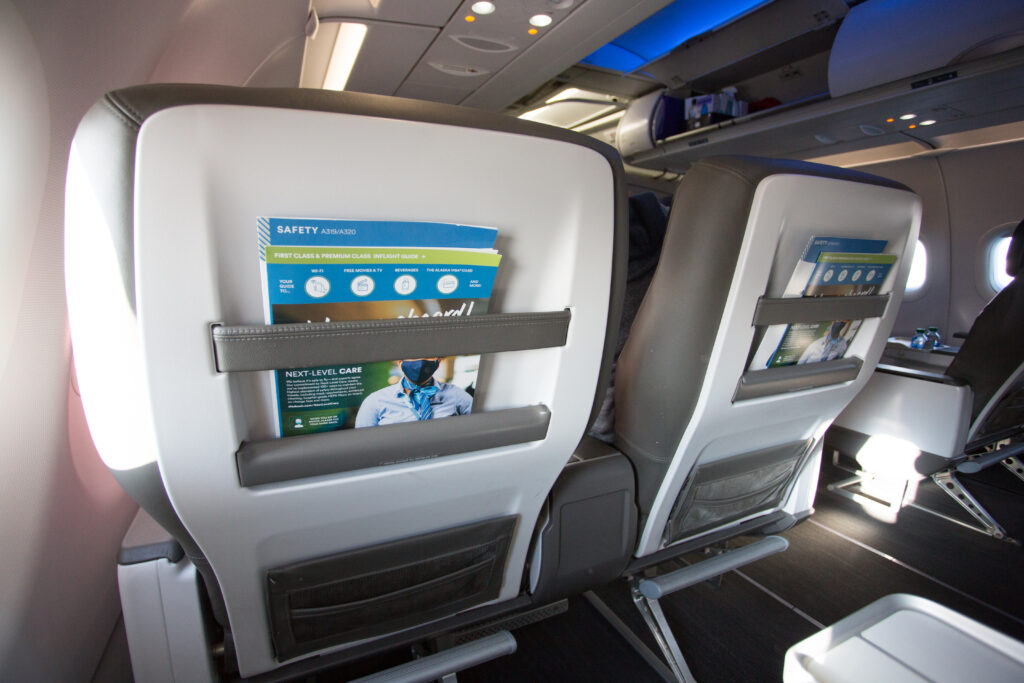 While the Wi-Fi is supposed to be capable of streaming Netflix and HBOGo, I wasn't willing to pay $15 to catch 20 minutes of a show. Hopefully I'll run into it on a longer flight in the future, but for today, the view out the window was good enough.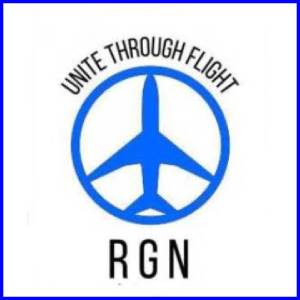 The combination of a short flight and COVID meant service was spartan: small Dasani water bottles handed out to the cabin by the crew and nothing more.
While others might be wanting services to come back, personally I dread the thought of giving folks excuses to remove masks until COVID has been more thoroughly vanquished (let's be clear, though, I want to sip a cocktail from a chair in the sky pretty darn bad too).
In the end, it was an uneventful adventure. A 45-minute flight is probably not long enough to pass the final verdict on Alaska's new cabin. I wonder how the comfort of the seat will compare against the cushy older recliners on longer flights. Nonetheless, I look forward to trying them out as intended, eventually anyways.
Related Articles:
All images credited to Jeremy Dwyer-Lindgren