When aviation returns after COVID-19, the front of the aircraft will look different. Some of that will be a passenger positive: older aircraft with older business class seats will have been retired. But also on the way out is first class, with its attendant luxuries and halo product perquisites. That leaves airlines in something of a bind, wondering how to attract their most selective of customers and the most frequent of flyers to their flights — and their loyalty programs.
Seatmakers and front row monument suppliers have for several years now been mooting the options around creating "business plus" front-row mini-cabins, from Collins' Elements options to China Eastern's Thompson Vantage XL+ front row, to most recently JetBlue's Thompson Solo Mint Studio.
But while the hard product point is there, a full cabin refresh — or even a monument swap for the front row — may be beyond capital expenditure budgets in straitened times.
So how can airlines offer premium options?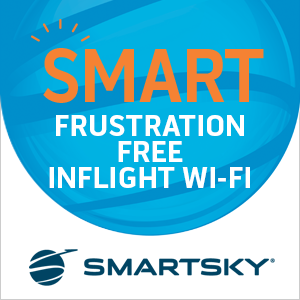 Let's explore some soft product choices they could make, using their existing business class hard product, but to upgrade a few seats to a business-plus product… all without devaluing the main business class cabin.
For a start, several airlines have mini-cabins of business class seats, usually for a few rows behind doors 2.
Yes, it's not at the very pointy end of the plane, but with a judicious use of an exclusive magnetic curtain rope, it could replicate Virgin Australia's Row 5 exclusive screened-off celebrity-style options to make it feel like a private cabin.
Sort of like Air France's La Première first class curtain, but hopefully a little more upmarket in look and feel.
Another option is to rework the seat cover fabric to update the appearance, either just for the upgraded rows, or for the whole cabin with some extra attention paid to the upgraded rows. LCCs do this for their extra-legroom seats, and even in business class Delta changed the dress covers to its "waffle-stitch" look with great effect on older business class seating, both the Thompson Vantage on its 767 and the early then-Sicma Cirrus seats on its 747s and A330s.
A bedding pack is also an option: what about a squashy mattress pad, extra-plump pillows and thick duvets for an overnight flight? Or a generously large and soft cushion for daytimes? Airlines still operating aircraft without direct aisle access for every business class passenger could even put in place a combined option of bed and seat, the former pre-made and dressed, along the lines of the interim Lufthansa 747-400 first class.
How about supplemental meal options in addition to the regular business class fare, plated especially nicely? Start off with a special cocktail or apéritif, perhaps, with a few elegant savoury (and easy to store) amuse-gueules to delight the palate. Add a palate-cleansing sorbet after the main course, and what about some little petit four cakes with coffee? What if this were paired with a book-the-cook style pre-selection for the main course?
Upgraded beverages, too, could work, and some sort of curated sommelier selection of one white and one red bottle on top of the normal business class should work nicely without breaking the bank. Perhaps also add a signature mocktail/cocktail on departure from certain routes, whether that's with a new fridge smoothie product or a galley cart remix blend?
Add in complimentary vouchers for the inflight connectivity, a bumped up amenity kit with soft pajamas and a thick pair of inflight slippers, and some extra attention from specially trained senior inflight crew, and that starts to sound like first class in all but hard product. The big question remains, though: do airlines think that this is a sizeable enough market to serve?
Related Articles:
Featured image credited to the author, John Walton