Proving a negative is hard work. That's certainly true when it's showing that an aircraft seat has been cleaned and disinfected, and it's even harder during a crisis like COVID-19. Sure, you can show an absence of dirt and grime — and many airlines have been — but viruses are invisible.
Beyond the basics of ensuring that there's no visible grime, one option is antimicrobial materials with "kill times" of perhaps a quarter of an hour, but one of the challenges is that a thermoplastic seatback made from material with antimicrobial properties looks no different from one without. So how do you "show clean"?
Runway Girl Network talked with JPA Design business development manager Richard D'Cruze and creative director Elliott Koehler for an update on the design thinking around the industry on this problem.
Initially, D'Cruze expects, "airlines will be looking to capitalise on hygiene marketing to rebuild our confidence in flying, but once vaccine programmes are sufficiently mature, we may see a return to a more price-led market as customers will expect cleanliness and not expect to pay a premium for it. In summary, now is the time to act if you are going to invest in promoting hygiene."
One option could include embroidery, which is a permanent and environmentally friendly way to mark and brand fabric items like seatbacks, headrests and pillows. These are, Koehler says, "more likely to come into contact with a customer's face, so a visual sign of cleanliness is key." That said, it wouldn't work for non-fabric items, and would require changes of seat covers.
A way to get around that problem is using a fabric tag — along the lines of JetBlue's latest Mint product adding the brand of its consumer mattress foam partner — but these need to be carefully designed and placed to ensure that they are durable and not in a place where restless fingers are encouraged to pick at them.
Debossing is another option, which Koehler thinks is a "permanent and eco-friendly method of marking a variety of surfaces to indicate the use of anti-microbial materials or coatings". That said, it can be an expensive process needing updates to tooling and potentially a long lead-time, and needs to avoid complexity in the logo or design to be embossed in order to avoid dirt traps.
Technology like Sekisui Kydex's Infused Imaging, where ink is deposited inside thermoplastics, is one way around the latter problem, but the fact that this needs to be designed into the seatback and adds complexity is not.
There are, D'Cruze says, some options that throw up immediate red flags. "Adding stickers to items to signify it's been cleaned is a no-go. This creates issues with cleaning off glue residue and is difficult to manage from a branding perspective as any stickers will end up being applied inconsistently."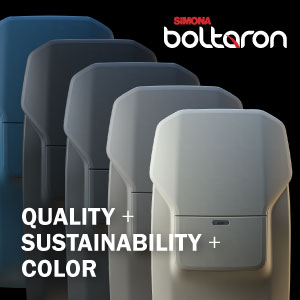 In addition, he notes, "embossing should also be avoided as the indents will create additional visual dirt traps which will be difficult to clean and defeat the point of the exercise."
But what should they actually put on the tag, debossing or infused imaging? "Airlines should avoid creating their own hygiene sub-brands as these will be unfamiliar to customers and trust is a major factor in providing peace of mind," D'Cruze recommends, despite the presence of these sub-brands aboard many aircraft.
Co-branding may be a more sensible option, he notes: "we have seen some airlines and hotels successfully team up with major hygiene suppliers in brand partnerships that allow them to use well known and trusted brand names, like Hilton CleanStay with Lysol protection."
Part of the complexity is that there are few household antimicrobial brands. Does the aviation industry, therefore, need to create one?
Related Articles: